ENGLEWOOD, Colo. — Connor McGovern became the first of the Broncos' free agents to cash in on the unrestricted market Tuesday when he reached agreement with the New York Jets on a three-year contract worth $27 million.
For a guy who grew up around the family potato farming business in Fargo, N.D., spent five years in Columbia, Missouri with the Missouri Tigers and then four years in Denver with the Broncos, McGovern didn't seem like a New York/New Jersey kind of guy.
But $18 million in guarantees over the first two years of his contract will help him adjust.
"That's where my family originated from so I'm going back to my roots,'' McGovern said in a phone interview with 9News minutes after he said "yes" to the Jets' offer. "My dad and grandpa were born and raised in Brooklyn.''
What about the farm in Fargo?
"That's on my mom's side,'' he said.
After starting the previous 2 ½ seasons at right guard, and then center for the Broncos, McGovern was hoping to stay put. But while the Broncos talked conceptually about a $5.5 million a year offer, they never formally presented an offer.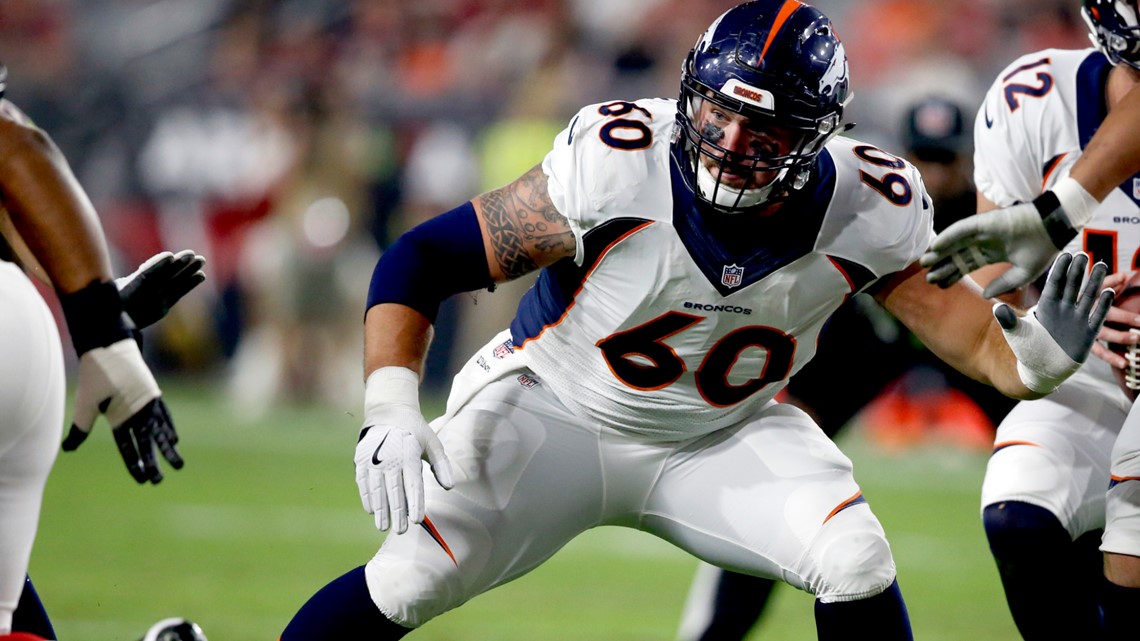 When the team reached agreement with Detroit Lions' free agent guard-center Graham Glasgow to a four-year, $44 million deal Monday, McGovern's agent was informed the Broncos would be going in a different direction.
He quickly found suitors the Jets and Minnesota Vikings -- where offensive coordinator Gary Kubiak and offensive line coach Rick Dennison were involved in selecting McGovern in the fifth round of the 2016 draft. (Note: The 49ers liked McGovern but did not make an offer.)
The Jets won out with a $9 million-a-year average.
"I loved my time in Denver,'' McGovern said. "I want to thank the Bowlen family and Mr. Ellis and Mr. Elway for giving me a shot out of college, taking a risk on me back then. I'll love my time as a Denver Bronco.''
The Broncos play against the Jets in the Meadowlands this season at a date to be determined.
"Perfect. I'll be able to swap some jerseys with some friends then,'' McGovern said.
The Broncos will be looking for their third starting center in three years following the departures of McGovern and Matt Paradis, who signed with Carolina as a free agent last year.
As it stands now, Austin Schlottmann and Patrick Morris will compete for the Broncos' starting center position.
Five other unrestricted Bronco free agents – cornerback Chris Harris Jr., defensive linemen Derek Wolfe and Shelby Harris, safety Will Parks and long snapper Casey Kreiter – remained without agreements as of Tuesday evening. Free agency officially opens at 2 p.m. Wednesday.
The free-agent negotiating sessions Tuesday didn't go as hoped as the Broncos made competitive offers to defensive tackles D.J. Reader and Quinton Jefferson but both reached agreements elsewhere. Reader got a four-year, $53 million deal with the Bengals ($13.25 million annual average) and Jefferson got a two-year deal with the Bills.
The Broncos did reach agreement on a two-year deal with Jeff Driskel, a young, well-travelled quarterback, to be Drew Lock's backup -- a move that assures Joe Flacco's departure from Denver. Flacco was the Broncos' starting quarterback last year until he suffered a season-ending neck injury at the halfway point.