ENGLEWOOD, Colo. — For the most part, the Broncos have finished their offseason roster building.
Free agency has essentially concluded, although one or two veterans will be added here and there as the Broncos see fit following their offseason practice program. Their drafted and undrafted rookies will gather for the Broncos' rookie minicamp next Thursday.
9NEWS will take a position by position look at the 2023 Broncos each day starting with the receivers – the position that generated the most offseason trade reports, even if no trade was executed.
Starters
Courtland Sutton, Jerry Jeudy
Yes, they are still Broncos. And handsomely compensated, too. Sutton will draw $14.5 million this year and Jeudy will make a fully guaranteed $3.83 million this year and $12.987 million in 2024.
Sutton played like a No. 1 receiver in 2019 when he had 72 catches for 1,112 yards and 6 touchdowns. But he hasn't been the same since suffering a torn ACL early in 2020. He has just 4 touchdown catches since then while averaging 61 catches and 803 yards the past two seasons.
Jeudy played like a No. 1 receiver in the final six games of last season, when he had 37 catches for 523 yards, but consistency was a struggle through his first 2 ½ seasons.
Both Sutton and Jeudy drew trade interest this offseason but in the end the trade offers weren't enough for Broncos general manager George Paton to pull the trigger.

Backups
Patrick is a starter but is coming off ACL surgery that forced him to miss all of last season. No two players recover from an ACL injury the same, although the Broncos have every right to expect the hard-working Patrick to regain full form in the second half of the 2023 season. There may be some rust and mental hurdles to overcome early.
The rookie Mims, taken with the final pick in the second round, figures to be among the Broncos' top 5 receivers on game day and possibly their punt returner. He has blazing speed so while he's young at 21 and thin at 183-190 pounds, new head coach Sean Payton will try to integrate him into his offense sooner rather than later.

Others
KJ Hamler, Marquez Calloway, Lil'Jordan Humphrey, Kendall Hinton, Brandon Johnson, Jalen Virgil, Montrell Washington, Taylor Grimes, Dallas Daniels
Hamler is a terrific deep-ball threat, when healthy. He has not been healthy the past two years and when he suffered a torn pec while lifting weights in February, the decision to make Mims the team's first draft choice was at least an indication management is not counting on Hamler early in the season. Hamler will have to fight to keep his job.
Calloway and Humphrey had decent production with the New Orleans Saints in 2021 when Payton was their head coach, but not last year when Payton took a year off from coaching. Calloway figures to be in the mix for the No. 4 receiver position.
Johnson, Virgil and Washington were seldom-used rookies last year while Grimes and Daniels are on the Broncos' list of undrafted rookies for this year.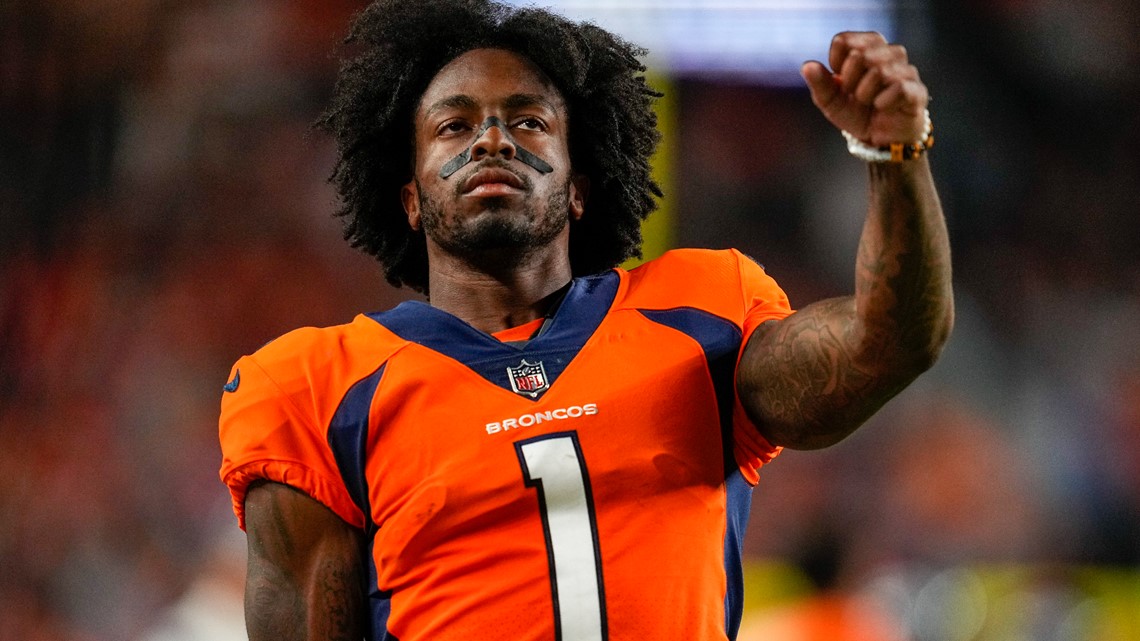 Gone but not forgotten
Only two from the 9 receivers listed under "others" figure to make the 53-man roster. Don't count out Hinton. He can play, is a quality special teamer and he built a nice chemistry last year with quarterback Russell Wilson.
Key to 2023
Sutton, Jeudy and Patrick.
The Broncos need two of those three to have big years. As in years when they meet expectations. For Sutton and Jeudy that means 65-80 catches and 1,000 to 1,200 yards. For Patrick that means 40-45 catches for 700-800 yards.