ENGLEWOOD, Colo. — This Broncos Mailbag is dedicated to Damar Hamlin.
Dear Walton-Penner Family,
Go get Harbaugh!!!!! As a long-time Broncos fan this will give me hope and know y'all mean business. We all know Harbaugh has some unfinished business in the NFL and we have a rightful place to get back to. That would be the playoffs and Super Bowls!
Art – Jim Harbaugh is on the Broncos' head coach search list. I would put Harbaugh and Sean Payton as the two candidates on top of that list. Tied for first. Maybe, Harbaugh with the edge because of the Stanford connection and would be cleaner than Payton, who would require a trade with New Orleans.
Harbaugh's previous successful experience coaching at Stanford (lifting the 1-11 program he inherited into a 12-1 Orange Bowl winning program in the span of four years), and the fact Greg and Carrie Penner each got their MBAs from Stanford while Condoleezza Rice has held leadership positions at Stanford for decades adds up to a connection that makes the Michigan coach a logical frontrunner.
>Video above: Denver Broncos plan to swing big for Jim Harbaugh, Sean Payton, and Dan Quinn | Locked On Broncos Podcast
But Payton is too strong to be considered a consolation prize or even 1B. Yes, Payton would require not only a hefty financial commitment but also draft pick/player compensation as the Saints still hold Payton's rights through 2024. But if he's your guy you take that extra step.
Harbaugh or Payton would bring greater discipline, mental toughness, offensive aptitude and a winning-type culture to the Broncos.
Payton has the more recent NFL head coaching experience and knows how to score points with a shorter quarterback as he did with the 6-foot Drew Brees and would with the Broncos' 5-11 Russell Wilson.
Harbaugh went to the Super Bowl with an athletic, two-way quarterback in Colin Kaepernick and would know how to scheme up the read-option offense for Wilson.
Both would be great for Wilson and therefore would be great for the Broncos. Interestingly, both Harbaugh and Payton may want Vic Fangio as their defensive coordinator if Ejiro Evero decides to move on. Which would be interesting for Broncos Country and perhaps a bit awkward for Fangio. As it stands now, the Broncos want to keep Evero, who has done a remarkable job as defensive coordinator. And the Broncos do have Evero under contract.
But to land either Harbaugh or Payton, the Broncos would no doubt give them full authority in assembling their coaching staff.
If the Broncos can't land either of the two big candidates, I would put Dan Quinn next on the list. Frank Reich, after receiving strong initial consideration, may not be in the mix. Quinn also has successful head coaching experience, taking the Atlanta Falcons to a Super Bowl, and after hiring three first-time head coaches in a row, the Broncos are expected to go experience this time.
Expected but not 100% certain.
Penner and company owe it to Broncos Country to keep an open mind when interviewing at least two external diversity candidates and some of the brilliant available coordinators out there who don't yet have head coaching experience. Coordinators like DeMeco Ryans, Wink Martindale, Brian Callahan and Ken Dorsey should be on every team's head coaching candidate list. Martindale would bring strong leadership, and aggressive defensive approach plus would have the cache to bring in someone like Reich as an offensive coordinator.
Expect the Broncos to begin interviewing head coach candidates next week (perhaps as soon as Monday) and expect the process to take at least two to three weeks before a final decision is made.
Doug from Parker. Have been following the Broncos since 1960. Question: I've read articles that say Greg Penner and his wife Carrie are the owners, then I read where Rob Walton is the owner. I did a little internet searching to try and find out who the MAJORITIY owners are, what I found was interesting was Greg and Carrie combined own around 60 percent and Rob 'only' owns about 29% and, of course, the minority owners get the remaining 11%.
Can/will you please verify these numbers? Everybody talks about the 'deep pockets' Rob has but apparently his pockets are not the ones that will hire a new coach.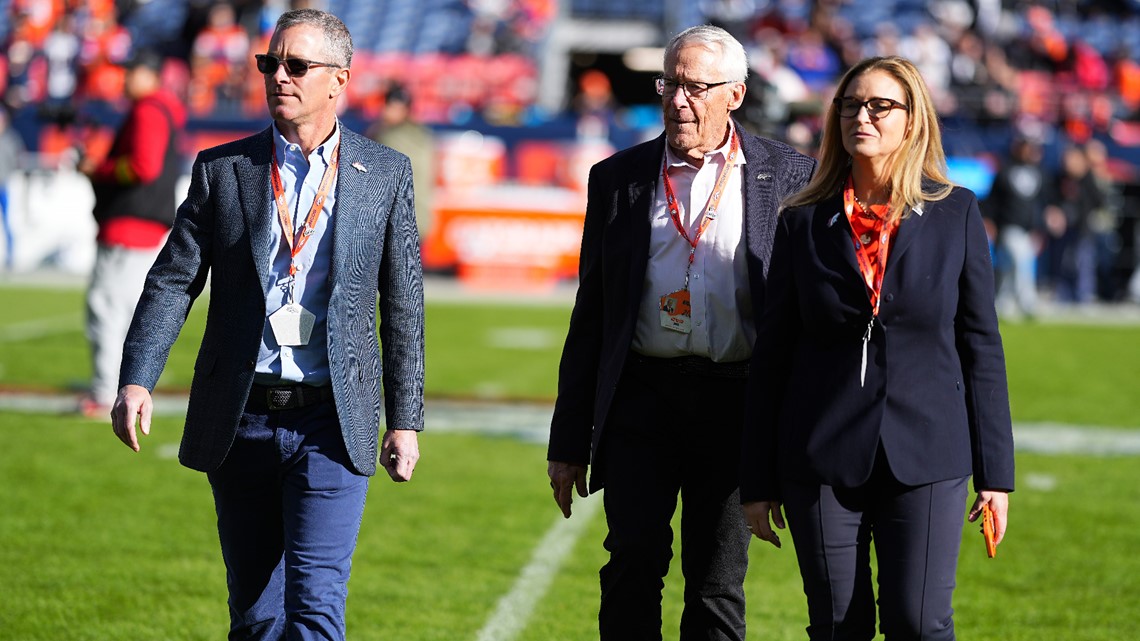 Doug -- You're half right on your numbers. Rob Walton is the "controlling owner." 9NEWS has confirmed Walton holds a little more than 34% of the ownership group's $4.65 billion investment, or $1.581 billion. Greg and Carrie Penner are each in for 30%, so 60% combined ($2.79 billion) as you accurately gathered, Doug.
That leaves a little less than 6% for the other three ownership partners, Mellody Hobson, Sir Lewis Hamilton and Rice.
Greg Penner is the Broncos' CEO and he will be the one who makes the final decision on the Broncos' next head coach after getting input from his father-in-law Rob, wife Carrie, Rice -- who is also on the search committee -- and general manager George Paton. There may be others who will have a voice in the search but those four owners and Paton are the known people on the committee.

Mike, is it illegal to jam Chiefs tight end Travis Kelce at line of scrimmage, on a pass route?
Watch him run freely off the line of scrimmage every time! Rough him up and mess up the timing of the route, like Bill Romanowski use to do!
Todd – In 17 career games against the Broncos, or one season's worth, Kelce has 101 receptions for 1,290 yards – his top opponent production in both categories – and 6 touchdowns. He has 94 catches for 1,251 yards and 11 touchdowns in 17 games against the Raiders and 88 receptions for 1,044 yards with 7 touchdowns against the Chargers.
Great as Kelce is, though, defenses are more concerned with quarterback Patrick Mahomes' ability to go deep, especially when the Chiefs had Tyreek Hill. This is a pick-your-poison offense and most defenses choose to give up the first down to Kelce rather than the touchdown to Hill or JuJu Smith-Schuster or Marquez Valdes-Scantling or whoever Mahomes the Magician finds off his scrambles.
As for jam or not to jam, I'm sure you're on to something Todd, although I know Evero mixes up his coverages. You don't become as great at playing tight end as Kelce has without knowing how to beat all defensive strategies.
Merry Christmas Mike! Please tell me George Paton drafts an offensive tackle or trades down in the first round (if his player is gone) of 2023 NFL Draft?
Todd – Apologize for getting so backed up with your letters to the Broncos Mailbag. You have consistently been one of my top 5 frequent contributors over the years. So you get a second response. Offensive tackle and No. 1/speed receiver – not necessarily in that order but maybe – have to be Paton's top priorities this offseason.
At the same time, unrestricted free agents defensive tackle Dre'Mont Jones and left guard Dalton Risner must also be addressed.

Remember, you fill holes through free agency, first. If you can sign 49ers right tackle Mike McGlinchey in free agency, then you got receiver with the first round pick in the draft. If you go deep-threat receiver in free agency, then offensive tackle is the draft pick. There are some left tackles coming out who can play right tackle for a year or two. I'll have to check back in with Mike's Mystery Mockster on that one.
It may be difficult to sign both Jones and Risner back and if the Broncos have to pick just one, Dre'Mont would likely be the choice. If he leaves, defensive lineman becomes a top 1 to 3 priority.
Are Harbaugh or Payton realistic? No chance a first time coach works this time.
Jon – Speaking of frequent contributors. While the Broncos may not be a great job – Wilson's ill-timed off year, a light number of 2023 upper-round draft picks and a roster only good enough to post a 4 or 5 win season would be viewed as challenges by the candidates – money tends to rule. And the assumption is no other team owner who also may want Harbaugh or Payton is expected outbid the Walton-Penner group.
I appreciate your approach to covering the Broncos. Not harsh but honest and informed. Thanks.
My question: Are Broncos receivers faster than Seahawks receivers? Or is Russell Wilson injured and disguising it?
I don't remember ever seeing him miss a receiver by leading him too much. I have seen him throw the ball BEHIND receivers WAY too often.
Dennis – Some Broncos receivers are faster than others but this group is known more for its catch radius, physicality and route running than speed, especially with KJ Hamler missing so many games. Wilson has underthrown a number of passes across the middle this season and it could be that with his receivers and tight ends in and out of the lineup because of injuries his timing isn't there with his pass catchers.
The timing should be better next year, in season two. It must.