ENGLEWOOD, Colo. — All players, even the best of them, have run into coaches who didn't click with them.
Problem is, even if coaches aren't smart enough to see how the good in a player outweighs the bad, the coach has the power.
Take the case of Broncos' third-year tight end Albert Okwuegbunam. He had 33 receptions off 40 targets (an efficient catch percentage) last year and with Noah Fant traded away during the offseason, Albert O figured to have a bigger role in 2022 while also helping mentor third-round rookie Greg Dulcich.
A new coaching staff, though, figured differently. It's difficult to remember Okwuegbunam had five catches in the Broncos' season-opening, 17-16 loss at Seattle because, even with Dulcich sideline the first five games with a hamstring injury, Albert O was basically benched over the next 14 games.
Okwuegbunam isn't perfect. Sure, he could continue to work on his blocking. But with the Broncos ranked last in the NFL in scoring all season and last in red zone efficiency most of the season until a surge the past month, it didn't make sense to waste a 6-foot-5, 258-pound tight end who could spike the crossbar.
In 7 games Albert O didn't get a game-day uniform and in two others he didn't see the field.
"You might be in a situation where you don't understand it or you don't agree with it but I was faced with two decisions," Okwuegbunam said in a sit-down interview this week with 9NEWS. "I could pout and throw a fit and be negative. Or I could come to work every day with a high intensity, practice hard every day with the intent that I would be playing as I was earlier.
"And that's the decision I made. Because I knew I would get another opportunity at some point whether it was a week from then, three weeks from then or with a few weeks left in the season. So I feel fortunate I did get another opportunity."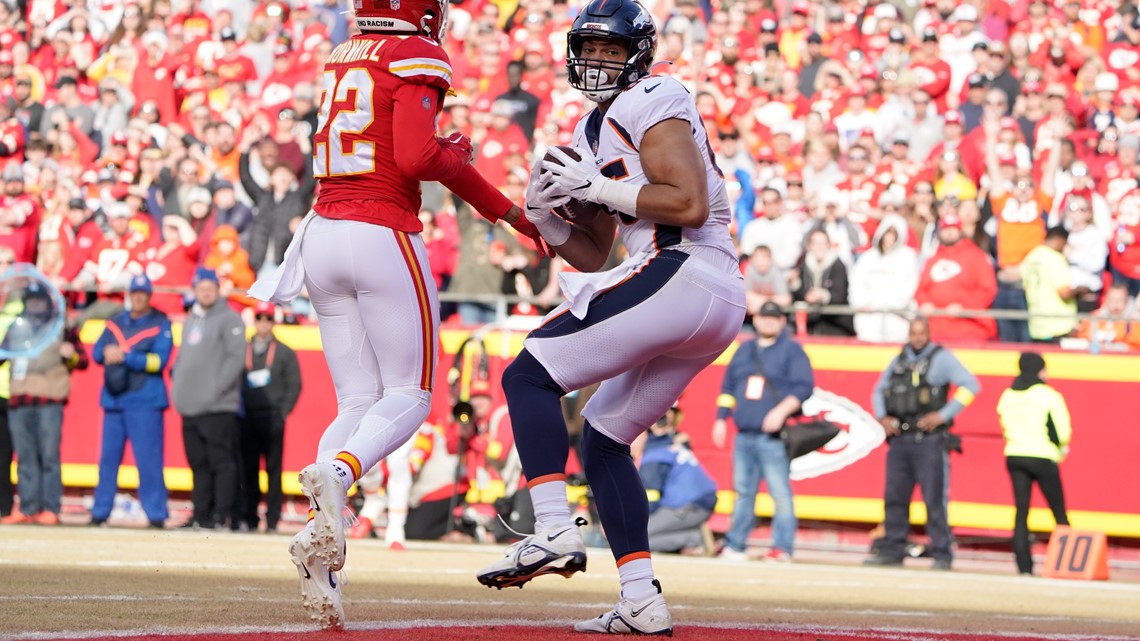 A swap of coaches re-ignited Okwuegbunam's opportunity. Head coach Nathaniel Hackett was fired the day after Christmas and the new coach, Jerry Rosburg, saw enough of Albert O's skill set to want to see him play. Rosburg even took a personal interest in Albert O, giving him individual attention in practice.
"Super grateful for Jerry," said Okwuegbunam, whose playing time was also cleared by Dulcich aggravating his hamstring injury. "Ever since he moved to head coach he's definitely made it a point to coach me hard and express that he believes in me as a player."
Okwuegbunam responded with three catches for 45 yards last Sunday in a 27-24 loss to the heavily favored Kansas City Chiefs at Arrowhead Stadium. One of those catches was a 25-yard touchdown pass from Russell Wilson that gave the Broncos a 17-13 lead heading into the fourth quarter. Okwuegbunam's determined resolve to stay mentally ready had paid off.
"It was tough. It was frustrating," he said. "As a player you have all these goals and desires to contribute and do certain things on the field. When something happens that's outside of your control you might not agree with it … It was motivation just being in that situation. Having to battle out of it, that was motivation but also I was blessed to have truly good teammates in the tight end room. I'm close with a lot of those guys and they were always encouraging me, keeping my confidence up and not let this define me or change my view of myself as a player."

Since he became the Broncos' fourth-round draft pick in 2020, Okwuegbunam's promise has been interrupted by one thing or another. A torn ACL stopped him just as he was becoming productive as a rookie. A hamstring injury crimped his play last year. And then the dreaded coach's decision this year.
He has one more year left on his rookie contract.
"This offseason I definitely want to address with the staff and figure out what they want to see from me, what they want me to work on," Okwuegbunam said.
With a new head coach coming in, Okwuegbunam has one more game to pair with last week's performance before his 2022 tape runs out. So while the Broncos-Chargers game Sunday afternoon at Empower Field at Mile High is considered meaningless in many aspects, that's not how Okwuegbunam is approaching it.
"Apart from being a prideful player and wanting to win – it means a lot to me in that sense," he said. "But also this is my second chance and I definitely want to build off of last week. Hopefully, I get some opportunities again and have an even better performance."