KANSAS CITY, Mo. — Hand-held snow blowers were the tool of choice.
Heavy snow started falling four hours before the game and then throughout in the AFC West matchup here Sunday between the Kansas City Chiefs and Denver Broncos at Arrowhead Stadium.
Broncos weather? Maybe for Wisconsin-born defensive lineman Shelby Harris, who performed two snow angels during the game -- one for each of his sacks. Otherwise, not so much. The Chiefs whipped the Broncos, 23-3 as Kansas City's superb quarterback Patrick Mahomes threw the ball with surprising ease against the slippery-footed Denver secondary.
"You would expect with a snow game, windy, they're going to start running,'' said Broncos inside linebacker Alexander Johnson. "No, they sure enough came out throwing and slingin' it around. That was definitely a shocker."
The hash marks and yard stripes were visible for a while thanks to the snow blowers -- known as leaf blowers in the fall -- which allowed the bundled crowd and TV audience to see how easily Mahomes could move the ball against the Denver defense.
Mahomes threw a 41-yard touchdown pass to Tyreek Hill to complete his first possession and directed three, long drives that resulted in Harrison Butker field goals and the Chiefs were up on the Broncos, 15-3 at halftime.
"He's the best,'' Broncos cornerback Chris Harris Jr. said of Mahomes. "There ain't no doubt about it. He's better than Lamar."
As a passer, Mahomes has it over Lamar Jackson and everybody else. He finished the game 27 of 34 for 340 yards and two touchdowns to Hill. In a snowstorm.
Mahomes took the second-half opening drive and continued to dissect the Broncos' secondary on the treacherous track, finishing it off with a 5-yard touchdown pass to Hill and then a 2-point conversion pass to Sammy Watkins to pull the Chiefs up 23-3.
"It was awesome. It was a lot of fun,'' Mahomes said. "You saw the guys embracing it and we knew it was going to snow. Coach (Andy) Reid prepares us, we practice in cold weather a lot so when you get there you are kind of accustomed to it and you can go out there and play."
The Broncos fell to 5-9, their third consecutive losing season (for the first time since 1970, 71, 72) and it was the fourth straight year they missed the playoffs.
>> Listen to a game recap on Klis' Mike Drop podcast below
Another failed season left star pass rusher Von Miller, the MVP of Super Bowl 50 that capped off the Broncos' magical 2015 season, in a pensive, melancholy mood.
"I don't know how we got to this point,'' Miller said in his postgame press conference. "It's tough being where we're at. It's tough being 30 years old and go out there with whatever issues I'm dealing with and still coming up so short. It's tough playing 9 years with Chris Harris and it's tough dealing with these last couple (years) especially with the type of standard we had when we came into the league. We went to the playoffs five years straight. I know I'm getting ahead of myself and talking about more than just a game but this is tough. I'm at a loss for words."
The Broncos have lost 9 in a row to the Chiefs, who are 10-4 and in possession of their fourth consecutive AFC West Division title. The Chiefs beat the Broncos twice this year by a combined 53-9 score.
The Chiefs are on the type of run the Broncos enjoyed during Miller's first five seasons from 2011-15.
"For me I guess it just looks different from my lens,'' said Miller, who got his 7th sack of the season to give him 105.0 in his career, good for 27th place all-time. "I'm 30 years old and I'll be playing 9 years. I'm ready to hit the gear. I'm ready to go again. I'm ready to bring back whatever we had in the past back. Whenever we put it all out there and we played hard and we come up short it's definitively defeating. It's more than just winning and losing. It just defeats my soul."
Broncos' quarterback Drew Lock, a rookie from nearby Lee's Summitt, was given difficult conditions for his homecoming.
"That was definitely the worst I've ever played in,'' he said.
Besides the steady snow, the temperature was in the low-20s. Lock wasn't bad until lofting an interception in the end zone late in the third quarter. He completed 18 of 40 for 208 yards.
"It's disappointing but it has nothing to do with coming home,'' said Lock, who had about 50 family and friends at the game. "I would be disappointed anywhere in the country if I played like this.''
He was sacked twice and the Broncos had a couple pre-snap penalties as there seemed to be communication issues early.
PHOTOS | Denver Broncos at Kansas City Chiefs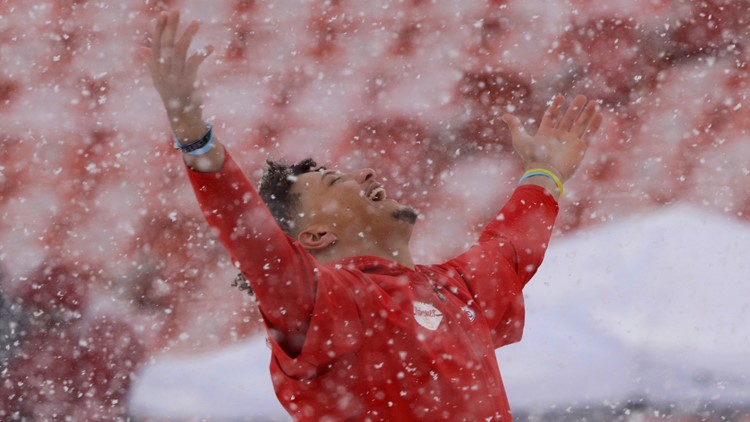 On fourth-and-1 near midfield late in the first half, Broncos offensive coordinator Rich Scangarello came up with a nice call as Lock hit wide-open tight end Noah Fant for a 43-yard gain and first-and -oal at the 9.
The Broncos couldn't throw it in there, though, and settled for a 32-yard Brandon McManus field goal. Another chance from inside the 10 was spoiled when Lock tried a cross-field pass into the end zone for Fant. The throw hung and was easily picked off by safety Juan Thornhill.
"I definitively tried to force something to happen there,'' Lock said. "It bit me in the butt. That's the second time that's happened to where we just got to be better down there.''
Mahomes, meanwhile, only had trouble finishing goal-to-go situations. His near perfect afternoon was spoiled early in the fourth quarter when forced a throw off a scramble from the Broncos' 9-yard line and was picked off at the 1 by Broncos safety Justin Simmons. It was Simmons' team-best fourth interception of the season.
On defense, Denver's secondary struggled with its footing, but it didn't break. Shelby Harris had two sacks and Von Miller had one to keep the Broncos in the game.
Still, the Chiefs had 419 yards in total offense and moved at will through the snow-filled air until they essentially put the game away by scoring off their first possession of the second half.
"Those boys are still running like it's 7 on 7 and threw the ball a lot,'' Chris Harris said. "We can't have anybody throw for 300-some yards on us.''
"No I wasn't surprised,'' Miller said. "It's probably easier for him to pass in these conditions. Getting Kelce one-on-one up the field. It's already hard enough to guard him on grass, clean grass. Mix in the snow, it's a tough deal for the DBs, it's a tough deal for everybody that was out there."