KANSAS CITY, Mo. — This will not call off the search.
But could Jim Harbaugh or Sean Payton have almost snapped a 14-game rivalry losing streak as Jerry Rosburg nearly did through the every-dicey interim situation Sunday in his first game as NFL head coach?
Broncos quarterback Russell Wilson ran for two touchdowns and passed 25 yards to forgotten tight end Albert Okwuegbunam for another score but Kansas City star quarterback Patrick Mahomes answered with three touchdown passes and the Chiefs prevailed, 27-24.
"We came here to win,'' Rosburg told 9NEWS after his impressively, hard-fought loss in his head coaching debut. "I told the players going into it that we were going to win it in the fourth quarter. It didn't happen.
"I was really confident going into the fourth quarter because we had them where we wanted them at that point."
Indeed, the Broncos were up 17-13 after three quarters. Then came a 16-yard touchdown pass from Mahomes to backup tight end Blake Bell on the first play of the fourth quarter, followed by Wilson throwing an interception that set up another Chiefs score.
A 17-13 lead became a 27-17 deficit just like that.
The Chiefs improved to 13-3 on the season with their 15th consecutive win against the Broncos, who fell to 4-12 overall.
"Me personally, I know the history,'' said Denver defensive lineman DeShawn Williams. "When you think of Denver Broncos, you think of winning. The past couple of years, since 2015, it hasn't been that. I don't want to say the laughingstock of the league, but we aren't putting any fear in people like it used to be. When you played Denver, people know, they're going to win nine times out of 10.
"Somehow, some way, we have to get this program back to where it needs to be and how it used to be. I just want to say, I appreciate the fans. They give us so much love, and we aren't much deserving of it because of the record, but we appreciate it."
For what it's worth, this was the Broncos' the best loss of the season.
Trailing by 3 with 2 minutes remaining, the Broncos had the ball third and 5 at their own 42 yard line but a run play and Chris Jones sack forced a turn over on downs.
The Broncos took two leads in the game, the last on the touchdown pass from Wilson to Albert O with 6:35 left in the third quarter.
"I saw life from our players the way they were finishing plays, the way they were supporting each other, and we were picking each other up off the pile, they were celebrating together,'' Rosburg said. "There was an energy and a vibe and as the game wore on I thought that confidence would grow. And it did. It was there.
"But what wasn't there was execution. In the fourth quarter we made some errors that put us in a position where we're now in the locker room when we did not win."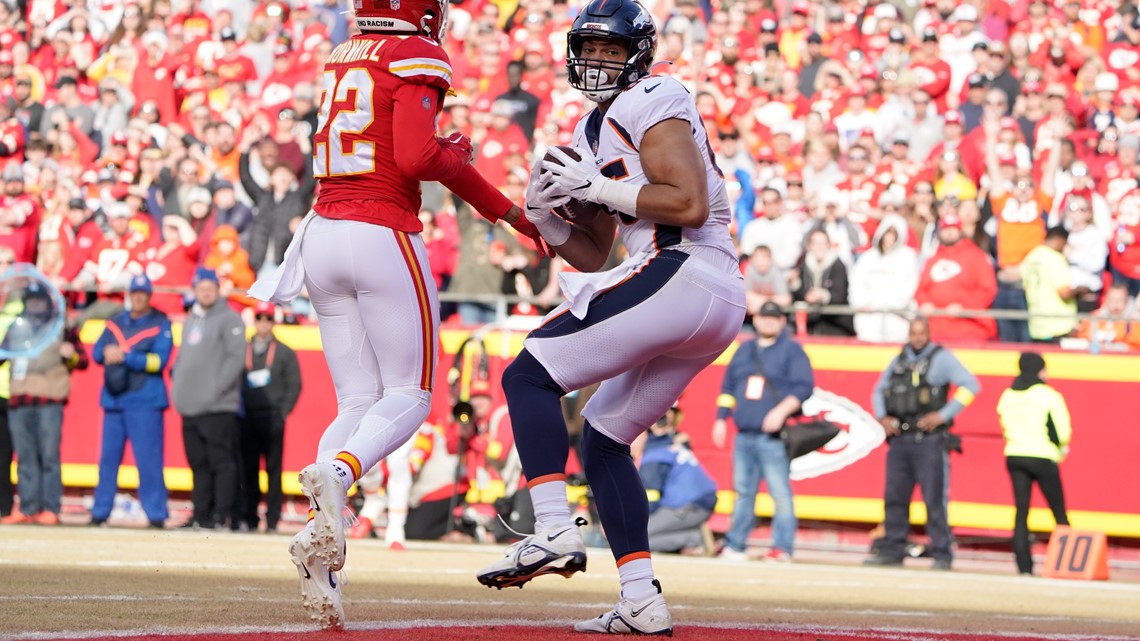 Down 27-17 in the fourth, the Broncos after a desperation fourth down interception thrown by Wilson was wiped out by a defensive hands-to-Courtland Sutton's face penalty, Wilson finished the drive with a 4-yard touchdown run to draw the Broncos within, 27-24 with 6:14 remaining in regulation.
Denver's D got the ball back to Wilson and the offense with plenty of time remaining, but like so many other games this season, the offense didn't have enough.
Even in defeat, the Broncos learned some valuable lessons. Starting with while changes were made too late, it wasn't before they saw why there was good reason to make them.
With the Broncos long ago eliminated from the postseason and coming off an embarrassing, 51-14 Christmas Day disaster in Los Angeles, Broncos owner and CEO Greg Penner changed head coaches.
Nathaniel Hackett and his bro hugs were dismissed and replaced by the more old-school Rosburg.
"He was a little different than what Hackett was,'' said center Graham Glasgow. "It was hard to say whether it was good or bad. We came out here today and played relatively well. But he's appreciative. He's very stoic. He was good at talking to guys. It's kind of hard to explain."
Rosburg started his new job Monday by firing two assistant coaches, switched offensive play callers, demoted and promoted players and changed the atmosphere in a span of six days.
"Ultimately, he challenged us as men,'' Wilson said.
There was a report Rosburg's padded practice Thursday was not well-received by some players. For clarity, it was only shoulder pads -- no leg pads -- and the pads were taken off halfway through the practice.
If that bothered a few players, Rosburg should have been the Broncos' boss all along.
"He definitely brought some grit to practice,'' said rookie defensive lineman Eyioma Uwazurike, whose blocked field goal at the halftime buzzer kept the Broncos within 13-10. "We had some tough go's, got us mentally ready to go into this game.''
The New Year began with sunshine and mid-50s temperatures for the game at Arrowhead Stadium that kicked off here at noon. The Chiefs were 12.5-point favorites, fighting for the No. 1 AFC playoff seed.
The Broncos' season will be finished one week from today. Largely forecasted to get blown out by the Chiefs, the Broncos displayed noticeable improvement and gave Kansas City coach Andy Reid and his sublime quarterback all they can handle.
Once Rosburg got his first head NFL coaching gig, he made immediate changes, firing offensive line coach Butch Barry and special teams coordinator Dwayne Stukes. He then made several more moves for the Chiefs' game. Offensive coordinator Justin Outten called plays for the first time in his career as he replaced Klint Kubiak, who earlier this season took the role from Hackett.
"I thought it was best for our football team to get Justin involved in the play-calling,'' Rosburg said. "The correlator to that is I felt it was best to get Klint Kubiak with Russell Wilson. I thought they both worked well."
Rosburg also de-activated rookie returner Montrell Washington, a move incited by the Broncos' No. 32, or last-place, ranking in kickoff return average this season.
There were other changes such as the Broncos, the NFL's most penalized team with 7.13 per game, not committing one accepted penalty until defensive back Essang Bassey was flagged for a critical holding penalty with less than 2 minutes remaining in the first half.
And the Broncos also played smart football. It's difficult to stop Mahomes but on his opening drive the Denver D made him complete 6 of 6 passes for 55 game-managing yards. The Broncos' offense had trouble making big plays but on their third possession that sandwiched the end of the first quarter and beginning of the second, they methodically took off nearly 7 minutes of game clock before settling for a 49-yard field goal by Brandon McManus.
"A lot of run plays today,'' Glasgow said. Latavius Murray rushed for 56 yards on 12 carries and Chase Edmond had 34 yards on 7 carries. "It was good for us, especially in the first half we were eating up the clock, trying to keep them (the Chiefs) off the field and feel like while we weren't putting up 400 passing yards or however much they had today, we were in control of the game."
Not only did few if any outside the Broncos' locker room give the visitors much chance to start the New Year, they entered the game further outmanned after losing D.J. Jones, Baron Browning, Randy Gregory and Greg Dulcich to injuries this week.
That they were trailing, 6-3 with 10 minutes left in the first half was impressive enough. But carry on the Broncos did with their plan to win.
"We're not here to play close games and lose,'' said inside linebacker Josey Jewell, who tied for the team lead with 7 tackles.
It appeared the Chiefs would extend their lead in the second quarter thanks to a 38-yard Mahomes completion to Kadarius Toney and 12 yards to tight end Travis Kelce, but on third and goal from the 10, Mahomes threw late to open receiver Justin Watson in the end zone and safety Justin Simmons moved over to snag the interception.
It was Simmons' sixth interception of the season, a career-best.
"Honestly to start pretty poor coverage on my end,'' Simmons said. "But our rush did such a good job, Mahomes felt some pressure, rolled out and all you need is a split second most times to catch up and in the red zone things happen so fast."
Before Mahomes could redeem himself, the Chiefs' fumbled a punt away. Tackling-machine Alex Singleton popped the ball loose from Toney and Eric Saubert recovered at the Kansas City 16 yard line. On the first play, Wilson kept on an option-read left and scored on a 16-yard touchdown run.
Jerry's World was humming. The Broncos were up 10-6 with 4:40 left in the first half.
Mahomes drove the Chiefs on a quick 75-yard drive that finished with a 6-yard touchdown pass to Jerrick McKinnon and a 13-10 lead with 1:02 remaining. On that series, Denver's D had a chance to hold the Chiefs to a field goal but Bassey's holding call allowed a third-and-7 conversion. Mahomes hit McKinnon for the score two plays later.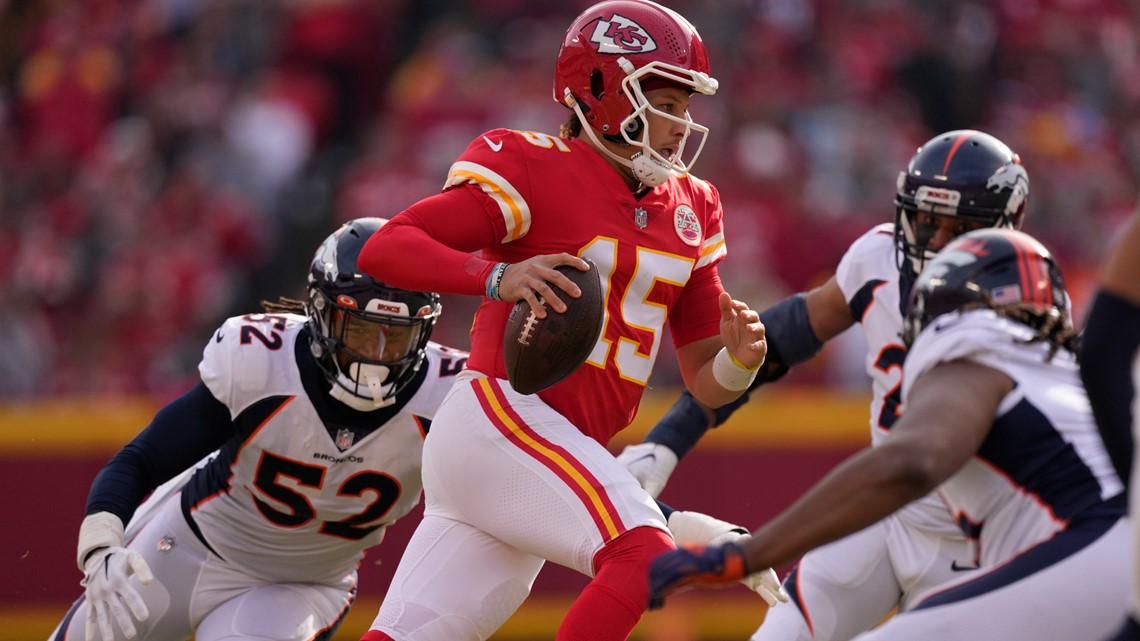 Wilson and the Broncos came right back with a 27-yard touch completion to running back Chase Edmonds. But on first down from the Chiefs' 28, Wilson was stripped sacked from behind by blitzing rookie cornerback Trent McDuffie and the Chiefs got the ball back with 16 seconds remaining.
Enough time for Mahomes to hit Watson for a 27-yard completion but Harrison Butker's 51-yard field goal at the halftime buzzer was blocked by Uwazurike.
"I was feeling him (long snapper James Winchester) out on the first two field goals, he was really blocking down on me hard,'' Uwazurike said. "I thought it was an opportunity to swim, and came free and did the best I could do after that."
The Broncos were playing hard for Rosburg.
"He brought a lot of energy,'' Jewell said. "He was to the point, very to the point. It was fun to have him and see how he coaches. Hackett was good, too, and to the point. But Jerry is very direct with things, there's no sugarcoating things. It was nice. It was good to hear and sometimes people need to hear that kind of stuff."
Wilson was Wilson-like with 26 of 38 passing for 222 yards and a touchcown while rushing for another 27 yards and two scores. He was sacked four times and his interception led to 7 Chiefs' points.
But all in all, Wilson played much more like the quarterback who was a 9-time Pro Bowler during his previous 10-year term with the Seattle Seahawks.
"I know what I'm capable with my legs and my arm and what we're all able to do,'' Wilson said. "I thought Justin Outten did a great job of stepping up and calling a great game. I thought Kubiak and him were really connected throughout the whole week and then the game. I thought that's why we played so well as a collective group."
Courtland Sutton had 4 catches for 44 yards. Okwuegbunam had three catches for 45 yards and a touchdown. Latavius Murray rushed for 56 yards on 12 carries.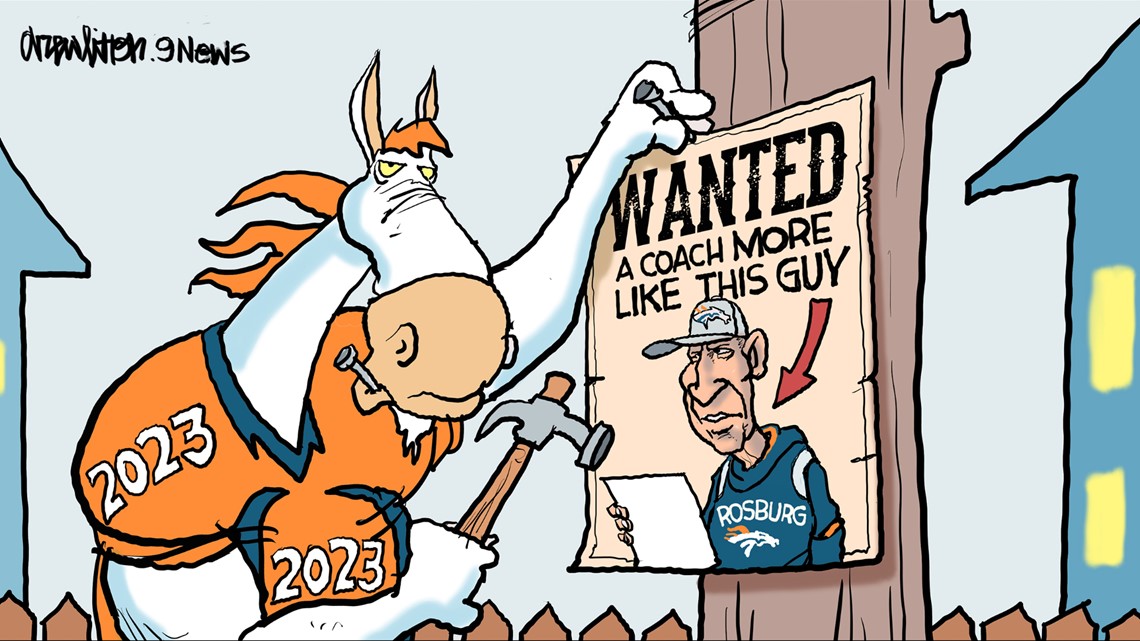 Mahomes missed some throws but was still 29 of 42 for 328 yards and three touchdown passes but the interception by Simmons was one reason why the Chiefs didn't put the game away. Kelce had 7 catches but for only 43 yards, although his final catch converted a third down that allowed the Chiefs to run out the clock.
"Yeah we were close,'' Glasgow said. "But a couple mistakes here and there and things compounded to a loss. They could be little things they could be big things and we just didn't do enough to win."
The Broncos suffered two game-ending injuries in the game. Rookie cornerback Damarri Mathis suffered a concussion in the first half and didn't return. He was replaced by Lamar Jackson, who was just promoted the practice squad and did a nice job.
Also left guard Dalton Risner left with a hyper extended elbow and was replaced by Quinn Bailey. ...
Wilson got choked up when asked about the in-week support he got support from teammates Jerry Jeudy, KJ Hamler and others against another bout of public criticism. "It meant the world to me because I give my all every day,'' Wilson said as his voice cracked briefly, but noticeably. "I don't know anything less. I'm grateful for these guys because they work their butts off and for them to have my back means the world to me." ...
The Broncos got a tough break in the third quarter when a long completion from Wilson to Sutton was waived off by a questionable offensive pass interference call on Sutton.
PHOTOS | Broncos at Chiefs
MORE WAYS TO GET 9NEWS
ADD THE 9NEWS+ APP TO YOUR STREAMING DEVICE
ROKU: add the channel from the ROKU store or by searching for KUSA.
For both Apple TV and Fire TV, search for "9news" to find the free app to add to your account. Another option for Fire TV is to have the app delivered directly to your Fire TV through Amazon.