DENVER — For most of the performance, a primetime Sunday night audience must have been wondering about the incredible haul the Broncos surrendered in order to acquire Russell Wilson.
To review, two first-round draft picks, two second-round draft picks, three players and $161 million guaranteed over four years.
The early returns had not been promising.
And then Wilson came through with some of his renowned late-game magic that lifted the Broncos to a come-from-behind, 11-10 win against the San Francisco 49ers on what started as a perfect, 73-degree Sunday night (it did chill to low 60s by the time P.J. Locke stripped the 49ers' Jeff Wilson Jr. of the ball in the final seconds) before a sold-out gathering of 75,256 (a mere 1,756 no-shows) at Empower Field at Mile High.
"That was so hard,'' said Broncos right guard Graham Glasgow. "They have a great team with a great front 7. I give our coaches credit for coming up with good adjustments to help us move the ball a little bit.
"Our defense played great all game. I mean it felt like a playoff game out there. That was a special win."
Down by the unusual football score of 10-5 with less than 8:30 remaining in the fourth quarter and facing third-and-10 at his own 33 yard line, Wilson scrambled left away from pressure, set his feet and fired a strike to Kendall Hinton for 27 yards.
"Really in the fourth quarter, I had to kind of use my legs and kind of take over,'' Wilson said. "Just try to move around and find some first downs. Kendall Hinton making that big play. I went left—I guess I can still go left.''
"It was a scramble drill,'' Hinton said. "I was on a deep ball (route) actually. I turned around and looked, saw Russ running around and you know when Russ scrambles there are plays to be made''
A couple plays later, Wilson converted a third-and-6 with a 12-yard run -- easily his most significant running play of the young season.
On the next play, Wilson drilled a back-shoulder completion to the closely guarded Courtland Sutton for a 19-yard gain, setting up first and goal at the 5.
"It comes from (practice) reps so that when we get into those situations in the game it's a no-brainer,'' Suttlon said. "It's second nature.''
Still, the Broncos had some work to do. In their first two games, the Broncos had scored zero touchdowns in five goal-to-go possessions. Not a problem this time. Melvin Gordon carried the ball twice, the second time for a 1-yard, go-ahead touchdown.
Credit Gordon for keeping the attitude. He's a veteran who is a backup tailback for the first time in his eight-year career. Yet, when he does get his backup reps, he carries them out like he's running for the Pro Bowl.
"That's where I have to be better,'' Gordon said. "I know I'm getting less of a role and because of that I'm trying so hard to make something happen to show them I shouldn't have less of a role. You know? The ball got away from me (two fumbles, neither lost) and I'm a little (ticked) about it. I work so hard on that (stuff) every day. But at the end of the day we got the Dub so it's all good."
Trailing all game, the Broncos were up 11-10 with 4:10 remaining.
"When we needed a big drive there at the end, Russell came through when he started running around, making plays, and it was a thing of beauty,'' said no-longer-beleagured Broncos head coach Nathaniel Hackett. "In the end, it's just about one more point than the other team. I give so much credit to the 49ers, they're a phenomenal team. Their defense, their offense, they are a very good team. So that was a heck of a battle."
The 2-point conversion failed and while the 49ers were driving on their following possession, an errant Jimmy Garoppolo pass was deflected into the air by Kareem Jackson and gathered by linebacker Jonas Griffith for an interception.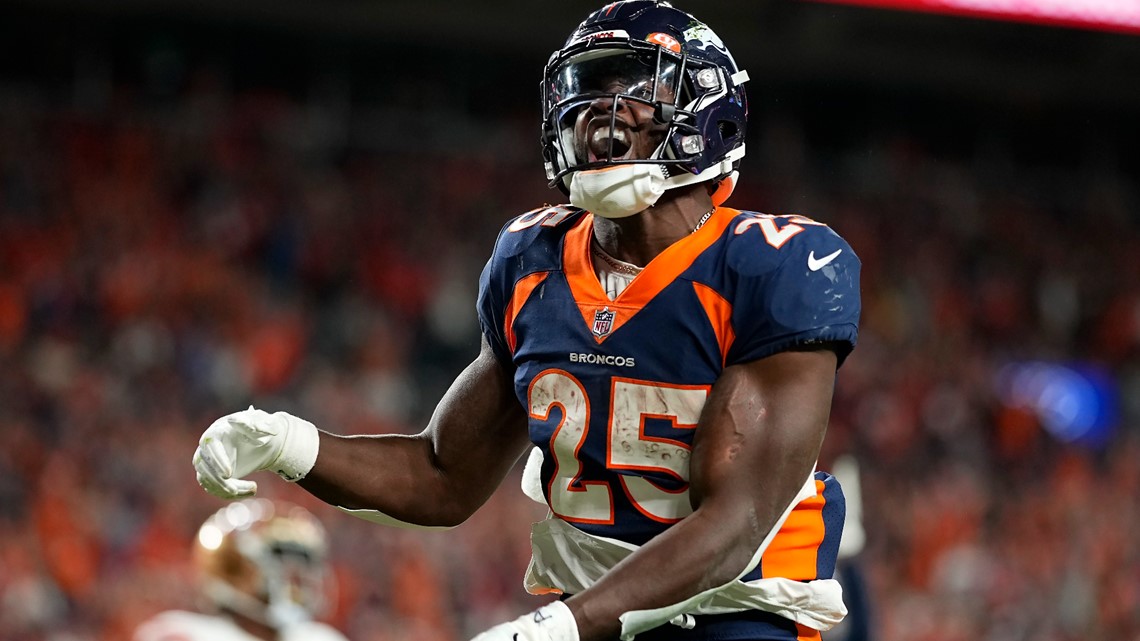 The Broncos had the ball at their own 42 with 2:06 remaining and the 11-10 lead. Three plays and just 24 seconds later, the Broncos were forced to punt -- Corliss Waitman's 10th of the night.
But Broncos' outside linebacker Bradley Chubb sacked Garoppolo back to the 3-yard line and on the next play Locke, a backup safety, punched the ball free from Jeff Wilson Jr. after the running back had taken a dump pass, Jackson recovered and the Broncos' win was secured.safety
Locke said he had two other times in the game where he thought he could have stripped the ball carrier but couldn't get it out. And then he saw Jeff Wilson with the ball exposed.
"I said I'm going to get it right here,'' Locke said. "He had the ball out and I said I'm going to punch with all my might.''
The Broncos are now 2-1 while San Francisco fell to 1-2.
Early in the fourth quarter, the Broncos' offense only had 9 first downs on their way to 9 three-and-outs while Waitman finished with 10 punts.
Luckily for the home crowd, the Denver defense was making Garoppolo look diminished, as San Francisco was 0 of 9 on third downs as the game moved into the fourth quarter. When Garoppolo stepped over the back endline of the end zone, the Denver D came up with a safety that narrowed the score to 7-5 in the third quarter.
"It was a tough situation. I was just trying to find some time on the play,'' said Garoppolo, who finished 18 of 29 passing for 211 yards but lost a fumble on a center exchange, took a safety and threw an interception. "It was altogether just a sloppy day."
Actually, the safety was a bad break for the Broncos as Garoppolo's pass toward the left sideline was intercepted by Chubb, who carried it into the end zone for what would have been a touchdown -- except the referee had clearly called for a safety.
"Man, I wish that counted,'' Chubb said. "It's all right, though. We'll get the next one."
If not for two failed challenges, new Broncos' coach and game-management czar Jerry Rosburg would have been game-ball worthy.
Unlike their first two games, the Broncos had no problems with the game-management operations.
They were penalized just 5 times for 30 yards minutes. There were no red-zone or goal-to-go failures. Only once did the sold-out home crowd attempt to mockingly count down the play clock, and even then the ball was snapped a couple chants in.
Rosburg is a former special teams coordinator and game-management guru who was brought out of a 3 ½-year retirement this week to help Broncos' head coach Nathaniel Hackett organize and make game decisions. This way, Hackett could maintain his play-calling duties.
"Yeah, Jerry was great,'' Hackett said. "We had been evaluating everything on how we had been managing things up to that point. I wanted to be sure that I was able to be an efficient play caller for Russell and the offense. So we were able to bring Jerry in and for the quick time, turn around and getting him here. I thought he was spectacular."
But it's clear Hackett and Wilson need more time to become more efficient.
Through their first three possessions, the Broncos' offense had three, three-and-outs. Wilson looked uncomfortable whether operating the no-huddle, taking the snap from under center or from the shotgun. A dropped pass by Sutton hurt one potential scoring drive and two penalties inside the 2-minute warning spoiled another chance.
"We're so close,'' Wilson said. "It's just—I've been a part of some good offenses and I think we have a chance to be really, really great. ... Sometimes, in baseball, you swing and miss—maybe a hard line drive and they catch it. That's just part of the game. I'm excited because I can feel it. ... Everything is just that close. Once we do it with our defense, how they're playing, it's going to be unstoppable."
The 49ers, meanwhile, made it look easy on their second possession, going 75 yards on just 6 plays for a touchdown. On back-to-back plays to start the drive, Garoppolo completed a deep middle pass to Brandon Aiyuk for 20 yards and running back Jeff Wilson Jr. rushed for 37 yards. The march ended with a pick play, 3-yard touchdown pass from Garoppolo to Aiyuk.
Finally, near the end of the first quarter, Russell Wilson from his own end zone drilled a deep middle route to Sutton for a 34-yard gain. It was the final play of the quarter and the Broncos' first, first down. A couple plays later, Wilson threw a nice out pass to Jerry Jeudy for 16 yards.
But the drive stalled and after 49ers coach Kyle Shanahan declined a holding penalty, Brandon McManus nailed a 55-yard field goal.
The Broncos were within, 7-3, minutes into the second quarter, which is how the first half ended.
For all their offensive struggles, the Broncos are tied for first in the AFC West. Russell Wilson finished 20 of 33 for 184 yards. Sutton had 8 catches for 97 yards. But the Denver D won the day. Josey Jewell, returning from a calf injury, had a team-high 9 tackles with a sack. Randy Gregory, Mike Purcell and Chubb also had a sack.
"I don't mean to sound too brash, but I think we're the best defense in the league,'' Chubb said.
Since halftime of the opener, Denver's D in its past 2 1/2 games has only allowed 19 points. If that's not the best, it's been good enough.
Not that Broncos fans should start planning a trip to Arizona in February for the Super Bowl. The offense hasn't been well, averaging 14.3 points per game. It had just 14 first downs -- four on that game-winning touchdown drive in the fourth quarter -- and 261 total yards on Sunday night. And have the 9 three-and-out possessions been mentioned?
"It's something that we have to correct,'' Hackett said. "We, obviously, want to score a lot more points and it didn't happen today. We knew it was going to be slugfest versus this team. When we needed to get it, we got it, and we're going to continually develop and get better as an offense."
The Bronco can plan a trip to Las Vegas next week, when they meet Josh McDaniels and the winless Raiders. McDaniels has lost 6 in a row as a head coach, dating back to his final three games with the Broncos in 2010.
Denver defensive tackle D.J. Jones is in the concussion protocol. He had a third-down pass deflection early but played just 13 snaps before suffering the head injury. ...
Denver's D ranks No. 3 in the league in total yards (251.3) and No. 2 in points allowed (12.0). ...
Nickel corner K'Waun Williams has been one of the Broncos' most underrated defenders. He's playing with torn ligaments in his right wrist -- which is taped up cast-like -- yet he was in on 5 tackles.
PHOTOS | Broncos vs. 49ers
Denver Broncos headlines, game previews and interviews with our 9NEWS insider Mike Klis.
> Top stories curated daily just for you! Sign up for the 9NEWSLETTER to get can't-miss stories, Next and Broncos content, weather and more delivered right to your inbox.
MORE WAYS TO GET 9NEWS
ADD THE 9NEWS+ APP TO YOUR STREAMING DEVICE
ROKU: add the channel from the ROKU store or by searching for KUSA.
For both Apple TV and Fire TV, search for "9news" to find the free app to add to your account. Another option for Fire TV is to have the app delivered directly to your Fire TV through Amazon.