DENVER — The matchup between the stumbling Broncos and struggling Washington Football Team drew little interest nationally, and it wasn't exactly the talk of the town among the locals, either.
The Washington-Broncos game was the least-bet matchup in the NFL this week, according to the Action Network, and the sellout crowd at Empower Field at Mile High on a gloomy Halloween Sunday afternoon included 11,755 no-shows.
In fairness, trick-or-treating was a legit conflict.
There is also the disappointing reality that after a 3-0 start, the Broncos had not been must-see entertainment. The bettors, and no shows, were on to something.
Two blocked field goals by Denver defensive linemen Shelby Harris and Dre'Mont Jones, two touchdowns by running back Melvin Gordon III and ferocious pass rush even without the injured Von Miller helped the Broncos hang on to beat Washington, 17-10, in one of the ugliest wins the bettors and no-shows still haven't seen.
Still, a win is a win. And it was a much-needed win for head coach Vic Fangio and the Broncos. But what the heck was that at the end?
"Whatever worst words you can use to describe it, you can use to describe it,'' Fangio said. "It was awful. It was a terrible series of downs for us."
The game got wild in the final seconds. It appeared safety Justin Simmons cinched the 17-10 win with an interception off a desperation fourth-and-19 pass from the Denver 20 by Washington's gritty quarterback Taylor Heinicke with 37 seconds remaining.
But Washington had all three timeouts remaining and the Broncos got cute. On second and 9 from his own 23, Teddy Bridgewater inexplicably threw an incompletion that stopped the clock with 27 seconds left and the 17-10 lead. Then Gordon fumbled the ball away with 21 seconds remaining.
"Before going out there I was, 'two hands on the ball, two hands on the ball,''' Gordon said. "And then it opened up and I was like, 'Okay, I've got to get the first down.' And soon as I was about to open up, he made a play on the ball."
"That's on me. I've been in the league long enough to know," He said. "But the defense had my back. Hats off to those guys."
Here the Denver D had just finished celebrating its winning performance -- Simmons got a 15-yard taunting penalty that was offset by an unnecessary roughness penalty in frustration by Washington -- only to have to go back out there with the ball on its own 24-yard line.
But a second sack in a 64-second span by Malik Reed -- the Broncos' other outside linebacker -- and a throw out of the end zone by Taylor Heinike as the clock mercifully reached 0:00 finished it.
"Yeah man, it was really, hats off to our defense, responding well to adversity and just being ready for the moment,'' said Reed, who also deflected away a fourth-and-1 pass by Heinicke at the Broncos' 19 yard line to thwart Washington's game-opening drive.
"We had a lot of guys in there who hadn't played a lot of football,'' said Fangio, whose linebacker corps was depleted by injuries to Miller, Bradley Chubb, Alexander Johnson, Josey Jewell and Micah Kiser. "So proud of those guys. Happy for those guys."
Denver entered with a four-game losing streak but is now 4-4. Washington is 2-6. The Broncos play at Dallas next Sunday.
During the halftime ceremony, former Broncos quarterback Peyton Manning thanked the Bowlen family and Broncos organization for taking a chance on him in 2012 after he missed the entire 2011 season with a neck injury. He then capped his Ring of Fame induction ceremony with one last pass to friend and former receiver Brandon Stokley.
Manning moved up to the 30 yard line and lofted a nice spiral to the end zone where Stokely caught it. Stokley then raised both arms in celebration.
With all the attention paid to the return of receiver Jerry Jeudy from his six-week ankle injury, Broncos tight end Albert Okwuegbunam also came off the injured list accompanied by relative obscurity. Yet it was Albert O who came up with receptions of 12 and 19 yards and helped the Broncos to their halftime lead.
Denver's defense played the ultimate bend-but-don't-break style – Washington penetrated to at least the Broncos' 29-yard line on seven of its nine possessions and got to the Denver 36 on an eighth series. Yet, Denver only allowed 10 points total.
"By no means was it perfect,'' Simmons said. "They had some good drives down the field. When it came down to get down there and hold them to a field goal and Shelby and 'Dre' had two big field goal blocks, that obviously helped us. There was a lot of good stuff there and that's the type of stuff we'll have to build on and continue getting better at."
Said Heinicke, who finished 24 of 39 for 270 tyards: "We moved the ball really well. It's just the same story as last week (in a loss at Green Bay). We get down to the red zone and for some reason, we just stall out.''
Meanwhile, Bridgewater and the Broncos offense didn't reach the end zone until after the two-minute warning of the first half.
Completions of 19 yards to Okwuegbunam, 19 yards to Tim Patrick and 15 yards to Gordon, who dove in for the touchdown with 1:11 remaining in the first half, put the Broncos ahead, 10-3.
Jeudy seemed to struggle to get his ankle loose as he had just one catch for 5 yards in the first half. He did come alive in the second half, though, when he added three more catches for 34 yards. Patrick finished with three catches for 64 yards. Okwuegbunam had three catches for 34 yards. Courtland Sutton, ordinarily the team's top receiver, had just two catches, but for 40 yards.
Bridgewater finished the game with 19 of 26 completions for 213 yards and a touchdown. In the third quarter, he was 4 of 4 but for only 10 yards as Washington's defense -- ranked No. 32, or last, in scoring by allowing 30.0 points per game -- squeezed the shallow passing areas.
Gordon led all rushers with 47 yards and a touchdown on 10 carries and added another 15 yards, and a touchdown, off three catches. Rookie running back Javonte Williams had 35 yards on nine carries and another 13 yards receiving off two catches.
The two blocked field goals by the Denver defense, though, were huge in restoring the Broncos' confidence and demoralizing Washington. Harris got the first block to thwart a 45-yard attempt in the first quarter and Jones came through big in the fourth quarter to deflect a 47-yard attempt.
Here's to beleaguered Broncos special teams coordinator Tom McMahon.
It was scoreless after the first quarter, not that this was indicative of how the Denver defense played. Washington's had one full drive and half of another and compiled 104 yards and six first downs in the quarter. The reason the Football Team stayed scoreless was on a fourth-and-1 from the Broncos' 18 on their first drive. Heinicke had his pass to the right flat deflected away by outside linebacker Malik Reed, who should have got a game ball.
That was a 9-play, 56-yard drive for naught. On Washington's next drive it went 56 yards again, this time over 11 plays. Again, it got nothing as Blewitt's 45-yard field goal attempt was drilled into defensive lineman Shelby Harris' arm.
The Broncos' offense was erratic in its only first quarter possession. Bridgewater had an interception dropped, then followed with a 31-yard strike down the right side to top receiver Courtland Sutton. But from first and 10 at the Washington 30, the Broncos fell apart and wound up punting from the Washington 49.
On his second possession, Bridgewater hit another 31-yard completion downfield, this time to Tim Patrick, setting up first down at the Washington 23. Again, the Broncos went backwards, with Bridgewater getting sacked after he didn't pick up the cornerback blitz and again came a 45-yard field goal attempt.
This is where the Broncos were lucky to have Brandon McManus, who nailed it to remain a perfect 13 of 13 in field goal attempts this season. Jinx! McManus had his first miss -- a foot wide right -- on a 53-yard attempt in the fourth quarter, leaving the score tied, 10-10 with 10:57 remaining and Washington with the ball at its own 43.
The Broncos led, 3-0 with 10:27 left in the second quarter. Simmons got his first interception when Heinike's Hail Mary heave into the end zone on the final play of the first half preserved the Broncos' 10-7 halftime lead. Newcomer Stephen Weathelry had a sack while playing in place of Miller, who missed the game because of a sprained ankle.
Washington had outgained the Broncos for most of the game but momentum turned when Jones came up with the second block on Blewitt's field goal attempt with 9:00 left in the fourth quarter and the score still tied, 10-10.
That woke up Bridgewater and the Broncos' offense. Bridgewater hit Patrick for 14 yards, then after getting sacked for the third time in the game, came back to connect with Sutton for 9 yards and 18 yards to Jeudy, who got open on an out cut.
Javonte Williams then ran for 14 yards and after another 7-yard catch by Jeudy, Gordon scored his second touchdown of the game, this time on a 7-yard run. The Broncos were up, 17-10 with 4:27 left in the game.
Washington behind Heinicke marched right back down the field. Heinicke, who threw a beautiful 20-yard deep go route to DeAndre Carter for a touchdown that beat cornerback Bryce Callahan in the third quarter, hit Dax Milne for 22 yards to again move the ball deep into Denver territory. A 14-yard completion to Carter gave Washington a first down at the Broncos' 11 as the 2-minute warning approached.
It became third-and-6 at the Broncos' 8 with 1:16 remaining when Reed sprinted in for a strip sack. Washington recovered but the Football Team had fourth and 19 at its own 20 with 49 seconds remaining.
Simmons again intercepted the ball in the end zone to seemingly secure the Broncos much-needed win -- until the Gordon fumble gave Washington another chance.
Reed got his second sack in a 64-second span to push Washington back to its 30. On fourth-and-16 at the Broncos' 28 with 13 seconds remaining, Heinicke threw the ball out of the end zone as the clock expired. Whew!
"We needed to win that game,'' Fangio said.
Callahan suffered a knee injury in the fourth quarter while defending a pass in the end zone. Callahan landed awkwardly and replays showed his knee hyperextending. He had to helped off the field as a large gathering of teammates gathered around him in support. "It's not bad, bad,'' Fangio said. Still it appears Callahan will miss a week or three. ...
Left tackle Garett Bolles suffered an ankle injury in the second half. He left the locker room on crutches and his left foot in a boot. He was given a cart ride to his vehicle with his wife and kids along for the ride. "I'm all right,'' Bolles said to 9News as he rode off. ...
Game balls went to safety Justin Simmons, who had interceptions off desperate throws late in each half, and defensive line coach Bill Kollar. Not only did Kollar deliver the team speech at the team hotel Saturday night, his two best defensive linemen, Harris and Jones, combined for two blocked field goals and two sacks. ...'
Robbed of a game ball was Reed, who made the fourth down deflection stop on Washington's first series and had two sacks. ...
Third-round rookie Baron Browning made his first NFL start at inside linebacker. He relayed the defensive signals from Fangio to his teammates on the field, and led the team with 8 tackles.
PHOTOS | Broncos vs. Washington Football Team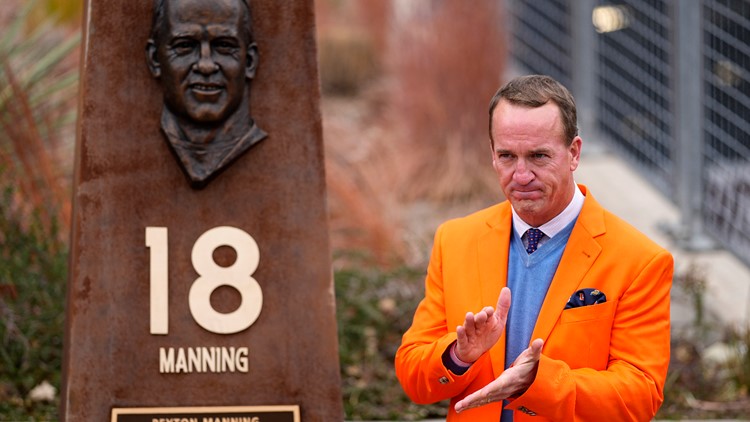 Denver Broncos headlines, game previews and interviews with our 9NEWS insider Mike Klis.
MORE WAYS TO GET 9NEWS
HOW TO ADD THE 9NEWS APP TO YOUR STREAMING DEVICE
ROKU: add the channel from the ROKU store or by searching for KUSA.
For both Apple TV and Fire TV, search for "9news" to find the free app to add to your account. Another option for Fire TV is to have the app delivered directly to your Fire TV through Amazon.