ORLANDO – By its very name, the Ritz Carlton Orlando Grand Lakes is a luxury resort featuring among other amenities, a Greg Norman-designed golf course and a 40-room, private lap pool, award-winning spa.
That doesn't mean the ornate lobby and expansive hallways can't be filled with gossip.
As NFL owners, general managers and head coaches gather here for the annual league meetings this week, the buzz has the Broncos going quarterback with their top 5 draft pick.
They may trade up from No. 5 or they may stay put, but the Broncos' brass has spent so much time personally scouting the Big 4 quarterbacks of Sam Darnold, Josh Allen, Baker Mayfield and Josh Rosen that John Elway is bound to take one of them.
"I know it,'' Elway said of the speculation. "We don't know, yet. So, they must know more than I do.''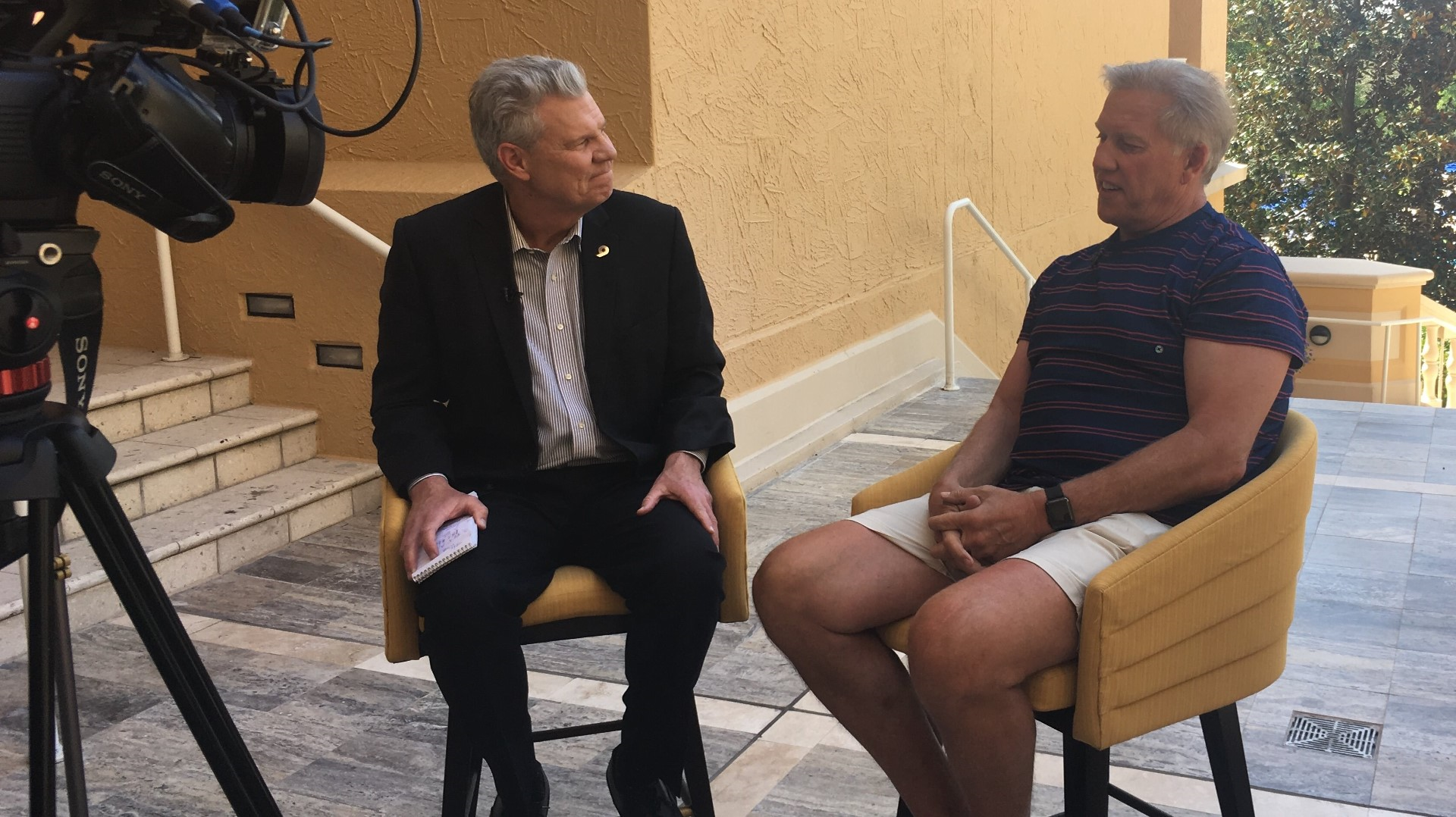 Let's do some figuring. The Broncos will spend $18 million this year on their newly-signed quarterback Case Keenum. They still have their first-round quarterback from two years ago, Paxton Lynch, on the roster. The No. 5 overall draft pick is going to get paid an estimated $18.5 million in signing bonus and salary this year.
The Broncos are going to use their No. 5 pick to double- or triple-up their resources at quarterback when their 5-11 team from a year ago seems to have so many other needs?
"You know we're wide open, to be dead honest with you,'' Elway said. "Who knows how it's all going to fall. The Jets have already moved (from the No. 6 pick up to No. 3) and there's going to be other teams that may be moving around, too, so we're going to go through and have those discussions.
"I will tell ya, it's funny how people think they know who you're drafting because I don't know who we're drafting, yet. We're going to do our homework and eventually get there.''
Other topics Elway covered during his sit-down interview with 9NEWS on the big, comfy chair patio deck here Sunday:
*C.J. Anderson. The Broncos' starting running back the past four seasons is still on the team. His $4.5 million salary makes him vulnerable, especially with two young running backs behind him in Devontae Booker and De'Angelo Henderson.
"He may or may not,'' Elway said. "Who knows? We're going to continue to massage this thing and try and figure out what's best and gives us the best opportunity to win football games.
"C.J. obviously had a great year for us last year. We'll see where that takes us. Obviously, there's a lot of moving parts to it when you talk about the (salary) cap and all those type things, too, so we'll continue to work on it and see what happens.''
Let's just say it's hardly certain Anderson returns.
*Elway challenged his core players who helped the Broncos win Super Bowl 50 in 2015. Those players include Von Miller, Demaryius Thomas, Emmanuel Sanders, Chris Harris Jr., Derek Wolfe, Brandon Marshall, Bradley Roby and Darian Stewart.
"That's the core of your team and you're right, we've got to play better,'' Elway said. "I know all those guys you mentioned can play better than they played last year. We've got to get the leadership back from all those guys and they've got to get their game to the next level where it was.
"For us to get back and do what we want to do, which is compete for a championship, then those guys you just mentioned have to play better.
"Todd Davis coming back (at inside linebacker) provides tremendous leadership on the defensive side. As a whole, we're not going to fix everything in free agency and the draft. We've got to play better as a core. As a team, I know we can play a lot better than we did last year.''
*Pat Bowlen. Veterans still refer to this event as the "owners meetings.'' They're all here. The Broncos' owner, though, hasn't attend these meetings in several years because of Alzheimer's disease.
"I's really sad when you come here because everybody always asks about him and asks how he's doing.'' Elway said. "He's very much missed. Because of the impact he did have on the game when he was so involved for so many years. It's a sad time of year because you wish he was here. But it's neat to hear so many different people and so many different owners always ask about him.''
*The Broncos' first order of business this offseason was not to address the quarterback position by signing Keenum.
"We had to redo the budget after we looked at what our draft choices are going to cost us,'' Elway said.
"Picking not where we're used to picking at the end of the round but the top of the round, so that was a lot more money than what we paid our young guys (in recent years).''
Two years ago, the Broncos paid first-round rookie Lynch $5.54 million in signing bonus and salary. Left tackle Garett Bolles got $6.6 million as the No. 20 pick last year.
This year's pick will get a little more than $18 million in signing bonus and $480,000 in salary.
"Obviously, being 5-11 you get that fifth pick, it's miserable going through it, but we're glad to have that pick,'' Elway said. "It gives us a lot of different options.''
*As Adam Gotsis is under investigation for rape stemming from a report that was filed five years after the alleged incident, the defensive end is expected to participate in the Broncos' offseason program that begins April 16 with conditioning.
"That is the plan so far,'' Elway said. "We'll see how that goes.''
*Back on Super Bowl LII eve, 9NEWS posed the question on the Honors program red carpet: Kirk Cousins for $30 million a year, or Case Keenum for $18 million?
The Broncos held discussions with Cousins' agent Mike McCartney but decided late Monday morning, March 12, to go all in on Keenum.
Why? A big reason is the Broncos believed Keenum at $18 million was a better quarterback than Cousins at $28 million, which is what he got from Minnesota. (The Jets made him a $30 million a year offer, per the New York Daily News).
"We went through and did our homework, that's what we were working on,'' Elway said. "Obviously, Kirk Cousins is a great player, too but we just thought with Case, the way things were working out that Case was the best fit for us and was going to be a better deal for us, too, as far where we were with the cap and everything. Putting all those things into it, we just came out with Case and we're really excited about it.''
*Right tackle. They spent $6 million in year one money on Donald Stephenson in 2016. They spent $5.9 million in year one money on Menelik Watson in 2017.
And now the Broncos for 2018 traded for Arizona veteran Jared Veldheer, who will draw $6.5 million; $7 million if he plays in all 16 games this season.
"We're excited about him,'' Elway said. "He's played some really good football up until this point in his career and so we're excited about getting a veteran like him who's had some good success. Move him back over to the right side that'll solidify (the line) for us.''
*Gotsis' legal limbo had nothing to do with the Broncos signing defensive lineman Clinton McDonald to a two-year, $7 million contract.
"Really, we were trying to find some pass rush inside and we feel like he's got that pass rush inside and can really help us there,'' Elway said. "Plus, he's a good football player and has been for a long time.''