ENGLEWOOD, Colo. — NFL teams don't care if two players sang the same college fight song together.
If they did, the Broncos wouldn't have signed Nick Vannett with the expectation he will replace Jeff Heuerman as the team's blocking tight end complement to Noah Fant.
"I've thought about that but I have no idea what the plan is," Vannett said in a conference call with the Denver media Friday. "I just know they're looking for me to come in and create some competition. Just to help out in the run game. In the past that room has struggled with some injuries so I think they're looking for someone to come in and add more depth to the room."
From Vannett's redshirt freshman year of 2011 at Ohio State until Heuerman's senior season of 2014, those two tight ends spent four years in the same position room. Rare was their game that didn't end with reason to sing the Buckeye Battle Cry.
After the Luke Fickell transition season between Jim Tressel and Urban Meyer, the Buckeyes went 12-0 in 2012, 12-2 in 2013 and 14-1 in their national championship season of 2014 – Heuerman's senior season; Vannett's redshirt junior year.
Vannett played three years behind Heuerman.
But for 2020 with the Broncos, Vannett has $2.75 million fully guaranteed from his $3 million payout while Heuerman has zero dollars guaranteed with his $3.875 million pay.
The Broncos' salary cap ledger says Vannett is backing up Heuerman no more.
Heuerman knows the deal. And yet, in the latest demonstration of how college blood – particularly Ohio State scarlet -- is thicker than career, Heuerman did the classy thing for his former and current tight end teammate.
"I've talked to Jeff," Vannett said. "He reached out to me, congratulated me on signing with the Broncos. He's excited that we're going to be in the same room together. He's excited we're reuniting more than anything. But we didn't really talk about what could happen down the road or what they plan to do."
At Ohio State, the 6-foot-5, 255-pound Heuerman had 52 catches for 792 yards and 7 touchdowns while blocking for the likes of Ezekiel Elliott, Carlos Hyde, Braxton Miller and J.T. Barrett.
The 6-6, 260-pound Vannett blocked for those same Buckeye runners and passers, plus QB Cardale Jones in 2015 and finished his four years at Ohio State with 55 catches for 585 yards and 5 touchdowns.
Heuerman was the Broncos' third-round draft pick, No. 92 overall, in 2015; Vannett was Seattle's third-round selection, No. 94 overall in 2016.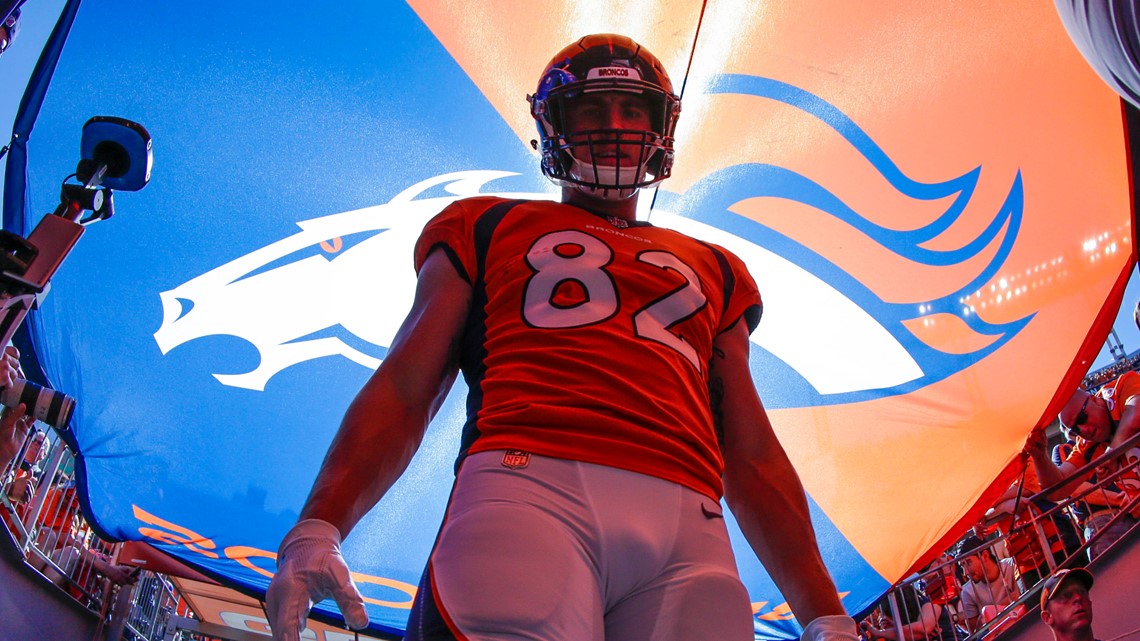 In the NFL, Heuerman has 63 catches; Vannett has 61. While Heuerman has been a Broncos and nothing but for five years; Vannett was traded to the Pittsburgh Steelers last year three games into his fourth season.
"Talk about a crazy three months there," Vannett said. "It seemed like I came into an organization when the wheels are starting to fall off a little bit. Guys are getting hurt. 'Big Ben' (Roethlisberger) was down. I feel like I never really got to experience the true benefits, the true atmosphere that the Steelers normally would have because I came in on a crazy situation.
"I can't say that I have too many great things to say about that organization just from my time being there because it wasn't the most pleasant experience I've ever had. I can't really speak too much on them to be honest."
Vannett has stayed healthier than Heuerman during their NFL careers, though. Vannett missed just two games the past three seasons while Heuerman has endured his share of physical setbacks.
And so the Broncos went after Vannett.
"Denver was always in it," Vannett said. "They didn't really know they needed a tight end. It wasn't one of my teams that I was projecting to be with coming out of the Combine when you first get all that information from your agent (Chase Callahan). But they made offers and they showed they were really interested in me."
Vannett also had the option of signing with San Francisco to become George Kittle's backup, but the 49ers' one-year, $1.75 million deal was shy of the two-year, $5.7- million deal he has with the Broncos.
Money wasn't the only factor, though.
"I saw a good opportunity because there are a lot of young tight ends in that room, it's a younger team right now," Vannett said. "They're in the reloading process and so it was an opportunity for me to be a mentor to the group, to be the leader, kind of lead by example. It was an attractive situation for me.
"And then the O.C., coach (Pat) Shurmur coming in this year, he's had great success everywhere he's been running two tight-end sets. That's ultimately what I saw in the Broncos."