BALTIMORE — What a waste. The Broncos not only blocked a punt that led to a touchdown, they blocked a field goal that should have been a touchdown.
Yet, the Broncos didn't win as 13 penalties cancelled out their big special teams plays in a 27-14 loss to the Baltimore Ravens here on a soggy, gloomy Sunday afternoon at M&T Bank Stadium.
The Broncos became only the second NFL team in the last six years to lose while blocking two kicks, joining the Mike McCoy-led San Diego Chargers in a November, 2013 game.
"It probably cost us 20 points today, just self-inflicted penalties,'' said head coach Vance Joseph. "And a lot of the penalties were about losing our composure. We can't do that. We're playing a tough Baltimore team on the road and we have 13 penalties for 120 yards and it honestly cost us 20 points out there.''
The blocked punt by Joe Jones led to a touchdown, but a blocked field goal by a leaping Justin Simmons that had a touchdown return by Chris Harris Jr. called back by a questionable penalty. Baltimore also had an interception return for a touchdown that was called back by penalty.
There were costly penalties, injuries that left the Broncos' secondary shorthanded, a lead change, an alleged punch thrown by Phillip Lindsay that got the Broncos' rookie ejected, strip sacks, thrills, spills, nervous moments and touchdowns.
"I didn't think I did anything wrong,'' Lindsay said. "It was playing football. And they seen something that they didn't feel was right.''
About the only steady element of the Broncos-Baltimore Ravens game here Sunday afternoon at M&T Bank Stadium was the rain. Then again, there wasn't much rain late in the second quarter and in the fourth. A paid crowd of 70,156 – there were far fewer sitting in the wet seats – witnessed a doozy. The Broncos and Ravens are both 2-1 on the season. The Broncos play the 3-0 Kansas City Chiefs and their red-hot quarterback Patrick Mahomes next Monday night in Denver.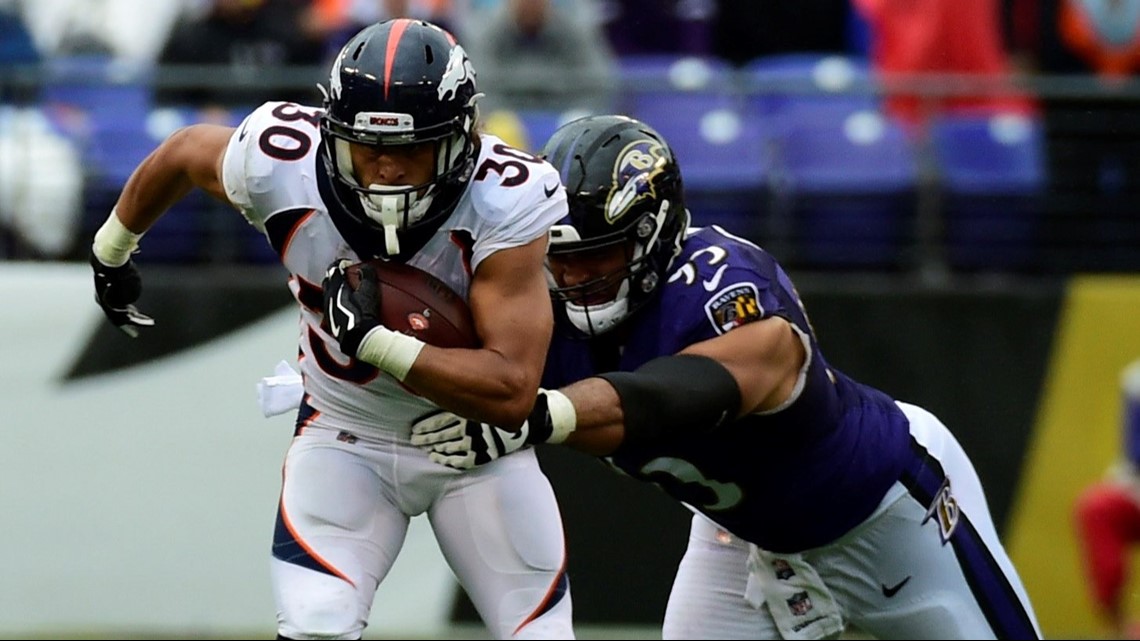 Despite a steady downpour that began several hours before the game, there was a wild, entertaining, high-scoring start.
It was 20-14 at halftime, but the Ravens tacked on another touchdown drive with their first possession of the second half. Ravens quarterback Joe Flacco was outstanding in completing 25 of 40 for 277 yards and a touchdown. Broncos quarterback Case Keenum struggled, as he completed 22 of 34 for 192 yards and an interception.
"For me, I've got to do a better job at getting the ball out at the correct time and to the correct receivers,'' Keenum said. "It was a lot of things for us today. I missed some guys, when they were open, and it seemed to me we had a lot of tipped balls."
A blocked punt by Jones gave the Broncos their first possession at the Ravens' 6-yard line. A handoff to Broncos' starting running back Royce Freeman on the first play was a touchdown as the rookie scooted through a huge hole.
The Ravens came back thanks to a long kickoff return by Tim White and 15-yard unsportsmanlike penalty on Broncos' rookie Isaac Yiadom that started Joe Flacco's drive in Denver territory. Yiadom was on the sideline for the kickoff and said he only made a self-preservation move after White was tackled into his legs.
"The dude, I guess he got tackled out of bounds and he was rolling out of bounds, I was standing right there and he was about to roll into my legs so I jumped and they threw the flag,'' Yiadom said. "He was going to roll underneath me so I Jumped and they threw the flag. It was crazy but I did not push him or nothing.''
That penalty may have led to 7 of the 20 points Joseph referred to. A 30-yard catch-and-run from Flacco to wide-open tight end (how many times has that description been read in the past three seasons) Mark Andrews put the Ravens in the red zone. A 6-yard touchdown run by Alex Collins finished another successful red-zone possession for the Ravens.
At that point they were 10 of 10 scoring touchdowns in the red zone.
The action was just getting started. On the Broncos' next drive, they went 70 yards for a go-ahead touchdown. Case Keenum picked up two, third-and-longs during the march. He hit Courtland Sutton for 16 yards to convert a third-and-11 and running back Devontae Booker for 7 yards on third-and-6.
The drive ended with a perfectly executed end-around handoff to receiver Emmanuel Sanders who ran 35 yards through an open prairie of wet grass for a touchdown.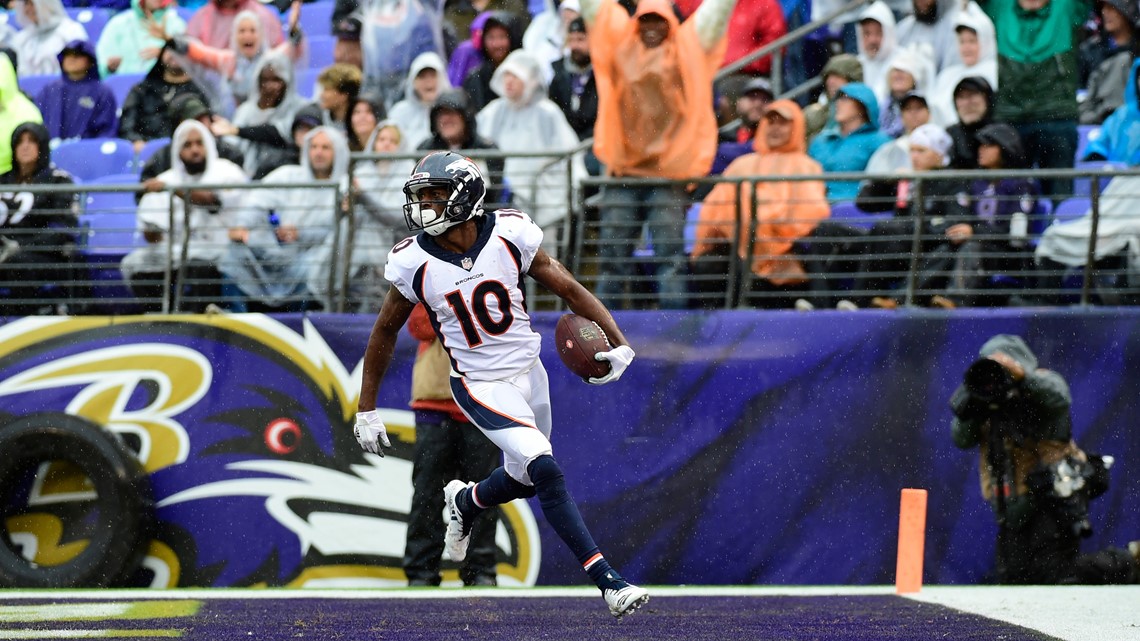 It was 14-7 Broncos with a little more than 7 minutes left in the first quarter.
The Ravens came back on a 52-yard field goal by Justin Tucker and a 12-yard touchdown pass from Flacco to Javorius Allen. That Baltimore up, 17-14 with 8:26 still left in the first half.
"We let 'em off the ropes,'' said linebacker Brandon Marshall, who didn't start because of a knee injury but played on passing downs. "We didn't stop them enough. They converted too many third downs.''
The Ravens were about to go up, 20-14, but Tucker's 43-yard field goal was blocked by Simmons, who leaped straight up the middle. It was reminiscent of when Simmons made a running leap over the line to block an extra point at New Orleans two years ago. The running leap has since been outlawed, but Simmons was lined up at the line.
"As long as I'm considered on the line of scrimmage I'm allowed to jump over him,'' he said.
What happened next is where the Broncos thought they got jobbed. Chris Harris Jr. recovered for the Broncos and returned it 58 yards for a touchdown. His return was called back on a block-in-the-back penalty on Domata Peko Sr. The referee called out No. 77 Billy Turner for the penalty but he wasn't on the field. Well behind Harris' return, Peko nudged Baltimore's No. 77 -- Bradley Bozeman -- from the side. Bozeman then took a World Cup-worthy dive to draw the flag.
"We score there, we win,'' Harris said. "We go up (20-17 with extra point coming), we've got momentum. It changed the game, man. It changed the game. That's a killer. That's how the game went today. Penalties kept taking it away.''
And then it got worse. The Broncos were still hoping to convert the block into points, but Keenum's protection began to break down. Ravens' star pass rusher Terrell Suggs beat Broncos' left tackle Garett Bolles on the blind side and strip sacked Keenum.
The ensuing pile up for the fumble left Lindsay down on his back, a position from where he was apparently caught taking a swing at a Raven. Lindsay respectfully disagreed.
"I was trying to hit the ball,'' Lindsay said. "The ball ended up squirting back out during that play. I was going for the ball and they thought I swung at somebody.''
The same feistiness that made him the first undrafted rookie in NFL history to have at least 100 yards from scrimmage in each of his first two games also made him the first undrafted rookie to have 100 yards in each of his first two games and get ejected in his third.
"I feel horrible,'' Lindsay said. "Because I'm not out there for my team. That's my fault. It's something I'm going to learn from and not have happen again.''
Tucker ended the crazy first half with another 52-yard field goal – his eighth in a row from at least 50 yards. The Ravens nearly had another touchdown, but an 89-yard interception return by linebacker Patrick Onwuasor was called back when Baltimore defensive lineman Matthew Judon ran into the back of a retreating Keenum.
"We blew it,'' said Sanders, who besides the first rushing touchdown of his career had five catches for 38 yards. "Plain and simple. We blew it.''
PHOTOS | Denver Broncos at Baltimore Ravens: 9/23/2018