DENVER — It would not be accurate to say the Denver Broncos made a splash with their start to free agency last week.
Trading for star cornerback Jalen Ramsey, signing quarterbacks Derek Carr or Jimmy Garoppolo — now that catches the attention of the most casual of football fans.
The Broncos jumped out on Day 1 of free agency by signing two blockers – left guard Ben Powers and right tackle Mike McGlinchey.
"It hit me a few years ago when I was watching the draft,'' McGlinchey said Wednesday in an interview with 9NEWS. "And draft day or free agency, when you get an offensive lineman or two offensive linemen like we did in Denver, it's like getting socks and underwear for Christmas. You know you need them. But they're not exactly the sexiest gift."
Maybe not, but that doesn't mean gifts of substance can't cost a pretty penny. In terms of total contract value, McGlinchey's $87.5 million deal over five years was the second largest to Carr's $150 million with New Orleans for the 2023 free agent period. Powers received a $52 million contract over four years that easily made him the highest-paid guard of NFL free agency.
Continuing on with the substance over flash theme, the Broncos later in the day Monday added Zach Allen, a relatively obscure if strongly effective defensive tackle. The Broncos, thanks to their Walton-Penner ownership group, have outspent all other NFL teams in free agency.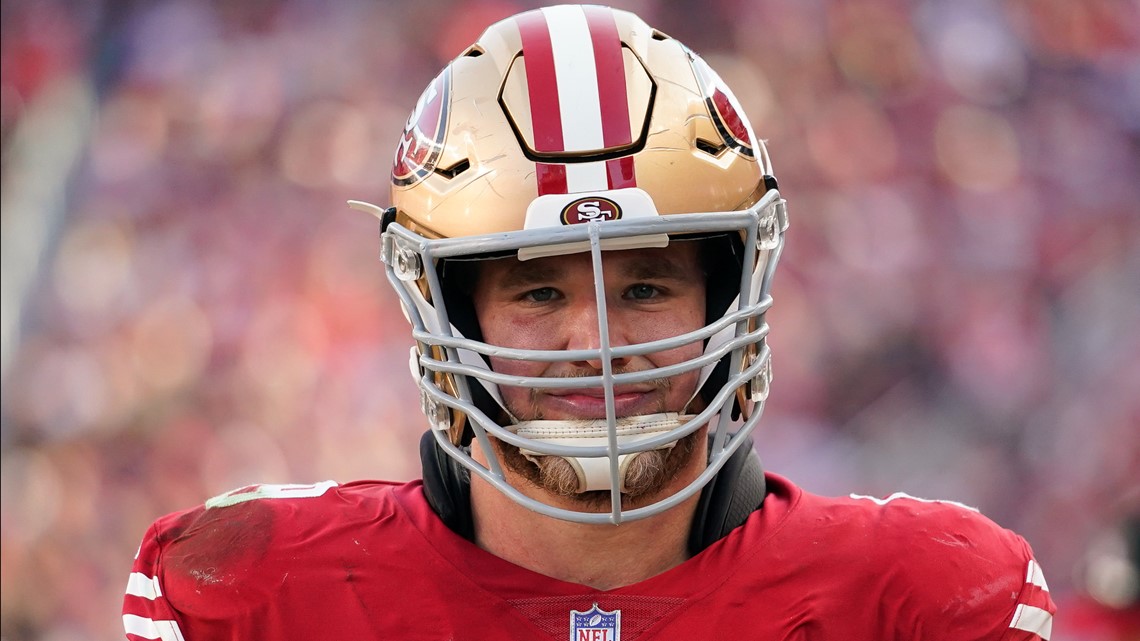 The top three purchases, though, were three men who do football's dirty work in McGlinchey, Allen and Powers. For all the previous offensive genius displayed by the Broncos' new head coach, Sean Payton, it was notable to see how he prioritized the men up front rather than ball carriers, passers and catchers.
This became apparent to McGlinchey as he listened to Payton's recruiting pitch at the outset of free agency.
"That's one of the first things he and I spoke of,'' McGlinchey said. "I think he's proven it through his track record over the 16 years he was in New Orleans is he invested big time in his offensive line and obviously it's the most important thing to him. I think for all of time, football has been won, lost and controlled at the line of scrimmage and dominating the line of scrimmage.
"He understands that, and it's shown in the way he addressed the team in the first couple weeks of free agency. I'm a believer in that. I think in order to win games and control games and to have a good game plan, you need to be able to block people. And you need to be able to block people well and have no doubt about what's going on up front. I think that's what he's trying to build in Denver."
McGlinchey grew up in Philadelphia, where he starred in both basketball and football at William Penn Charter high school. He took his 6-foot-8 frame of athleticism to Notre Dame where he played so well he became the San Francisco 49ers' first-round pick, No. 9 overall, in the 2018 NFL Draft.
He played five years of right tackle in Kyle Shanahan's vaunted zone-blocking scheme before becoming a free agent and becoming free-agent target No. 1 for the Broncos.
McGlinchey was the Broncos' key signing not only because of the loot the team spent on him but also the position he plays. To the Broncos, right tackle might as well have been positioned over a manhole cover the that had to be replaced every year over the past 10 years. In succession, Orlando Franklin (2013), Chris Clark (2014), Ryan Harris and Michael Schofield (2015), Donald Stephenson (2016), Menelik Watson (2017), Jared Veldheer (2018), Ja'Wuan James and Elijah Wilkinson (2019), Wilkinson and Demar Dotson (2020), Bobby Massie (2021) and Cam Fleming and Billy Turner (2022) have been the Broncos' right tackles over the past decade. With a couple starts for the likes of Paul Cornick mixed in.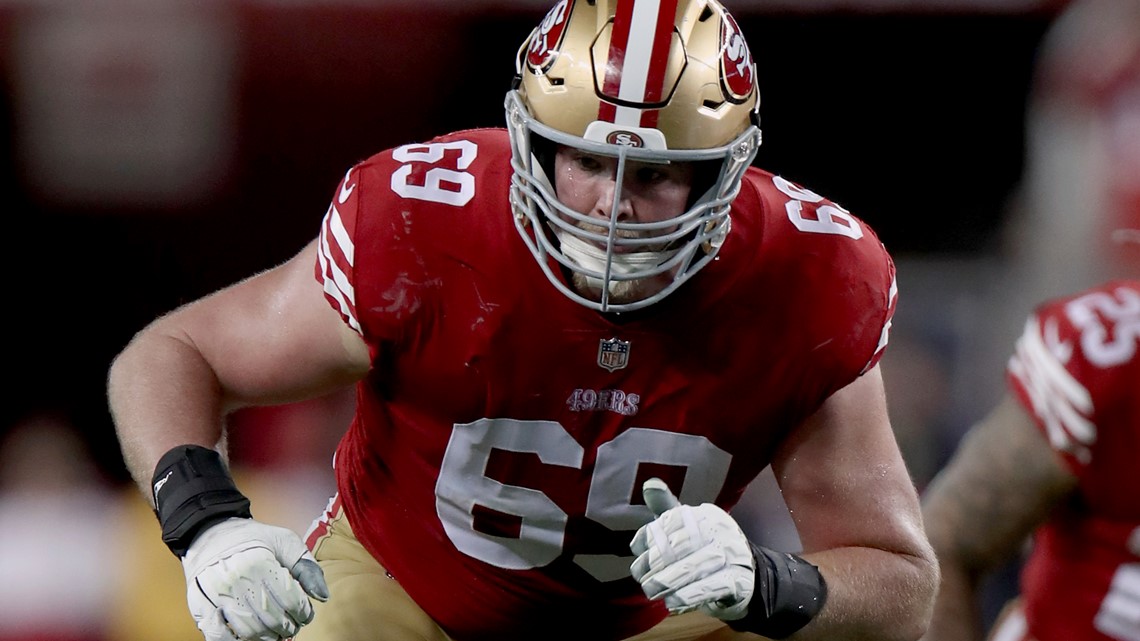 It's a revolving piece of Broncos history McGlinchey wasn't familiar with until after his signing.
"Only aware of it over the last week or so,'' he said. "I've seen a lot of information on that. I hope to put a nice little plug in that hole."
As he prepared for free agency, McGlinchey did his research on several teams. The Broncos were the ones he kept coming back to. He has been a professional long enough to know that for any company to be successful, it starts at the top.
"I was fortunate to see for five years how a great organization is run,'' he said of the 49ers. "And I believe the Denver Broncos are that and more. With the ownership, I think they're poised to become one of the best ownerships in football. They have spoken highly about their commitment to the team, using their resources to make life easier and be able to put ourselves in a position to compete. If you look around the NFL, there are probably 15 to 20 places where that's an uphill battle.
"Secondly, their front office, I've spoken with (general manager) George Paton quite a bit and I really love the direction he's headed, love the roster that's been built here. I think we're ready to compete now. It's not some big rebuild or anything like that that needs to take place.
"I think defensively, they're going to be a top unit in football. I think we have the potential to be a top unit on the offensive side of the ball as well. And obviously can't forget Sean Payton, who is a Hall of Fame head coach. In all my talks with him, he and I seem to align very well in our philosophy in the game of football. On top of being a great leader and a great person.
"I feel like I fit with what Denver wants to do. It's a fun opportunity to be part of a group that turns things around for a historic and storied franchise. And Denver is obviously an unbelievable place to live.
"So all those factors and, quite frankly, they had an offer I couldn't refuse. It was an incredible situation all the way around. It was the one place I wanted to be and I'm just glad it all worked out."
Another factor for almost every free agent who has multiple suitors is the team's quarterback. Forgive McGlinchey if he holds Russell Wilson in higher regard than some of the harshest critics the Broncos' quarterback gathered from the Rocky Mountain region last season. McGlinchey's 49ers went 2-7 against Wilson-led teams that included an 11-10 setback to the Broncos in game 3 last season. Ugly as that game was offensively, it did include a game-winning, fourth quarter, Wilson-led, 80-yard touchdown drive.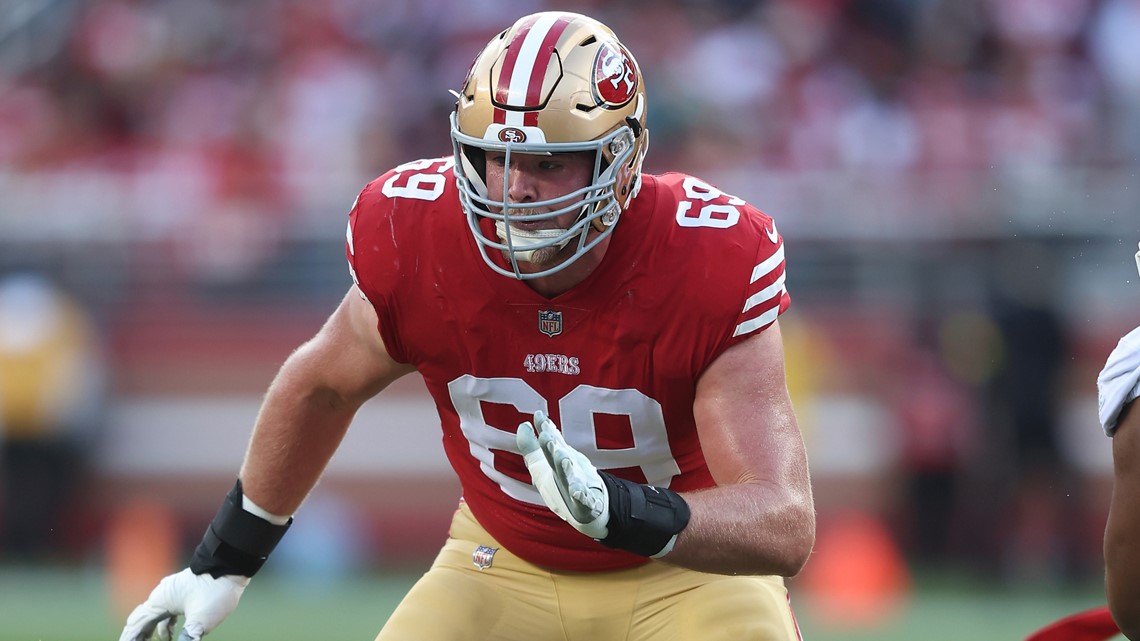 "I'm very familiar with Russ, playing against him twice a year for four years,'' McGlinchey said. "He's broken my heart numerous times. I know his game, I know what he's capable of.
"He's a Hall of Famer. And he's capable of doing great things and winning a lot of games in this league like he did for a decade in Seattle. And I think coach Payton and the situation we're going into is going to elevate his game even more.
"I know last season didn't go the way Broncos Country wanted but I think things are going to be a lot different and I'm very excited to get to work with Russ and see what we can do together and how we can make a splash in the AFC."
McGlinchey and his wife, Brooke, are planning to become quickly entwined in the community fabric of Broncos Country.
"We are looking to buy a place in the Denver area and be all in on the state of Colorado and our new home for the next five years,'' McGlinchey said. "And hopefully it will be longer than that."