People across the NFL landscape were moved Sunday upon hearing the news that Pro Football Hall of Fame quarterback and all-time gentleman Bart Starr had died at 85.
Tributes have poured in from the likes of John Elway, Aaron Rodgers, Brett Favre, Fran Tarkenton, Troy Aikman and Russell Wilson. These fellow QB greats and so many others have shared their personal stories about the legendary Green Bay Packers quarterback. Here's mine:
Maybe it started with the name.
When you're 7 years old and just beginning a deep, emotional dive into sports, no other name passing through young ears came close to topping Bart Starr.
I grew up 40 miles from downtown Chicago (in Aurora, then Oswego) rooting for the Cubs, the Blackhawks, the Bulls… and the Green Bay Packers.
My stray from Chicago during the fall was not incited by Bart Starr's cool name alone. In the 1960s, the NFL blacked out all team's home games within a 75-mile radius. The only time the hometown Chicago Bears were on TV, they were wearing those drab, all-white road uniforms, which perfectly fit George Halas' old-fashioned offense.
While the Bears were blacked out seven out of 14 games a year, Chicagoland viewers almost always got the Packers games instead. The Packers' dark green jerseys and gold pants viewed well on black-and-white TVs in 1966—my first year as a sports fan.
The Packers with Vince Lombardi as head coach and Starr at quarterback were terrific in 1966. Starr completed a league-best 62.7 percent of his passes with 14 touchdowns against just 3 interceptions. I didn't learn until later he was the NFL's MVP that season.
A 7-year-old could have told you that.
The Bears that same season with Halas and quarterback Rudy Bukich were bad and, worse, boring. And did I mention those ugly, all-white road uniforms?
The Bears with their 71-year-old head coach went 5-7-2 in 1966 with Bukich throwing 10 touchdowns against 21 interceptions.
To review those 1966 passing stats, Starr had 14 TDs and 3 picks; Bukich was 10 and 21.
As a kid, it was about offense. Not Bears defense or Jack Concannon, who would replace Bukich with similar results. I loved Starr and the NFL by day, Namath and the AFL by evening.
The next year, in 1967, Starr was banged up and he did not have a good season. But in the playoffs, he completed 17 of 23 for 222 yards and a touchdown pass to Carroll Dale to beat George Allen's Los Angeles Rams; scored on his famed, 1-yard sneak with 13 seconds remaining to defeat Dan Reeves' Dallas Cowboys in the Ice Bowl; and threw a 62-yard touchdown pass to former Colorado Buffalo receiver Boyd Dowler to help the Packers route the Raiders in Super Bowl II.
The elusive Bart Starr autograph was in my sights.
It was the Friday before Super Bowl XL in Detroit and Starr was walking just a little ahead inside the bustling Marriott at the Renaissance Center hotel.
To celebrate the Super Bowl's 40th anniversary, the NFL was bringing in all of the game's Most Valuable Players. Starr was the first one invited, at least he should have been, as he was the MVP of both Super Bowl I and II.
And now there he was walking swiftly with his "handler," who was organizing his media responsibilities.
With no time to think, I was guided by impulse. I had to have Bart Starr's autograph. I had just worked out in the same hotel fitness center with Joe Namath, who was the No. 1 sports idol of my youth. I even small-talked with him on our way out.
But I didn't ask for his autograph. Been there, done that. And misplaced somewhere.
Starr was my second-favorite quarterback on my favorite team growing up in the Chicagoland area. But now that I was supposedly the adult age of 47, his signature was my quest.
Starting at 10 years old, when uncle Joe arranged for Ernie Banks to send me his autographed 8 X 10 black-and-white glossy, I regularly wrote letters to sports stars requesting an autographed photo.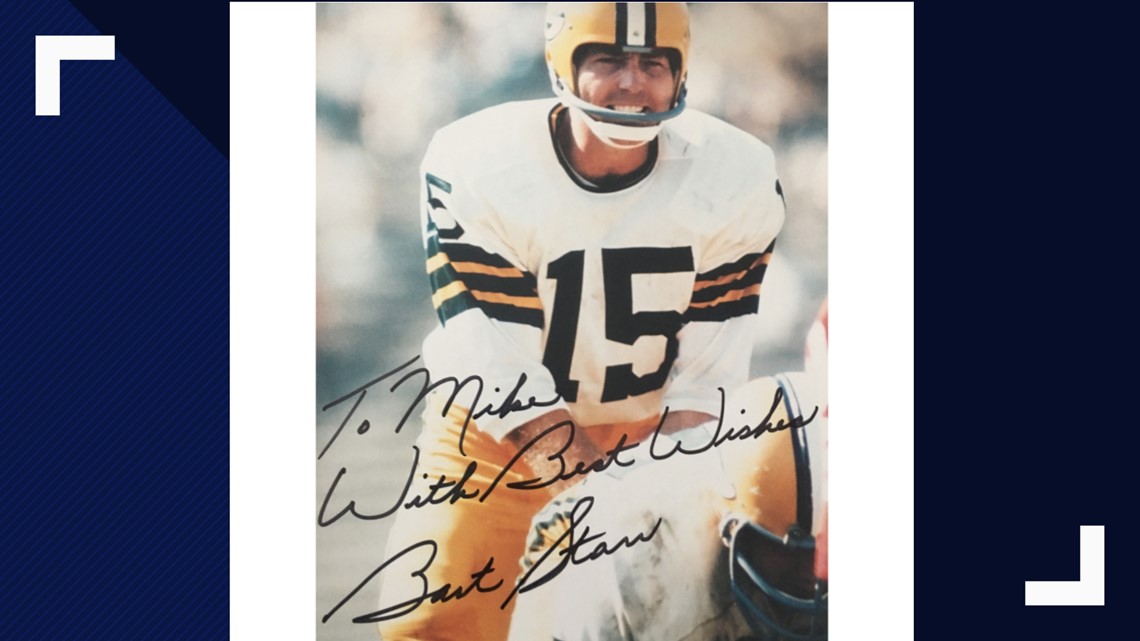 It was such a thrill to receive in the mail autographed, postcard-sized photos of the Packers' Mike McCoy, baseball's Billy Williams, Ron Santo, Bill Hands, Wes Parker, Thurman Munson, Randy Hundley, Jim Hickman, Tim McCarver and hockey's Pit Martin and Tony Esposito.
You could tell Fergie Jenkins had his autographed copied on his photo somehow. And so did Bart Starr.
In his black-and-white photo, the helmetless Starr was in his No. 15 dark home jersey posing as if handing off to the photographer. On it was "Best Wishes, Bart Starr." I stared and stared hoping to see an authentic scribble, even though it was evident his salutation and signature were stamped or copied on there.
So I wrote him again the next year and got the same copied signature on the same photo.
As a credentialed journalist, I am forbidden from seeking autographs from those I cover. But I figured I wasn't covering Starr, per se. I wouldn't ask Ben Roethlisberger or Shaun Alexander, the biggest stars of Super Bowl XL, for an autograph.
Starr's signature, though, was about my childhood, not occupation. Instinctively, I rushed by him and his handler and approached the small bar off the lobby. No, not to order a beer. To take a cocktail napkin and beg the barkeep for a pen.
I quickly moved back to Bart, who was about to get on an elevator with his handler. I swiftly told him in full disclosure I was a journalist and this was irregular but that I was a Chicago-area Packer fan because of him and Vince Lombardi and the Green Bay glory decade of the 60s.
The Packer fan part was nothing he hadn't heard a couple thousand times. I didn't mention the copied autographs. He started to sign my napkin, but then stopped and asked for my address.
The elevator came and he and his handler went in. She seemed a little perturbed as I got in the elevator with them. I wrote down my address on the cocktail napkin as the elevator stopped in the garage. He took it, carefully folded it and placed it in his inside sports coat pocket.
This was Feb. 3, 2006. On Feb. 14, I had received an 8 X 10 envelope with a "Do Not Bend Photo" and a Birmingham, Ala. return address on the front. Inside was a color action photo of Starr from his single-bar facemask days. He paid 87 cents for the postage.
Whenever you learn one of your childhood sports heroes has died, it stirs nostalgic reflection. Testimonies for those great Lombardi Packers of the '60s have been delivered in abundance these past 7 ½ months with the deaths of Jim Taylor, Forrest Gregg and now Starr.
All three lived into their 80s. All will live forever in the Pro Football Hall of Fame.
In my first two years of sports fandom in 1966-67, Starr was 5-0 in the postseason with 10 touchdown passes against two interceptions, two NFL Championship Game wins against the Cowboys, and two Super Bowl MVPs.
I always wondered why more of my buddies in the Chicagoland area weren't Packer fans.