DENVER — The Colorado Professional Athlete of the Year selection committee knew what it was doing when it selected Phillip Lindsay to receive the honor earlier this year. He was honored at a banquet Wednesday night.
Sure, Nolan Arenado led the National League with 38 homers while playing sublime defense and leading the Rockies to the playoffs.
But local boy turned Bronco Phillip Lindsay did well with 1,000 yards rushing in his first NFL season.
Ok, so Nathan McKinnon finished a close second in the NFL's Hart (MVP) Trophy balloting last year while leading the Avalanche to the playoffs.
As well he should as the No. 1 overall pick in the 2013 draft. Lindsay was an undrafted underdog before he exploded into NFL households with sudden bursts to the second level.
Yes, it was worth considering Nikola Jokic after he led the resurgent Nuggets to the brink of the playoffs with 46 wins, 18.5 points, 10.7 rebounds and 6.1 assists per game in 2017-18.
But if you're choosing the Professional Athlete of the Year for the Colorado Sports Hall of Fame banquet, is there anything wrong with picking the guy from Colorado?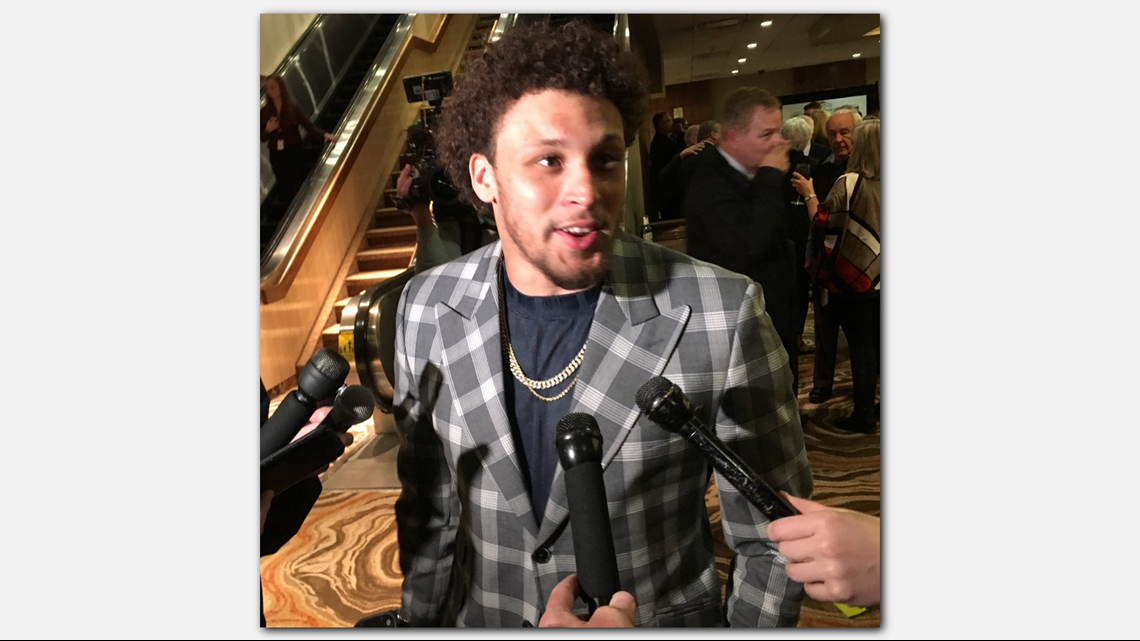 Wearing a gray and white plaid suit, blue shirt, and gold chains, Lindsay dressed appropriately formal for the honor he received Wednesday night at the Hilton City Center.
As someone who grew up rooting for the hometown Rockies and Nuggets and Avalanche, he understood his competition.
"They're all great players and they're doing great things right now," Lindsay said. "I'm just fortunate they decided to go with me. At the end of the day, they all deserve it. Then you got someone like Kyle Freeland. That's my boy, coming from DPS. We're just going to keep representing. I watch all my teams, I cheer for everybody. Since I've been a kid and a Denver native I cheer for all the teams.''
Freeland, the Rockies' ace, attended Thomas Jefferson High School which plays in the Denver Public School system. So does South High School, where Lindsay played before he moved on to the University of Colorado.
The headline inductees at the Colorado Sports Hall of Fame dinner were Olympic gold medalist swimmer Missy Franklin and former Thomas Jefferson/CU Buff/Bronco Daniel Graham.
"I'm not at the level yet but I'll get there," Lindsay said.
He is still wearing a splint around his surgically repaired right wrist, an injury suffered Christmas Eve in Oakland. It forced him to miss the last game of the regular season, but by then he had already rushed for 1,037 yards on 5.4 yards per carry.
Broncos had a new favorite player. And the Colorado Sports Hall of Fame selection committee had a new Professional Athlete of the Year.
"(Last) season's over now," Lindsay said. "I gotta prove myself again. People know about me now so it's all about going out there and adjusting and putting together another year in the second year. You've got to put in years, not just one year.''
He's expected to be limited in team drills during the offseason, but he should be full go by training camp. Based on first impressions of his new head coach Vic Fangio, Lindsay is expecting tougher practices, no matter what the collective bargaining agreement allows.
Phillip Lindsay Through the Years
"He's already had a few words for us,'' Lindsay said of Fangio. "He's a no-nonsense coach. He's going to be old school. I wouldn't be surprised if minicamp and training camp is like 1960s back in the day. We need it.''
Lindsay said he hasn't moved out of his parents' Aurora home, yet, but he's in the process of looking for his own place. He's got a new car. And it looked like he got a new suit and tightened up his 'fro for the banquet Wednesday night.
"I keep going with the flow,'' he said. "Sometimes, I think back and say, 'Hey, this is surreal. And sometimes I look back and say, I've been working hard for this moment.
"But now? It's about maintaining it. It's about keeping it up. Everybody loves you when you're doing well. But when you start falling off, you (fall back) to Earth so I've got to keep going.''