Sorry about this, Ted Gregory, but with the NFL Draft approaching, it's time to break out another Denver Broncos' all-time busts lists.
Every year since 1988 it's been the same thing -- Gregory is the No. 1 draft bust in Broncos history. Poor guy can't catch a break. Fortunately, he will be almost impossible to supplant.
This is the first time 9NEWS has put together its top 9 draft busts in Broncos history. We have included a player we're confident no one has ever listed before (see No. 9).
We did not count any of the Broncos' picks prior to the NFL-AFL common draft in 1967. So even though first-round draft picks like Bob Gaiters (1961), Merlin Olsen (1962), Kermit Alexander (1963), Bob Brown (1964) and Dick Butkus (second round, 1965) instead signed with NFL teams and never played for the Broncos, they did not make our list.
The 9News top 9 draft busts in Broncos' history:
1. Ted Gregory, DT, 1st, 26th, 1988
Look up Gregory on the Broncos' all-time roster and you won't find him. Never played a game for the Broncos. The story goes head coach Dan Reeves couldn't believe how much shorter than 6-foot-1 that the 6-1 Gregory seemed upon introduction. A knee injury in training camp shipped Gregory out in a trade to New Orleans prior to the start of his rookie season.
2. Alphonso Smith, CB, 2nd, 37th, 2009
His primary problem was he was 5-foot-9, although he also got a rap for being uncoachable. Played sparingly as a rookie, then traded to Detroit before he was cut in his second year. The worst part of this pick was Broncos boss Josh McDaniels traded his following year's first-round draft pick to move up in the second round to get Smith. That first-round pick in 2010 turned out to be Seattle free safety Earl Thomas III. Doh!
Besides Smith, the Broncos had two other second-round picks in 2009: Safety Darcel McBath and tight end Richard Quinn. Strike one, strike two, strike three. A year later, McDaniels was out.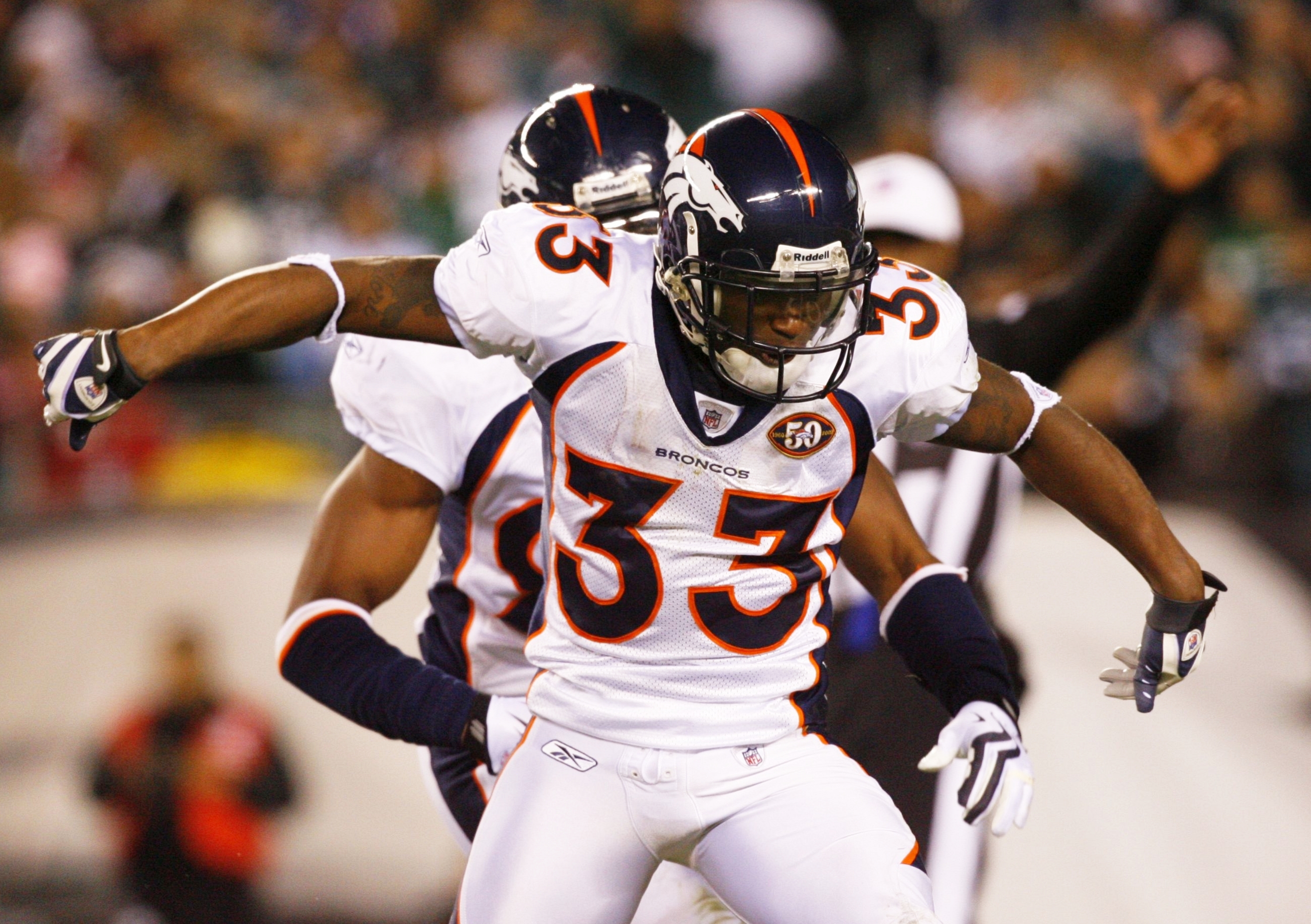 3. Willie Middlebrooks, CB, 1st, 24th, 2001
Had two starts and zero interceptions in four seasons.
4. Steve Schindler, G, 1st, 18, 1977
Started a skid of three consecutive years of first-round disappointments. Schindler had just four starts in two seasons. Don Latimer, a first-round defensive tackle in 1978, started eight games in six seasons. Kelvin Clark, a first-round offensive tackle in 1979, started eight games in three seasons.
5. Maurice Clarett, RB, 3rd, 101, 2005
Awful attitude. Yet the Broncos drafted him anyway. At training camp, his attitude was awful. Go figure. Rumors he spiked his water bottle with Grey Goose vodka probably didn't help the strained hamstring that sidelined him for two weeks of training camp. Released before he even got a chance to play a preseason game. He would have been ranked higher except he was the third of three, third-round draft picks the Broncos had that year (Dominique Foxworth and Karl Paymah were the others) so he was simply a high reward-high risk pick that was worth taking.
And his ridiculous, incentive-laden contract meant he never got a signing bonus and the Broncos never paid him more than a camp per diem.
6. Marcus Nash, WR, 1st, 30, 1998
The Broncos eventually picked up three, first-round players from this draft – Peyton Manning, Keith Brooking and Vonnie Holliday. Nash, though, had just one start and 4 catches in two seasons.
7. Jarvis Moss, DE, 1st, 17th, 2007
He had 4 ½ sacks in his senior season at Florida going into the national championship game against Ohio State. He then twice sacked Heisman Trophy winner Troy Smith and he wound up overdrafted at the No. 17 overall pick. Too skinny at 6-foot-6 1/2, 250 pounds, he had just 3 ½ sacks in his 3 ½ seasons with the Broncos.
8. Tommy Maddox, QB, 1st, 25th, 1992
Easily had the best overall NFL career among players on this bust list. Just not much of a career with the Broncos. John Elway was on his way out, remember? The Broncos went 12-4 in 1991, although Elway had just 13 touchdown passes against 12 interceptions. Rather than get Elway help by drafting receiver Carl Pickens, Dan Reeves picked Elway's replacement.
Maddox was 20 years old when he was drafted out of UCLA. He threw six TD passes against 9 interceptions and went 0-4 in two seasons with the Broncos. In 2001, at age 30, he was MVP of the XFL, which folded after he led the Los Angeles Stampede to the championship.
He then signed with the Pittsburgh Steelers and was the NFL's Comeback Player of the Year in 2002.
9. Montee Ball, RB, 2nd, 58th, 2013
He is now officially a bust after he didn't make an NFL roster in 2015 and legal trouble figures to end any hope of returning to the league. In fairness to the Broncos' draft decision makers, they wanted Michigan State running back Le'Veon Bell in the second round. Bell was projected by most draftniks as a fourth-round pick, but the Steelers swiped him with the 48th overall pick in the second round.
Ten picks later, the Broncos' brain trust argued about whether to take Alabama running back Eddie Lacy or Wisconsin's Ball. Concern about the plate and screws in Lacy's big toe led the Broncos to take Ball.
Even if Lacy is starting to, ahem, outgrow the position, he has averaged 1,025 yards rushing and 8 touchdowns in his first three seasons with Green Bay. Ball was Knowshon Moreno's backup in 2013, but then rushed for just 172 yards on 55 carries (3.1 yards per carry) in his injury-plagued second season. Cut after he struggled in the 2015 preseason.