ENGLEWOOD, Colo. — Mock drafts not only are no longer premature, they're all we've got.
No Final Four. No Opening Day. No Masters. No $2 quinella slips on the Kentucky Derby. No NHL. No NBA.
And for the love of Roger Goodell no NFL teams with first-year head coaches reporting this week.
There will be an NFL Draft in three weeks and three days, though. And the commish doesn't want to hear any lip.
With the first pick in the 2020 NFL Draft, the Cincinnati Bengals select, Joe Burrow (pump in applause track, volume on high) quarterback, LSU.
Our Mystery Mockster is not only obedient, he is thankful for the exercise of study and selection. The Broncos got much done in free agency but after three consecutive losing seasons for the first time since Nixon was re-elected in a landslide, there is much work left to do.
Luckily, the Broncos have the resources to address most needs as they have five selections within the first 95 picks.
The Mystery Mockster, who has a remarkable history of prescience selections, presents a post free-agent blueprint for Broncos general manager John Elway and lead deputy Matt Russell to consider.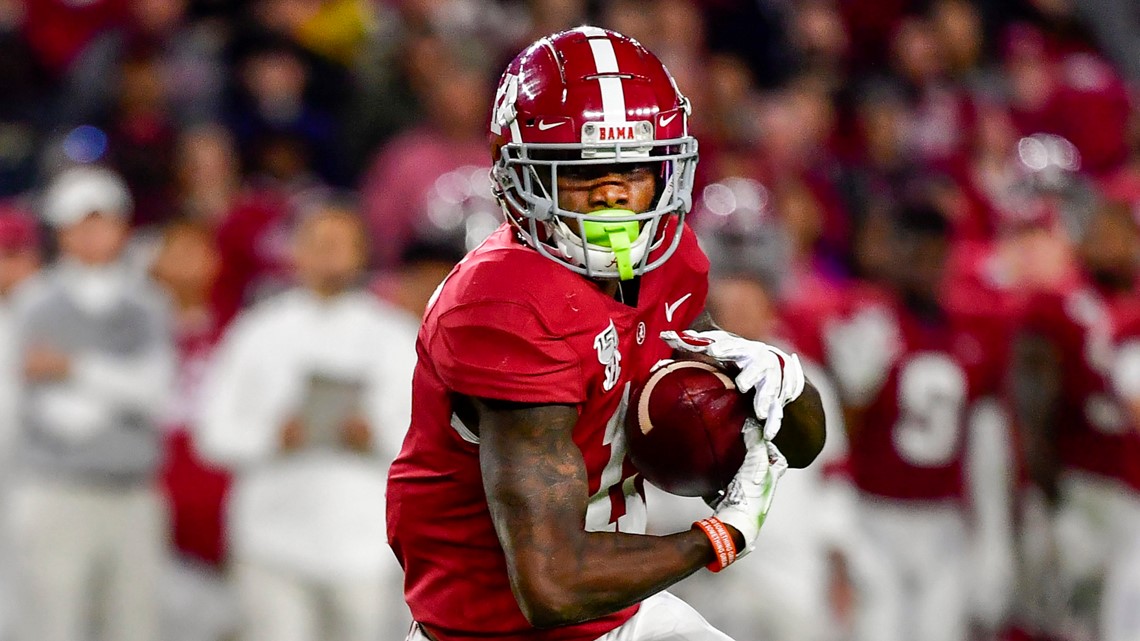 1st round, No. 15 overall
Henry Ruggs III, WR, Alabama
Mystery Mockster: With no receiver in free agency, sticking with the speedster.
Jerry Jeudy, CeeDee Lamb or Ruggs would all be great additions opposite Courtland Sutton.
If the top 3 receivers are off the board, Broncos should consider cornerback C.J. Henderson, Florida (second CB off the board).
Mike: Elway has stated adding weapons for second-year quarterback Drew Lock is an offseason priority. So make it a priority, especially after the Broncos couldn't reel in Eagles' receiver Nelson Agholor from free agency.
Elway has to get a quality receiver, preferably one with burner-type speed, within the first two rounds. Which gives him two strategies. One, take a cornerback, offensive tackle or best available pass rusher/inside linebacker in the first round knowing there will be a quality receiver in the second round (Denzel Mims, Justin Jefferson, Jalen Reagor, Brandon Aiyuk, K.J. Hill).
Or two, take one of the Big Three receivers – Jeudy, Lamb or Ruggs – if one is there at No. 15. Ruggs is the fastest player in the draft.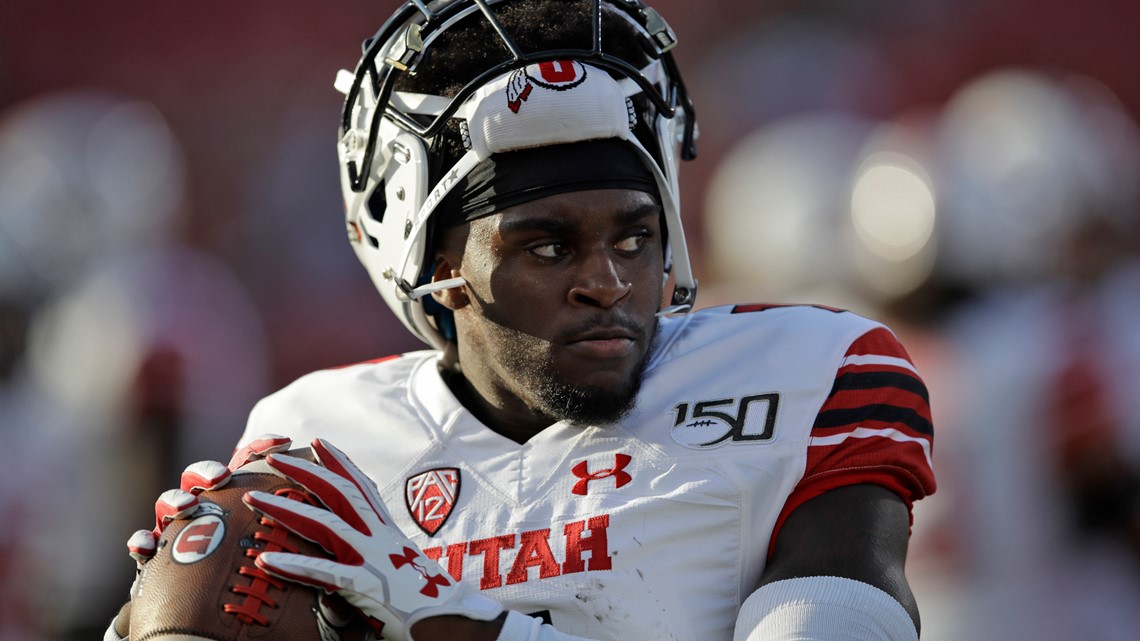 2nd round, No. 46 overall
Jaylon Johnson, CB, Utah
Mystery Mockster: Assuming Broncos go receiver in round 1, cornerback is the pick in round 2.
Johnson would be a great player to team up with A.J. Bouye and allow Bryce Callahan to work the slot while he fully recovers.
A.J. Terrell, Clemson; Trevon Diggs, Alabama and Jeff Gladney, TCU are all quality CBs expected to go at the end of round 1 or top of round 2. One should be available at 46.
If Broncos go defense in round 1, there are terrific receivers available in round 2: Jalen Reagor, TCU; Denzel Mims, Baylor; Brandon Aiyuk, Arizona State; and Laviska Shenault Jr., Colorado, in that order.
Mike: There are two main goals to the Broncos' offseason. One, try to score more points to keep up with Patrick Mahomes and the Chiefs. Two, try to stop Mahomes and the Chiefs from scoring so much.
I'm such a big second-round guy in terms of value that I advocate the Broncos somehow adding a second, second-round pick. Either trade two of their three, three-round picks and move up, or trade back from No. 15 in the first.
In the past two years, Elway has snagged Courtland Sutton, Dalton Risner and Drew Lock in the second round.
I wouldn't be surprised if receiver, cornerback and offensive tackle are Elway/Russell goals for the first two rounds.

3rd round, No. 77 overall
Ezra Cleveland, LT, Boise State
Mystery Mockster: In a deep OT class, Broncos grab one in the third.
Isaiah Wilson, RT, Georgia; Lucas Niang, RT, TCU are also possibilities.
In this mock we don't predict trades but moving up to get Austin Jackson, left tackle, USC if he slips too far into the second would make a lot of sense.
(Note: Trey Adams was in this spot in Mock 1.0 but after his combine performance, I don't see a fit).
Mike: Cleveland is often compared to Ryan Clady, another left tackle from Boise State who is big with agility but doesn't have ideal strength in the run game.
Like the Mystery Mockster said, the move for the Broncos is to trade for another pick in the second round to get an offensive tackle.

3rd round, No. 83
Matt Hennessy, center, Temple
Mystery Mockster: Now that the Broncos are set at guard for years to come with Risner and Graham Glasgow, they address the center position.
There are a number of great center prospects in the 2020 draft. If Lloyd Cushenberry III, LSU or Tyler Biadasz, Wisconsin, are off the board, Hennessy is the pick.
Mike: By now it should be clear the Mystery Mockster is an astute and devoted follower of all things Broncos. Not to mention college prospects. Following the free-agent departure of Connor McGovern, the Broncos either need a center, or one who can eventually develop into a center after the team gives Austin Schlottmann or Patrick Morris a shot.

3rd round, No. 95
Logan Wilson, ILB, Wyoming
Mystery Mockster: Troy Dye would be a nice pick up if Broncos wait to until later rounds to address the position.
Mike: The Broncos made a run at Browns inside linebacker Christian Kirksey in free agency but were outbid by Green Bay.

4th round, No. 137
Leki Fotu, DT, Utah
Mystery Mockster: If Fotu is gone, then Michigan State defensive tackle Raequan Williams would be the pick.
Mike: Even though the Broncos made moves for two defensive tackles in free agency – acquiring Jurrell Casey in trade and re-signing Shelby Harris on a one-year, $3.25 million deal – and slapped a second-round, $3.259 million tender on Mike Purcell, they could use one more young one to team with 2019 rookie Dre'Mont Jones in Fangio's 3-man base front.
The Broncos have traded out of the fourth round in four of their previous seven drafts. Their latest fourth-round picks were Josey Jewell, DaeSean Hamilton, Devontae Booker and Max Garcia.
The best fourth-round pick of the Elway/Russell era was a basketball player turned tight end Julius Thomas in 2011.

5th round, No. 178
Geno Stone, SS, Iowa
Mystery Mockster: Love Iowa players. J.R. Reed, safety, Georgia is another option.
Mike: This is where the Broncos start looking at special teams players. With Will Parks gone to his hometown Philadelphia Eagles, the Broncos need a safety body who can run.
Malik Jackson was the best fifth-round pick of the Elway/Russell era, followed by McGovern. Those two went on to become rich through free agency.

6th round, No. 178
John Hightower, WR, Boise State
Mystery Mockster: In one of the deepest receiver classes ever, the Broncos snag a second speedster.
This pick was a running back in my first mock draft in late-January -- Joshua Kelly, UCLA or AJ Dillion, Boston College. But that was before the Melvin Gordon signing.
Mike: I like the Mystery Mockster's thinking here. If this draft is as receiver deep as everyone says, get some depth.

Round 7, No. 252
Nate Stanley, QB, Iowa or Steven Montez, QB, Colorado
Mystery Mockster: Need a developmental QB to compete with Brett Rypien.
Both profile as fits for the Broncos new QB room.
Mike: The Broncos have previously used late, 7th-round picks on quarterbacks Zac Dysert, Trevor Siemian and Chad Kelly.

Round 7, No. 254
Jared Pinkney, TE, Vanderbilt
Mystery Mockster: Also could consider the two LSU tight ends, Thaddeus Moss & Stephen Sullivan.
Add Kevin Dotson, guard, Louisiana-Lafayette as a premium college free agent. (This had been a punter in previous mock, but no longer a need after the Sam Martin signing).
Mike: One spot away from the Mr. Irrelevant pick makes this selection really irrelevant. The Mystery Mockster is smart to consider the undrafted prospects as the Broncos have done extremely well with their post-draft rookies. Malik Reed and Phillip Lindsay are the most recent examples.
I've heard Oklahoma's 6-2, 210-pound receiver Lee Morris as potentially a nice, undrafted prospect. But I know better than to veer from my lane.
All hail, the Mystery Mockster (and Roger Goodell).