INDIANAPOLIS — The NFL has long been a large, male fraternity, but slowly, gradually – some might even suggest reluctantly – it is realizing women have earned their welcome to its world.
As the person deemed to eventually succeed her late father as controlling owner of the Denver Broncos, Brittany Bowlen was reminded during the two-day Women's Careers in Football Forum at the NFL Combine this week she is not alone.
"I'm still learning because I'm three months in. I don't know if I like the idea of resistance,'' Bowlen said, referring to her work as Broncos Vice President of Strategic Initiatives. "I think there just needs to be an openness to conversation. This is a highly networked business, and at the end of the day, it is a business.
"That means they have to have the connections, you have to meet the people, you have to be able to get in the room with the right people that are the decision-makers. That's difficult when it's so enclosed. And so things like this open up the opportunity for women, to have conversations or minority candidates, to have conversations with people they wouldn't necessarily get in the room."
NFL general managers like John Lynch and Les Snead and coaches like Mike Vrabel and Ron Rivera were among the speakers at the forum. Jane Goodell, the commissioner's wife, spoke Tuesday. NFL owners Kim Pegula and Darcie Glazer Kassewitz also addressed the gathering.
Bowlen was especially inspired by the testimony of Tampa Bay assistant defensive line coach Lori Locust.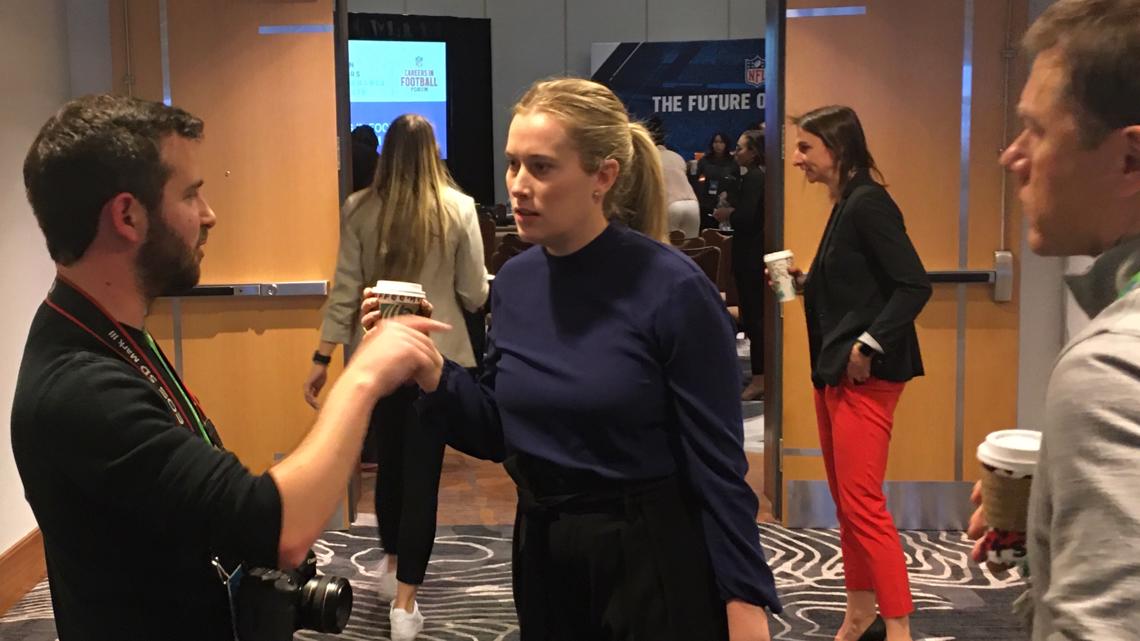 "She's an older coach, she's not as young as many of the women that are in the room, and she talked about the challenges she overcame with her family, with her friends, people that didn't necessarily think this was the right path for her,'' Bowlen said. "She would have an opportunity and then the AAF (Alliance of American Football) folds (last year) and she doesn't have an opportunity. Having to find part-time jobs while she continues to push toward this opportunity.
"And then it actually happening and now being with the Buccaneers and I thought that she showed a lot of perseverance and courage. And she probably inspired a lot of women in the room to believe that imposter syndrome probably doesn't exist for them, that they can go beyond."
Joe Ellis, the Broncos' chief executive officer who joins Rich Slivka and Mary Kelly as trustees of the Pat Bowlen Trust, has said Brittany Bowlen "has distinguished herself as the one child that we're looking at" to one day succeed her father.
She seems to have been on a dedicated pursuit of such a lofty goal, starting with her undergraduate degree from Notre Dame, to two years of working in various departments for the NFL office in Manhattan, to one year of working with the Broncos in 2013, to getting her MBA from Duke business school, to working a year with the prestigious McKinsey & Company management consulting firm, to rejoining the Broncos in November.
"I love being home,'' Bowlen said when asked about her current job. "It's great to be able to work with a lot of talented people who have represented my father's passion to be No. 1 in everything.''