ENGLEWOOD, Colo. — If NFL success starts at the top, then Broncos Country should start looking at a Super Bowl trip no later than following the 2024 season to the New Orleans' Superdome (Welcome back, Sean Payton).
Broncos' CEO Greg Penner, his wife and owner Carrie Penner and controlling owner Rob Walton wrote checks this week like no other NFL ownership group.
The Broncos through Friday morning had not only spent more than any other team in free agency, they spent 33% more than the second-place Saints.
Total spending 2023 free-agency (per Spotrac):
*2. Saints ...... $177.0M
4. Bears ........ $157.4M
Of that $235.1 million spent in total contract value, the Broncos also lead the league with $132.4 million in guaranteed dollars.
The NFL reality, though, is ownership is just one of four pillars to NFL success. And given the salary cap's ceiling restrictions and floor requirements, ownership can only do so much. Equally as important, if not more so, are the head coach, general manager and quarterback.
Walton-Penner did their part. But it was up to Payton and George Paton to spend Penner's money properly. What's encouraging is the Broncos' leadership is working in concert. The Sunday before the free-agent negotiating period opened, Payton, Paton and contract/salary cap manager Rich Hurtado met with Penner and his wife and co-owner Carrie Penner to go over the team's free-agent game plan.
Thanks in no small part to Penner authorizing a larger budget than any other NFL owner, the Broncos nabbed their No. 1 choice at all positions with the possible exception of Green Bay receiver Allen Lazard, who was destined to follow his quarterback Aaron Rodgers to the Jets.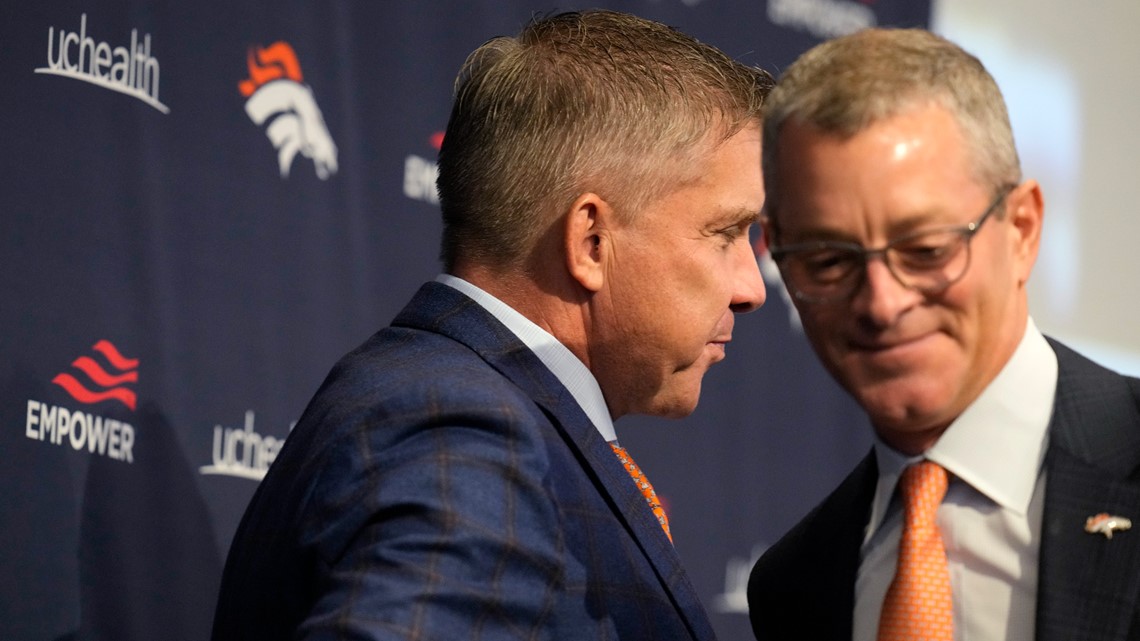 The 9 free agents the Broncos signed this week combined to represent 33 percent of the team's total payroll in 2023:
Player ……………….. Signing bonus … 2023 pay
Mike McGlinchey, RT …… $17.5M ……... $20M
Zach Allen, DT …………..… $15M …....... $17.25M
Ben Powers, LG ..……….… $13M …….... $15M
Alex Singleton, ILB …………. $4M ….….. $6M
Jarrett Stidham, QB ……...… $2M …...... $4.51M
Samaje Perine, RB ……….... $3M ……… $4.5M
Chris Manhertz, TE …...... $1.25M ……... $3.35M
Tremon Smith, CB/RET ..... $1.4M ……... $2.5M
Mike Burton, FB ……….. $126,250 …….. $1.32M
Total …………………...... $57.28M ….… $74.43M
This 1990s Broncos player once scored 8 touchdowns – count 'em 8 – in a college game.
Jeudy, Sutton trade update
The Broncos' stance on Jerry Jeudy and Courtland Sutton is the team will listen to trade offers for their top two receivers but they are not actively shopping them.
When Sutton put out a Tweet last week stating, "I just want to be where I'm wanted and appreciated," his message seemed to be his desires weren't being met here in Denver.
Teams did call – and are still calling -- on Sutton on Jeudy, sources tell 9NEWS. Jeudy in particular has generated "an aggressive market." But say the Broncos get a late first-round draft or early second-round draft pick for Jeudy. Remember he was a first-round selection, No. 15 overall, in the 2020 draft and it took him 2 ½ years before he put together a string of breakout games late last season to meet expectations.
The Broncos are going to trade Jeudy for a draft pick – even a first rounder – who is likely going to need a year or two to become a standout player? A source told 9NEWS on Thursday it's not likely Sutton or Jeudy will be traded. The Broncos' football brass will still listen to offers. If another team makes an outrageous proposal, sure a trade may happen. Which is true for any player, not just Sutton or Jeudy.
But barring a lopsided proposal, the Broncos are hopeful Sutton will return to his 2019 form as he showed flashes of last season. The catch Sutton made over two Chiefs defenders last season and was wrongly called for offensive pass interference? That was the Sutton of 2019, before his ACL injury. Physically, Sutton is all the way back from his knee surgery. It's having complete confidence the knee will hold up through sharp cuts or 50-50 leaps is a work in progress for all elite athletes who have gone through the injury.
Jeudy returned from a two-game absence from a sprained ankle last season to finish with 37 catches, 523 yards and three touchdowns over the last six games. That projects out to 105 catches, 1,481 yards and 9 touchdowns over a 17-game season.
The key there is for Jeudy to play 17 games. Ankle injuries have limited him to an average of 12.5 games the past two years. Still, expect the Broncos to not only count on Jeudy to have a big year in 2023, but it would be a surprise if by the May 2 deadline they did not exercise the fully guaranteed, fifth-year option of $12.987 million for 2024.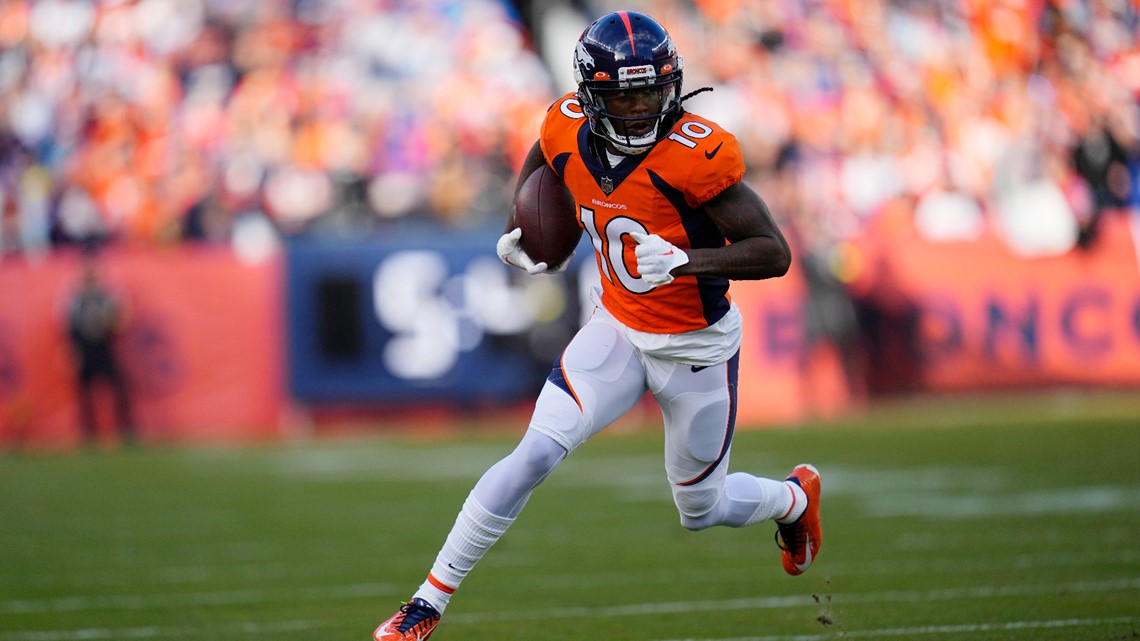 This 1970s-80s Broncos player described himself as "the self-proclaimed greatest Monopoly player in the world."
Upfront on defense, the Broncos replaced Dre'Mont Jones with Zach Allen. But who replaces DeShawn Williams, who started 15 games and played in all 17 for the Broncos last year but signed Friday with the Carolina Panthers?
Williams wanted to stay in Denver but teams must eventually make room for young players. In the Broncos' case, they believe two of their rookie defensive linemen from last year, Eyioma Uwazurike and Matt Henningsen, are ready for more playing time.
Uwazurike, a fourth round draft pick out of Iowa State last year, is large at 6-foot-6, 320 pounds and turns 25 in May. He didn't play until the second half of last season, but he made some impactful plays, most notably a blocked field goal against the Chiefs' Harrison Butker in a New Year's Day game. In his 8 games, Uwazurike played 20.5 percent of the defensive snaps.
Henningsen, who turns 24 in July, played 13.5 percent of the snaps in all 17 games for the Broncos last season and was a second-team All Rookie selection by the Pro Football Writers Association.
Fleming tops Broncos performance pay
The NFL players union released its performance pay distributions from the 2022 season. It's bonus money based roughly on a formula where the lower a player's salary, and the more snaps he plays, the higher the performance pay bonus.
Broncos players with the top performance payouts:
1. Cameron Fleming, $544,459
2. Damarri Mathis, $437,666
3. Jonathon Cooper, $427,385
4. Alex Singleton, $424,516
5. Quinn Meinerz, $392,644
6. Eric Saubert, $376,236
7. DeShawn Williams, $301,300
8. Baron Browning, $300,441
9. Kendall Hinton, $297, 219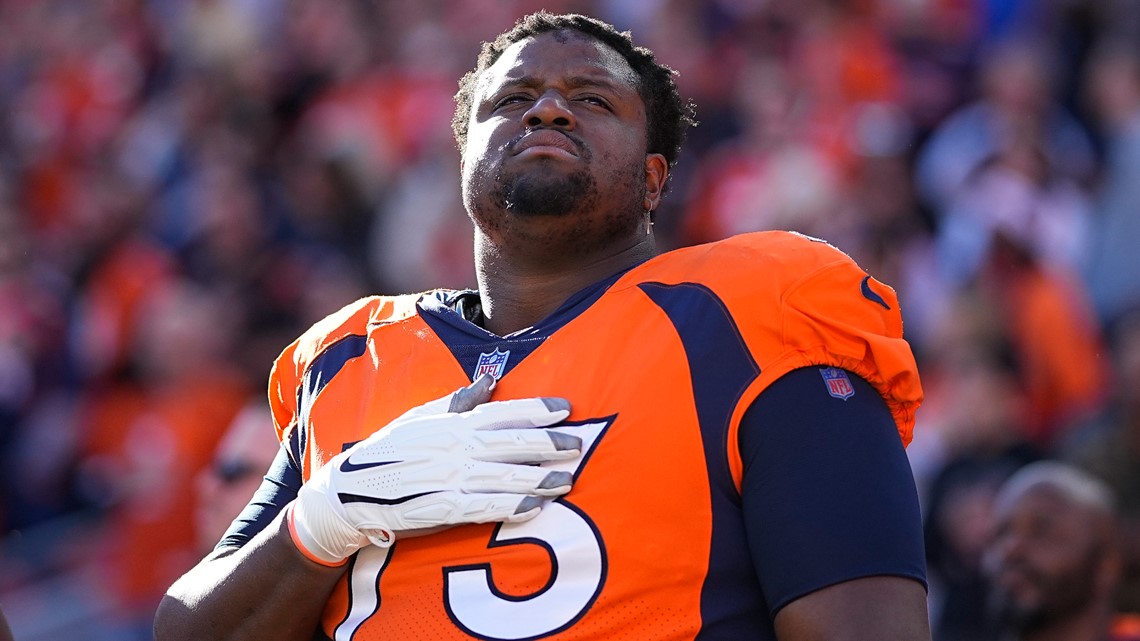 Howard Griffith, a fullback lead blocker for Terrell Davis during the Broncos' back-to-back Super Bowl championship seasons in 1997-98, was a star running back for Illinois, rushing for 1,115 yards in just 12 games as a senior in 1990. In one game against Southern Illinois that year, Griffith rushed for 8 touchdowns in a 56-21 romp.
He rushed for 8 touchdowns in four seasons with the Broncos, counting playoffs, as by then he had transformed into the selfless, team-first role as a lead blocker for the future Hall of Famer Davis.
Bob Swenson, a left outside linebacker in Joe Collier's famed 3-4, Orange Crush defense, made the claim in his Broncos 1983 media guide bio – his last year in the NFL – that he was the world's best Monopoly player. He also listed acrylic painting, water colors, tennis, racquetball and rugby among his hobbies.
Swenson was also a very good linebacker when healthy and in 1981 was named first-team All Pro.