ENGLEWOOD, Colo. — From his seat in front of the Zoom camera, Sean Payton looked up at the clock and noticed it was closing in on 49 minutes after the noon hour.
"We're getting ready to set a record for a pre-draft press conference,'' Payton said.
The Denver Broncos' new head coach, and company sheriff, then announced the next question would be the last. The primary reason for the unusual length of the presser, though, was Sean Payton is a storyteller. He thinks it may be the Irish in him.
A 3 ½ minute introduction by general manager George Paton and nearly 20 questions provided by the media were also factors in the 50-minute session. But much of the time was filled with Sean Payton's comprehensive answers that were laced with metaphors, analogies and, now that he has your attention, teaching points.
"When you start cross stacking and you're comparing the receiver, the corner, the defensive lineman or tackle, now you have apples, oranges and pears and you're really trying to get the value right,'' Payton said as part of his answer, a small part, to a question on how a prospect's evaluation may change after input from scouts and analysts.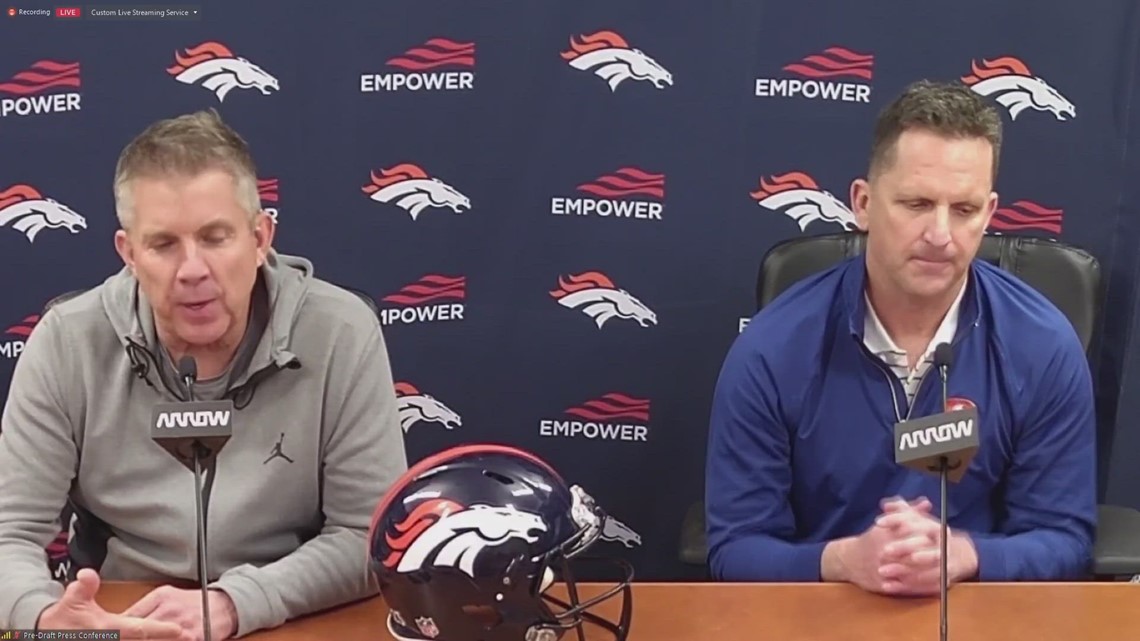 The beauty is if you follow along – and like all good teachers, his lessons zig from the mundane to an interesting anecdote – you can learn something.
After placing so much emphasis on the offensive and defensive lines in free agency, would the Broncos follow it up by placing priority at those same positions in the draft?
"We're going to grade these guys and make sure that we're getting the best available player,'' Payton said. "If the best player on the board is a defensive end or offensive guard and we have a clear vision, that'll happen. If the draft ends and we've got a receiver, a tight end—in other words, some of that is subjective to how this thing unfolds.
"Yes, we value the linemen. …
OK, now here comes a lesson on how teams think when it comes to drafting players.
"Historically, people value the cover corners, the pass rushers, the pass protectors and the passers,'' Payton said. "Just historically, those are harder to find in free agency. They tend to make more money. They tend to get drafted a little bit earlier, and they're valued more by most teams in the league."
Day 1 of the NFL Draft promises to be a snoozer for Broncos executives, coaches and fans alike as the team doesn't have a first-round pick. Or a second-round pick to start Day 2. Payton, though, made it sound interesting.
"The room—I think I can paint a picture,'' Payton said of the Broncos' so-called war room on Day 1. "The room style is a little different. We're in a team atrium setting facing forward. The back row is the analysts. The scouts are scattered in that room. George, myself and Darren (Mougey, George Paton's right-hand man) are one row up. We'll have a couple coaches—probably the coordinators. Surrounding that team meeting room are position coaches, doctors and people that may be called in or are available for us to go out if there is a question.''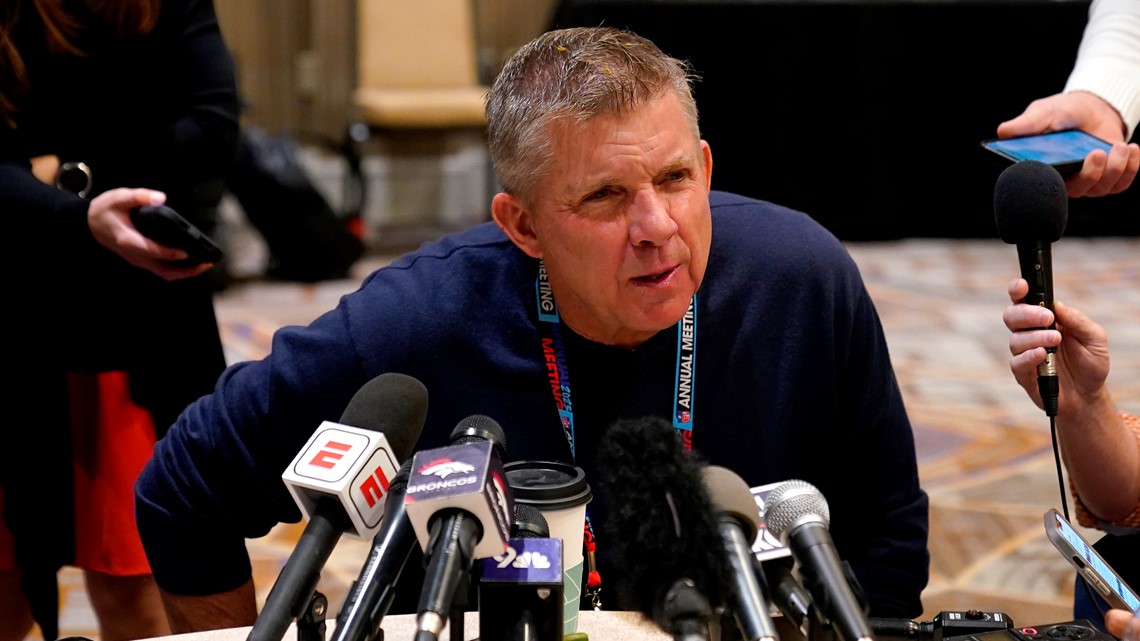 His story then veered to Day 1 of the 2017 draft when he was deep into his tenure as head coach of the New Orleans Saints.
"We were in the draft room with the same group of people, just a different team—scouts, a couple coaches, certainly the front office, general manager, ownership group,'' Payton said as he was just getting started. "I got a call from Drew (Brees, the team's star quarterback) that he happened to be in the building with a few other Purdue alums. It was the first time in 16 years that he said, 'Would it be OK to take them through the draft room?'
"At that point, 'Sure.' They came up and really wanted to see what a draft room looked like. All of the sudden we were the fourth and fifth pick. It was a little different.
"I wouldn't use the term 'festive.' It's business, it's work. There are no cameras or any of that other stuff. It's the same people that have been in that room for the last three weeks until 9 p.m. at night.
"I've always said, 'We don't like strangers.' I'm that way on gameday. People who you see through the whole process, you're comfortable seeing them. It's the new faces that haven't been a part of the process that you turn around.''
Where's he going there? Wait a minute. He is about to take it right back to the Broncos' draft room come next week.
"I think it'll be the same group of people predominantly and ownership, if they are in this area,'' he said. "I think it will be pretty much the same type of setting. We might put on a nicer shirt or something."
For this written story, which in keeping with the pattern is following no pattern, we'll leave you with one more Sean Payton testimony about John Elway. The Broncos' Hall of Fame quarterback for 16 seasons from 1983-98, then a general manager, executive and advisor for 12 years from 2011-2022, Elway informed first-year owner Greg Penner last month that he was stepping away. Use me as a resource if you need something, Elway told Penner, but otherwise that'll do it.
Asked to reflect on what Elway meant to the Broncos, George Paton succinctly called him, "the most important figure in this franchise's history and one of the more important figures, I believe, in NFL history.''
Sean Payton followed. Buckle up.
"For me, this is a little interesting,'' Payton said. "I've been on the competition committee with John for a number of years. My relationship with John from afar was that of someone on offense watching his film. Watching the (coach Mike) Shanahan-Elway film, it was always one of those tapes that you had to study.''
Pay attention now. Here's you learn something about a nuance of NFL offense.
"I can recall the first time Mike and John put the big tight end outside of the receivers in an empty formation against the Dallas Cowboys at your old Mile High Stadium,'' Payton continued. "When we got that film, we thought someone had split the atom.''
Nice. Picture Shannon Sharpe finishing up his Hall of Fame career as a tight end. Anyway, back to Sean Payton's reflection on Elway.

"That relationship from afar was as a player, but it gets better. In the summers, I have a chance to get up to Idaho. There's a little lake place up there (in Coeur d'Alene) where we golf. For me, it's only three years. John's been up there for a long time. I'm the head coach of the Saints at this time, and I'm getting to know him every morning. At breakfast, there's (NFL great Wayne) Gretzky and bunch of hockey guys. Ten, 11 guys. We've golfed, and I can't tell you how many rounds.
"It is important for me that—John has an office here and he's going to obviously around a lot.
"I paid him a lot of money, so I don't want him going anywhere fast because I'm trying to get back in his pocket. I kind of feel like I helped him with that retirement decision with the income he's gotten from me in the summers.
"It's a small world to now all of a sudden be coming in. I'm now the head coach of the Broncos, and John and I would talk about the Broncos and the Saints all the time in the summer or at competition committee meetings. It's telling of how small our world is. He's a better golfer than me. Obviously, I need more strokes."
There were other point A to point Z back to point A answers to questions on his history of generally moving up and George Paton's tendency to moving back, and also how there are currently no football meetings going on during Phase I of the Broncos' lifting and running program.
"I don't want the players to feel like they're pulling into the parking lot coming to football practice in April,'' Sean Payton said. "That's just not happening. It's great to see these guys around. Hopefully, we can keep the golf carts upright."
Hey Oh! OK, so that's where the story on Sean Payton's storytelling will end.
MORE WAYS TO GET 9NEWS
ADD THE 9NEWS+ APP TO YOUR STREAMING DEVICE
ROKU: add the channel from the ROKU store or by searching for KUSA.
For both Apple TV and Fire TV, search for "9news" to find the free app to add to your account. Another option for Fire TV is to have the app delivered directly to your Fire TV through Amazon.