ENGLEWOOD, Colo. — Minutes after he was introduced as head coach of the Denver Broncos on Monday, Sean Payton addressed how he'll work with quarterback Russell Wilson.
Payton was officially introduced as the 20th head coach in Broncos history at a press conference Monday morning at the team's headquarters in Englewood.
"Look, there's a couple positions, quarterback is certainly one of them in our league that that gets scrutinized very well," Payton said Monday. "Obviously [last season] wasn't the type he had wanted to have. I do feel like the last couple of weeks we saw a little bit more of what we were expecting or accustomed to.
"I think the number one job for us as coaches in evaluating our players is: what do they do really well and then, let's try to put them in those positions, at least that's a starting point and I think that's important to highlight their strengths and also to minimize maybe any weaknesses.
"Here's what I know: [Russell's] a hard worker. I know he's an extremely hard worker. That's important and I think you take that skillset, he's won a lot of games in Seattle," Payton continued. "We played him quite a bit just because we were both playoff teams in the NFC at that time, and then you go from there.
"And I think that's the same case, although it's a much more visible position, it's the same case and same goal for us with every player on this roster. What do they do well? It's easy to point out what players don't do well. There's certain coaches that tend to look at it that way. I kind of was taught early on, what is it they do well and let's have him do those things.
"None of us want to be at a karaoke bar with a song we don't know the words to," Payton said. "So how do we get them comfortable and highlight their strengths. And that's the process that's going to begin right now as I'm learning about every one of these players, not just Russell."
Payton was asked if Wilson contacted him during the coaching search.
"Yeah, he did, and when he called right away I thought, 'Man, I'm the last person that needs to get in trouble with the league," Payton said. "We chatted."
"I coached in Russell in the Pro Bowl, and so it's a very small community where you get to know these guys. And he lives real close to Drew [Brees] in Del Mar [California], and Drew was like 'Russell is wearing me out.' And I said 'Drew, we're going to give you a little spot in the program. We're going to call you 'Senior Assistant of Del Mar.' That's where Drew lives. But yeah, we spoke briefly."
After Monday's press conference, Payton was asked about Wilson's personal quarterback coach, Jake Heaps, who was in the Broncos' building during the 2022 season.
"That's foreign to me. That's not going to take place here," Payton told reporters. "But our staff will be here, our players will be here, and that'll be it."
"Certainly we're not going to have private individuals out there coaching," Payton said to 9NEWS. "If they're on our staff they'll be out there."
"Excited to get to work," Wilson tweeted Monday. "Fired up! Congrats coach Sean Payton."
Sean Payton introduced as Broncos head coach
Wilson signed a seven-year, $296 million extension with the Broncos in September.
Before the new deal, Wilson was scheduled to make $51 million combined over the next two seasons. The five-year, $245 million add on averaged out to $49 million annually in "new money" that puts Wilson only behind Green Bay Packers' quarterback Aaron Rodgers who received a $50.27 million per year extension in March 2022.
Payton had an average record of 10-6 in his 15 seasons as head coach of the New Orleans Saints.
The Broncos had to trade away their first-round (No. 29 overall) draft pick for 2023 and second-round 2024 draft pick to get the rights to Payton from the New Orleans Saints. The Saints also gave their third-round 2024 selection to the Broncos.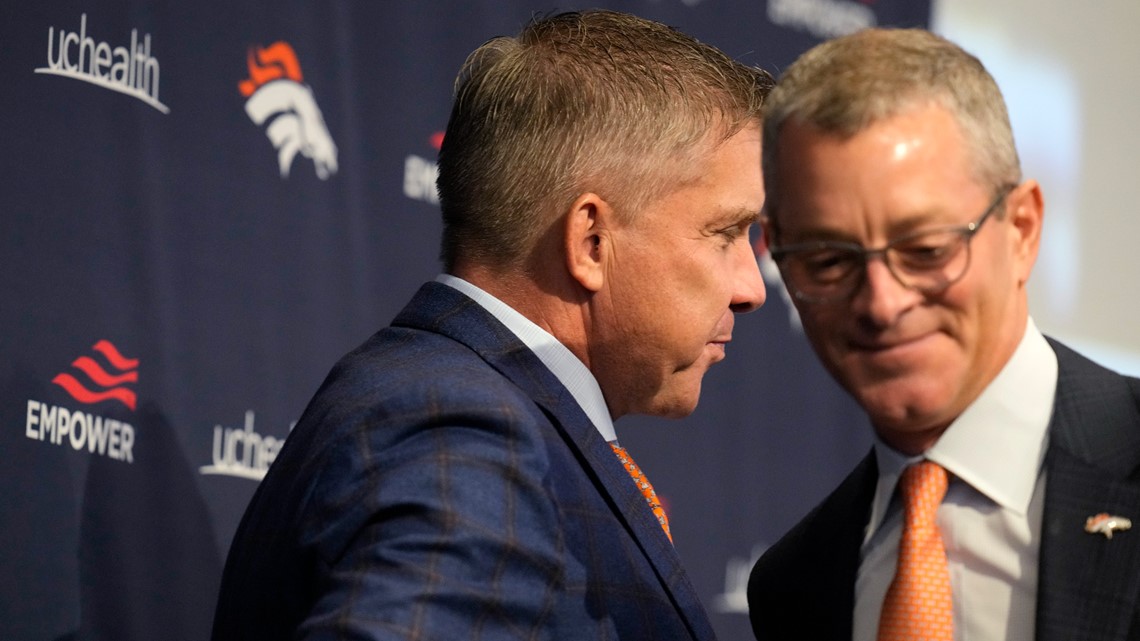 "Sean Payton is an outstanding leader and Super Bowl champion with a brilliant offensive mind,'' Greg Penner said about his first head coach hire as Broncos owner and CEO. "He shares our commitment to winning championships for Broncos Country and we're excited to welcome him as our new head coach."
"Sean knows how to build a championship culture with high expectations. He coaches with intensity and attention-to-detail while setting and maintaining high standards," Penner said. "Sean pours his heart and soul into winning with preparation, creativity and a genuine love of the game."
The Broncos' head coaching search lasted 36 days, from the time Nathaniel Hackett was fired on Dec. 26 to when the Broncos acquired Payton in a trade from the Saints on Jan. 31.
9NEWS+
9NEWS+ has multiple live daily shows including 9NEWS Mornings, Next with Kyle Clark and 9NEWS+ Daily, an original streaming program. 9NEWS+ is where you can watch live breaking news, weather updates, and press conferences. You can also replay recent newscasts and find videos on demand of our top stories, local politics, investigations and Colorado specific features.