ENGLEWOOD, Colo. — Nothing stirs vehement discussion like a list.
In conjuction with the NFL's 100th season, the Denver Broncos announced their all-time Top 100 Team on Monday.
Not surprisingly, the list has some controversial inclusions and surprise omissions. I will start by saying all players listed in my book, The 50 Greatest Players in Denver Broncos History, made the Broncos' top 100. So there were no egregious errors with the Broncos' list.
Still, the biggest snub was Bob Scarpitto, a flanker/punter/halfback who played for the Broncos from 1962-67. In the honorable mention of my top 50 book, I wrote this of Scarpitto:
You will have a difficult time finding a better all-around performance in a single season than Scarpitto in 1966. Playing for a horrible offensive team that ranked last in the AFL with 14.0 points per game, Scarpitto led the AFL in punting that year with a 45.2-yard average, plus had 21 catches for 335 yards and four touchdowns, and had 110 yards rushing on just four carries, including a 63-yard touchdown run.
Named to the AFL's all-time second team as a punter. He also led the AFL in punting in 1967, when he averaged 44.9 yards on an astounding 105 punts in a 14-game season – 7.5 punts per game.
Had seasons of 35, 35 and 32 receptions for the Broncos. In 1962, he had 35 catches for 667 yards – an incredible 19.1 average – with six touchdowns. Hated to exclude him from the top 50.
Another notable omission: Tim Tebow. His magical season of 2011 -- when he led the Broncos to six consecutive wins, and then shook the city of Denver from its moorings with his overtime playoff win against Pittsburgh -- wasn't enough for the top 100.
Also not making the list: Tight end Clarence Kay, linebacker/special teams standout Rick Dennison, quarterbacks Marlin Briscoe -- the first African American quarterback in NFL/AFL history -- and Brian Griese, kickers Rich Karlis and Matt Prater, and guards Dan Neil and Tom Glassic.
Kay, who played nine seasons for the Broncos during the Dan Reeves era, was no doubt docked because of his numerous domestic violence charges.
The biggest surprise to make the list, perhaps, was backup running back/returner Glyn Milburn. He played just three seasons for the Broncos. His top rushing season was 266 yards and he never had a touchdown off a return. He did have 77 catches for 549 yards as a receiver in 1994. But he went on to have more productive seasons with Detriot and Chicago.
Milburn did have 5,547 all-purpose yards, but that total was padded by 2,250 yards off 96 kickoff returns (23.4-yard average).
It's also noteworthy that cornerback Darrent Williams made the top 100. He played just two seasons for the Broncos before he was murdered the day after the Broncos' 2006 finale.
More than 5,000 fans voted for the Broncos Top 100 Team and helped select the franchise's greatest players along with Broncos alumni, team historian Jim Saccomano and reporter Andrew Mason.
The Broncos Top 100 Team, which features 47 offensive players, 46 defensive players and seven special-teams players: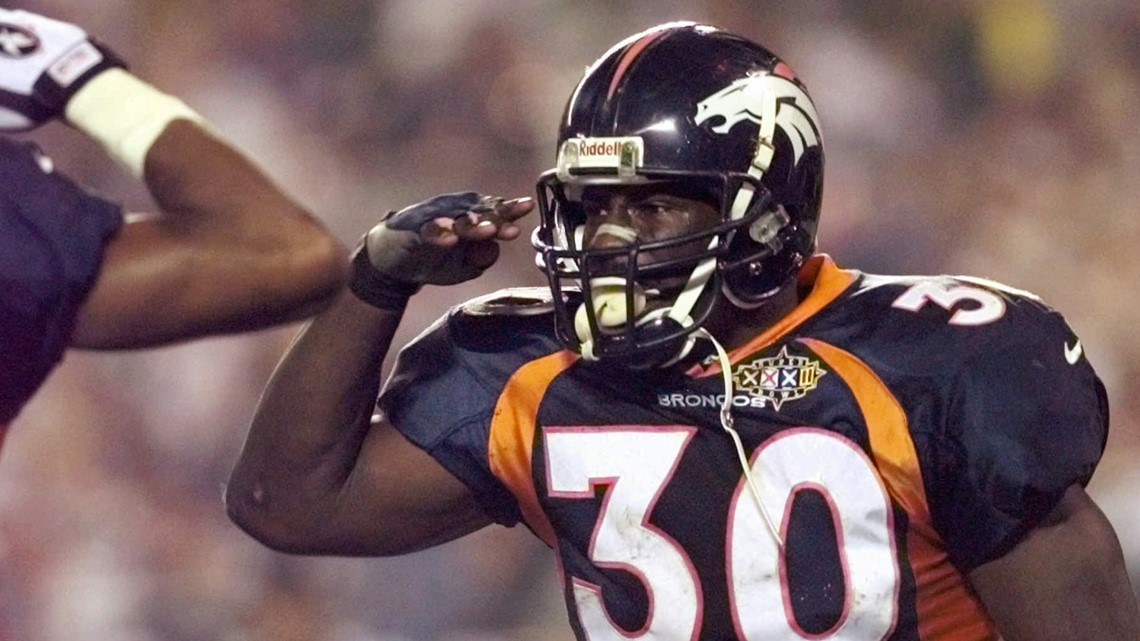 Denver Broncos Top 100 Team
Lyle Alzado, DL, 1971-78
Mike Anderson, RB, 2000-05
Otis Armstrong, RB, 1973-80
Steve Atwater, S, 1989-98
Champ Bailey, CB, 2004-13
Keith Bishop, G, 1980-89
Tyrone Braxton, CB/S, 1987-93, '95-99

Willie Brown, CB, 1963-66

Billy Bryan, C, 1977-88
Keith Burns, LB, 1994-98, '00-03, '05-06
Dwayne Carswell, TE, 1994-2005
Rubin Carter, NT, 1975-86
Barney Chavous, DL, 1973-85
Ryan Clady, OT, 2008-15
Dave Costa, DT, 1967-71
Ray Crockett, CB, 1994-2000
Eldon Danenhauer, OT, 1960-65
Terrell Davis, RB, 1995–2001
Brian Dawkins, S, 2009-11
Al Denson, WR, 1964-70
Elvis Dumervil, DE/OLB, 2006-12
Jason Elam, K, 1993–2007
John Elway, QB, 1983-98
Simon Fletcher, LB/DE, 1985–95
Steve Foley, CB/S, 1976-86
Cookie Gilchrist, RB, 1965, '67
Goose Gonsoulin, S, 1960-66
Darrien Gordon, CB/PR, 1997-98
Randy Gradishar, LB, 1974–83
Daniel Graham, TE, 2007-10
Howard Griffith, FB, 1997-2001
Mike Harden, S, 1980-88
Chris Harris Jr., CB, 2011-present
Paul Howard, G, 1973-75, '77-86
Mark Jackson, WR, 1986-92
Rich Jackson, DE, 1967-72
Tom Jackson, LB, 1973-86
Charley Johnson, QB, 1972-75
Vance Johnson, WR, 1985-93, '95
Rulon Jones, DE/OLB, 1980-88
Tony Jones, OT, 1997-2000
Larry Kaminski, C, 1966-73
Greg Kragen, NT, 1985-95
Chris Kuper, G, 2006-13
Ken Lanier, OT, 1981-92, '94
Matt Lepsis, T, 1997-2007
Floyd Little, RB, 1967-75
John Lynch, S, 2004–07
Peyton Manning, QB, 2012-15
Brandon Marshall, WR, 2006-09
Ed McCaffrey, WR, 1995-2003
Bud McFadin, DT, 1960-63
Karl Mecklenburg, LB, 1983–95
Glyn Milburn, RB/KR, 1993-95
Von Miller, LB, 2011-present
Gene Mingo, RB/K/KR, 1960–64
John Mobley, LB, 1996-2003
Craig Morton, QB, 1977–82
Haven Moses, WR, 1972–81
Tom Nalen, C, 1994–2007
Riley Odoms, TE, 1972-83
Jake Plummer, QB, 2003-06
Clinton Portis, RB, 2002-03
Trevor Pryce, DL, 1997-2005
Bill Romanowski, LB, 1996-2001
Tom Rouen, P, 1993-2002
Jim Ryan, LB, 1979-88
Emmanuel Sanders, WR, 2014-present
Mark Schlereth, G, 1995-2000
Shannon Sharpe, TE, 1990-99, 2002-03
Dennis Smith, S, 1981-94
Neil Smith, DE, 1997-99
Paul Smith, DE, 1968-78
Rod Smith, WR, 1994-2006
Dave Studdard, T, 1979-88
Jerry Sturm, G/C, 1961-66
Bob Swenson, LB, 1975-83
Aqib Talib, CB, 2014-17
Lionel Taylor, WR, 1960-66
Demaryius Thomas, WR, 2010-18

Julius Thomas, TE, 2011-14
Billy Thompson, S, 1969–81
Keith Traylor, LB/DT, 1991-92, '97-2000
Danny Trevathan, LB, 2012-15
Frank Tripucka, QB, 1960–63
Jim Turner, K, 1971–79
Rick Upchurch, WR/KR, 1975-83
Bill Van Heusen, P/WR, 1968-76
Louis Vasquez, G, 2013-15
T.J. Ward, S, 2014-16
DeMarcus Ware, DE/OLB, 2014-16
Steve Watson, WR, 1979-87
Alfred Williams, DE, 1996-2000
D.J. Williams, LB, 2004-12
Darrent Williams, CB, 2005-06
Al Wilson, LB, 1999-2006
Sammy Winder, RB, 1982-90
Derek Wolfe, DE, 2012-present
Louis Wright, CB, 1975–86
Gary Zimmerman, OT, 1993–97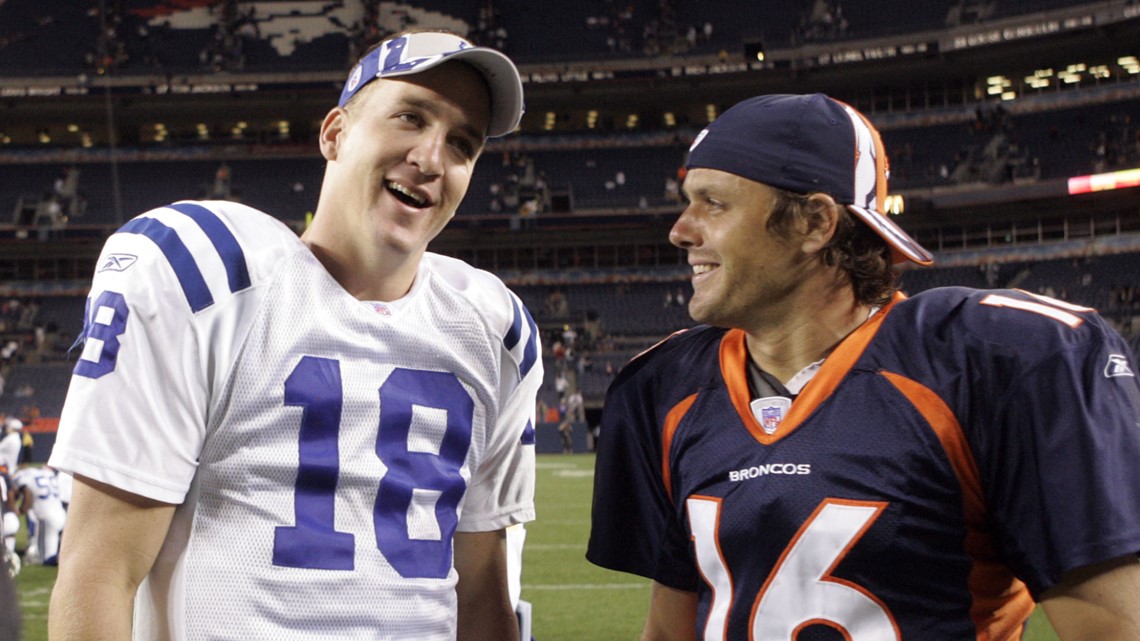 The Denver Broncos' 'Fantennial Weekend' will take place Friday, Oct. 11 to Sunday, Oct. 13, culminating with a game against the Tennessee Titans on Oct. 13.