ENGLEWOOD, Colo. — Von Miller has been a former Denver Bronco for nearly two years now and yet one by one, current Broncos Tim Patrick, Javonte Williams, Courtland Sutton, Patrick Surtain II, Jerry Jeudy, KJ Hamler and Albert Okwuegbunam valeted their nice rides and walked into the Jet Linx airport hangar Thursday night to help support his Von's Vision foundation event.
The 4th annual Night to Take Flight event sold out, at $500 per ticket, to raise money for Von's Vision. An impressive turnout considering the Denver Nuggets were tipping off Game 1 of their first NBA Finals in downtown Denver at the same time Miller's event was about to start.
"It's always great coming back to Denver, coming back to Colorado,'' Miller said in an interview with 9NEWS as the event was just getting started. "I spent 11 ½ years here, a third of my life. Had both of my children (Valor, Victory) here. Won a Super Bowl here, (helped the Broncos) play in another Super Bowl here. It really helped me become who I am today.
"And to have the 4th annual Night to Take Flight with so many board members, so many different sponsors coming back … from all my former teammates, Courtland Sutton and Patrick Surtain and P.J. Locke, KJ Hamler, all these guys they don't have to come do this. I've been an ex-Bronco for two years now and for those guys to still be connected to me and for me to be connected to them, it really makes me feel at peace. All the things we did in the locker room, all the work we put in, all the blood, sweat and tears we put in and to create the team they have now and they have a super team and I'm excited about it.
"I'm excited about Russell Wilson and Sean Payton and all these guys.''
Miller was the Broncos' No. 2 overall draft pick in 2011 and started Von's Vision in 2012. It was quarterback Tim Tebow who inspired him to give back.
"He was building a hospital in the Philippines, and he was doing all these amazing things and I sat back and I said I want to have that same impact,'' Miller said. "But at the same time I'm not Tim Tebow. So it took me a year to find out what I wanted to do and how I wanted to do it. I was signing autographs one day and then boom, it hit me. I took my glasses off and said I'm going to start Von's Vision. I'm going to give contacts, Lasik surgery, eye exams for kids in need. And 11 years later here we are. Never in a million years could I dream of being this. Here we are.''
Even if Miller is now a Buffalo Bill, he will always be a Denver Bronco. He earned the NFL's Defensive Rookie of the Year with the Broncos in 2011. He had a career-best 18.5 sacks in his second season of 2012, then went through major adversity in 2013, missing the first six games with a suspension and virtually the final two regular-season games and the Broncos' postseason run to the Super Bowl because of a torn ACL.
He bounced back strong with 14 sacks in 2014, then was MVP of Super Bowl 50 to cap the 2015 season with his two sacks-that-led-to-14 points performance. After posting 110.5 sacks with the Broncos, Miller was traded midway through the 2021 season to the Los Angeles Rams, for whom he earned a second Super Bowl ring. He then signed a mega-contract – the second of his career – with the Bills last year. He was having a fine season in Buffalo before he suffered another torn ACL.
He recently guaranteed his return by week 6 of this season. Did he want to double-down on that prediction?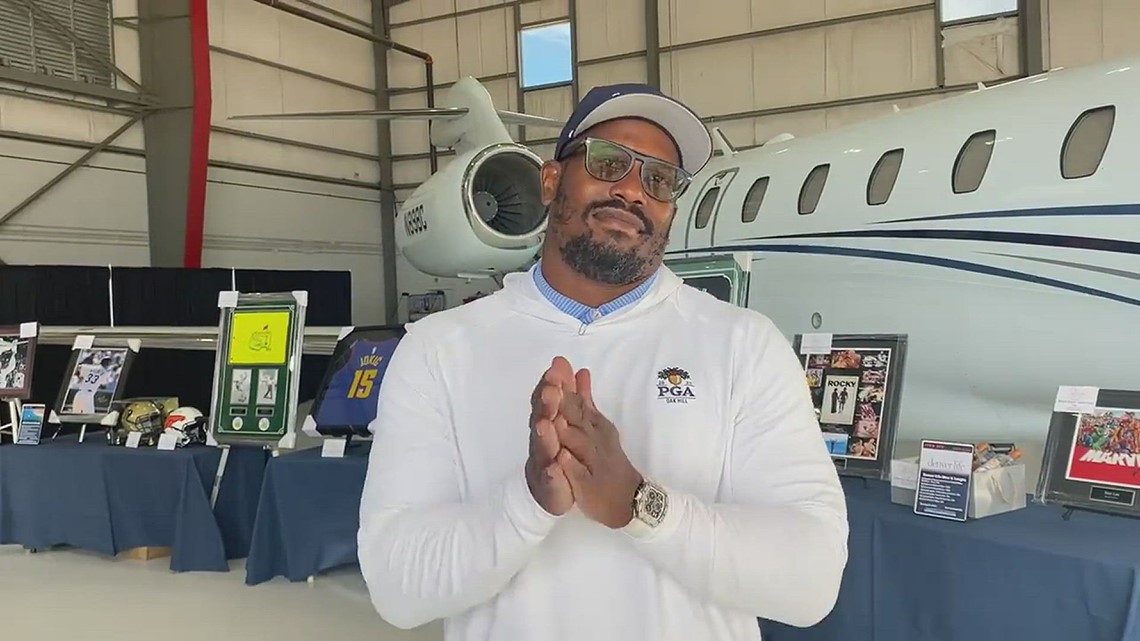 "You know I love guarantees,'' Miller said. "It's me, it's Von. I love guarantees. I want to play. In 2013, I had (ACL) surgery in January and I played at the beginning of August in the preseason. So that put me around seven months, eight months.
"And 10 years removed from that, 2023, I have a whole new outlook. I know exactly where I'm supposed to be at two months, four months, six months and in the position where I'm at now, I feel great, I feel comfortable. I feel like I'll be ready to go at the start of the season.
"But at the same time, I trust our GM, I trust our athletic trainers, I trust our team, our owners. Whenever it's time for the me to play, I'll be ready to go. I want to be ready week 1 versus the Jets. Aaron Rodgers, Monday Night Football.
"But at the same time I'm not in control of that. I'm going to do everything I can physically, mentally, emotionally to be ready for that. But if it's not the first week of the season, then it won't be any longer than week 6, for sure."
Which is great for all his Denver friends because Von's Bills will host his former Broncos in week 10 on Monday Night Football, Nov. 13.
"I'll be ready for that,'' Miller said, rubbing his hands with glee. "I'll be ready for that for sure. (Offensive tackles Mike) McGlinchey, Garett Bolles, both of these guys are my guys. I'll be ready for those guys, 100 percent."
Miller told 9NEWS during the NFL Combine in late-February that he wants to be an NFL general manager after he retires, as Hall of Fame players John Elway did for the Broncos and John Lynch is doing now for the San Francisco 49ers. So what about the Broncos in 2023?
"This is the question I've been waiting for,'' Miller said. "I love the Broncos. (General manager) George Paton and the job that he's done. Bringing in McGlinchey, bringing in Russ. We've got the best corner in the league in Patrick Surtain. We've got the best safety in the league – if he's not 1 he's No. 2 in Justin Simmons. Our defense has always been stacked. I'm a big fan of (Baron) Browning, a big fan of Randy Gregory. Big fan of Javonte Williams. A big fan of Russell Wilson, Courtland Sutton, Jerry Jeudy, KJ Hamler, Tim Patrick. All of these guys, man … ''
It was pointed out to Miller that he's still using the "we" pronoun when talking about the Broncos.
"It will always be 'we,''' Miller said. "I spent 11 years here, it will always be 'we.' But I just have a different outlook of watching this team. I'll always be a fan of the Denver Broncos. I know how they run things. I know the culture. I know the team chemistry. Had an up-and-down season last year. This year, it will be totally different. I'm excited for those guys. All they have to do is beat the Kansas City Chiefs one time and they'll be able to win the division, 100 percent."