KUSA – Who would have thought at the start of the 2013 season that five years later Von Miller would be the Broncos' Walter Payton Man of the Year nominee?
And given Miller has raised nearly $1 million for Von's Vision, his foundation that aids kids in need of eyewear, attends many team community functions, and recently raised nearly $200,000 to supply vest kits for police/firefighters involved in active shooter situations, he has a good chance to become the Broncos' second national Man of the Year award winner. John Elway was the first, in 1992.
"Man, it's an incredible achievement," Miller said at his weekly press conference Thursday. "It's really still like a dream. I remember in 2011 when I just had ideas of starting something (for charitable cause). Working behind Tim Tebow and all the great stuff that he did and sitting down signing autographs. I told my agent (Joby Branion) at the time, hey I want to -- it took me a year from when I was sitting down with my agent and signing autographs to, 'Hey, I want to do Von's Vision.'''
Any time Miller is recognized with such a prestigious honor, it's time to reflect on how far he's come. This is a story of redemption, both off and on the field.
Before the Broncos began training camp in 2013, news broke that Miller – the Broncos' No. 2 overall draft pick in 2011 and who was coming off two decorated seasons – would be suspended six games for violating the league's substance abuse policy.
At the same time, Miller, Branion and Broncos' public relations boss Patrick Smyth were holding regular conference calls on how to deal with the latest outstanding warrant he had both in- and across state lines.
On the field, Miller had his worst season in 2013, registering just 5.0 sacks in 9 games before he suffered a torn ACL that caused him the miss his team's postseason run to the Super Bowl.
Miller was a mess but to his credit, he didn't become Aldon Smith, another first-round pass rusher in the 2011 draft whose off-field trouble ruined his career. Miller pulled it together.
PHOTOS | Von Miller Through the Years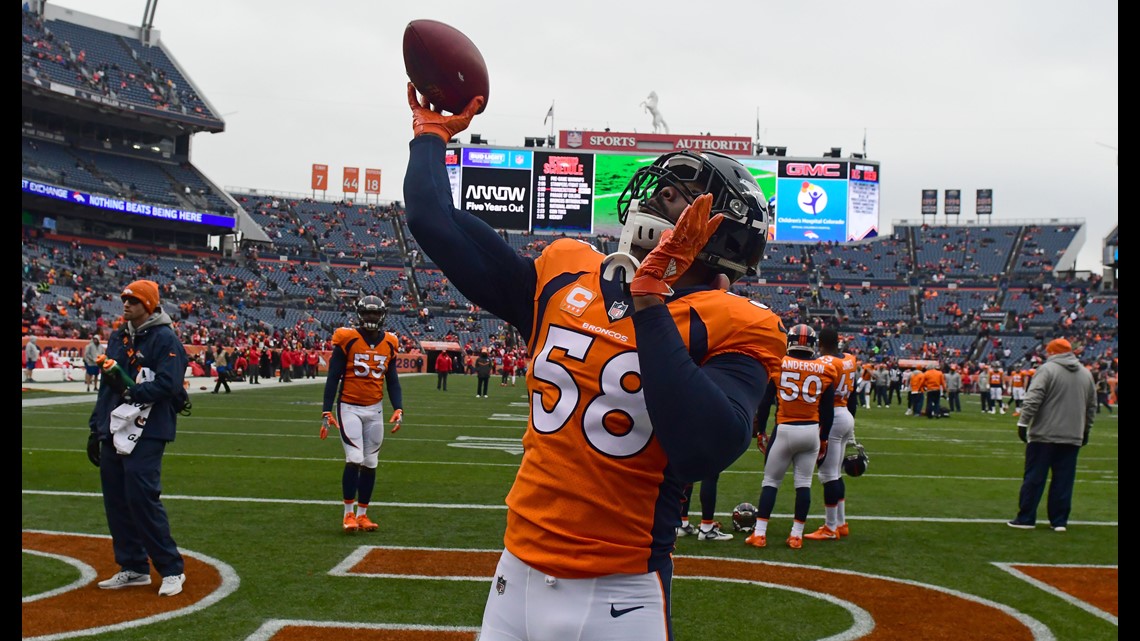 "I guess the key is just to take it one day at a time," Miller said. "That's what I did in 2013 whenever I was going through all that adversity I was going through -- honestly, I didn't even take it one day at a time. I took it, like, six hours at a time. You chip off six hours and another six hours and you string this thing together You string this day, you string this week and then it's a month and before you know it, you're here.
"And that's the mentality I have now. Just take it one day at a time, six hours at a time and see where I can go."
The 2013 season remains the only year Miller didn't register double-digit sacks. He had 14 sacks in 2014, became the Super Bowl 50 MVP in 2015 and started his record six-year, $114.5 million contract extension in 2016.
Miller has so far earned that contract – which for two years held as the NFL's richest among defensive players -- through his work on and off the field.
Miller has often credited his former teammates and quarterbacks Tim Tebow and Peyton Manning for setting a positive example in the community.
Other Walter Payton Man of the Year nominees include Julius Peppers, Matthew Stafford, Dak Prescott and Marshawn Lynch.
Wesley Woodyard is the Broncos' only three-time Walter Payton nominee. Rod Smith and Champ Bailey were each two-time nominees.
The national Walter Payton Man of the Year winner will be announced at the NFL Honors program on February 2 and presented February 3 on the field at Super Bowl LIII in Atlanta.