DENVER — Another season is in the books and another Central Division win for the Colorado Avalanche.
This season took a different path to the division title than Colorado's previous season. The Avalanche finished up by winning eight of their last 10 games in the regular season and not clinching the division title until the last game of the season in Nashville.
> Video above is from the Locked on Avalanche Podcast.
Having secured the division title, Colorado now faces the first wild card team in the Western Conference, the Seattle Kraken. This is the Kraken's first playoff appearance in franchise history and only their second season in the National Hockey League (NHL).
Head-to-head, Seattle went 2-0-1 against Colorado during the regular season, all three games being decided by one goal. The last meeting of these two teams was March 5, which Seattle won 3-2 in overtime.
Colorado's journey to repeat as Stanley Cup Champions begins at 8 p.m. April 18 at Ball Arena.
The rest of the games in Round 1:
Game 2: 7:30 p.m. Thursday, April 20, Ball Arena
Game 3: 8 p.m. Saturday, April 22, away
Game 4: 8 p.m., Monday, April 24, away
Game 5 (if necessary): Wednesday, April 26, Ball Arena
Game 6 (if necessary): Friday, April 28, away
Game 7 (if necessary): Sunday, April 30, Ball Arena
How to watch
In person, at Ball Arena, is the ideal place to watch the Avalanche defend their Stanley Cup championship. As of Monday morning, tickets for Game 1 could still be found on Ticketmaster, starting at $95.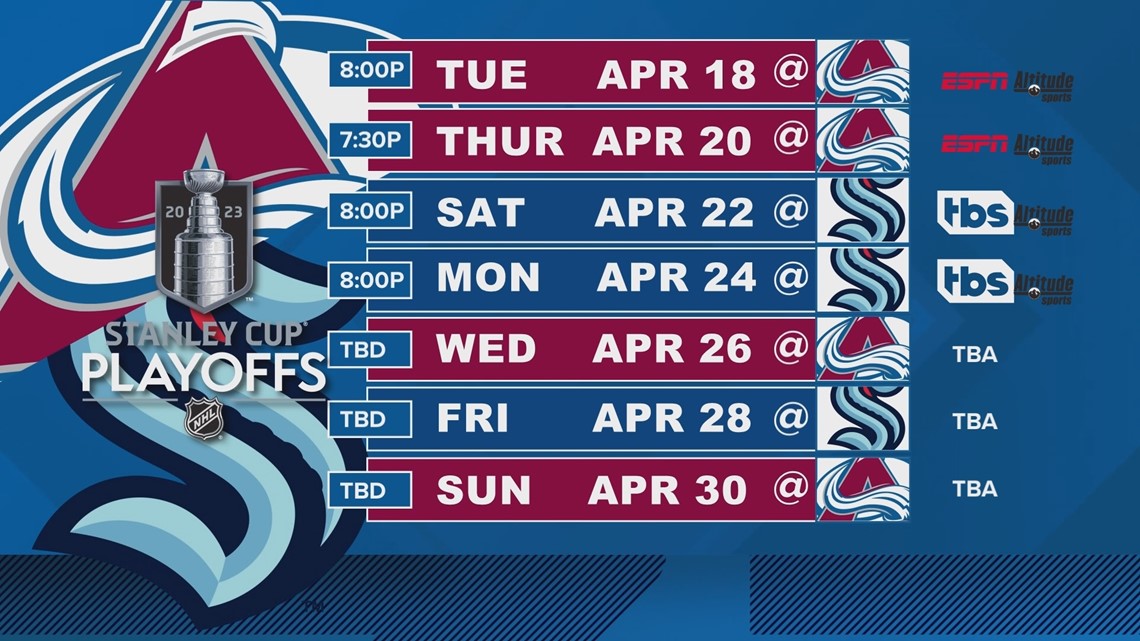 On April 14, AltitudeTV host Marc Moser tweeted that Altitude had dropped its rights to exclusivity and that playoff games will be available on all platforms for fans. This means games that are broadcast nationally (on ESPN and TBS) as well as on Altitude TV will not have the national broadcast blacked out in Denver's market.