American Alpine skier Nina O'Brien was involved in a hard crash at the end of her second run in the women's giant slalom and was down for several minutes as medics attended to her. U.S. skiing officials said she was alert and responsive afterward.
O'Brien was sixth after the first run and was competing for a possible medal. She made it nearly to the end, but hit a gate on her final turn as she struggled to stay on course.
She slid across the finish line, screaming in pain, after stumbling through the last gate as her skis crossed in front of her. She was checked by medical personnel and U.S. team staff before being taken away on a sled. The race was delayed for 15 minutes as O'Brien was being attended to.
U.S. ski team spokesperson Megan Harrod said O'Brien was "alert and responsive."
Nancy Armour of USA TODAY, citing a U.S. skiing spokesperson, tweeted that O'Brien was "worried about delaying the race. And also she wanted to know how fast she was skiing."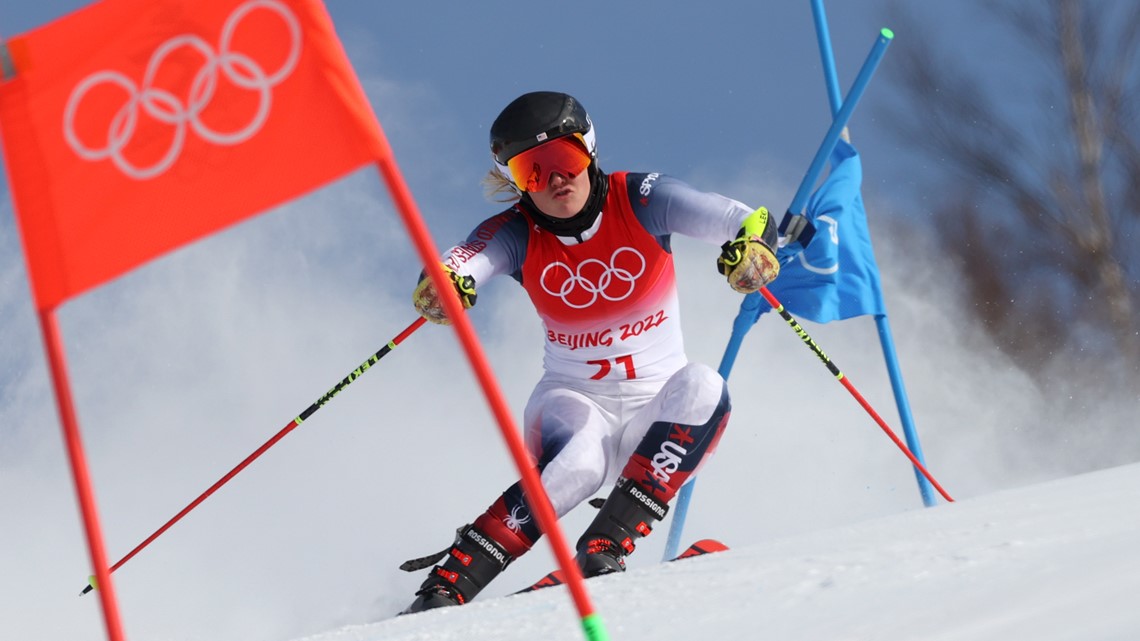 The skier right before, Tessa Worley of France, owner of four world titles and currently second in the World Cup GS standings, crashed on the lower part of the course, hitting a gate as she was attempting a left turn. She spun round, lost a ski and slid down the hill before rising and making it the rest of the way to the bottom.
The crash came hours after another mishap for the U.S. alpine ski team. Top star Mikaela Shiffrin, the defending gold medalist in giant slalom, missed a gate early in her first run and slid off course. She was disqualified.
After O'Brien's crash, Shiffrin tweeted that they "are so heartbroken for Nina.. she showed so much heart and fire in her skiing today, and it all got shredded to pieces on the final turn."
"The warrior that she is, she will get back stronger and speedier than ever, with the same upbeat and kind attitude that is trademark Nina. But tonight w'ere all just sad and crossing our fingers for the best news possible," Shiffrin wrote.
Several skiers crashed or went off course in what was the first day of competition at the Olympics.
Skiing on manmade snow at Winter Olympics
Beijing barely gets any winter precipitation, so these Winter Games are the first to rely almost entirely on artificial snow. Athletes have voiced their concerns about competing on fake snow, saying it brings new risks.
Skiers and experts say manmade snow has more moisture, which means it ices up faster. Estonian Olympic biathlete Johanna Taliharm told The Associated Press last month that artificial snow is "faster and more dangerous" because of the icing.
Bernhard Russi, chair of the International Ski Federation's alpine committee and the 1972 downhill gold medalist in Japan, acknowledged that "of course ski racers and we organizers, we prefer to have natural snow," but added that using machines to make snow allows them to get it to the right "hardness" for each discipline.
The IOC said artificial snow is used regularly at World Cup ski competitions and denied that it makes courses more dangerous: "To the contrary, it creates a more consistent surface from the top to bottom, or start to finish, of a course. "
As the Winter Games began Friday, Russi said "the snow we find right now on the courses is absolutely perfect, you cannot have it better."
The Associated Press contributed to this report.