A Colorado man has skied every month for more than 25 years
Brian Wiens never set out to ski for months on end. Back in 1995, a friend planted the idea and it stuck.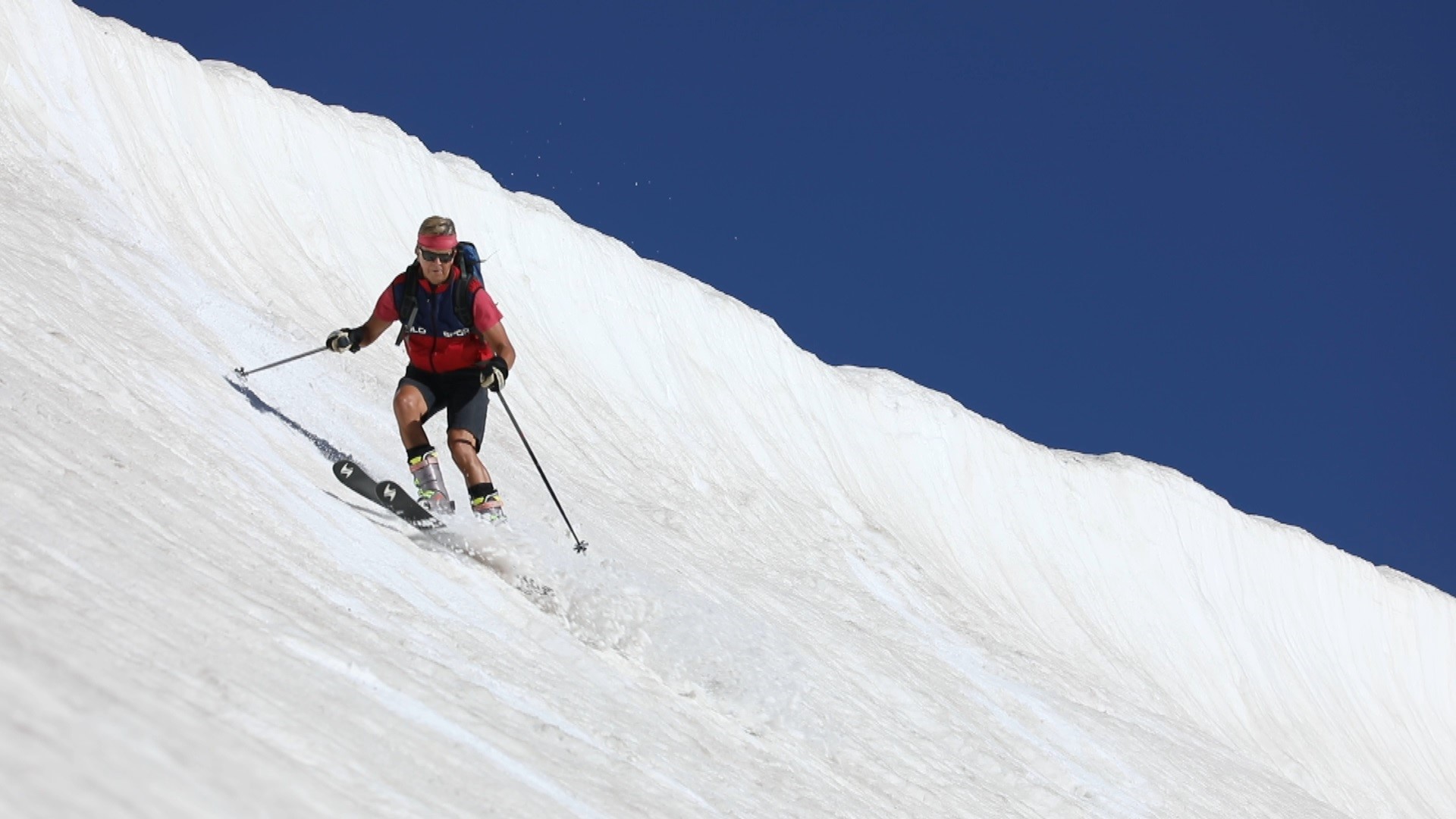 That Lovin' Feeling
:
Brian Wiens can't give up what's been constant in life.
"I love a lot of things, but skiing to me was like way up here," Wiens said, marking a spot in the air high above his head. "It just gives you that lovin' feeling, man. There's just nothing like it."
No one who drove by Wiens' home in Littleton that day could question his commitment to skiing.
"Got on these [skis] and just fell in love with them," Wiens said, placing the pair of neon pink Atomic skis against his garage.
He grabbed another old pair.
"This is a K2 ski that I skied on a number of years that I really liked," he said, stacking them beside others.
Over the next few minutes, Wiens stacked sets of skis until his collection of 21 covered the entire garage.
"I give my wife and my daughter a hard time for all their purses, yet my daughter threw it my face about 'all the skis you have dad,' and I couldn't really have a comeback for that one," Wiens said.
Wiens, 59, is just as obsessed as the kid his parents remember.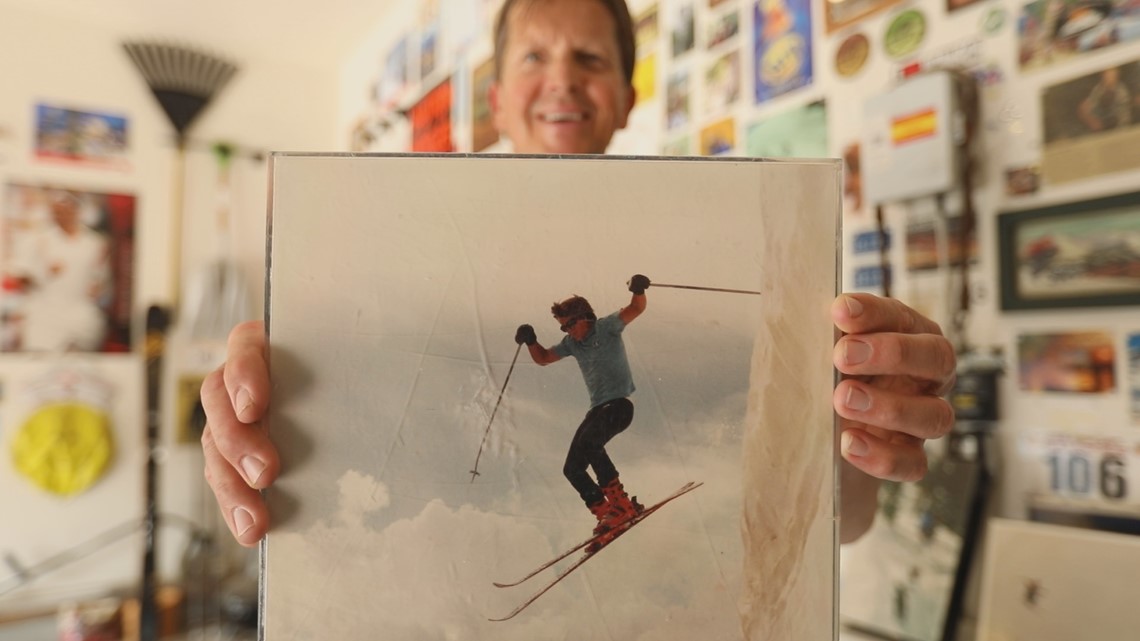 "[Brian] picked it up and fell in love with it," said his father, Duane Wiens. "He's a very determined kid."
Both his parents admire Brian's commitment to the sport and his skill.
"I could not believe his skiing, how he came down those hills!" said Barbara Wiens, Brian's mother. "I just always would tell him, 'be careful!"
A son that didn't always follow his mother's advice.
"This is a picture of me jumping the big cornice up on Jones Pass," Brian Wiens said, showing off the photo of himself as a teenager. "This was a send before there was send."
The Streak
:
Skiing didn't become a true constant for Brian Wiens until August of 1995. It was never an intention. It started simply with a question from a friend.
"In September of '95, he asked me if there was anywhere we could go skiing because he knew I was kind of into the backcountry, and I said, 'absolutely,'" Wiens said.
Wiens had already skied a day in August, so after that day in September, he figured he could keep the streak going. He did.
Every single month since August of 1995, Brian Wiens' skis touched snow somewhere in Colorado.
"For whatever reason, that moment on, I've never missed a month," he said. "It's just, something clicked, you know."
2020 began with Wiens only eight months away from reaching a mountainous milestone: 300 consecutive months of skiing in Colorado.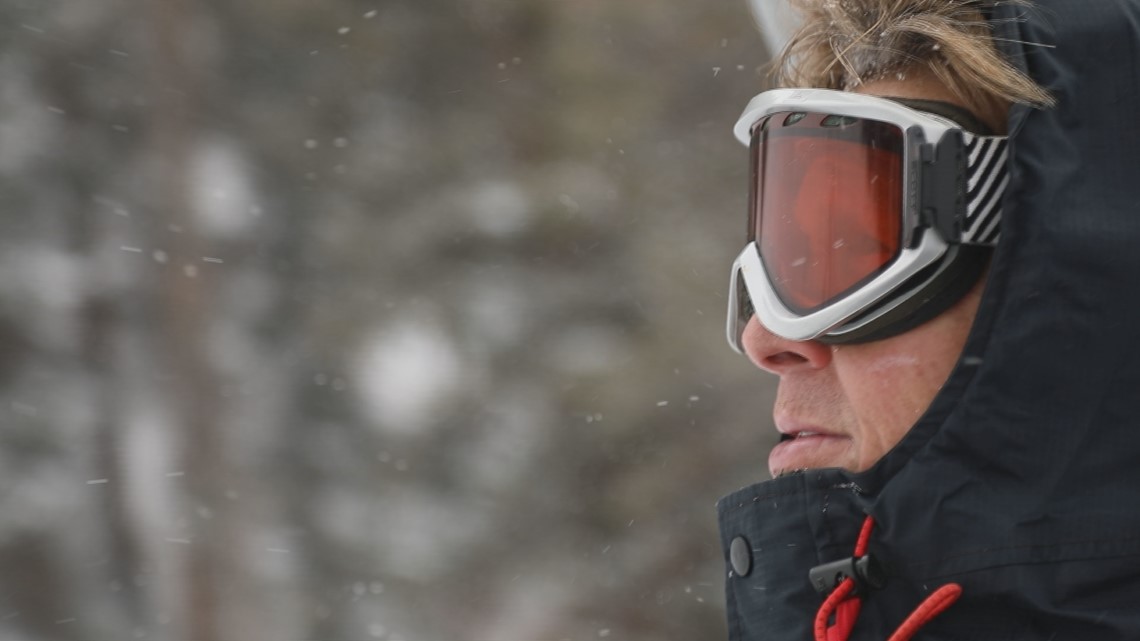 "This is the gnarliest weather we've had all winter that I've been in," Wiens said, his voice barely audible over the wind gusting at Loveland Ski Area.
Wiens didn't seem to mind the snow pelting his face as he rode the chairlift on a frigid, January day.
"It's 18 degrees, so I mean, it could be two below, and the wind-chill would be miserable, but this is actually not bad," he said. "I'm fine!"
Month 293 was in the books in the middle of a blizzard.
"It feels kind of cool that you've got another month in, you know," Wiens said.
The Other Constant
:
Brian Wiens is comfortable in the outdoors. That's something Valerie Wiens learned early on.
She's the second constant in Brian's life, his wife.
"He was cute, so it was that attraction, but the mountain thing really got on my nerves fast because he spent every waking second in the mountains," Valerie Wiens said. "So, it was hard to get him, you know."
Valerie and Brian married in 1990. They couldn't be more different or closer together.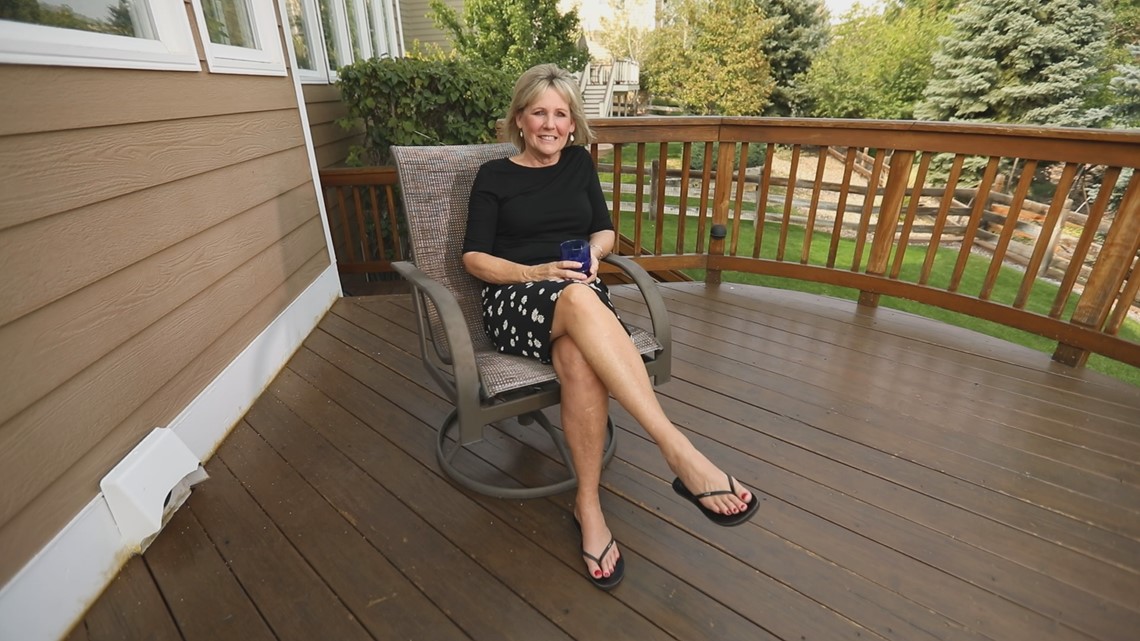 "Talk about opposites attracting," Valerie Wiens said. "It actually works great because we have a very independent life inside of a good, great marriage."
It took a little time for the two to find balance.
"In the earlier years, when the kids were small, and he was working 50 hours a week and all that, I probably resented it a little bit, to be honest," Valerie Wiens said.
Brian Wiens admitted the streak evolved into something beyond his control. He felt compelled to keep it going.
"Brian has one switch," Valerie Wiens said. "It's on or it's off. Period."
Brian Wiens' switch stayed on when 2020 started to feel off.
"It's a world of change."
:
Until 2020, the biggest threat to the streak came about eight years ago in Crested Butte.
Brian Wiens was skiing with his brother, David.
"I toed a ski into a mogul, and it bent my leg back before it released," Wiens said. "It turned out, I'd cracked my fibula."
A broken leg didn't break the streak. Wiens was back on the slopes the next month.
"Definitely against doctor's orders, but we got it done," he said. "That was the only time that I really thought, 'uh-oh.' And then, now. Obviously, now."
COVID-19 shut down resorts in Colorado and sent Wiens to the backcountry in March, worrying if the pandemic would stop his streak in its tracks.
"It's a world of change," Wiens said. "Everybody's pretty much staying home. We're not seeing our friends anymore."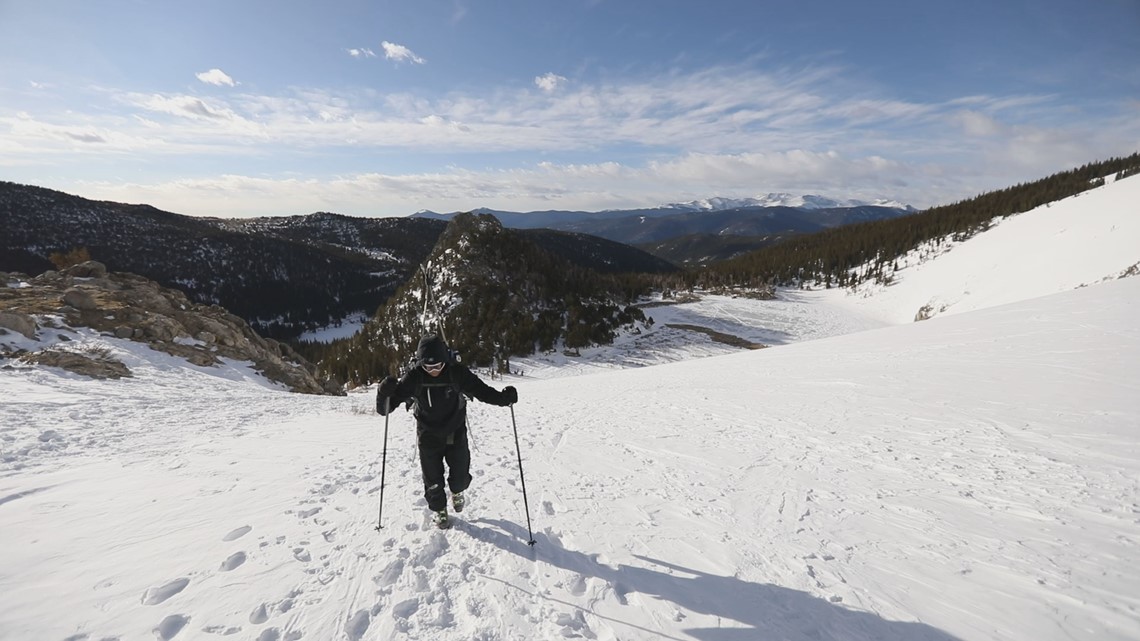 Wiens picked a spot on St. Mary's Glacier to mark his 295th consecutive month on Colorado snow.
"Couldn't really think of anywhere else that wouldn't be overrun with people or closed," Wiens said. "Being here in March is a first for me."
Even with resorts closed, Brian managed to find the open spots in the spring.
"I will never ever take for granted again just driving wherever I want to go and parking my car wherever I want to park it and skiing wherever I want to ski," he said.
"You gotta work for it."
:
As the months kept climbing, so did Wiens.
"It means more in the summer months because you gotta work for it," Wiens said. "You gotta hike for it."
On a warm morning in June, Wiens hiked in shorts and ski boots until he found snow in Arapahoe National Forest. Social distancing from wildlife was his only concern.
"Marmot on the rock there! You see him?" Wiens said. "He's having breakfast. We interrupted his breakfast."
There were far more steps than turns on skis, but a few runs on a patch of crunchy snow was worth it to Wiens.
"Until you do it, the people who have done it, they get it," he said. "They get it big time, and if you haven't done it, they probably think you've got a few screws missing."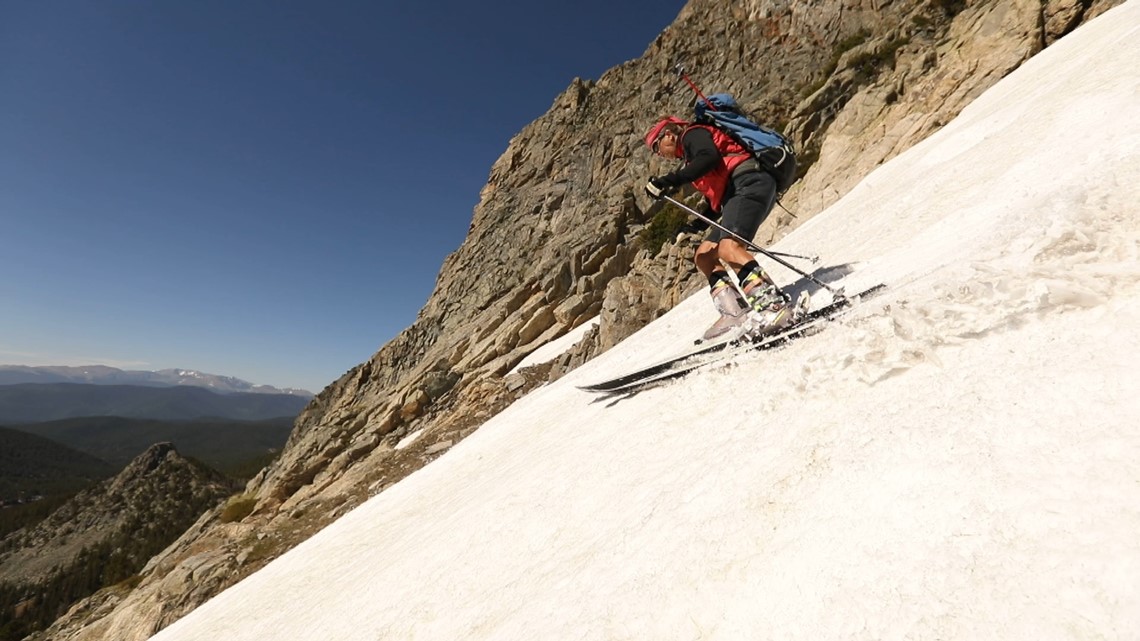 In July, Wiens hiked to the top of Jones Pass, where he met someone else who gets it. Jeff Miller was on his snowboard, ready to drop into snow for the 22nd month in a row.
"Yeah, it's going to be nice and slushy!" Miller said.
After hearing about Wiens' streak, Miller seemed amazed and inspired.
"I think I was going to go for three years at least," he said. "I might have to go for more than three now!"
300 Months in a Row
:
An August day felt different than it did in 1995 because Brian Wiens had company.
"Couldn't think of a better person to have with us," Wiens said, hiking alongside his brother David on Berthoud Pass.
"Today's special because it's 300 months, 25 years that my brother's been skiing," said David Wiens. "I wouldn't miss it."
Brian Wiens' ski buddies, Eric Crall and Scott Jenkins, tagged along, too.
"Got all my rowdy friends with us!" Brian Wiens said.
The group followed Brian as he led them across a ridgeline to a large patch of untouched snow.
"Just to see someone do what he's done, I think – it's very motivating for me to put a little more effort into everything," Crall said.
Crall brought his own skis. Jenkins just came to hike and watch.
"I knew this was a huge milestone for Brian and I wanted to experience it," Jenkins said. "I wanted to be a part of it with him."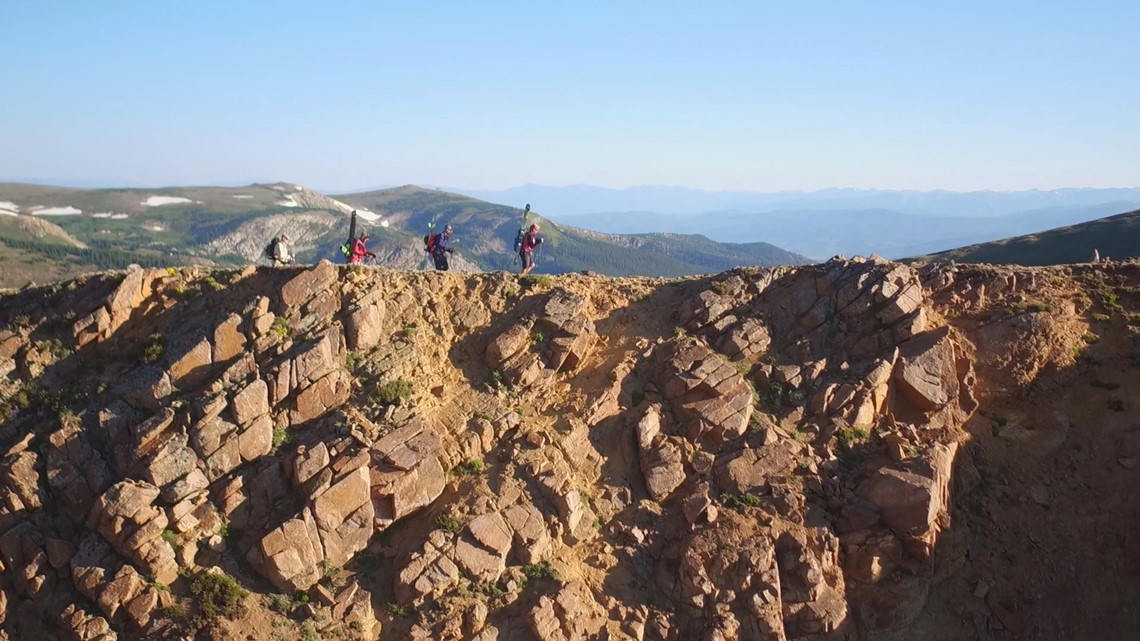 Other Coloradans have skied thousands of consecutive days. Some may have skied more months in a row, but in 300 months of Colorado skiing, conditions never felt so perfect to Brian Wiens.
"Yeah, baby!" Brian Wiens yelled out, turning through the chunky, wet snow.
He skied down to where his brother was waiting. David Wiens filmed Brian on his cell phone.
"25 years!" David Wiens shouted. "August 1st! Awesome."
Every ski day spent up in the mountains; Brian Wiens knows he sacrificed one at home. After reaching another milestone, he reflected on the most important constant in his life: family.
"Sorry, a little overwhelming," Brian Wiens said, tears welling up under his sunglasses.
"They know I'm a wingnut, you know. I've been doing this for a long time, and it kind of got away from all of us, but they're totally supportive."
Family members who stayed far down the mountain in August showed their support.
"It was just tremendous!" said Barbara Wiens. "Absolutely tremendous."
"Makes you proud," said Duane Wiens. "That's newsworthy if you do it for a year, and he did it for 25, and that's mindboggling."
"To get it in every single month consistently for 25 years, I guess is a pretty big deal if you know about that stuff," said Valerie Wiens. "I only do it because I'm married to him!"
"He'll probably do it until he drops."
:
25 years may be just the beginning for Brian Wiens.
"You know, the streak's like my blood pressure," he said. "It's just always there. You know, it's hard to even – I can't separate the two anymore."
The streak continues from here, with no end in sight for Wiens.
"I think he'll probably do it until he drops," said Valerie Wiens. "I really do. I don't see it stopping."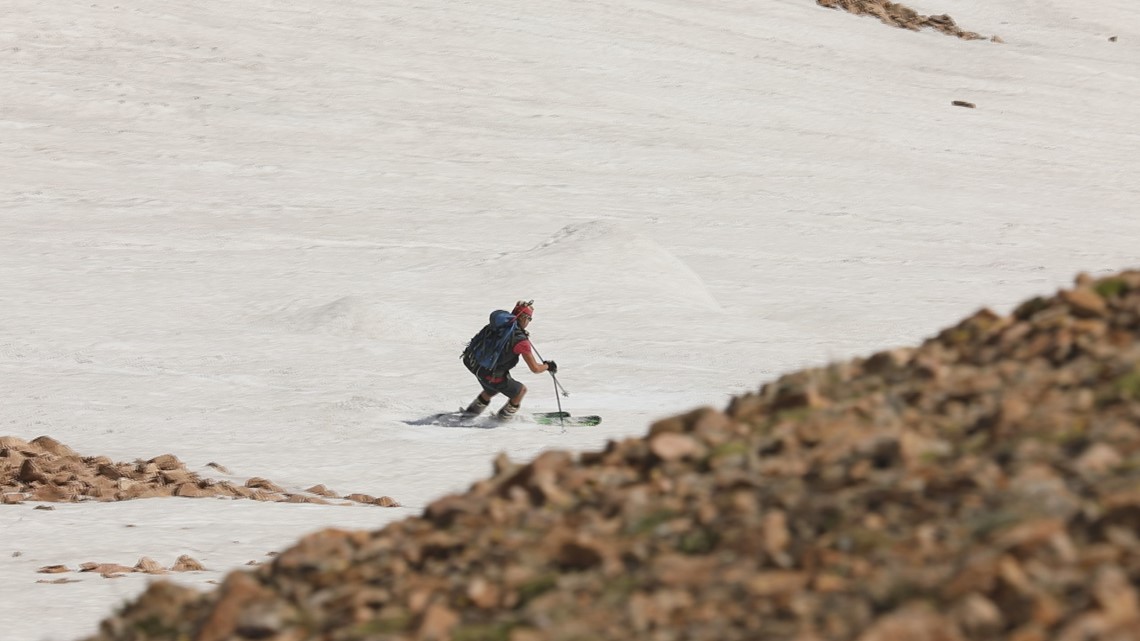 As wildfires closed public lands across the front range and the pandemic surged for a third time, Wiens kept the streak going through September, October, November and December.
"What a year!" Wiens laughed. "We had more obstacles this last 12 months than I had in the previous 24 years put together."
Like Colorado counts on sunny skies and snowy peaks, Brian Wiens is sure to hit another milestone in the mountains.
As long as Colorado keeps it up, Brian Wiens will ski down.
"Keep your streaks going as long as you can and enjoy it," he said. "Enjoy the heck out of it."