PALISADE, Colo. — It's hard to find someone who doesn't like Palisade peaches, and if you're one of those people, you'll be very grateful for some research happening at Colorado State University (CSU) right now.

The antagonist in this story is a fungal pathogen called the Cytospora. CSU said in a news release it's something that's wreaked havoc across the Western Slope's orchards, and has cut the lifespans of trees in half – costing farmers millions of dollars a year.
In fact, trees that once lived for 40 years now live for 20 because of this fungus.
And that's where Jane Stewart comes in. She's an assistant professor for the department of agricultural biology and a plant and fungal biologist. Her team is literally figuring out how to save Colorado's peaches and have received federal funding to do it.

A telltale sign of Cytospora are canker wounds visible on the bark or branches of trees. The university provided a picture of it: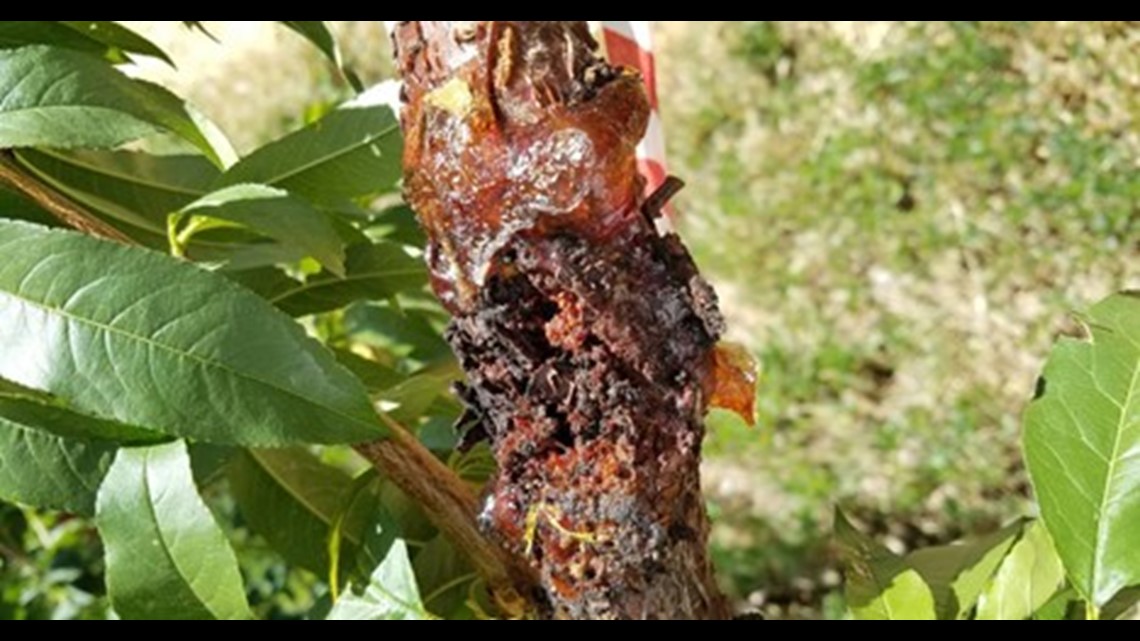 Stewart's team is looking at various management practices to get rid of the fungus, as well as the tradeoffs that come with spraying trees with pesticide vs. planting new ones.
"We are looking at combatting this disease from a molecular standpoint, as well as from cultural practices of growers," Stewart said in a news release.
Stewart and a graduate student named Stephan Miller have developed a chemical treatment for farmers and fact sheets about the pathogen to stop trees from getting deadly infections.
The federal funding will help the team learn more about how to stop this fungus in its tracks, and save Colorado's amazingly-delicious peach season.
> Watch video above: Snow is less than peachy, but great for Palisade peaches