BOULDER, Colo. — In January 2022, the underwater volcano known to most as Hunga Tonga exploded.
A massive ash cloud and shockwave were captured on satellite.
Technically, it's called Hunga Tonga - Hunga Ha'apai, which is the name of the sister islands where the eruption originated.
Vömel said the volcano unleashed a mushroom-shaped cloud of smoke, ash and gases – but also contained in that cloud was something he'd never seen before.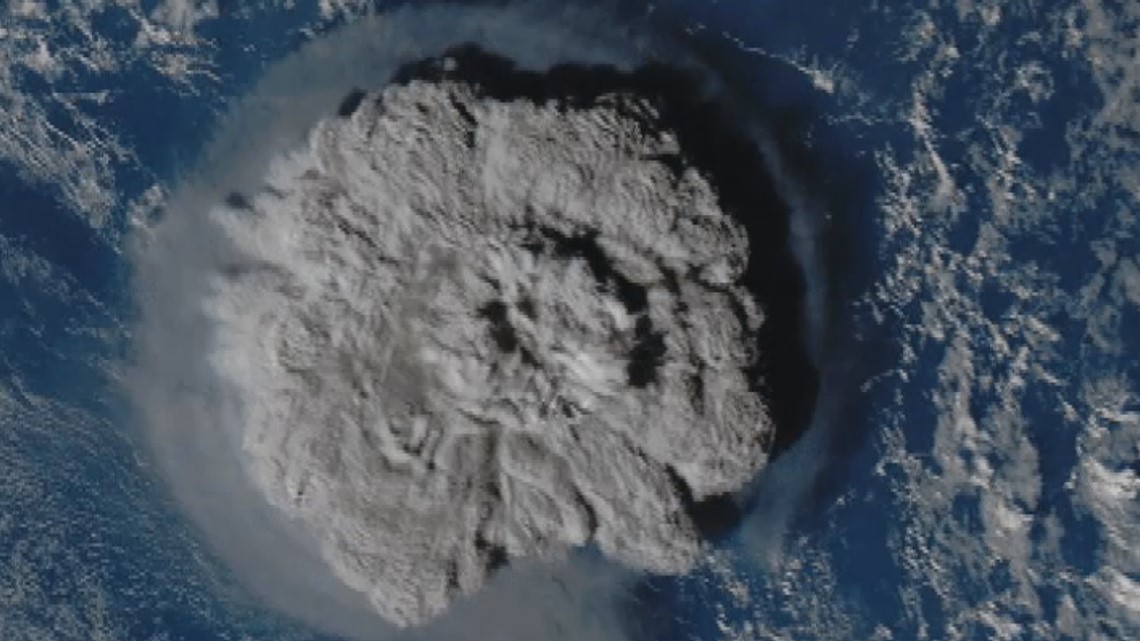 "Ocean water that gets blown into the stratosphere, and there were even very significant ice clouds in the stratosphere, which by itself is completely dramatic," he said.
Vömel studies the stratosphere, which he said is an extremely dry place. He developed the cryogenic frost point hygrometer, a sensitive and specialized instrument needed to detect just the slightest trace of water vapor.
He was the lead author on a research paper published in the journal Science in September. He found that on Jan. 15, 2002, Hunga Tonga - Hunga Ha'apai sent 500 times more water vapor into the stratosphere than was previously measured.
"Water vapor is also a very strong greenhouse gas," Vömel said. "That means you change the amount of water vapor in the stratosphere, you change the temperature of the stratosphere."
He said the slight warming of the stratosphere may have a trickle-down effect and cause additional warming to the troposphere, where our weather and climate happens.
But it's too early to tell if Hunga Tonga - Hunga Ha'apai's water vapor will eventually impact our lives in Colorado.
It was previously only a scenario that scientists could watch unfold in computer models, until a patch of the South Pacific Ocean actually got vaporized by a volcano.
"Here we have a real case where in a single day a lot of stuff was thrown into the stratosphere and now, we can watch. How does it spread?" he said. "The amount of science coming out of this is just unbelievable."
There is already a confirmed impact of the stratospheric water vapor. Vömel said it is causing the polar vortex over the southern hemisphere to be a little stronger than normal.
He said that means there is more than normal ozone destruction.
The Aura Satellite
Vömel said that a key satellite that scientists have been using to track the water vapor from Hunga Tonga - Hunga Ha'apai is unfortunately scheduled to be decommissioned this summer.
The Microwave Limb Sounder abord the Aura satellite plays a huge role in separating the volcanic water vapor from other sources.
He said there has been some discussion about extending the life of that mission just to track Hunga Tonga's water vapor. He believes there is a chance it could remain operational for a least two more years.