WESTMINSTER, Colo. — After working around the clock, Colorado Department of Transportation (CDOT) crews completed work early Tuesday morning to reopen two eastbound lanes of traffic on US 36 near Wadsworth Boulevard.
Workers shifted two eastbound lanes on the westbound side with a concrete barrier separating the east- and westbound lanes. The work, which resulted in reduced travel to two lanes in each direction for a roughly half-mile stretch between Wadsworth and Church Ranch Boulevard, was completed about 24 hours ahead of schedule, CDOT said.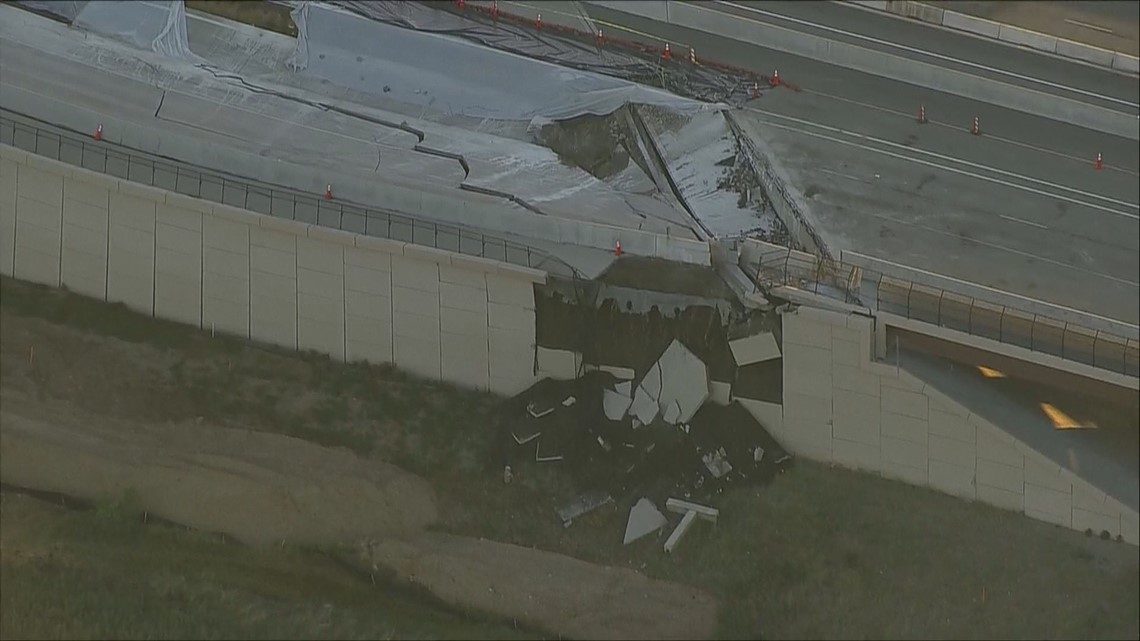 The Express Lane and shoulder on the small section of US 36 were converted to two general-purpose eastbound lanes. No tolls are applied to that section, but Express Lanes outside of that small section are operating normally, meaning charges would apply.
The work was necessary after a crack that first appeared on the highway last week turned into a full-on sinkhole.
"We're still in the emergency phase of what's going on with US 36 eastbound at Wadsworth," said CDOT spokesperson Tamara Rollison during a news conference Monday afternoon.
CDOT said the crack first appeared last Monday, and noticeably grew on Thursday to the point that the eastbound direction of the busy highway between Boulder and Denver closed on Friday at Wadsworth Boulevard.
That full closure of the eastbound lanes was in place through the weekend and caused delays of at least 30 minutes during Monday morning's commute, prompting CDOT to ask drivers who use the road to work from home if they can.
The crack began to turn into a sinkhole Sunday, and by Monday, Rollison said the road "experienced a failure with the road and retaining wall." This damage was caused by settlement issues, and now requires a full-on construction project to repair the collapsed section of the road.
CDOT will hire a contractor to handle repairs on the eastbound lanes and did not offer a timeline for when those will reopen.
CDOT offered the following tips and suggestions for travelers while the repairs are being made:
Expect significant delays on EB US 36 from Boulder to Denver.
Give yourself extra time for your commute and plan ahead.
Know before you go and check traffic conditions. (You can view the 9NEWS traffic map here: 9news.com/traffic.)
While the new traffic pattern is being set up, CDOT will offer free travel on RTD's Flatiron Flyer and LD Bus routes, in both directions, on US 36 on Monday and Tuesday.
Telecommute if you are able to do so.
Consider combining or skipping trips, especially during peak travel times.
Drive with extra care and leave plenty of space between your vehicle and the one ahead.
A situation like this is not unheard of –, especially for longtime Colorado residents.
You can watch our 2017 coverage of that historic event below.