DENVER — Interstate 70 will be fully closed between Steele/Vasquez and Interstate 270 beginning at 10 p.m. Friday to allow for demolition of the old Colorado Boulevard Bridge which is part of the Central 70 Project. It won't reopen until about 5 a.m. Monday morning, according to the Colorado Department of Transportation (CDOT).
"This Colorado Boulevard interchange is one of our biggest volume north/south roads across I-70, so [it's] a big accomplishment to get some of the southbound traffic onto the new bridge," said Keith Stefanik, Central 70 project director.
During the closure the following detours will be in place:
Drivers on westbound I-70 will be detoured north on I-270 to I-76 west and will continue south onto I-25 to I-70.

Drivers on eastbound I-70 will be detoured north on I-25 to I-76 east and will continue south on I-270 to I-70.
On Tuesday morning CDOT said the project is slightly behind schedule, but they're hopeful they can make up time and still finish it by the end of 2022.
The massive $1.2 billion project to make over a 10-mile portion of Interstate 70 through north Denver officially got underway with a groundbreaking in July 2018.
As part of the project, one new Express Lane in each direction will be added, an aging 56-year-old viaduct will be removed and the interstate will be lowered between Brighton and Colorado boulevards. A 4-acre park will be built over a portion of the lowered interstate.
So far, nearly two million man hours have been invested in the project, which is the state's largest-ever construction project, CDOT said. During an update Tuesday, officials highlighted accomplishments to date and outlined summer construction impacts.
Those impacts include the upcoming permanent closure of the westbound I-70 off-ramp to Steele/Vasquez.
The ramp does not exist in the final alignment of the project and will not be rebuilt. However, a new 46th North Avenue ramp to provide greater connectivity between Steele Street and Colorado Boulevard is being built.
It's set to close on June 26, and after that, drivers will exit westbound I-70 at Colorado Boulevard and travel across Colorado Boulevard to 46th North Avenue to Steele Street.
The highway will also be fully closed this weekend between Steele/Vasquez and Interstate 270 to allow for demolition of the old Colorado Boulevard Bridge.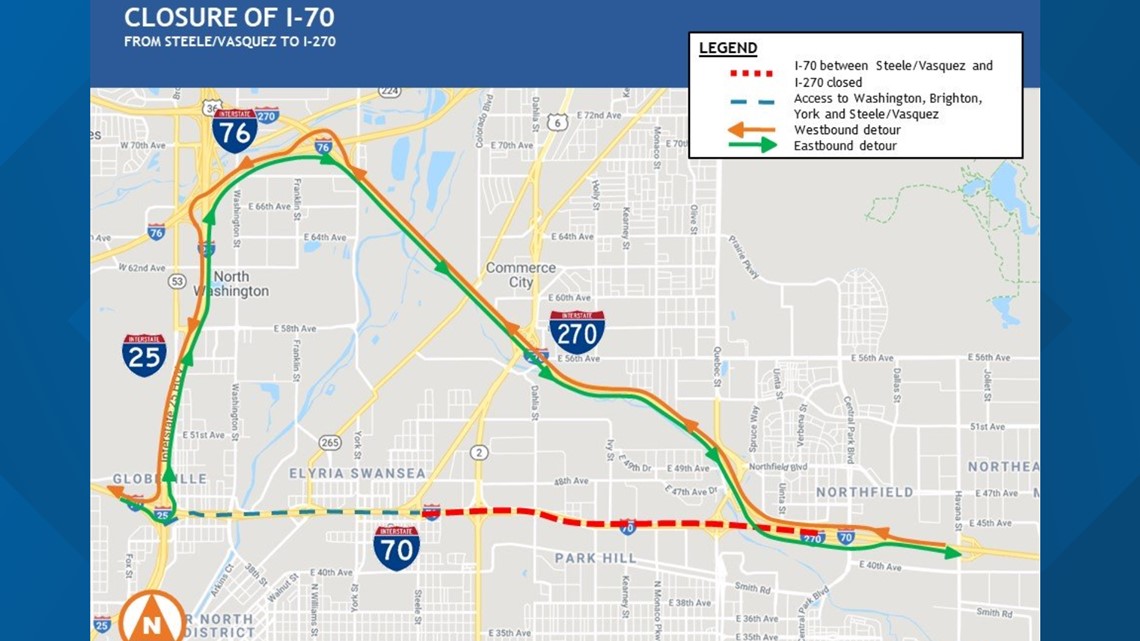 Other major milestones this summer include the closure of Columbine and Clayton Streets between 46th and 47th Avenues in mid-July. Local access will be maintained.
York Street will be closed between 46th and 47th Avenues in early August through early next spring to allow for the construction of a new bridge.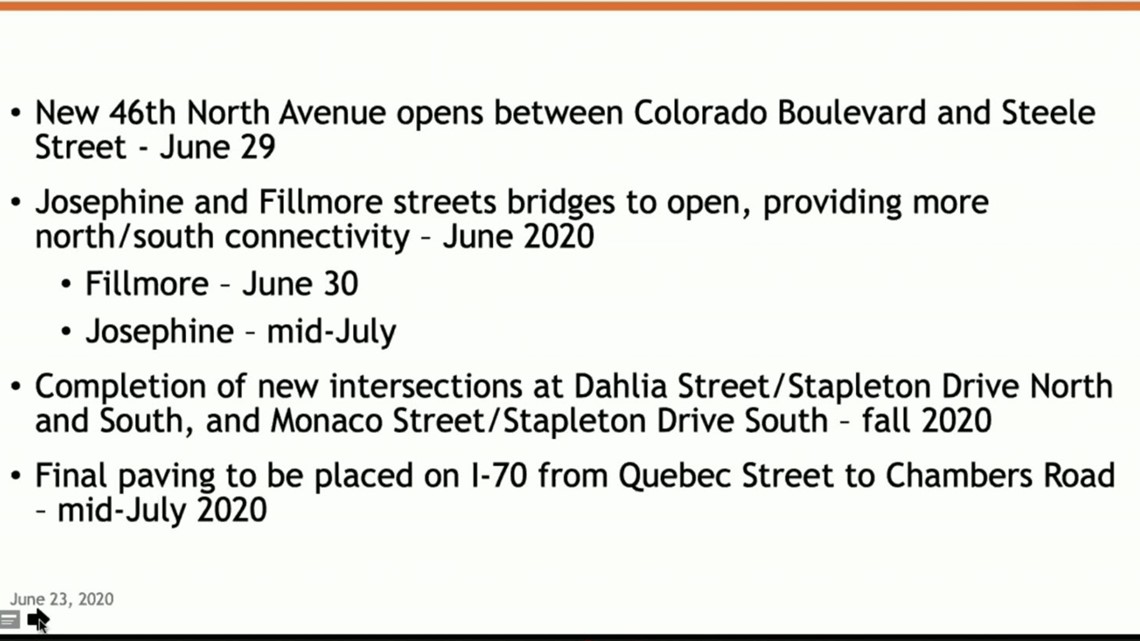 CDOT said they're very close to finishing the new Josephine and Filmore Street bridges. The Fillmore Street bridge is set to open June 30; the other will be open by mid-July.
The new 46th North Avenue will open on June 29 between Colorado Boulevard and Steele Street.
The agency also noted the 4-acre park being built across the highway between Columbine and Clayton streets is taking shape.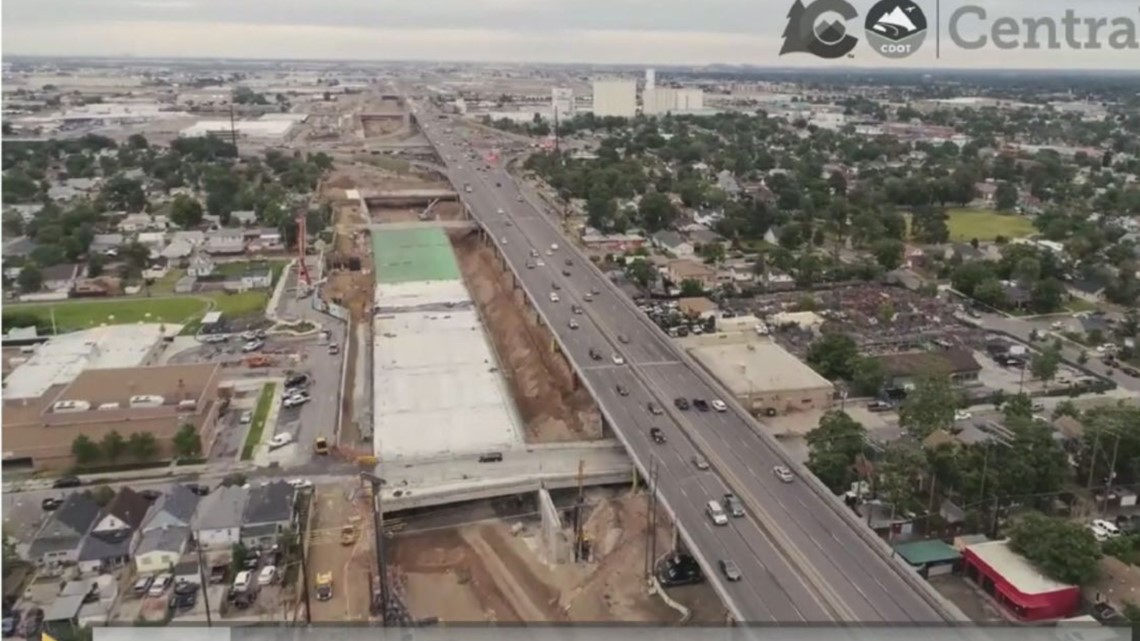 "On the left-hand side of the screen (see image above) is Swansea Elementary," said Stefanik. "So the cover will be adjacent to the elementary school and provide an outdoor activity area for the school as well as a shared space for the community."
Stefanik also touched on the COVID-19 pandemic and how they had to work to keep the project going while keeping all of the workers safe. He said while they had to make a lot of changes, he said the cost wasn't increased.
"That was a big undertaking for us; we had to adapt," he said. "We had to really start administering the project from a virtual area from a management perspective and then also make sure that our craft workers on the ground had enough safety precautions, enough of the personal protective equipment to keep working."
He said it also allowed them to do a lot of daytime paving during daylight hours due to much lower traffic volumes, which is a lot safer for workers. Stefanik said he didn't believe the virus had impacted the overall timeline of the project.
The "Central 70" plan is a public-private partnership between CDOT and Kiewit Meridiam Partners (KMP).
CDOT said the purpose of the project is to alleviate traffic congestion in the area and ensure the integrity of the highway's 54-year-old viaducts by providing the "first safety and capacity improvements ... since the highway's construction in 1964."
The project will also enhance pedestrian and bicycle connectivity by incorporating eight-foot sidewalks, tree lawns and lighting along roads.