DENVER — A large crash on Denver's icy streets Friday morning sent 13 people to the hospital and led to minor injuries for 70 others.
The crash closed eastbound and westbound West 6th Avenue at North Kalamath Street to North Federal Boulevard for several hours. DPD said about 100 motorists were involved.
All lanes of 6th Avenue reopened just after 11 a.m. Friday.
Fire officials said crews had to cut people out of 5-6 vehicles and that one of the people who was hospitalized had serious injuries.
Because of a stranger trying to warn drivers of a pile-up ahead, driver Margaret Olah was able to stop her car before crashing into others.
"I was able to stop thanks to the man in the brown coat," she said. "I don't know his name. I don't know anything about him. I just recognized something was wrong. It's not normal to see a bumper and man waving."
She said the man was warning people to slow down.
"I just thought, 'Okay, we're good. We're stopped,' and then I immediately got hit from the back side and I ended up facing north on 6th and I just prayed that I didn't go over the wall," Olah said.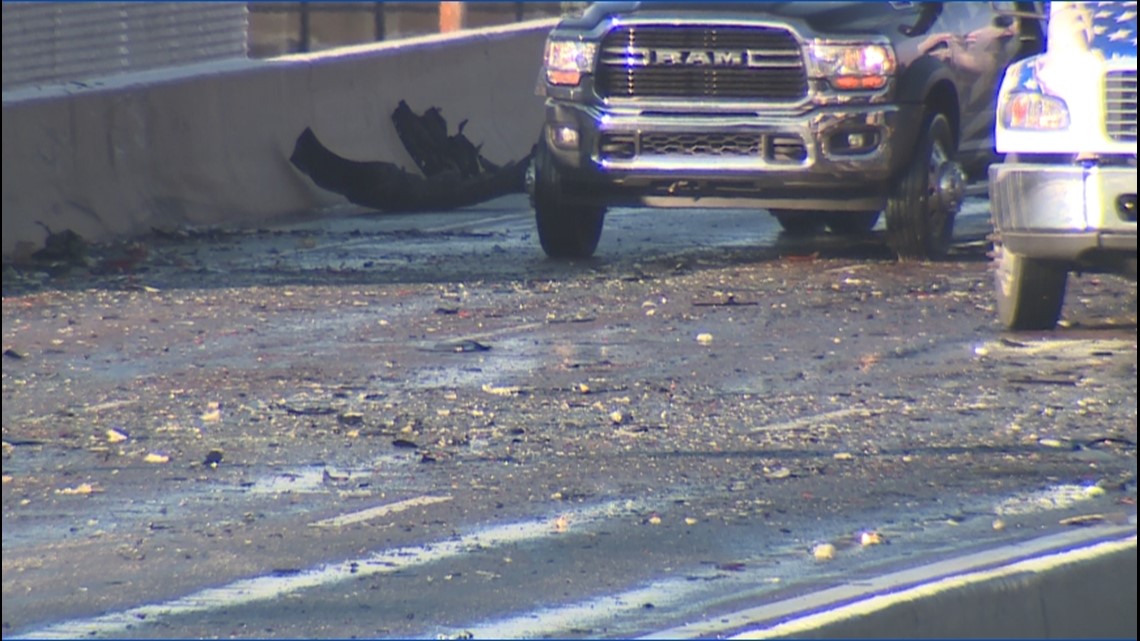 She said debris was everywhere on 6th Avenue.
"There's car parts that were under my car that didn't belong to my car," Olah said. "There's wheels, people who just don't have wheels on their cars anymore. You could see radiators and fenders."
100-vehicle crash in Denver
Claire Heger just moved to Denver six months ago. She said she got her brand new car six months ago, too. Now, it needs a few repairs.
"But, you know, I bought a big vehicle to come out here for a reason," she said. "For the weather and a big vehicle kind of saved me today. It was definitely pretty terrifying just watching it all happen."
Before crashing, Heger said she could see the pile-up but there was nothing she could do to stop her car on the icy road.
"I was slamming on brakes over and over again," Heger said. "At that point, I had enough time to even think about like, 'Okay where should I hit? Are there people outside?' You had time to think because the ice went back so far."
Heger said she's relieved the majority of drivers were able to walk away from the wreckage.
"There were other people helping people escape their cars out of their trunks and it was great to see everyone helping each other in a crazy situation like that," she said.
> The video above is dashcam video from one of the vehicles involved
Vehicles that were undriveable or whose drivers were taken to the hospital were towed to Lot C at Empower Field at Mile High.
Some drivers involved in the crash said 6th Avenue did not seem to be treated with any deicer.
The Denver Department of Transportation & Infrastructure released the following statement about the road preparations:
In anticipation of the snow last night, the Department of Transportation and Infrastructure had crews deployed throughout the city to monitor major roadways. Sixth avenue is one of the routes we were monitoring closely. At 4:30 a.m. when our crews passed through the area, the road conditions did not call for deicer and would have been ineffective. During a storm event like we had yesterday, DOTI will pass through major roads and bridges every two hours. In Colorado, road conditions can change quickly, which is what happened along 6th Ave creating slick conditions before we had a chance to return to the area.
The Denver metro area saw several inches of snow accumulation by the time the system moved out around midnight.
Authorities warned drivers to watch out for patchy black ice in the Denver area early Friday morning and winter driving conditions in the mountains.
Numerous crashes Friday morning were reported across the Denver area leading to Denver Police Department (DPD) going on Crash Alert.
9NEWS+
9NEWS+ has multiple live daily shows including 9NEWS Mornings, Next with Kyle Clark and 9NEWS+ Daily, an original streaming program. 9NEWS+ is where you can watch live breaking news, weather updates, and press conferences. You can also replay recent newscasts and find videos on demand of our top stories, local politics, investigations and Colorado specific features.