GOLDEN, Colo. — Both directions of Interstate 70 reopened after a brief shutdown Thursday afternoon on Floyd Hill.
The highway was closed because of loose rock above the roadway after blasting as part of the I-70 Floyd Hill Project, said the Colorado Department of Transportation.
The highway closure began around 3:24 p.m. Thursday near the construction site on the interstate between the Hidden Valley exit and Floyd Hill due to safety concerns because of loose rock above the highway.
Both directions were back open around 4:40 p.m.
CDOT originally close between mileposts 244 and 248. If you're traveling on I-70, check COtrip.org for road conditions or closures.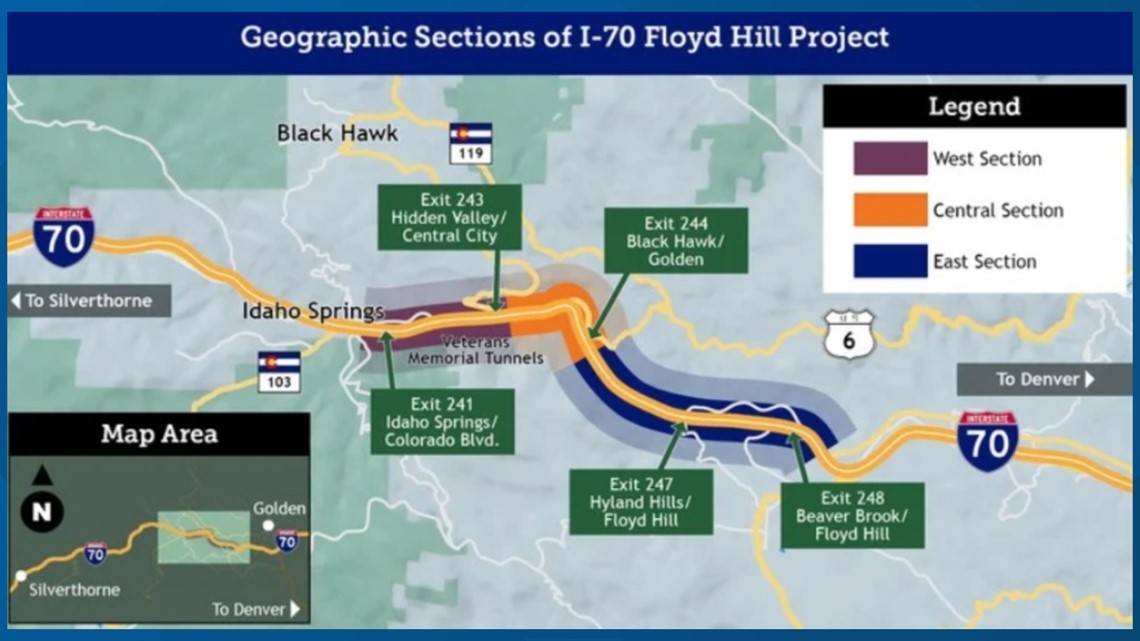 Construction in this area began in July. CDOT said the I-70 Floyd Hill Project will improve mobility and increase safety from west of Evergreen to eastern Idaho Springs. The project aims to improve traffic flow and reduce crashes on an eight-mile stretch of I-70.
The project received $700 million in state and federal funding and is part of the Gov. Jared Polis (D) administration's 10-year infrastructure plan, CDOT said.
"The I-70 Floyd Hill Project is many years in the making," said CDOT Executive Director Shoshana Lew in a statement.
"From initial scoping to completion of the National Environmental Policy Act process in February 2023, we are now ready for construction. Moving the project forward was a collective effort from many partners, including elected officials, local, state and federal agencies, environmental and recreation groups, first responders and numerous community organizations. We couldn't be where we are today without their input, support and ultimately their endorsement of the project."