DOUGLAS COUNTY, Colo. — A crash Sunday on Interstate 25 is being investigated as a possible "road rage incident," according to Colorado State Patrol (CSP).
Video shows a black pickup truck running a motorcycle off I-25 and into a barrier in the Castle Pines area.
CSP interviewed the driver of that pickup on the scene Sunday and released him. But footage from another driver's dashcam, along with witness accounts, have caused the police to reopen the investigation as a possible road rage incident.
The man on the motorcycle was 54-year-old Quentin Quidley. He was on a bike trip with his brother and two of their friends just passing through Colorado. A tradition for the brothers, one of them said.
Quentin Quidley's little brother, James Quidley, was riding alongside his older brother before the incident. James Quidley said they were coming up fast on another truck, and jumped into the left-hand lane to avoid a crash. That move, he said, forced the driver of the black truck to brake.
The brothers took off, to put some distance between themselves and that driver. But several miles up the road, they saw the black truck cross four lanes to approach them again.
"So we take off a little bit, to get some distance between us. I think it's all over and we start cruising again," said James Quidley. "About two or three miles down the road, I see him coming up in the right lane. I couldn't believe he did what he did... To have him come from that right lane and put me and my brother on the shoulder... That was bad enough.
"How we didn't wreck then is beyond me. Him and my brother had some words. Then he gave a second little swerve, hit my brother's faring, caused my brother to hit the wall. And I just watched my brother start tumbling in front of me," James Quidley said breaking down.
"Nobody should have to witness that. That is horrific," he said.
As of Tuesday, Quentin Quidley had been moved out of the ICU.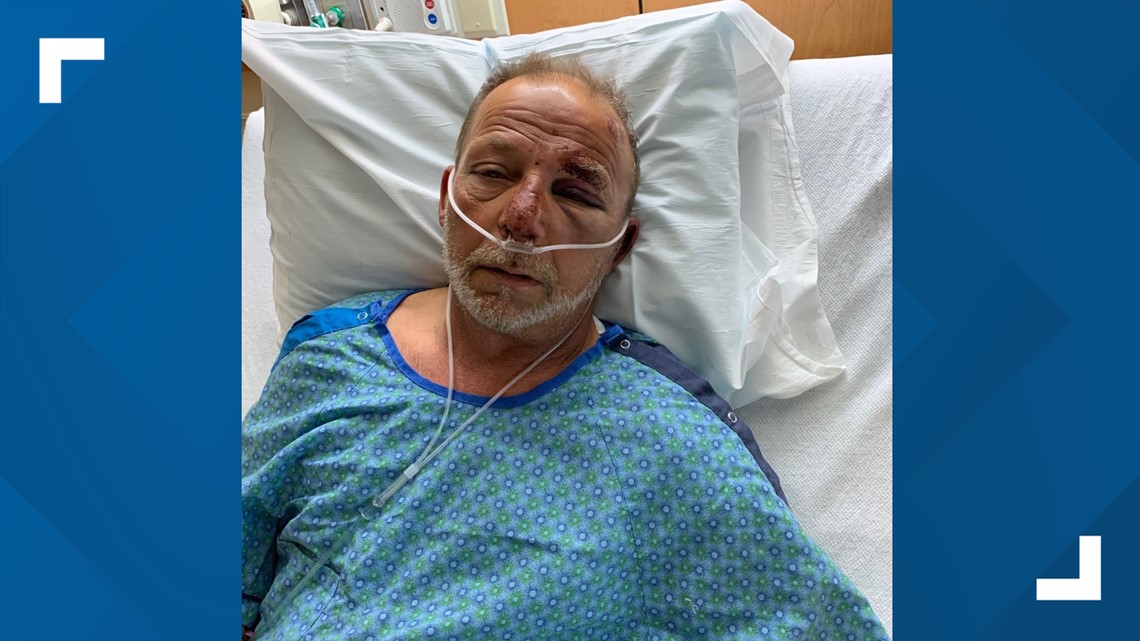 James Quidley said his brother has five broken ribs, a fractured skull and face, and a broken right ankle from the incident.
CSP said there have not been any arrests made, and nobody has been charged in the incident as of Monday.
A 9NEWS viewer shared dashcam video below that shows the crash: three motorcycles are riding together in the left lane when a black pickup moves across all lanes of traffic from the right lane and swerves into one of the motorcycles. The motorcycle then hits the barrier, loses control and crashes.
Warning: The video below is graphic and may disturb some viewers:
The video doesn't show what preceded the crash.
Quentin Quidley was taken to a hospital with head trauma, a CSP spokesperson said. He is expected to survive. A second person on the motorcycle was not transported to a hospital. No one in the truck was injured, CSP said.