DENVER — As we head into the Fourth of July weekend, holiday travelers should prepare themselves for delays.
Officials at Denver International Airport (DIA) expect more than 1.2 million passengers from July 1 through July 6, making this 4th July weekend the biggest they've had in two years.
IN THE AIR
"This is a stark difference from last year, you can see it in photos, it was almost eerie. There weren't people traveling and if they were there were minimum. So now that we're a packed house it's exciting," said DIA Spokesperson Alex Renteria.
It's also exciting for those who have packed their bags and are ready to enjoy a vacation.
"We're really excited because we get to go see family. We're going to go visit grandpa in Clear Lake, Iowa, for the 4th of July. And we're just happy to be back doing it," said Denver traveler Sara Barton.
On Friday, there were long lines at check-in and at the security checkpoint. Airport officials are advising travelers to arrive two hours early.
"We are experiencing staffing shortages anywhere from TSA to our concessions," said Renteria.
AAA Colorado says while demand is high for travel right now, it's going to take time for airlines, airports and TSA to get back on their feet again after being derailed b COVID.
ON THE ROAD
The Colorado Department of Transportation (CDOT) is suspending construction and maintenance projects from midday Friday until Tuesday to help minimize traffic impacts.
> Video above: With travel demand up, plan ahead for a smooth trip
"While we do everything possible to keep the roads safe, weather and road conditions, especially in our mountain corridors, can change drastically and very quickly with possible wildfires, flooding and rockfalls," said Shoshana Lew, CDOT executive director. "Give yourself some extra time and slow down, particularly when driving through construction zones. We want everyone to have a safe holiday."
CODT said the Fourth of July traditionally marks the start of the high traffic season, with summer tourism hitting its peak over the next six to seven weeks.
Here are the numbers from 2019. The Fourth of July holiday weekend saw a significant amount of traffic travel through the Eisenhower/Johnson Memorial Tunnels: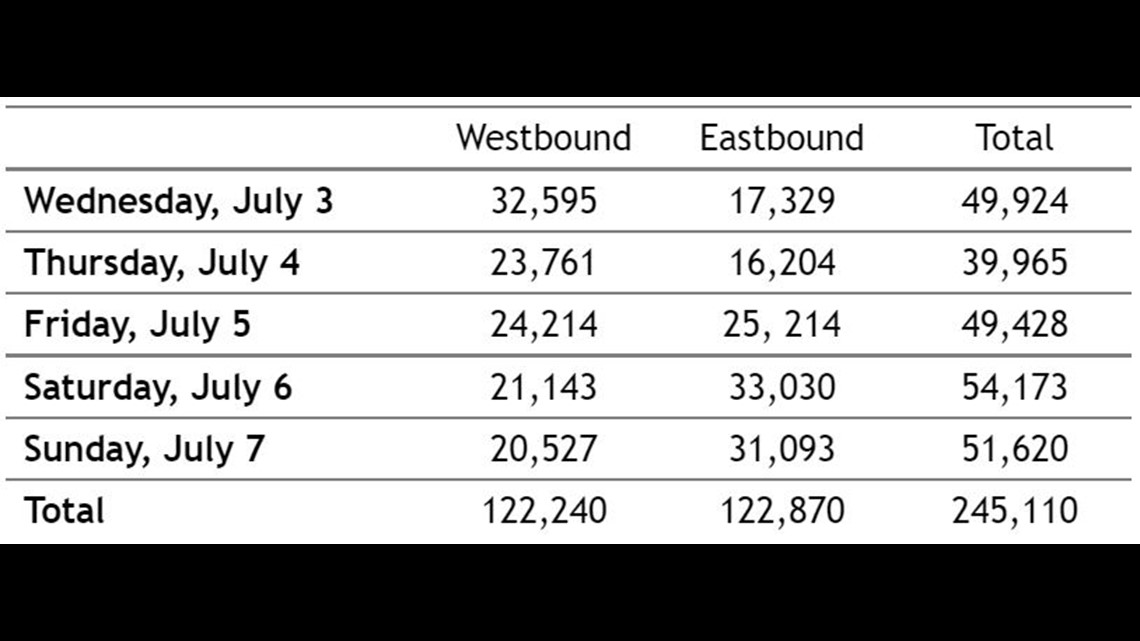 Traffic was reduced in 2020 due to the COVID-19 pandemic.
"Motorists are strongly encouraged to check on the status of the state's roadways before traveling by viewing www.cotrip.org, CDOT's Facebook page or twitter feed, or by calling 511," CDOT said in a press release. "Additional information regarding Interstate 70 west of Denver is available at www.goI70.com."