That's what I told myself at hour seven as I once again trudged down Concourse A in search of the elusive massage chairs that a viewer had recommended sitting in to pass the time. And as I shoved the last $10 bill in my wallet into the kiosk for what would amount to 38 minutes of total relaxation 10 feet away from a beef jerky vendor, I couldn't help but ask myself once again: "Why?"
Honestly, there's no single explanation for why I chose to spend 12 hours inside Denver International Airport. (Yes, this was no one's fault but my own.)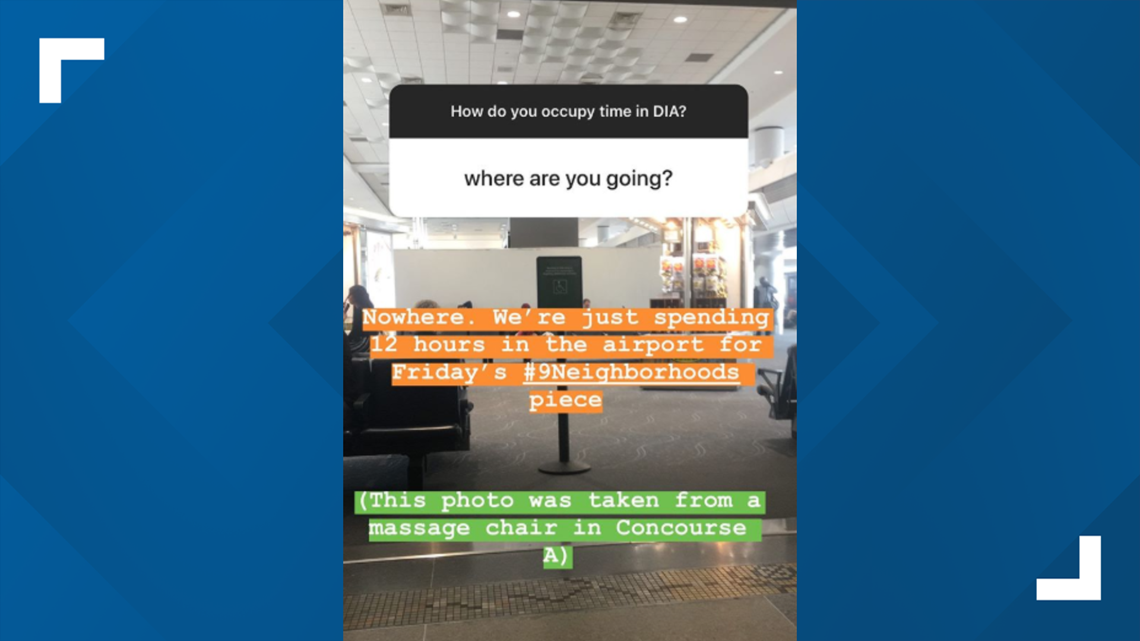 Partly, it's because Feb. 28 marks DIA's 25th anniversary, and it felt like a way to do something different with a story that every news outlet would cover. Another reason? The airport's always advertising the fun things you can do there, so I figured why not put that to the test?
The challenge had a few parameters:
The airport gave me a badge to get past security. I was able to pick that up at 8 a.m., and had to return it no later than 5 p.m. That meant for three hours of the challenge, I had to be in the main terminal. Yes, the one that is quite literally torn apart due to a huge construction project.
Since I was on the clock and representing 9NEWS, my boss said I couldn't drink alcohol.
I had to prioritize doing things recommended to me by viewers via texts to 9NEWS or through our Instagram story.
I can't go anywhere the general public isn't allowed to be. That includes fancy airline clubs/the secret terminal for the Illuminati and members of the media (I kid!).
Let's be real: Most people with a 12-hour layover at DIA would either take the train or summon an Uber to the city. For the purposes of this challenge, that wouldn't be happening. Airport or bust, baby!
Chapter 1: The reckoning
6:58 a.m.: When my boyfriend dropped me and a Venti Starbucks coffee off at Union Station, it felt like I was about to take a long journey. In reality I was literally coming home that night, but it didn't stop me from dramatically saying farewell and watching as he drove away, a feeling of utter loneliness washing over me.
I was the only person on the A Line who didn't have actual luggage. Instead, I had a bag with a DSLR, an empty water bottle, a magazine I found in my apartment, a phone charger and a few pens and reporter's notebooks.
7:42 a.m.: I very, very rarely travel for work, which usually means that arriving at the airport coincides with something cool, like a vacation. For this reason, walking into DIA's iconic tented terminal sparks the same excitement I'd had ever since I was a little kid.
Since I don't travel very much, I had almost no experience navigating the construction at the airport. I was supposed to go to the office near bridge security, but keep getting thrown off by the directions painted on arrows on the floor. Maybe it's my fault, but I take a few very unnecessary escalator trips before finally finding the office and getting my badge.
8:01 a.m.: There is no line at bridge security. There is, however, one lady standing just outside the checkpoint finishing a bottle of wine so she doesn't have to throw it away.
Not all heroes wear capes.
A quick segue: Can we talk about what a great equalizer the airport is? It's kind of like ski traffic, in a lot of ways. Regardless of who you are, for the most part you have to stand in a security line, take off your shoes and pray you don't get flagged for extra screening.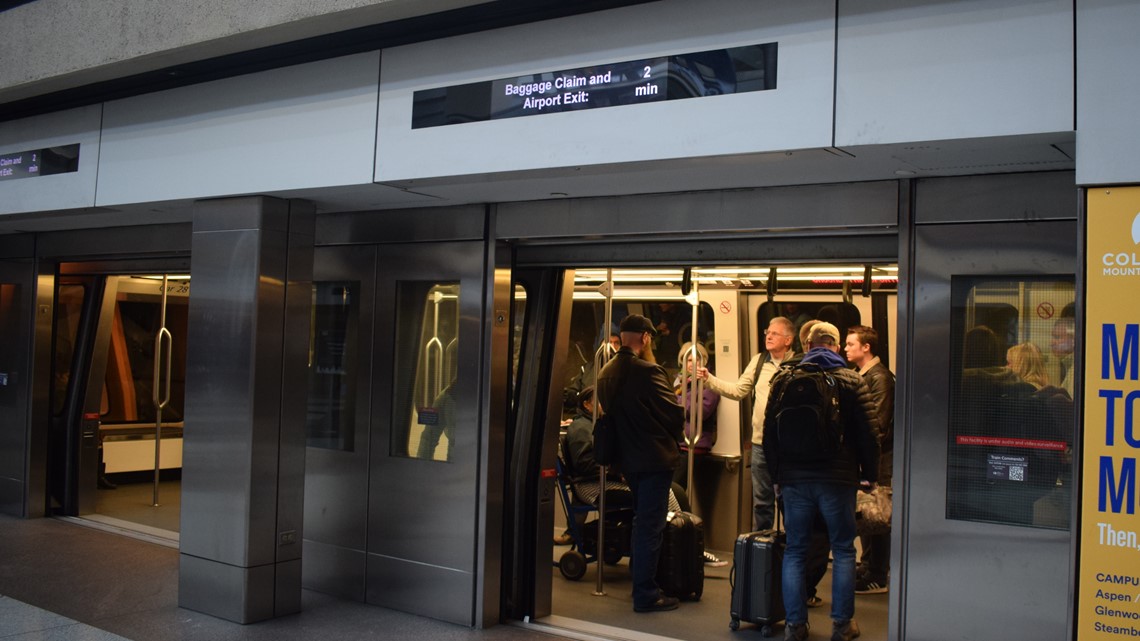 8:10 a.m.: The first train ride of the day! This one is to Terminal C, where the airport tips me off I could find a "surprise" at gate 24 at 9 a.m.
While I wait, I preemptively charge my phone and spend a few minutes going through suggestions for what to do from viewers. Here's a sample:
Viewer recommendations for 12 hours in DIA
9 a.m.: The surprise is people break-dancing to 90s music in honor of DIA's birthday back in 1995. Many people on the terminal are delighted, but others do not have time for such frivolity.
Chapter 2: Acceptance
9:10 a.m.: Now seems as good of time as any to start wandering around and getting a lay of the land. For instance, it takes 3,000 steps to get from the train to both ends of the A Concourse and back.
9:40 a.m.: Did you know the B Concourse is the longest at DIA? In its entirety, it's more than 1/2 mile long, and I walk through all of it. ALL OF IT.
10:15 a.m.: I finish walking through the C Concourse. Honestly: At this point, I am still feeling good. There's a lot of stuff in the airport and people to watch. Here I am playing a game of cornhole with my new buddy Tim. He wins.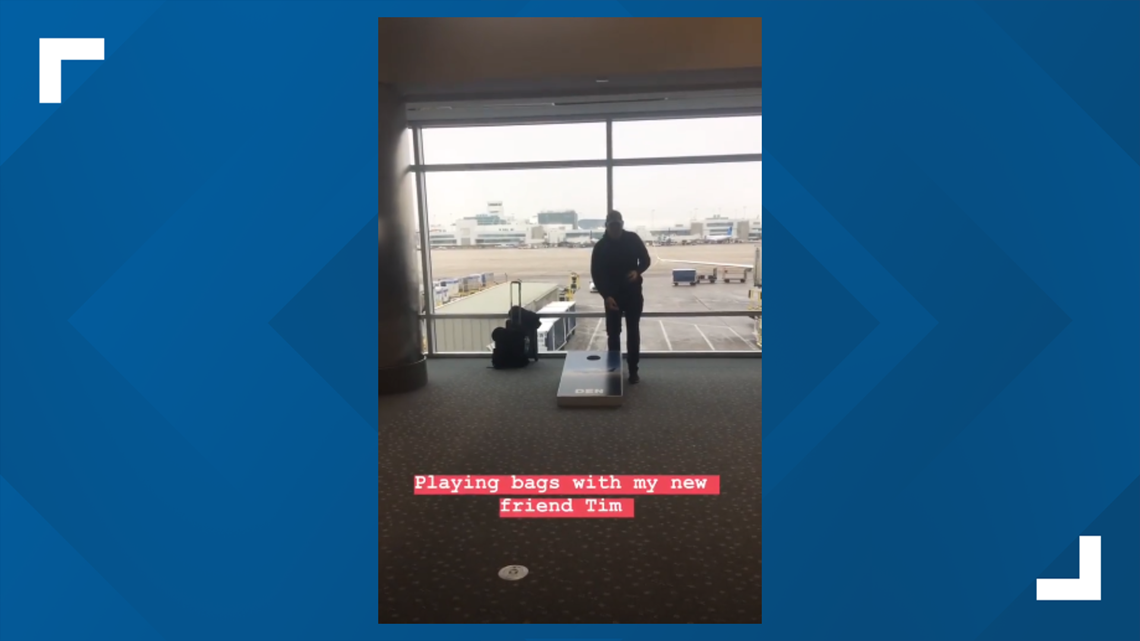 10:30 a.m.: Multiple viewers recommend getting veggie burgers in Root Down, and all the aimless walking up and down the terminals has me feeling pretty ravenous. The veggie burger is a good recommendation, and just to be clear: That's a virgin coconut fizz.
When I tell the bartenders what I am doing, they all ask, "Why?!" Responding with, "Um, content ...?" apparently is not good enough. They promise to text suggestions to 9NEWS at 303-871-1491. (I never get a text.)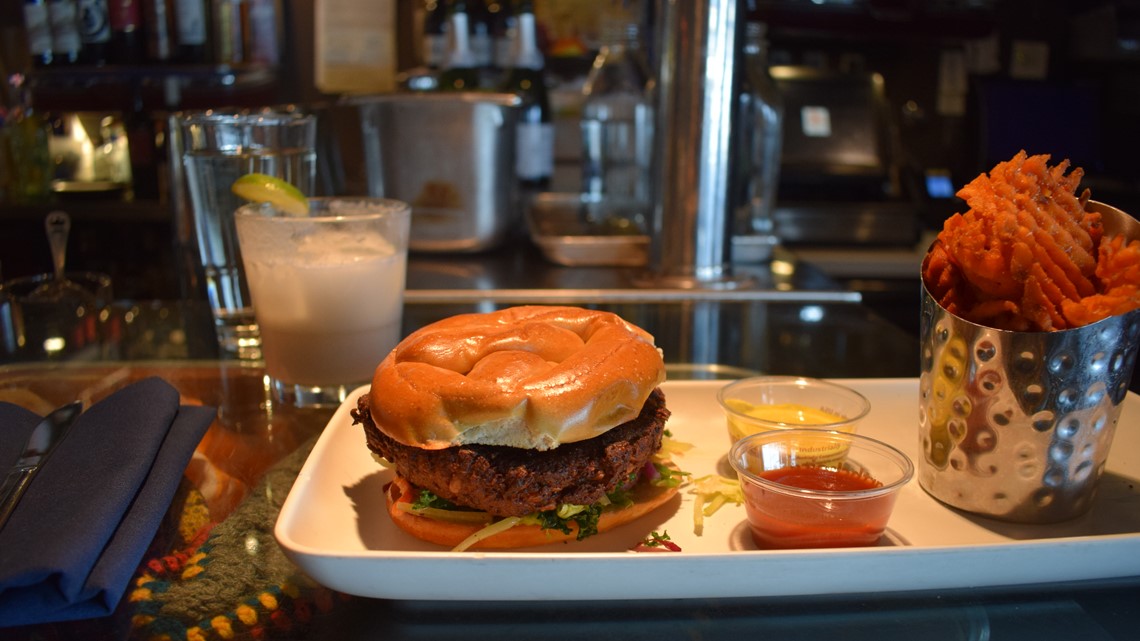 11:10 a.m.: I take a moment to regroup and sit down in Concourse C. While my phone is charging, I think about whether my journalism professors would be proud of me.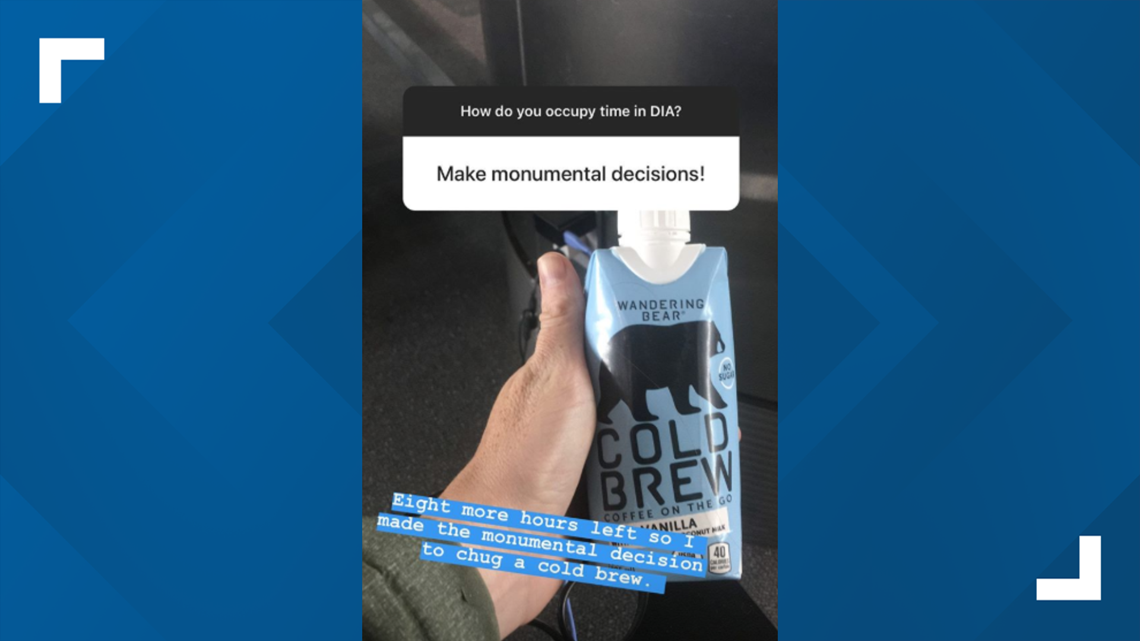 Chapter 3: Bargaining
11:45 a.m.: I still have a little more than five hours left to spend in the concourses past security. Since I just ate an early lunch/late breakfast (I guess that's called brunch), I can't get more food yet. I decide to put my fitness watch to the test and calculate how long it will take to walk from bridge security to all the gates at the airport.
12:30 p.m.: Why are birds trying to catch a plane is they can already fly?! - Me, watching a group of birds play around in one of the concourses.
12:40 p.m.: If Spirit had animals on their planes like Frontier, would they be called Spirit animals?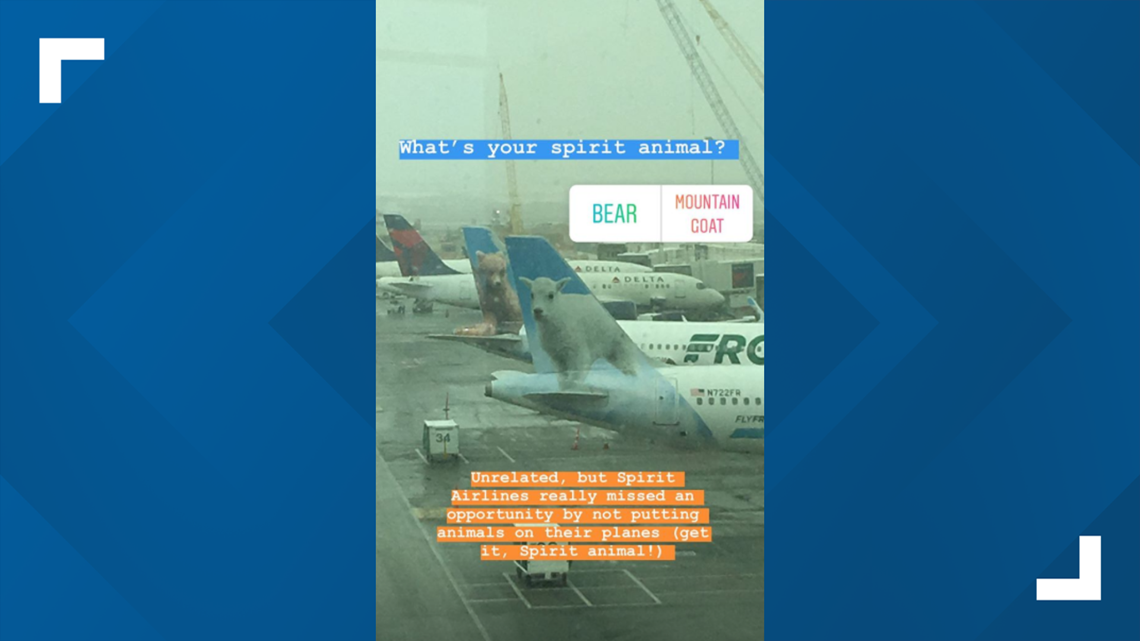 12:57 p.m..: It takes 1 hour and 12 minutes to walk all the way through the terminal and to see all the gates. I have hit 14,000 steps for the day. There are still more than 6 1/2 hours to go.
1 p.m.: OH MY GOD THERE ARE STILL SIX AND 1/2 HOURS TO GO.
1:05 p.m.: I take the train to Concourse A and weigh my options.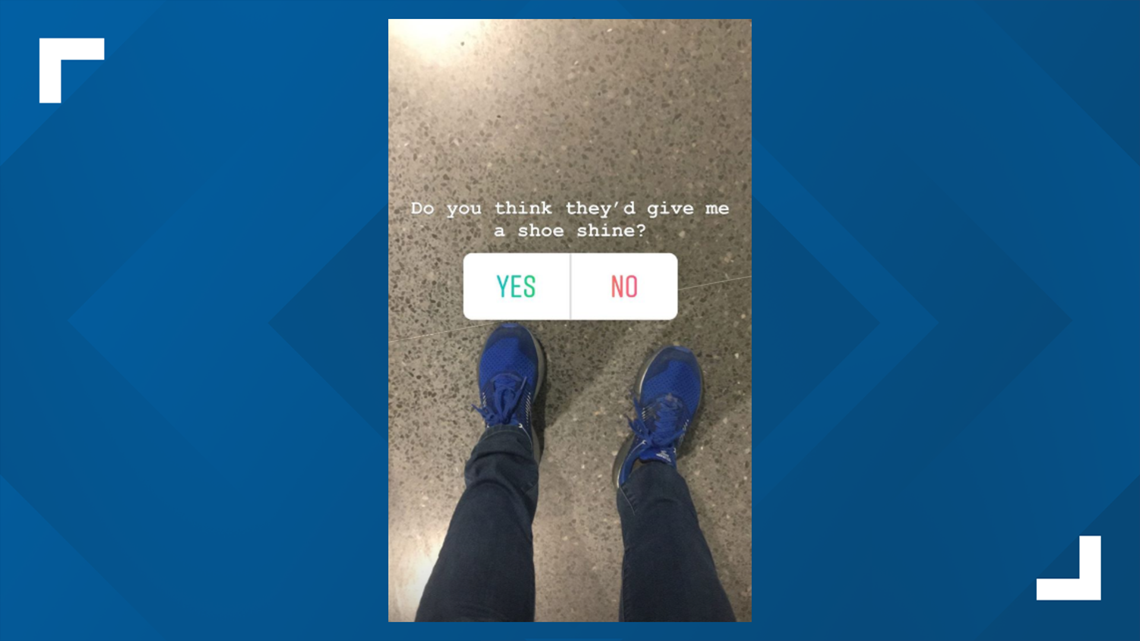 1:10 p.m.: I head to the Denver Central Market to go visit a viewer's husband at the bar. I ask if they have any good virgin cocktails. The guy laughs and gives me ginger ale. I send a photo of the receipt to my boss to show that it did not contain a mixer.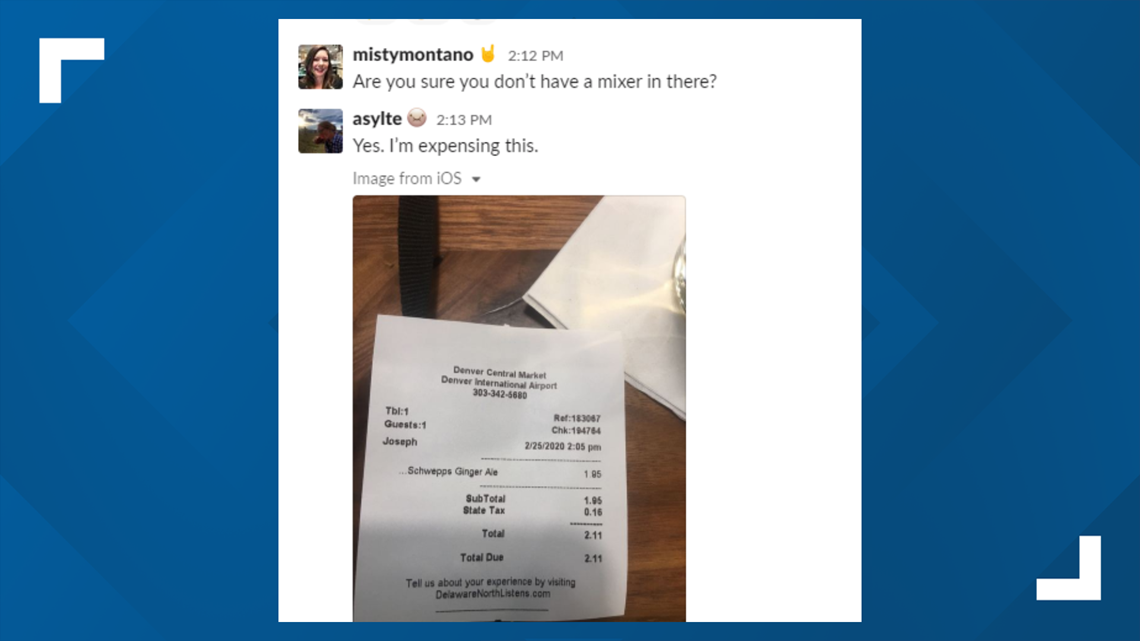 1:15 p.m.: I once again discuss what I'm doing with a bartender. Given that he does it for five days a week, he is unimpressed with my personal challenge to spend hours at the airport.
1:30 p.m.: I start walking again and fulfill a viewer's request to try and find all the airlines. I am not successful, but I do take a lot of stock photos of planes for future 9NEWS.com stories.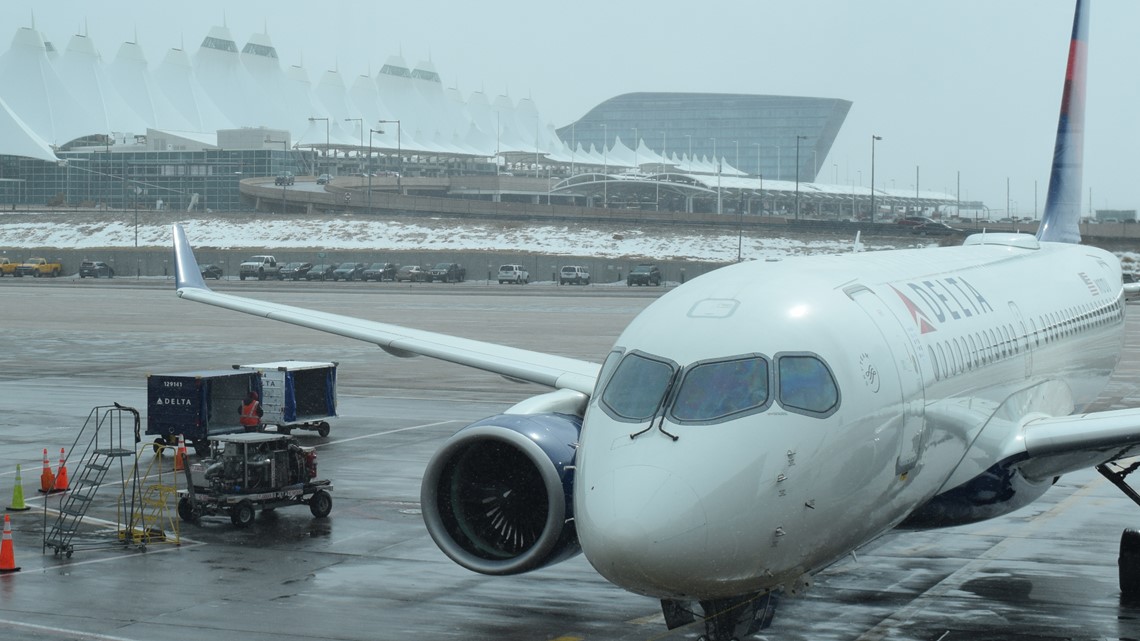 1:45 p.m.: I am halfway done. I consider trying to expense Elway's just to see if I can. If I'm successful, I'll be a legend. But failure was too daunting of a prospect.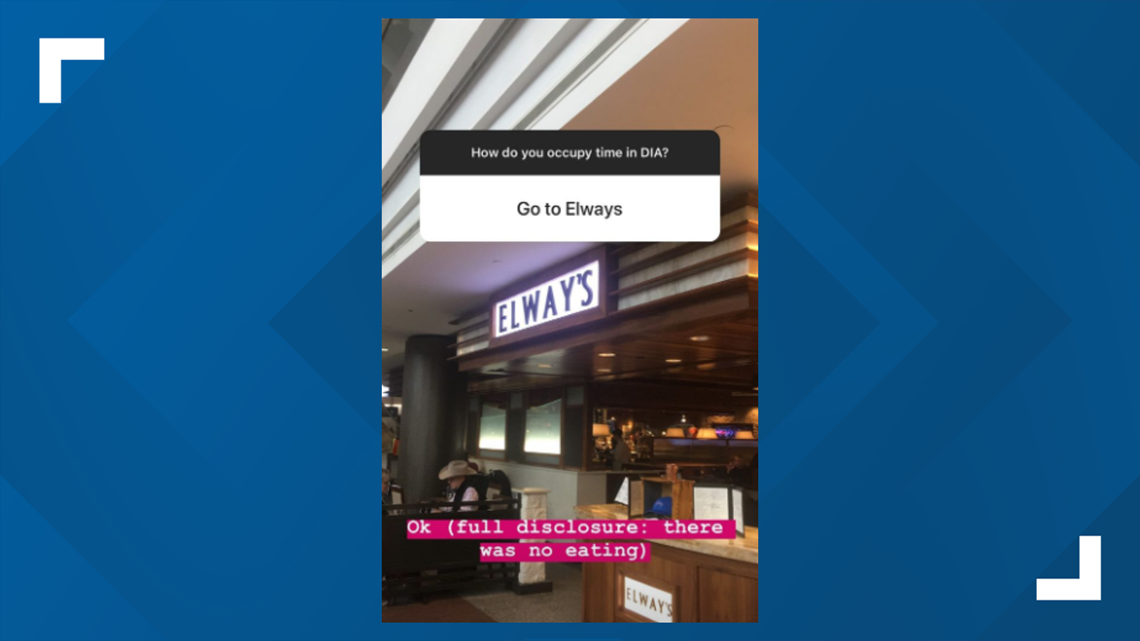 2 p.m.: I begin to look for a place to nap, but people have taken all the good spots. I'm not in a dire enough spot yet to just crawl on the floor.
2:20 p.m.: I get on the train for fun. As usual, 9NEWS Anchor Kim Christiansen is a soothing presence in a dark world.
Chapter 4: Strength
3 p.m.: I find a row of massage chairs near gate 32 in Concourse A. A viewer recommended them, so it technically fits in with the challenge. All I have in my wallet is a $10 bill, which buys me 38 minutes of bliss/charger time.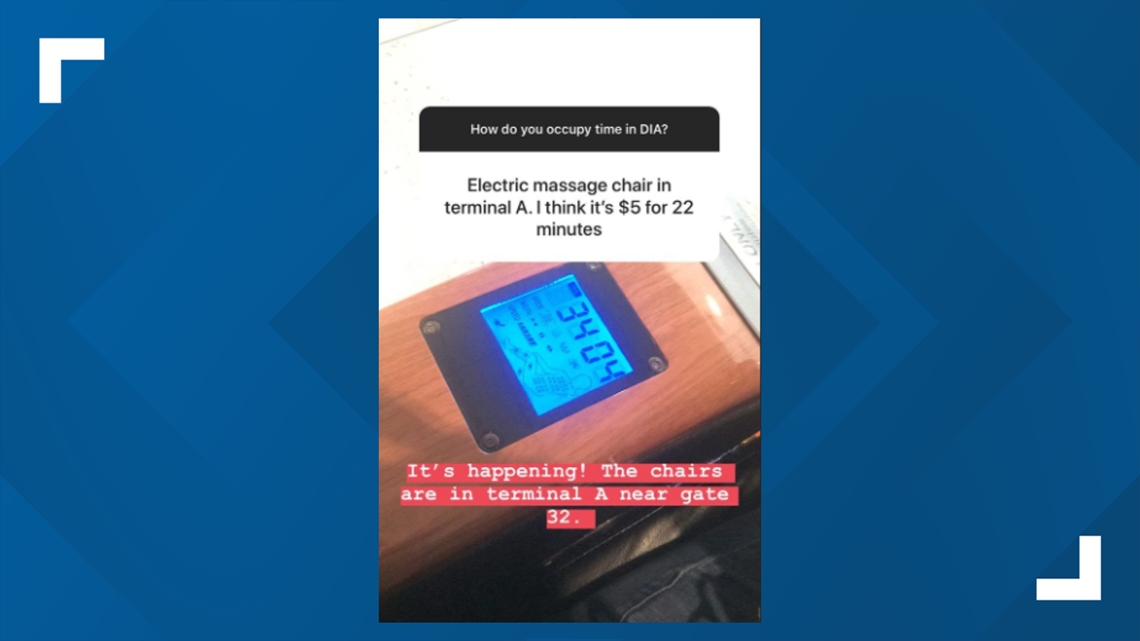 3:10 p.m.: I wake up from a nap and notice people are staring at me. Maybe people don't normally pay for extended chair massages at the airport while they're wearing a DSLR around their neck?
3:38 p.m.: My massage ends. I go see if there are any souvenirs worth picking up to commemorate my journey.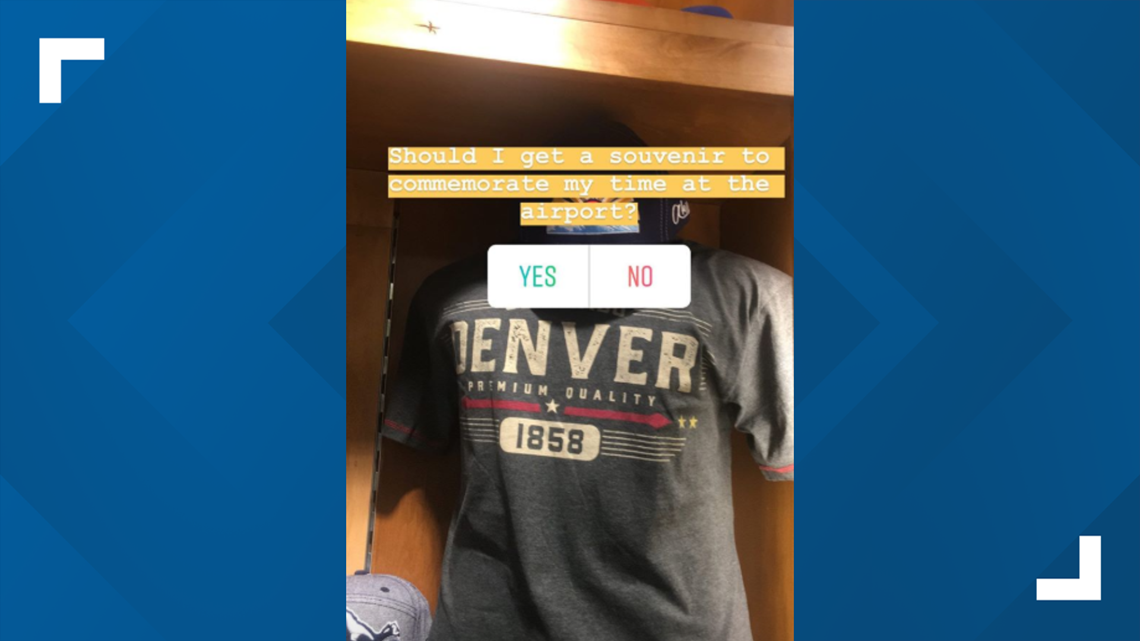 3:45 p.m.: Since I can't pick up the headdress pictured below, I move on and buy coffee from Dunkin' Donuts. It was $2 -- a veritable bargain from DIA.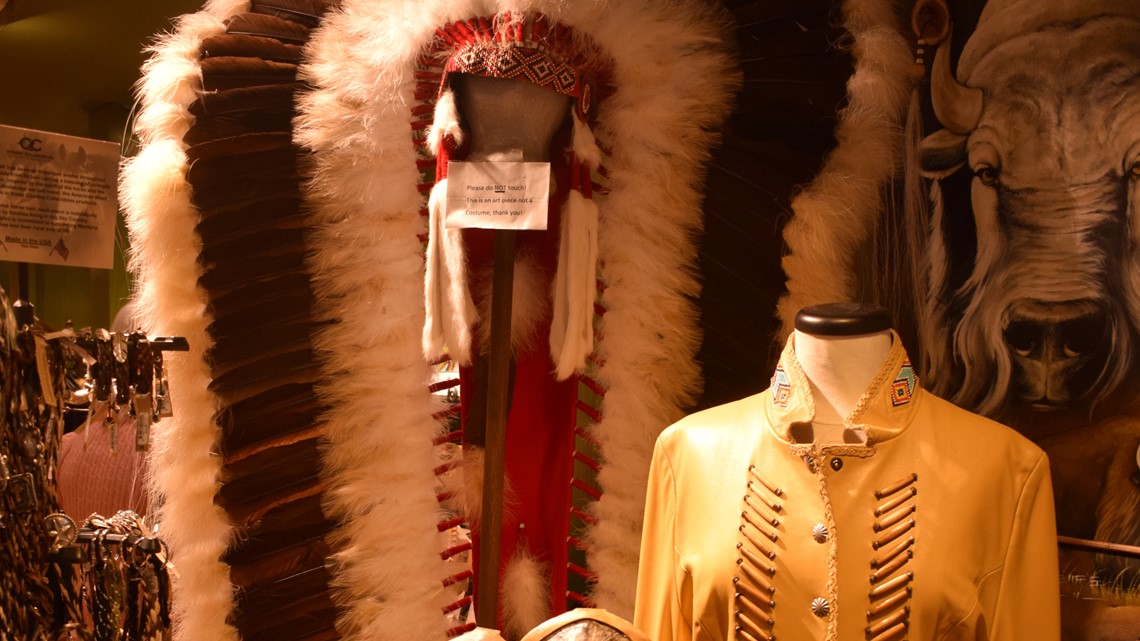 4 p.m.: I hop back on the train and head to the Timberline. Fun fact: This and Einstein are the busiest collection of businesses at DIA. A viewer tells me (via text) to get the Devils on Horseback, which were essentially bacon-wrapped dates. They are delightful.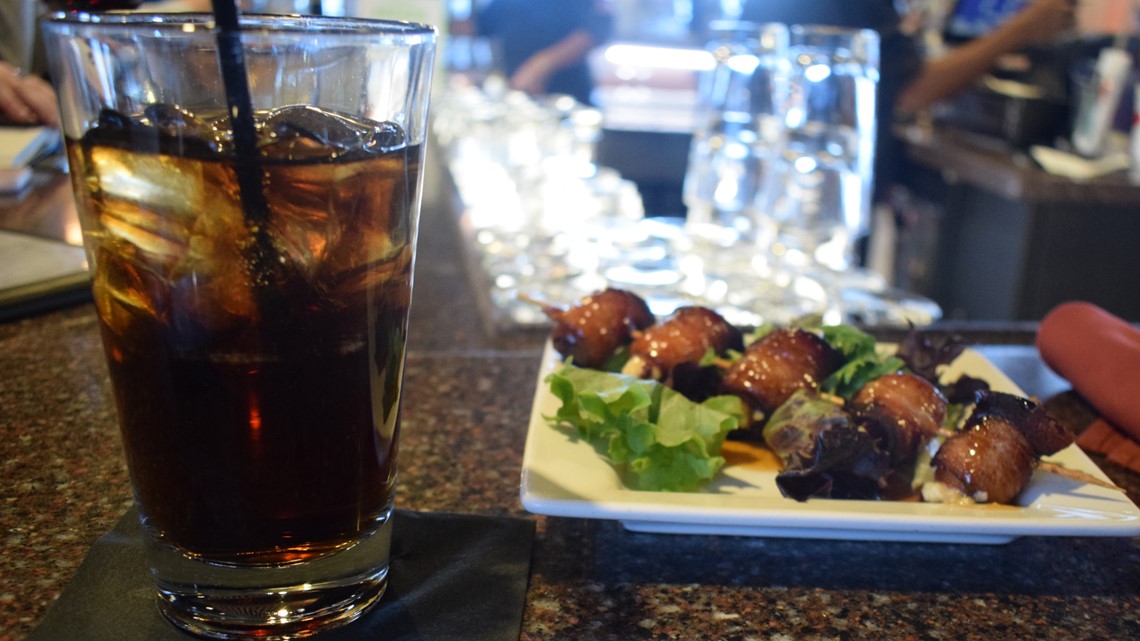 4:10 p.m.: I once again have to remind a viewer that I'm on the clock.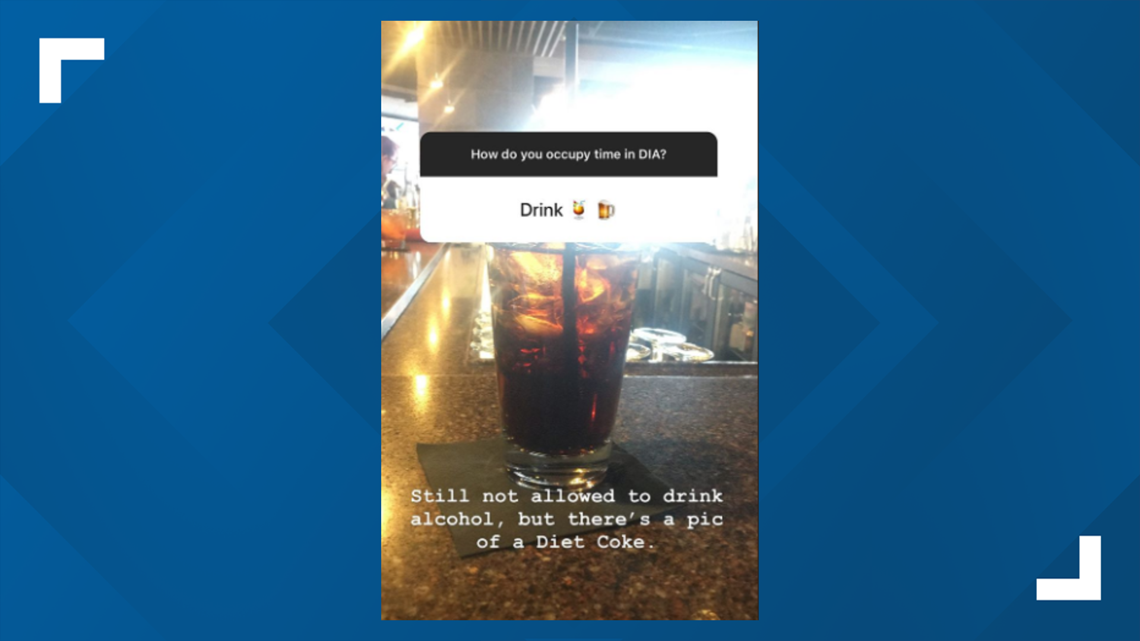 4:20 p.m.: I am looking forward to giving back my badge and finishing the last quarter of my challenge inside the main terminal, just for the change of scenery. Things are starting to get weird.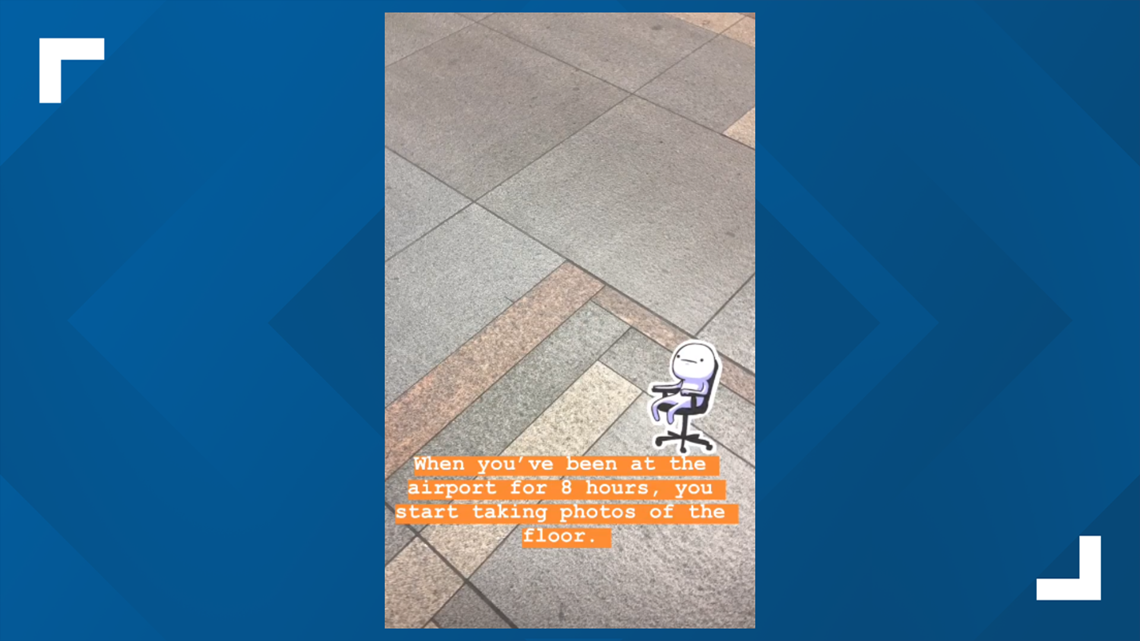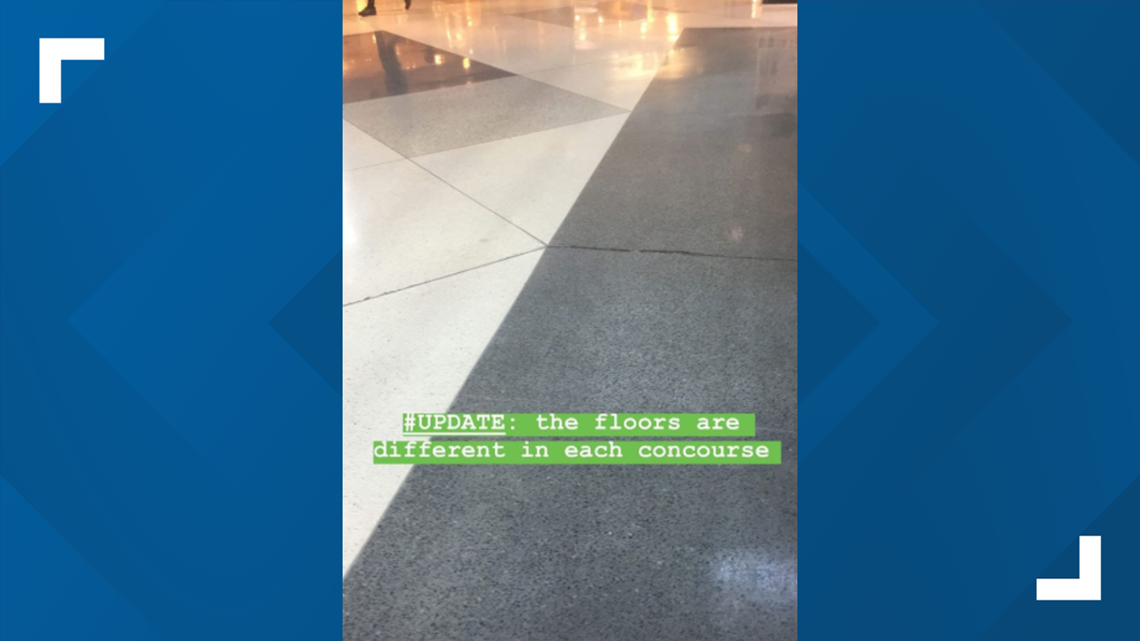 4:50 p.m.: I watch planes take off from the bridge. This might be the most useful part of this story: If you look out the windows here, you can actually watch planes leave the airport and take off, and you get a pretty cool view of the famous tents.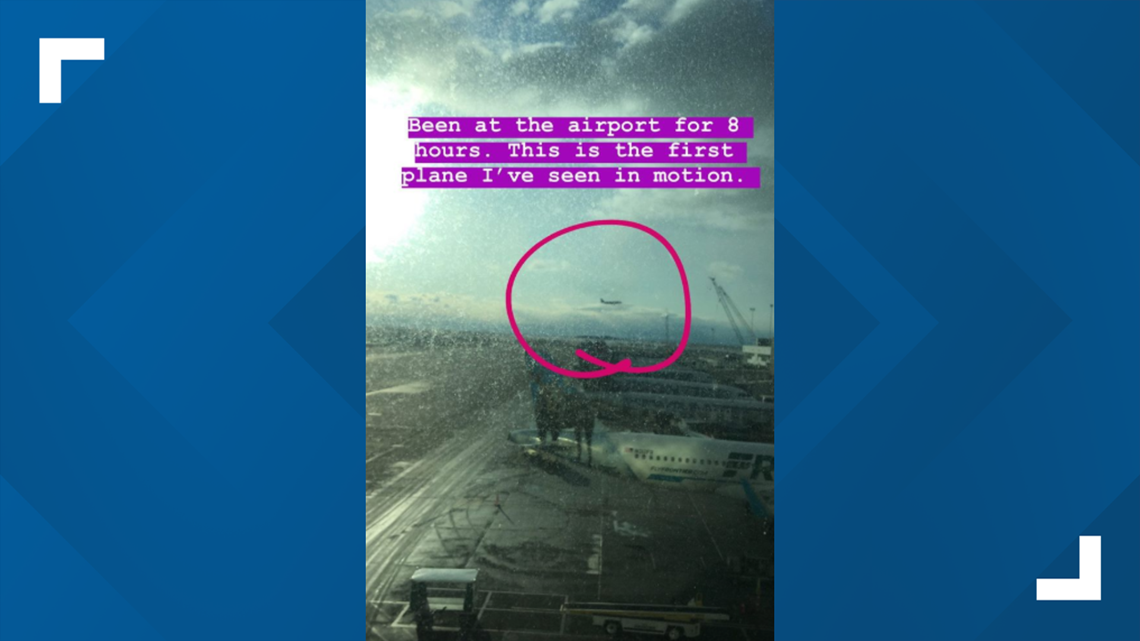 4:59 p.m.: I turn in my badge, and snap a photo of this epic shirt in the main airport office.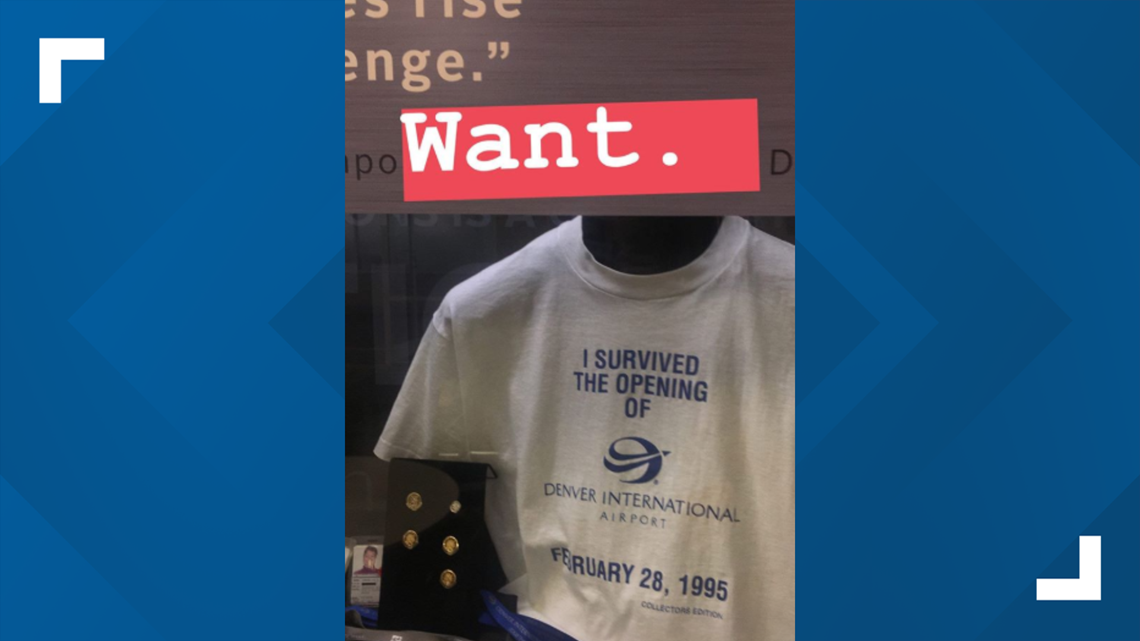 5 p.m.: I take a moment in bridge security to look at the still-in-progress exhibit about what I assume will be DIA's anniversary. There's a copy of "50 Shades of Grey." I don't know why.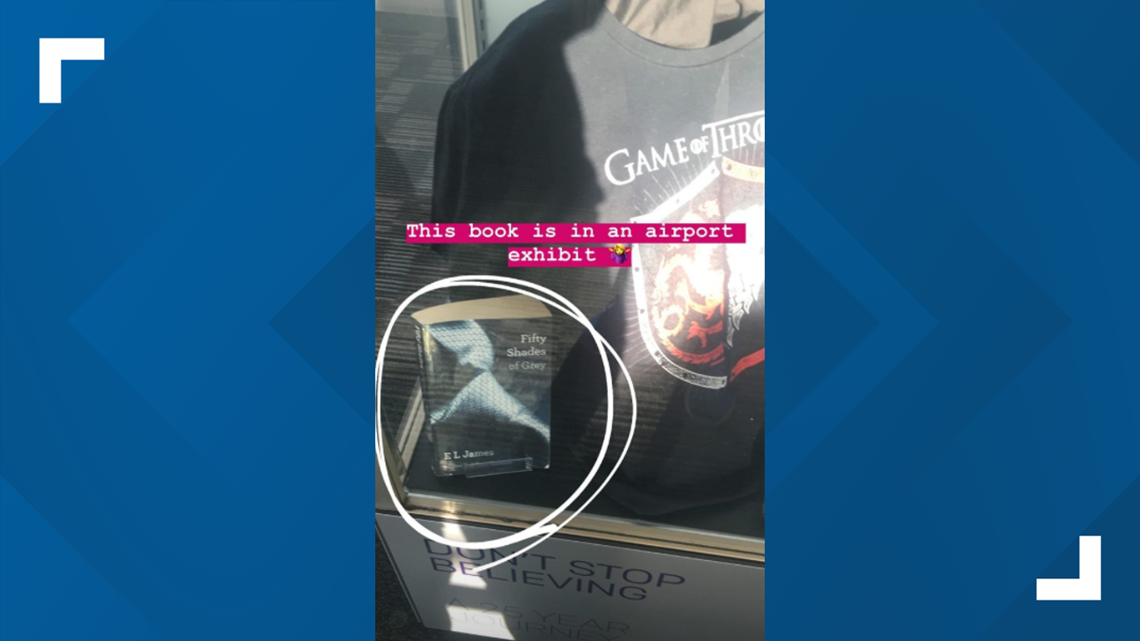 5:05 p.m.: I begin a quick lap of the main terminal to get a lay of the land. With all the construction, there is not nearly as much to do here as on the other side of security. There is basically a Subway, the Boulder Beer place (which wasn't that appealing since I can't drink) and the Mexican place, as well as a newspaper stand.
5:20 p.m.: I ask one of the volunteers where I can find the New World Airport Commission sign, because why not? Surprisingly, no one knew off the top of their heads (Apparently most people ask them questions related to ... actual travel).
5:25 p.m.: We find the sign. For what it's worth, it's close to where the A Line dumps you into the terminal and the entrance to the Westin. A viewer on Instagram asks me to take a selfie with it. I oblige.
I'm proud to say this is the only selfie I posted to our work account during the entire 12 hours. I am a good millennial.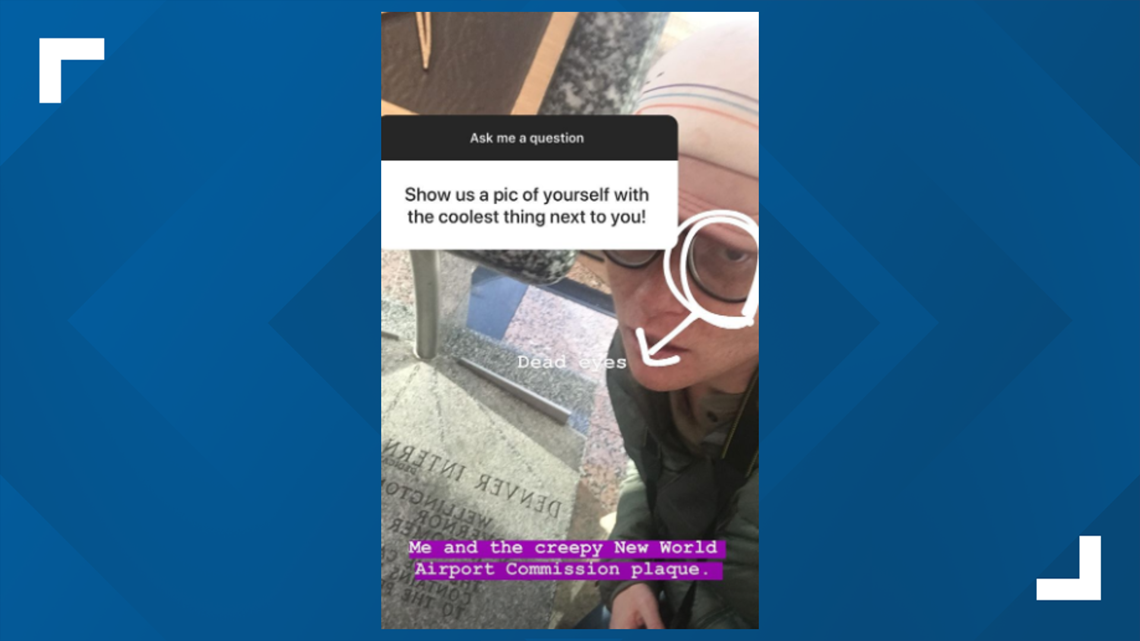 5:27 p.m.: A viewer sends us a DM on Instagram asking who, exactly, I was. That led to an existential crisis that's hard to describe.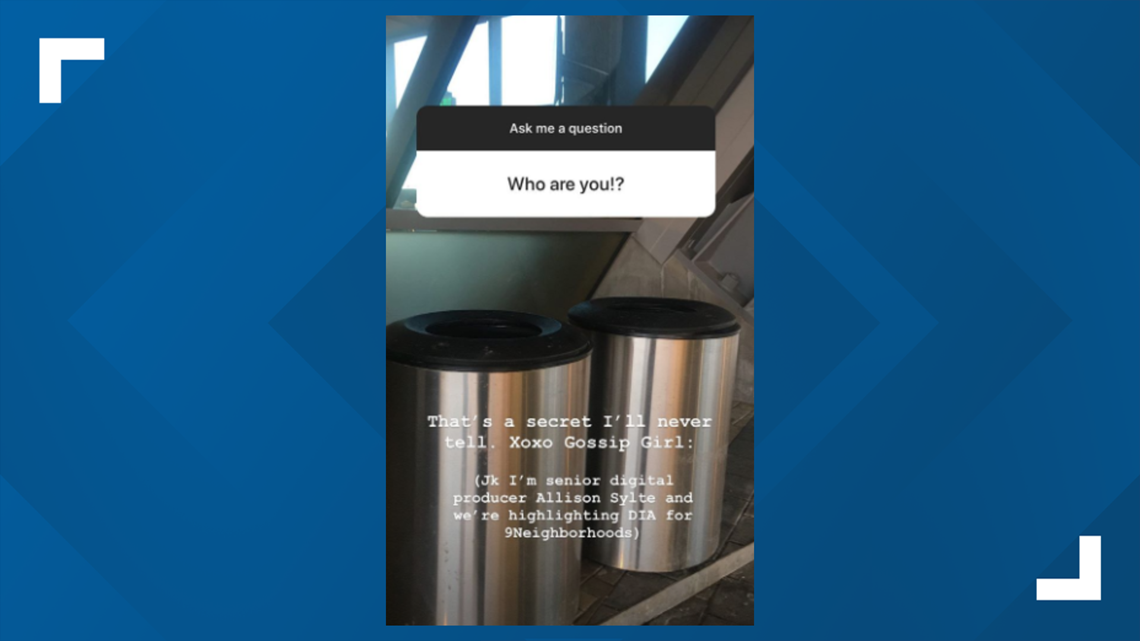 5:30 p.m.: For the first time since early this morning, I step outside and capture this moment of tranquility in between DIA and the Westin. Colorado, art and sunsets are all incredible.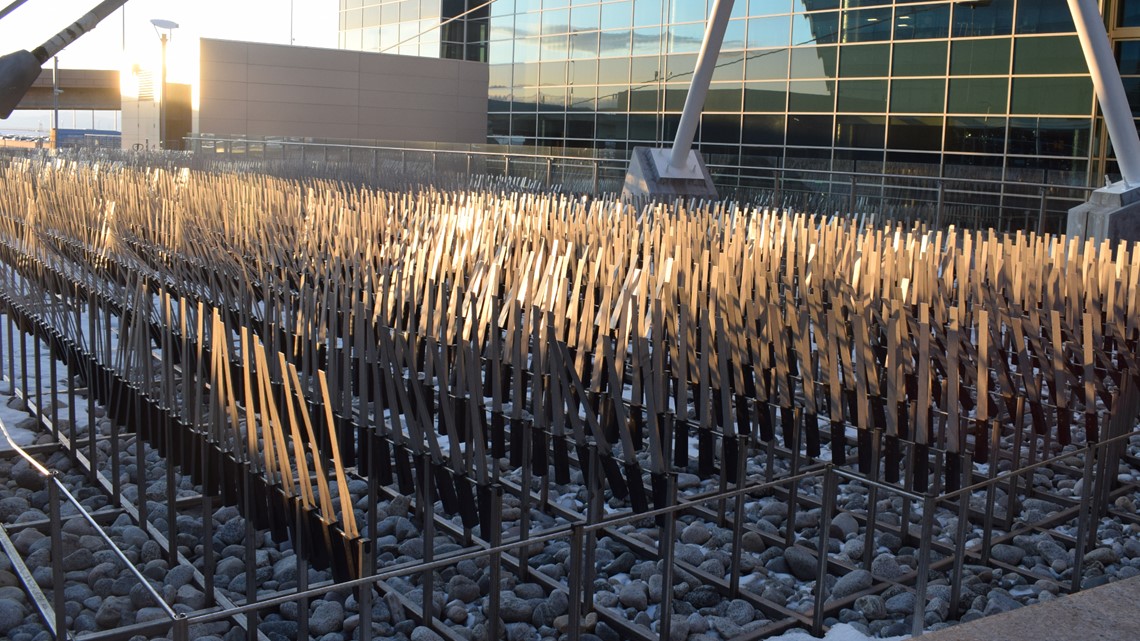 5:40 p.m.: I walk into the Westin. After 10 hours in the airport, I don't have it in me to go to a fancy hotel bar or any restaurants. Instead, I entertain myself in the form of dated pop culture references.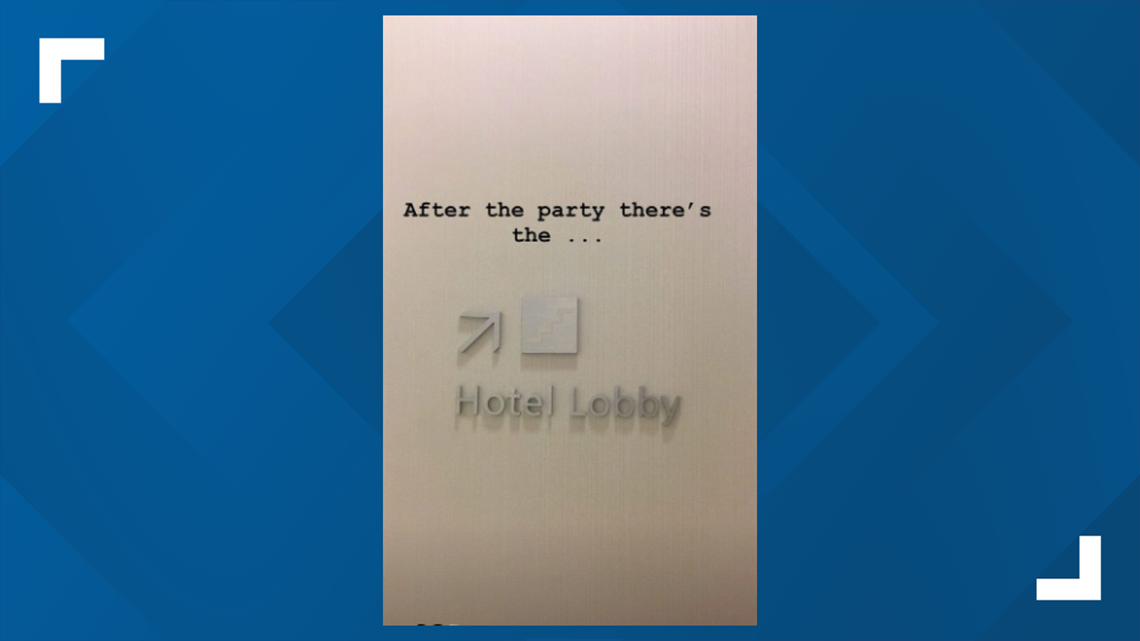 5:50 p.m.: And after the hotel lobby, I participate in some more airport stock photography.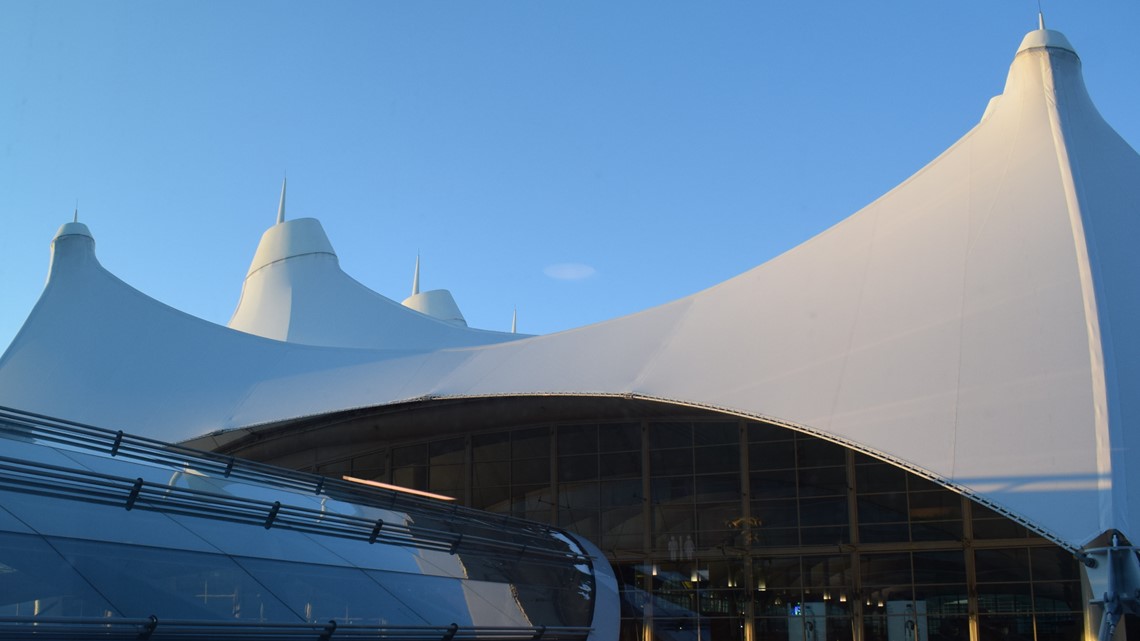 6 p.m.: My phone is near death, so I begin to wander the main terminal for an outlet. It is very difficult to find an outlet. I start snapping photos of the construction that's in process.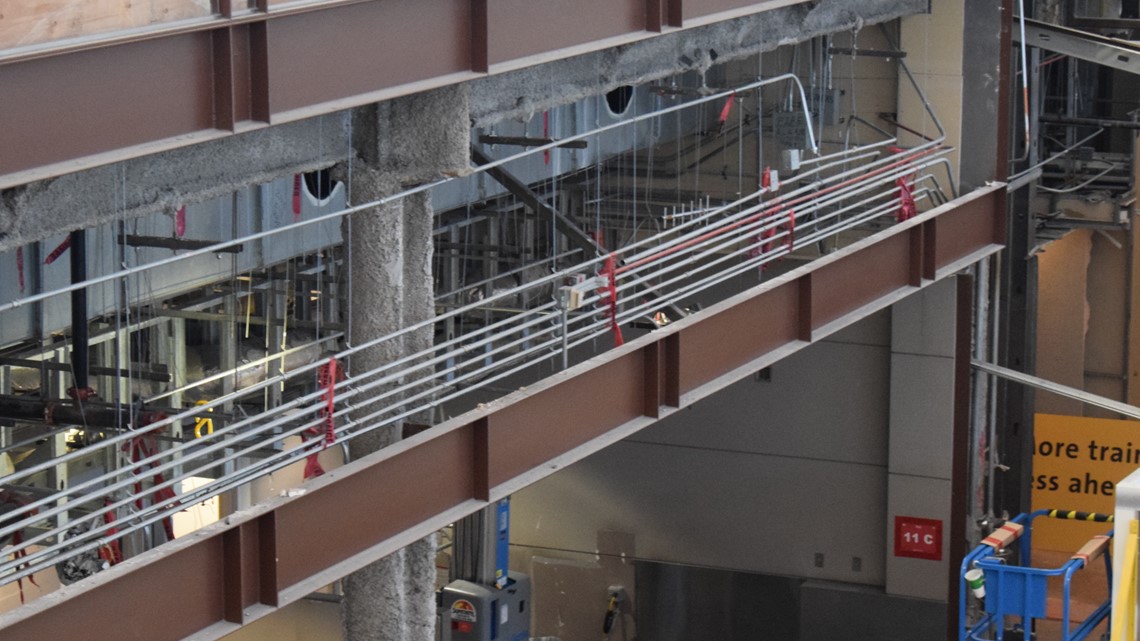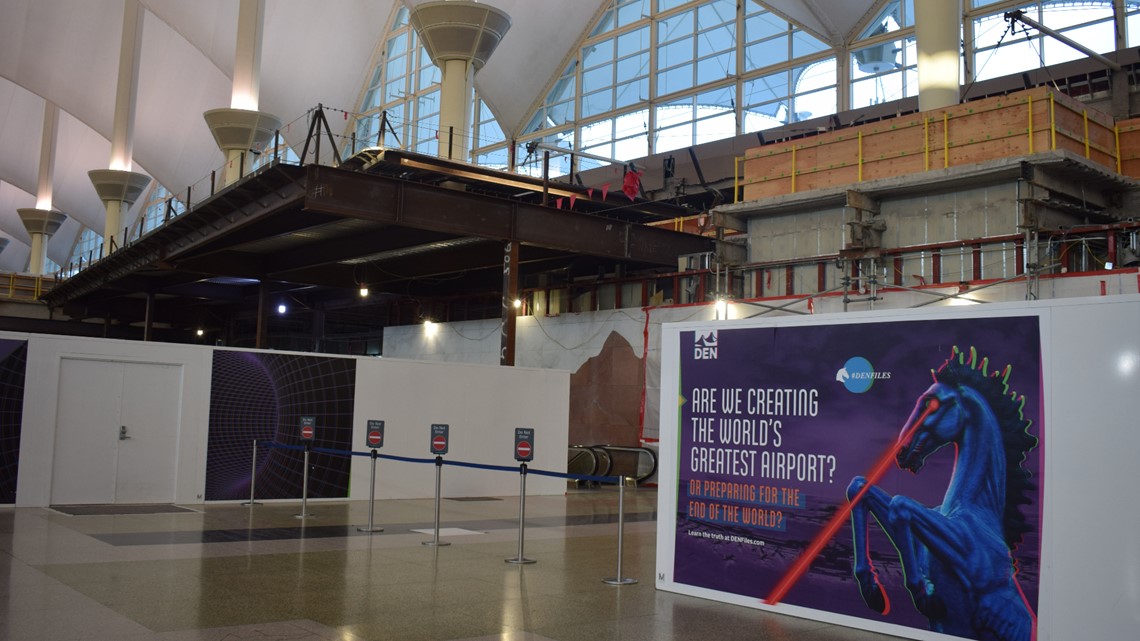 6:15 p.m.: I find a lonely outlet on the floor near baggage claim and lay on the floor. My dignity is gone. I weigh attempting to ride the baggage claim but refrain. I am an adult.
6:20 p.m.: My dad calls and asks why I'm still at the airport. I don't have the heart to tell him this was all my idea. I accept the pity.
Chapter 6: Faith
6:30 p.m.: A woman asks if I'll "be there a while" and if I can watch her phone. I say yes, yes I will still be here for a while. She goes on a smoke break. I stare at her phone as it's plugged into a nearby outlet.
6:45 p.m.: My phone-watching duties continue. I can't believe a stranger is trusting me enough to watch her phone for this long. I pray she returns — after all, I am not staying at this airport for a minute longer than I have to.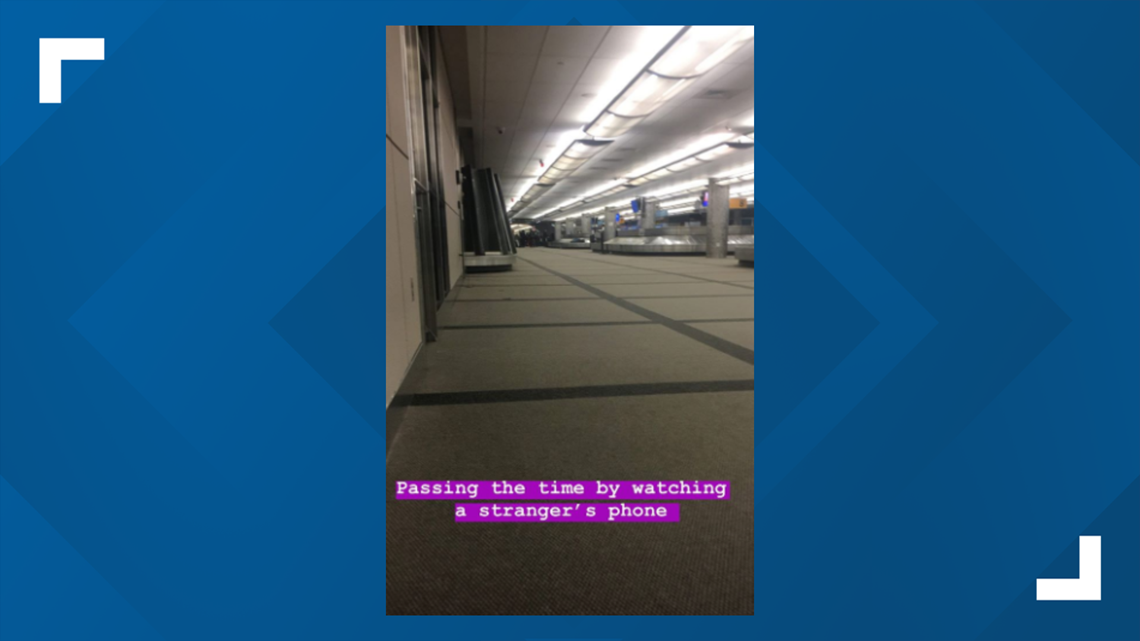 6:50 p.m.: You know, if I were offered a free trip to Hawaii, no questions asked, I just have to spend four more hours at the airport, I realize I would legitimately refuse.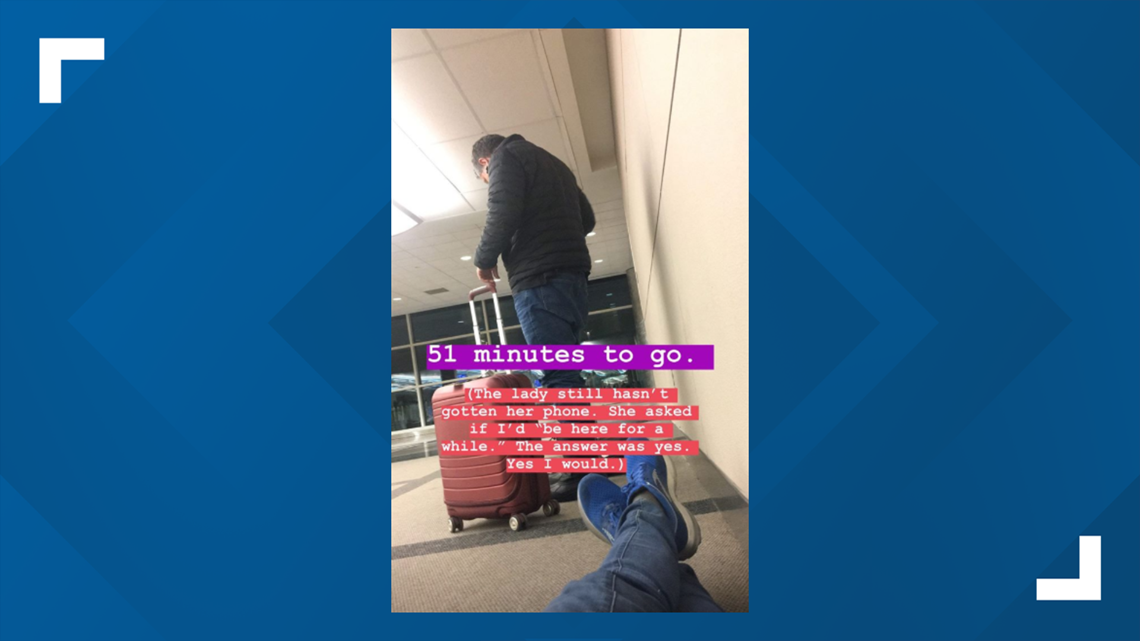 6:52 p.m.: The lady returns and picks up her phone. I get up and take another lap, lest I fall asleep in the baggage claim area of DIA.
7 p.m.: I walk to the greeting area where people get off the train and see people waiting for them. With the construction, it's honestly somewhat bleak.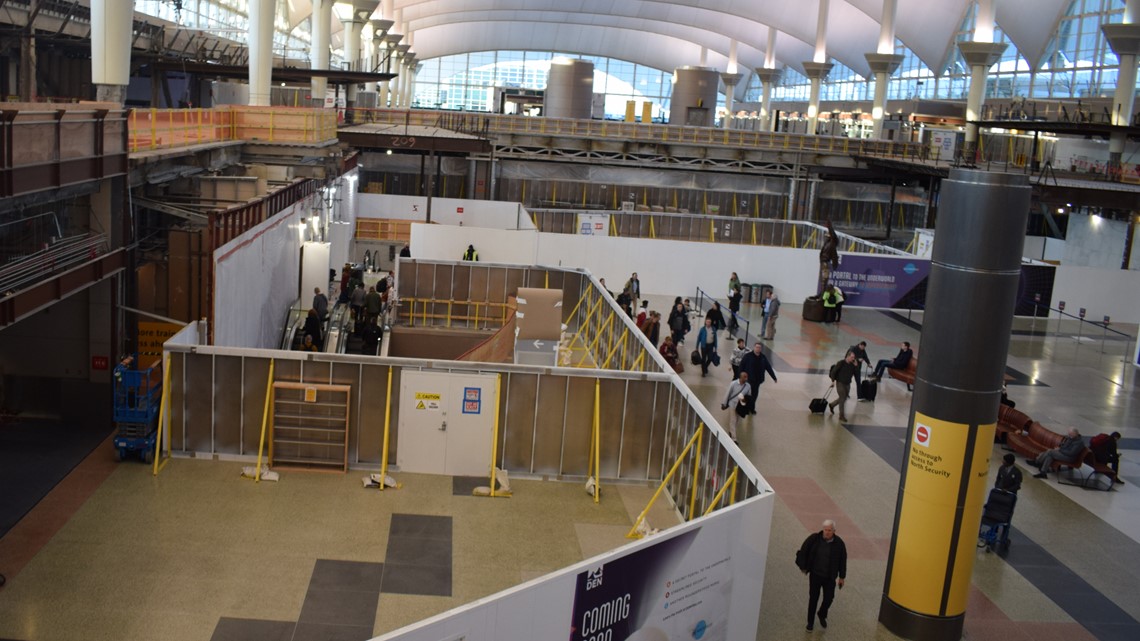 7:10 p.m.: As I walked around the airport, I couldn't help but wonder: Who still uses those pay phone kiosks for their intended purpose?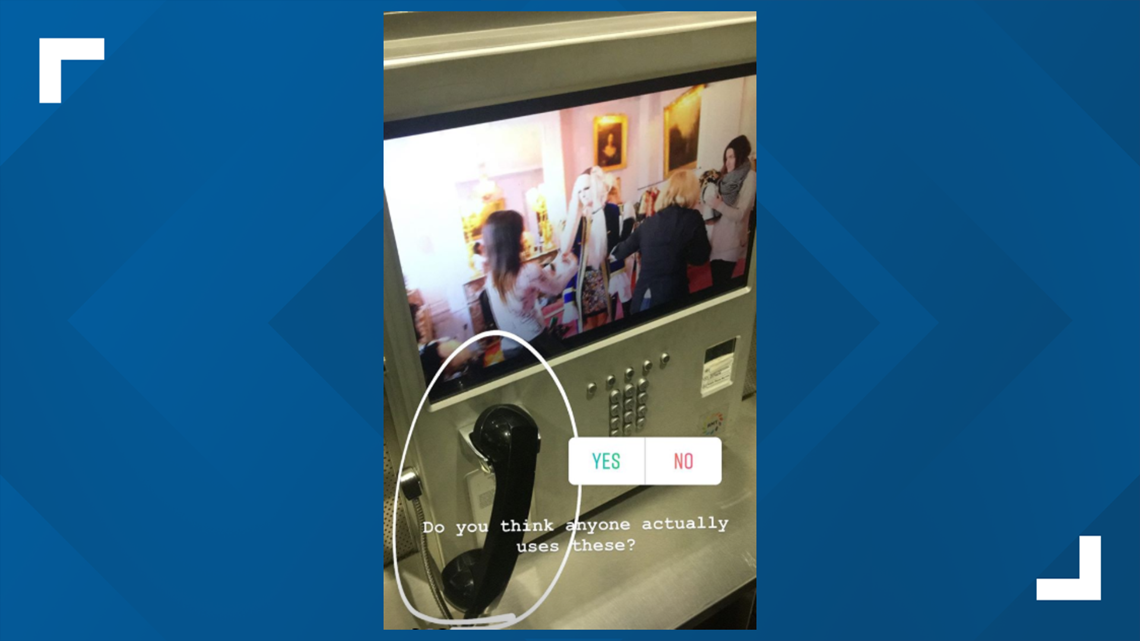 7:20 p.m.: My coworker asks me to figure out how tall the escalator is from the A Line into the terminal. I turn on the altimeter on my watch. It says 400 feet. That seems inaccurate. I start doing steps to try and figure it out using the Pythagorean theorem. I remember I barely got through high school trigonometry and give up.
7:30 p.m.: I take one last lap of the airport. Some observations: There were never long security lines (maybe because I was there on a Tuesday.) Also, once you learn about Marshall Zelinger's investigation into why the escalators at DIA are always broken, you really can't unsee it.
7:35 p.m.: After hours at the airport, I finally find salvation.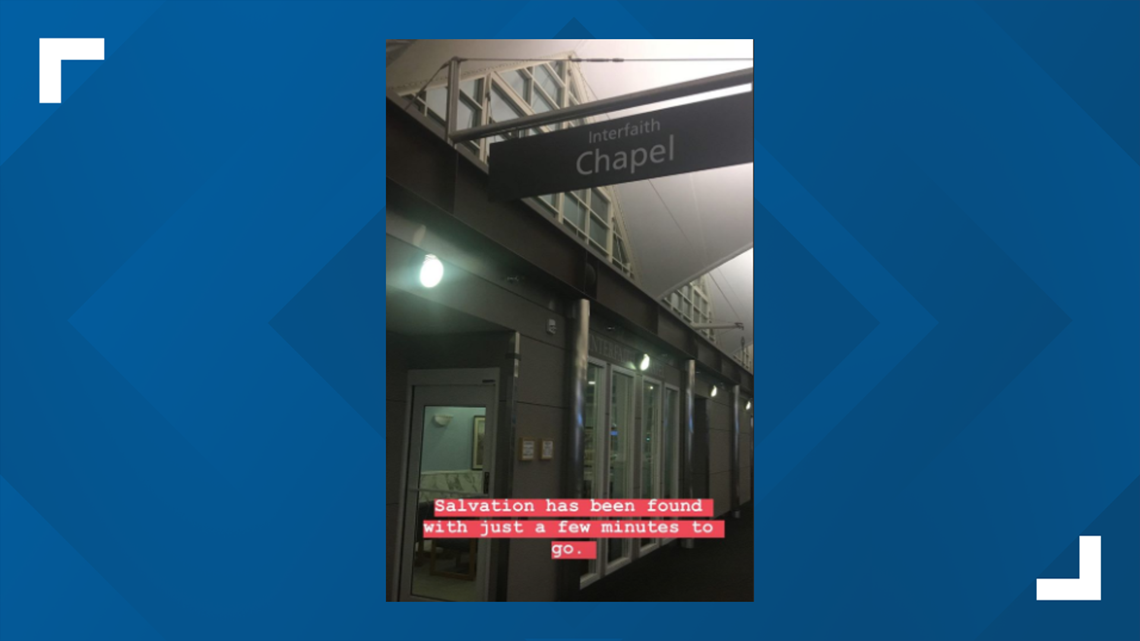 7:42 p.m.: I get onto the stopped A Line train and wait for its departure. The 12 hours were over. I was done, body and soul.
FINAL THOUGHTS:
There actually is a lot to do at DIA — especially if you're like most people and are able to get a beer. I wasn't there when ice-skating was available, but if I was, you better believe I would have been totally down to kill a few minutes doing that.
My biggest disappointment was not seeing the therapy dogs. With that being said, it wasn't a big travel day when I was there, and they probably were not out in force.
It's also worth mentioning just how clean DIA is. When I first arrived at LaGuardia, it literally looked like someone had been brutally murdered inside the bathroom. There were no such crime scenes in Denver, and that's something that should make us feel super lucky.
Finally, the art at the airport alone is perfect for killing time. When I was there, there was a super cool exhibit on the bridge from the terminal to the A Concourse, and there are lots of other little pieces to check out scattered throughout the airport.
Full disclosure: 25 years ago, I was 4 years old when Stapleton closed, meaning DIA is the only airport I know. And even after spending 12 hours there, I'll still be excited to see that white-tented terminal the next time I'm lucky enough to travel, and to explore the airport's at times weird, quirky concourse.