GLENWOOD SPRINGS, Colo. — Interstate 70 in Glenwood Canyon was closed once again Tuesday evening after a flash flood warning was issued for the same area where two mudslides over the weekend caused lengthy closures.
The closure was between West Glenwood and Dotsero.
A flash flood warning was issued by the National Weather Service for that area just after 5 p.m. It expired at 8 p.m. Tuesday.
The closure was lifted at around 8:15 p.m.
CDOT asked anyone who choses to wait out the closure to park somewhere off the highway.
CDOT officials said earlier on Tuesday that they remain on standby for any flood issues that could affect Interstate 70 through Glenwood Canyon.
State transportation officials said I-70 through Glenwood Canyon fully reopened Monday evening. The eastbound lanes of I-70 opened about 3 p.m. The westbound lanes reopened just before 6:30 p.m.
The highway had been closed since about 5 p.m. Sunday due to an 80 foot wide and 5 foot deep mudslide.
Sunday's mudslide was the second in as many days to hit that area. Saturday's mudslide also closed I-70 through Glenwood Canyon for hours. The slides were happening in areas burned in last year's Grizzly Creek Fire.
"We need the moisture, but we don't need it concentrated in Glenwood Canyon," said Mike Goolsby, CDOT Region 3 director, during the briefing.
On Tuesday, CDOT officials warned motorists planning to travel the area this week to prepare to potentially use alternate routes. In addition, they are working with the Kansas, Wyoming and Utah transportation departments to divert drivers to Interstate 80 as opposed to I-70.
The closure was initially announced on Sunday as the result of a Flash Flood Warning issued by the National Weather Service in Grand Junction, but CDOT later tweeted that there had been a mudslide.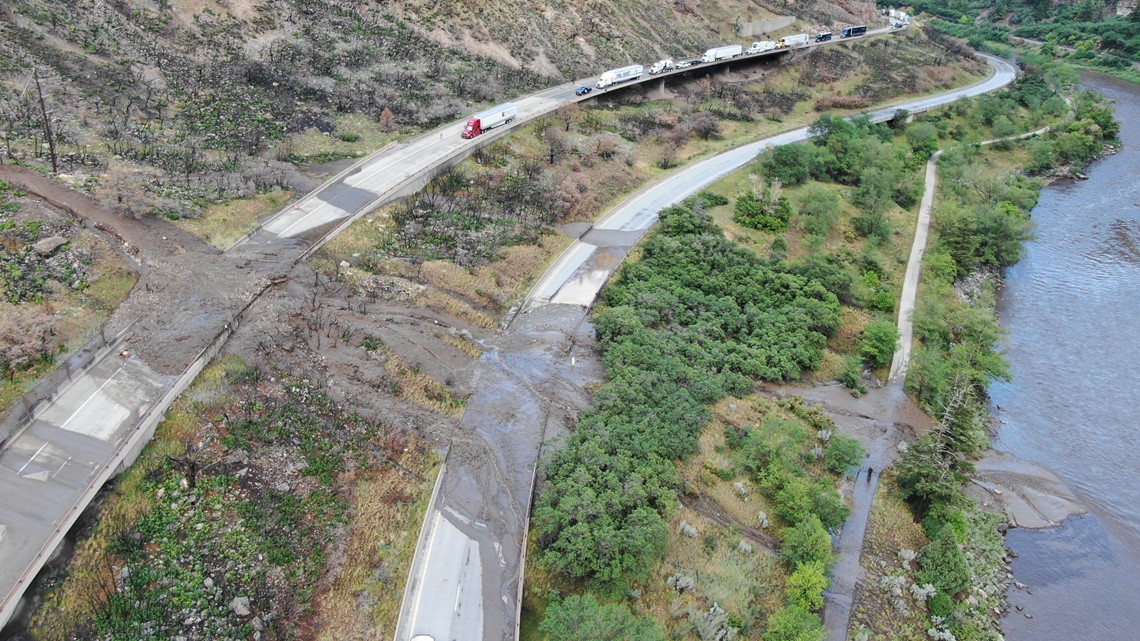 To get around the closure drivers were asked to take CO 13 from Rifle to Craig, then head east on US 40 to Steamboat Springs over Rabbit Ears Pass to Kremmling, then head south on CO 9 to Silverthorne.
CDOT said drivers should not use navigation applications to search for alternate routes. Other auxiliary roads, such as Cottonwood Pass, Hagerman Pass and Eagle/Thomasville Road are not passable and do not have cell service, CDOT said.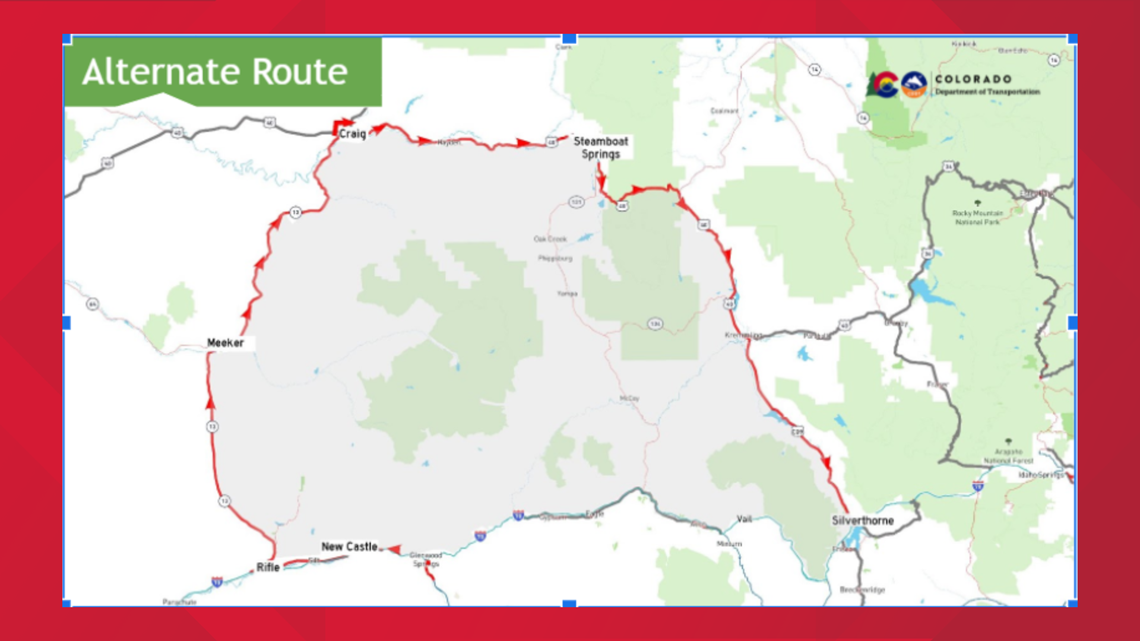 More rain was forecast over the next few days in the Glenwood Canyon area. CDOT officials asked for patience as they monitor forecasts and any additional mudslides that might take place.
Those storms could impact the area as soon as Tuesday with a Flash Flood Advisory by the National Weather Service. CDOT says if that advisory is upgraded to a warning that will prompt the closure of I-70 and clearing of the canyon.
The highway was also shut down for hours in that area Saturday after another mudslide, which happened about 3 p.m. The eastbound lanes reopened about 8 p.m., according to CDOT. By 10:30 p.m., the westbound lanes were also open with the exception of a single lane for about half a mile near the site of the mudslide.
All lanes were open by Sunday morning.
Glenwood Canyon mudslide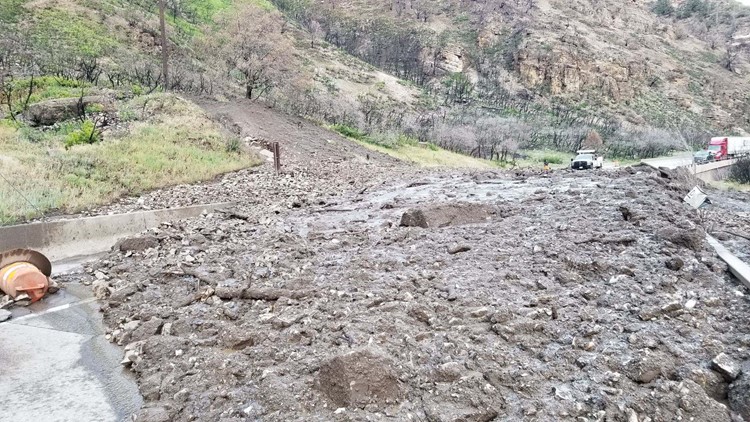 The mudslide Saturday was 70 feet wide and 5 to 7 feet deep, according to CDOT, and consisted mostly of loose dirt and mud with some small rocks.
According to the Colorado State Patrol (CSP), the mudslide was a debris flow from the Grizzly Creek Fire of 2020. The Grizzly Creek Fire scorched more than 32,000 acres. It started on Aug. 10, 2020, and was not fully contained until four months later.
How much rain was needed to cause the Glenwood Canyon mudslide?
CDOT says they are storing the mud from the slide west of Glenwood Springs to use for highway improvements.