Of the 471 canceled and 531 delayed flights at DIA on Monday, 420 of the canceled flights and 68 of the delayed flights were Southwest, according to FlightAware. The next most canceled flights at DIA were United with 24 canceled and 218 delayed.
Nationwide, 2,908 Southwest flights were canceled Monday, which is about 71% of the airline's flights, and 663 were delayed.
The line to rebook a flight was more than three hours long most of the day on Monday.
"If you need to change a trip impacted by Winter Storm Elliot, check your trip in the Southwest app," Southwest said in a statement. "Our app will show you a message if you can rebook your flight using the app. "
"If you are not traveling within the next 72 hours, and can wait to call, please do so," Southwest added. "If you need to reach us urgently, you may continue to call."
On Friday, a Southwest Airlines spokesperson said in a statement that more than half of the airports where they operate in the continental U.S. fell under duress from the strong Arctic storm that swept through the U.S., and "Southwest has been uniquely effected given our size and structure."
"As it remains a very dynamic situation, we don't have specific numbers to share on flight disruptions, but the storms have forced hundreds of cancellations throughout our network," a spokesperson wrote Friday. "We appreciate our Customers' patience and apologize for inconveniences as we work to get them to their destinations as quickly and safely as possible this holiday."
Southwest Airlines could not confirm the exact cause of the bag delays on Friday, other than the winter storm had a large impact on their overall operations.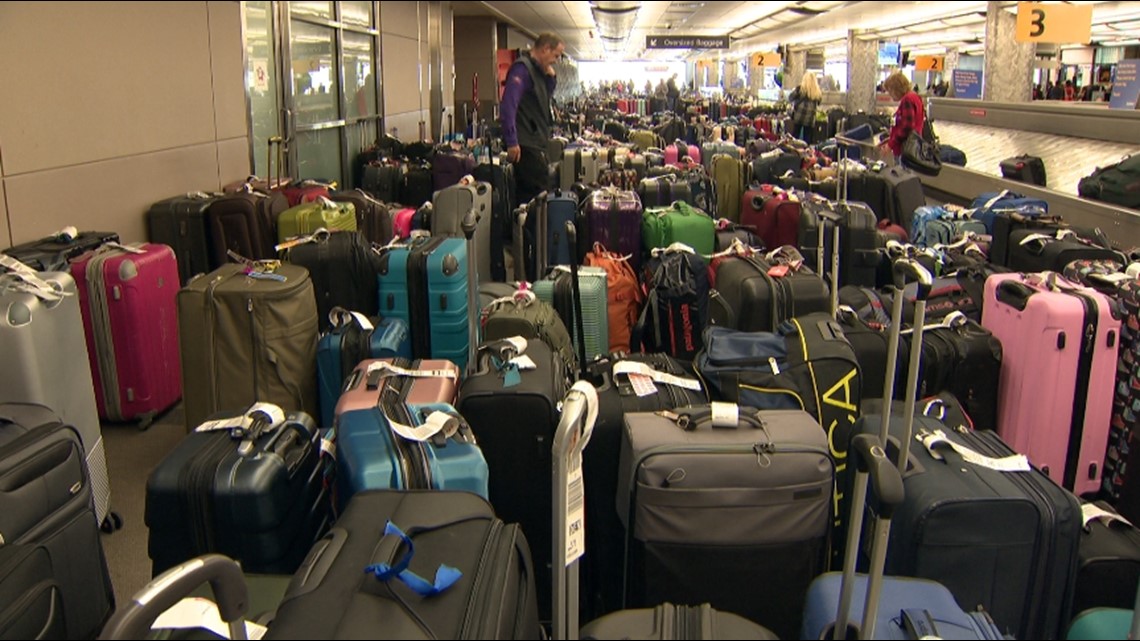 However, the airline did say that they put "emergency work procedures" in place, which among other things, requires a doctor's note when an employee returns to work if they call in sick.
"...so that we can ensure reliability for our Customers by having the necessary amount of available, working staff," a spokesperson said Saturday.
Transport Workers Union (TWU) of America Local 556 said in a statement that the union "has demanded modernization for years."
The statement went on to say: "The union points to years of neglect in securing and implementing technology that would make the difference for flight crews, employees and also customers."
After several hours spent at DIA, passengers got to know the check-in area pretty well.
"Our flight just got canceled," said a traveler to Debbie Page.
Page was trying to help people with canceled flights figure out what to do next.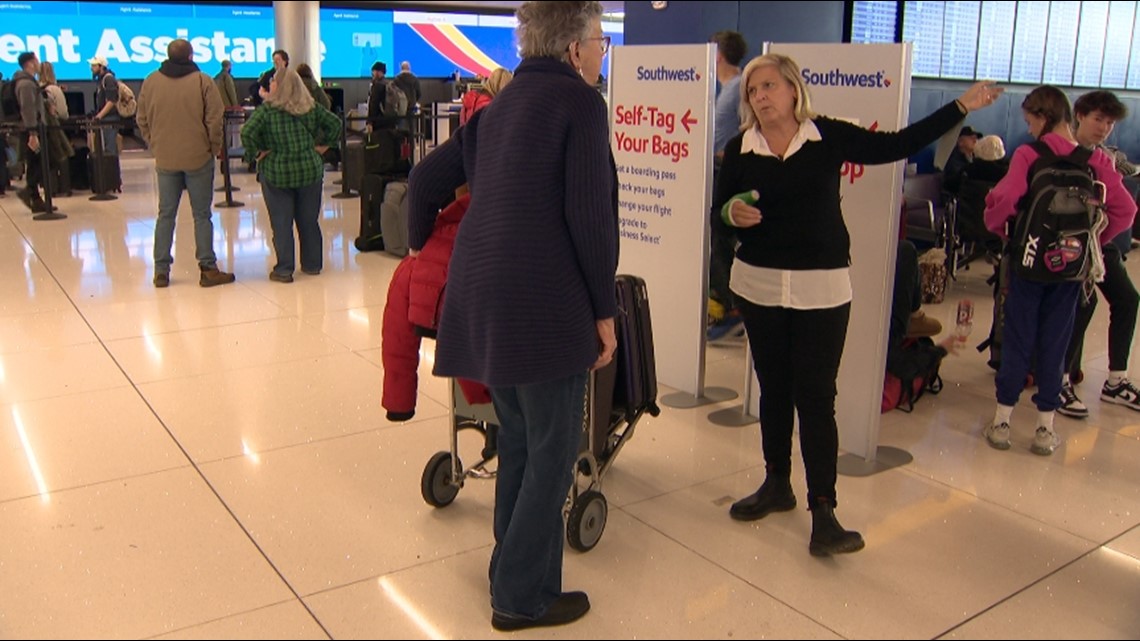 "I literally have nothing else to do," she said. "I don't actually work here, I'm just trying to help people."
Sad traveler after sad traveler walked up to Page, looking hopeless.
She said she understands how it feels because her flight home to LA was canceled last night.
"It does feel like a hot mess," said Page.
Many travelers said they weren't given a reason why their flights were canceled.
"...is it because the weather? Or you don't have enough planes? Or are they on strike? I don't know what's going on," said another traveler, Janelle Beveridge. "As we were just about to check our bags, we found out it's cancelled."
It's good thing Beveridge and her family didn't have the chance to check their bags because the line to get those back will take hours, too.
"We came back to find out what can we do with our luggage," said Wade Khoury.
He's been trying to get home to Houston with his wife for the last three days. They got a flight to Dallas and were going to drive home from there but that flight was canceled, too.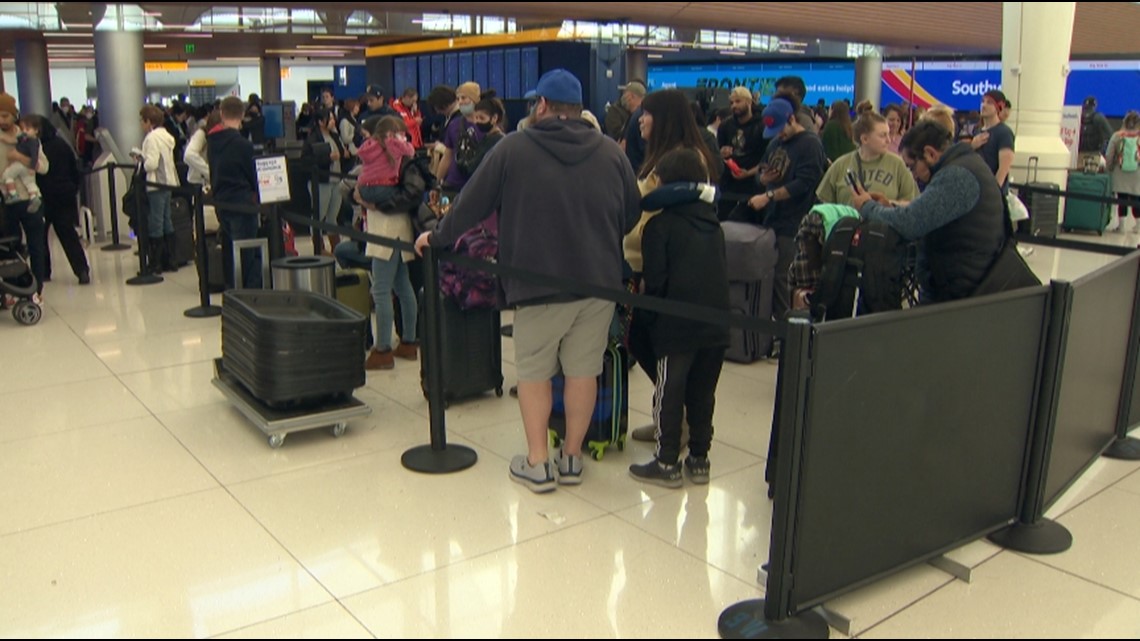 "Luggage is gone to Dallas, no matter what. We're going to Houston. So we don't know how we're going to get our luggage back. We'll have to figure that out," said Khoury. "No rental cars, we tried that for two days. We were going to drive home."
After having a second Southwest flight canceled, he decided to go with another airline and hopes to be home on Wednesday.
"Looking at the other airlines and you don't see these lines, you don't see craziness," he said. "So there's something wrong with Southwest for sure."
There's been a lot of tears and frustration over the last few days.
"I had never seen so much luggage downstairs," said Page. "It's crazy."
But for most passengers, there's not much they can do besides wait.
"It snakes 'round," said Page. "It's going to be a while."
Or try to be helpful to your fellow traveler.
"Good luck!" said Page. "Hope you get on!"
Luis De Leon contributed to this story.
9NEWS+ has multiple live daily shows including 9NEWS Mornings, Next with Kyle Clark and 9NEWS+ Daily, an original streaming program. 9NEWS+ is where you can watch live breaking news, weather updates, and press conferences. You can also replay recent newscasts and find videos on demand of our top stories, local politics, investigations and Colorado specific features.