CARLSBAD, N.M. — Less than 600 miles south of Denver lies a magical land full of caves.
I'm talking about Carlsbad, New Mexico – more specifically, Carlsbad Caverns National Park
As someone who isn't fond of cold and snow, I wanted to head south for a few days to soak up some sun and do a little exploring. I wanted something drivable in a day that was relatively affordable and a place I could bring my pet pig along for the ride. (Seriously, his name is Paxton, and I try to bring him on trips as often as I can.)
So Carlsbad it was.
Here are my tips for an epic road trip to southeast New Mexico.
This story is part of our weekly #9Neighborhoods series. Have an idea for a neighborhood you think we should check out next? Drop me a line at dacia.johnson@9NEWS.com.
RELATED: 9 of the coolest Colorado neighborhoods we explored in 2019
RELATED: You can watch elk try to find love in this Colorado town
Small towns along the way
Carlsbad is about nine hours south of Denver. And this trip is your chance to stop in a few of the dozen small towns along the way. Pueblo and Trinidad are good places. We've covered Pueblo in this #9Neighborhoods series; you can read about it here. Trinidad is on our list of places to cover, but I will say, I was surprised how big and beautiful the town was when we rolled through. If nothing else, stop at Art Cartopia, an art car museum.
A few other suggestions on small towns to check out:
Raton
Las Vegas
Roswell (which deserves its own section, scroll down to read about this gem)
PHOTOS | ArtoCade: ArtCar Festival in Trinidad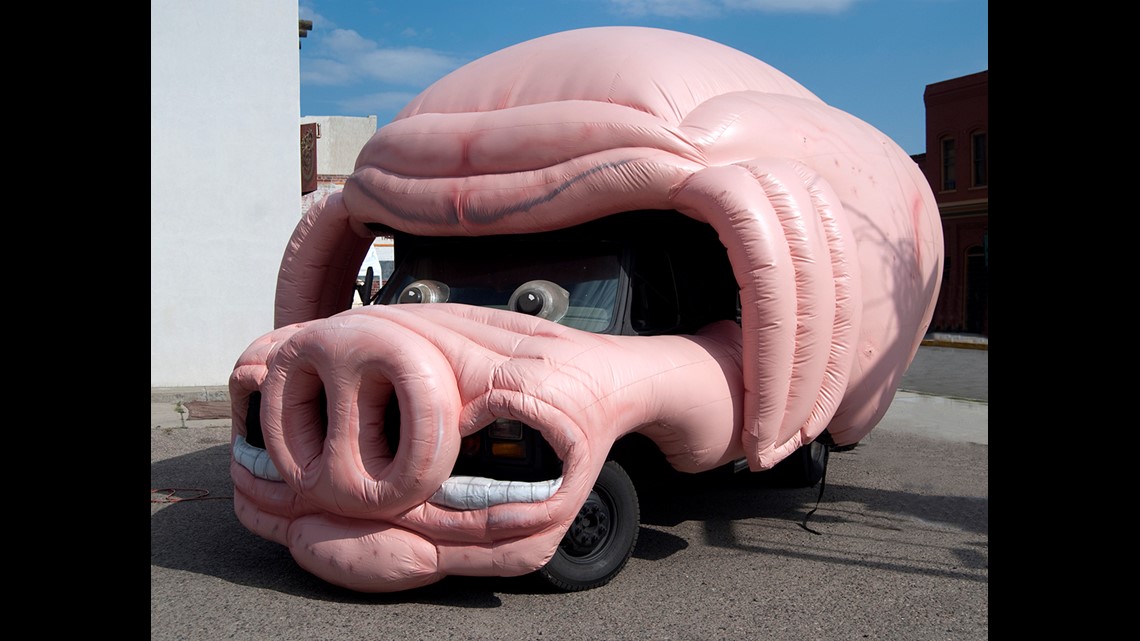 Capulin Volcano
Not too far off Interstate 25 and just south of the Colorado-New Mexico state line is the Capulin Volcano in the Raton-Clayton Volcanic Field.
First of all, I had no idea there were more than two dozen volcanos in New Mexico.
Anyway, the Capulin Volcano National Monument is worth a stop. You can drive up to the rim, hike and check out the visitor center. There is an entrance fee; the National Park Service has all the details.
Roswell
Go to Roswell.
It's odd, it has plenty of road-side attractions, and it's a good last stop – a little over an hour – before you get to Carlsbad.
Just make sure you have daylight so you can take photos with, yes, all the aliens.
Dacia Johnson
Made famous after a 1947 UFO crash near the city – followed by supposed government coverups and many questions to this day – Roswell definitely plays into its alien history with murals, statues and event street laps in alien form.
The state's website says, "Once it became public, the event known as The Roswell Incident - the crash of an alleged flying saucer, the recovery of debris and bodies and the ensuing cover-up by the military - was of such magnitude and so shrouded in mystery that, 70 years later, there are still more questions than answers. Books have been written and TV documentaries have been filmed. Witnesses have come forward. Skeptics have issued rebuttals to the Incident, and the debate continues."
There's an International UFO Museum & Research Center in the city, a Roswell UFO Festival and plenty of places for alien souvenirs.
Dacia Johnson
Roswell, however, prides itself on much more than visitors from space – this city's tourism site touts art, museums and outdoor activities in the area's many recreation spots and nearby state park.
Local parks
Traveling with a pig is a lot like traveling with a dog or even a kid. That being said, one of my favorite things to do is scope out local parks to stop for a picnic and let your passengers run around for a bit.
You can type "park" into your google maps when you're ready for a break and more than likely one will pop up in a nearby town.
There's a pretty cool park in Happy Valley which is just north of Carlsbad.
You can see more of Paxton's road trip photos here.
(Really this section was just an excuse to share a photo of my handsome sidekick. He's great on long trips, he naps in the back and as soon as he hears a wrapper, he pops his head between the seats for a bite of whatever snack is being had.)
Dacia Johnson
Carlsbad
Ah, we've finally made it to our destination. Carlsbad, according to the state's website, is located in the Chihuahuan Desert on the Pecos River at an elevation of 3,295 feet.
Remember how I said I was looking to escape the cold and that's why we chose Carlsbad? Well in the last week on January, the area had a cold snap and it snowed. Yeah, it snowed in this southern New Mexico city.
Anyway, the city sits 40 miles northeast of the Guadalupe Mountains National Park, and the biggest draw to the area is the caverns (which I'll get to.)
We stayed at an Airbnb (Paxton needed a yard) but the area boasts quite a few hotels and RV parks. It has a quaint main street area with shops and restaurants. Both my Airbnb host and another local said all the restaurants fill up and there's usually a wait during "feeding time."
My suggestions of things to do in town:
Mexican imports 1 and 2 (no website, we stumbled upon No. 2 and found some incredible art to take home!) The shop sits on U.S. Hwy 285 in town at W. Luckey Sreet
Living Desert Zoo and Gardens (more on this in the next section)
Living Desert Zoo and Gardens
We spent a cold morning at this zoo and really enjoyed it. For $5, this is a great affordable option to learn about the plants and animals of the Chihuahuan Desert. It has everything from snakes and turtles to wolves and elk.
My favorite were the two exhibits with javelina. The National Park Service says javelina, or collared peccaries, are in the even-toed, hoofed mammals that are mistaken for pigs, but they're actually in a different family than pigs.
Dacia Johnson
They reminded me so much of Paxton, I asked if I could take them home. (I got a big, fat "no.")
The zoo and gardens had a ton of natural vegetation and a greenhouse with "succulents of the world."
Dacia Johnson
Carlsbad Caverns
Welcome to the main event – it was for me anyway.
Carlsbad Caverns National Park is about 18 miles southwest of Carlsbad in the Guadalupe Mountains. The primary attraction of the park, according to the state's website, is the show cave, called Carlsbad Cavern.
The park actually has more than 100 caves, but visitors can only explore a few of them.
The self-guided Natural Entrance (pictured below) into the Big Room is really cool. The cave has a paved walkway and is lit for easy, family-friendly exploring.
But the ranger-guided tours are an absolute must. Make sure to book these ahead of time, I recommend one guided tour and then finishing the day with the self-guided tour. We chose the Slaughter Canyon Cave tour (harsher than it sounds), which did require a 45-minute drive and a 1/2-mile steep hike to the cave entrance. Helmets with lights, special gloves and shoe de-coning was required for this tour. Inside, however, were some of the biggest, most incredible formations I've ever seen. The rangers are so knowledgable and my experience is one I'll remember forever.
Here's one of the massive formations, we saw in Slaughter Canyon called the Christmas Tree:
The park's Facebook page says other guided tours range from walking the paved trails of scenic rooms, called the Kings Palace Tour, to crawling through narrow passageways in Hall of the White Giant or Spider Cave. The visitor center has educational exhibits, ranger-led talks and programs, a bookstore run by a nonprofit and a restaurant (with vegan options!).
There are also opportunities for hiking, backcountry camping and picnicking, and from May to October, watching the exodus of Brazilian free-tail bats out of Carlsbad Cavern at dusk.
You could easily spend several days at this park, or like us, cram it all into one day. Each tour was $15 per adult, which I thought was very reasonable – especially for the Slaughter Canyon Cave tour which lasted more than five hours.
There were maybe 100 visitors to the entire park the day we went, which made for an intimate experience, but one of the park employees told me they see up to 5,000 people a day (A DAY!) during peak times over the summer.
All the information you could ever need is on the park's website. This magical land (yes, I said it again) is an absolute must. It's nine hours away from Denver and worth every second of that drive.
Go explore!
Carlsbad Caverns National Park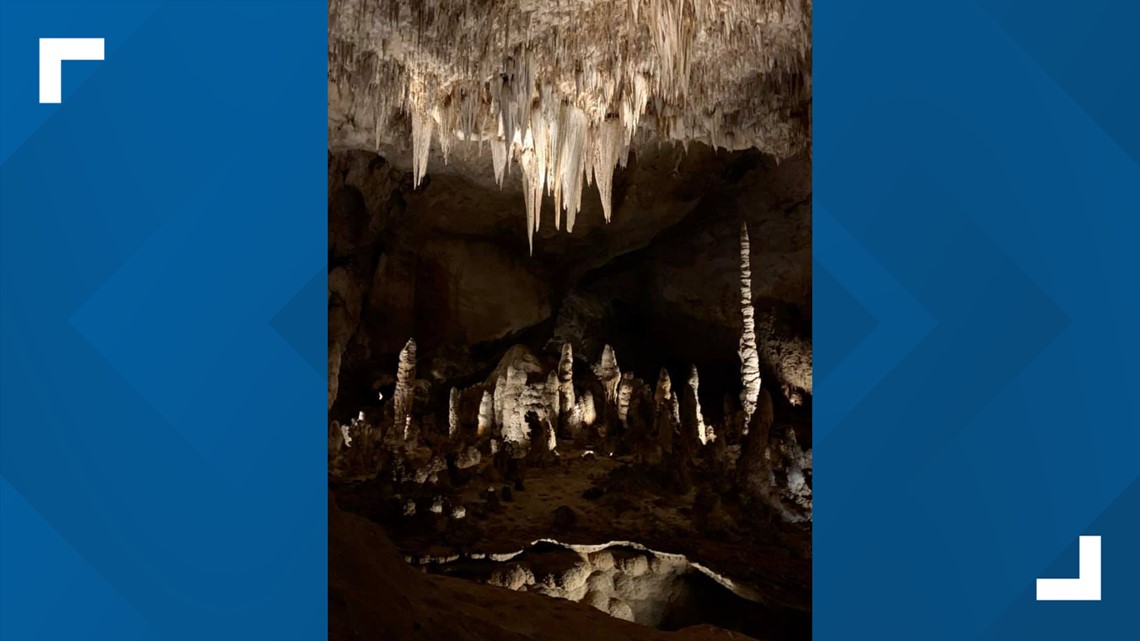 SUGGESTED VIDEOS | Feature stories from 9NEWS