After what has been an often dreary year for many Americans, a white Christmas sounds like it may be the least Mother Nature could do to cheer up a few holiday hearts next month. With Christmas just six weeks away -- can you believe it? -- some may be starting to wish for a little snow on the big day.
For some Americans, those wishes may come true! For many others, however, a lackluster year will be topped off by a grassy landscape come Christmastime.
AccuWeather Senior Meteorologist Paul Pastelok has been putting together long-range forecasts for decades and he held a conference call this week with reporters to discuss the upcoming holiday season and the parts of the country he believes could receive some snow for Christmas this year. He also advised people to get working on those outdoor Christmas decorations ASAP.
Pastelok is AccuWeather's Lead Long-Range forecaster and when he begins considering which areas may be more or less likely to see a white Christmas, he first refers to the historical maps.
The map pictured just below shows the historical probability that at least 1 inch of snow will be on the ground at Christmas based on a 30-year data set. Not surprisingly, places in the northern tier of the country are shaded in dark blue as, according to the 30-year averages, they have a 75% chance or higher of seeing snow at Christmas.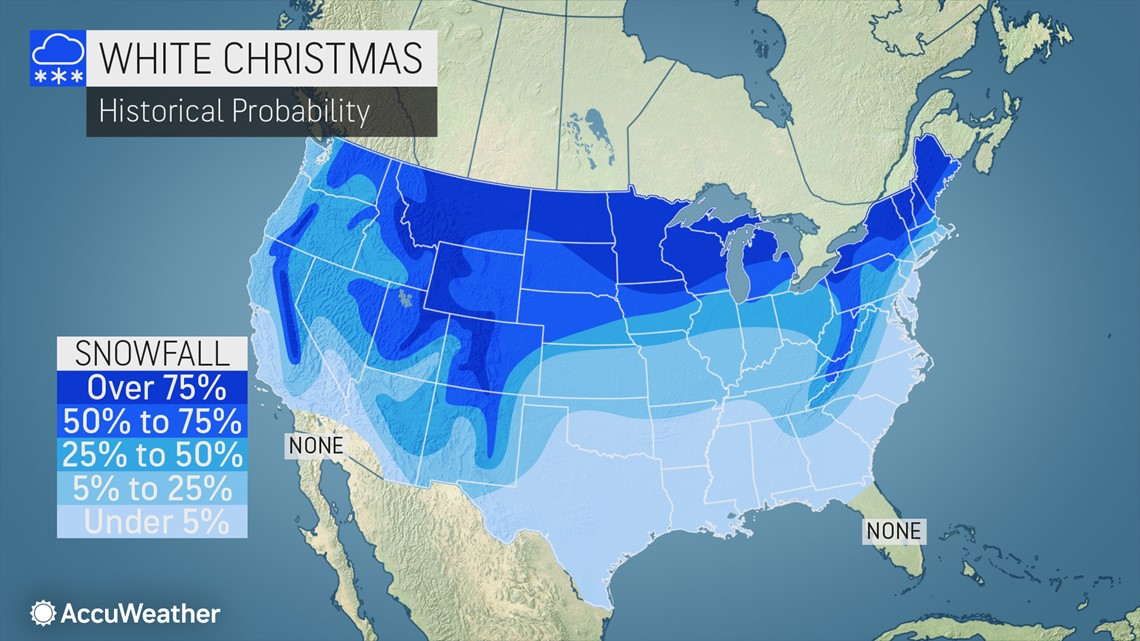 Similarly, places like Florida, southwestern Arizona and a long sliver of the California coast have, statistically speaking, no chance of snow at Christmas.
The map pictured below is the fruits of his labor. It shows the places in the United States that Pastelok predicts will have the best chances of enjoying a white Christmas this year. He said the 2020 probabilities were based on comparisons with historical likelihood.
The areas where residents are more likely to wake up to see a white Christmas compared to years past are in the Northwest, along the Ohio Valley and Tennessee Valley, which encompasses Tennessee, northern Mississippi, northern Alabama, northern Georgia, western North Carolina and southern Kentucky.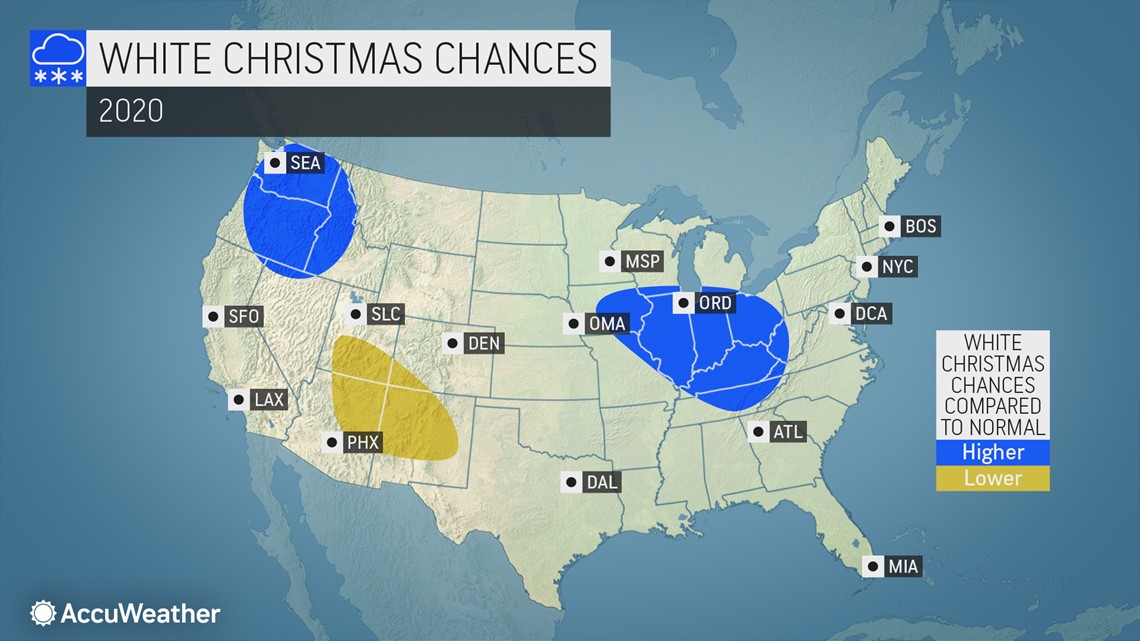 Also, a swath of the Midwest is likely to see higher-than-usual chances of a white Christmas. Some of those places are in the chance range of 5% to 25% for snow on Christmas, according to the 30-year averages.
Elsewhere, some historically high-percentage places will have a good chance of enjoying a white Christmas this year, Pastelok noted. Cue Bing Crosby tunes, a mug of hot chocolate and a crackling fire.
"Percentages are normally high in the central Rockies and northern Plains," Pastelok said, referring to regions that cover Colorado and Utah, and the Dakotas, eastern Montana and western Minnesota, respectively. "So, it's pretty likely that those areas will have a white Christmas."
That may be the case for parts of those regions even where snowfall chances on or about Dec. 25 won't be higher than normal. If enough snow is on the ground and temperatures remain low enough, a white Christmas could occur even without fresh powder.
For the typically warm interior Southwest, Pastelok said white Christmas chances are even lower than historically normal.
Hopes for some holiday weather magic may not be dashed everywhere, including some locations where odds are typically lower. Along the East Coast, big cities in the mid-Atlantic, like Washington, D.C., and in the Northeast, like New York City and Boston, don't typically have snow on the ground come Christmas morning. However, the scenario could be different this year, Pastelok said.
"This year, there's just a slightly better chance, because of the storm situation setup, that Boston and New York City could have a little bit of snow," Pastelok said.
However, an early-season mild pattern in the area could foil those chances.
"I'm not ready to throw it on the map just yet," he said, chuckling. "But there's a better chance this year."
All of that considered, even though it may not snow on or about Christmas Eve and Christmas Day in many places, Pastelok emphasized that many places across the interior Northeast -- like in the mountainous areas -- and near the Great Lakes are likely to have snow on the ground from previous snow events when Christmas comes.
Still, as Pastelok noted, even though the accepted benchmark for a white Christmas is 1 inch of snow, sometimes all it takes to bring about that fabled Christmas ambiance is just a few snowflakes swirling around in the cold air.
"For me, if it snows on Christmas -- even if it flakes," Pastelok, quipped, "it's a white Christmas."