LAKEWOOD, Colo. — The wildfire outlook was just released for the Rocky Mountain area, and forecasters are expecting above-average wildfire activity over the next four months in Colorado.
Meteorologists with the Rocky Mountain Area Coordination Center (RMACC) said wildfires can happen at any time of year, but most of the wildfire activity in Colorado happens during the summer months, and there are several factors leaning toward an active season.
Warmer and drier than normal weather conditions are expected to build over the next four months, but they said another big factor is that last summer was the first with an active monsoon in several years.
"The southwest monsoon is kind of a good news/bad news kind of thing," said Coleen Haskell, a fire weather meteorologist at the RMACC. "Fire season last year could have been a lot worse if we didn't get the monsoonal rains, but what's not good about all that rain is that it produced a lot of fuel."
Haskell said that extra vegetation will likely come into play later this summer.
Let's take a look at all four months in the seasonal outlook.
April fire outlook
The outlook for April shows all of eastern Colorado with above-normal potential. Haskell said the biggest reason for that is that April is one of the windiest months on the Front Range and eastern plains of Colorado.
Those wind events are very capable of spreading large fires and making it very difficult for firefighters to extinguish them.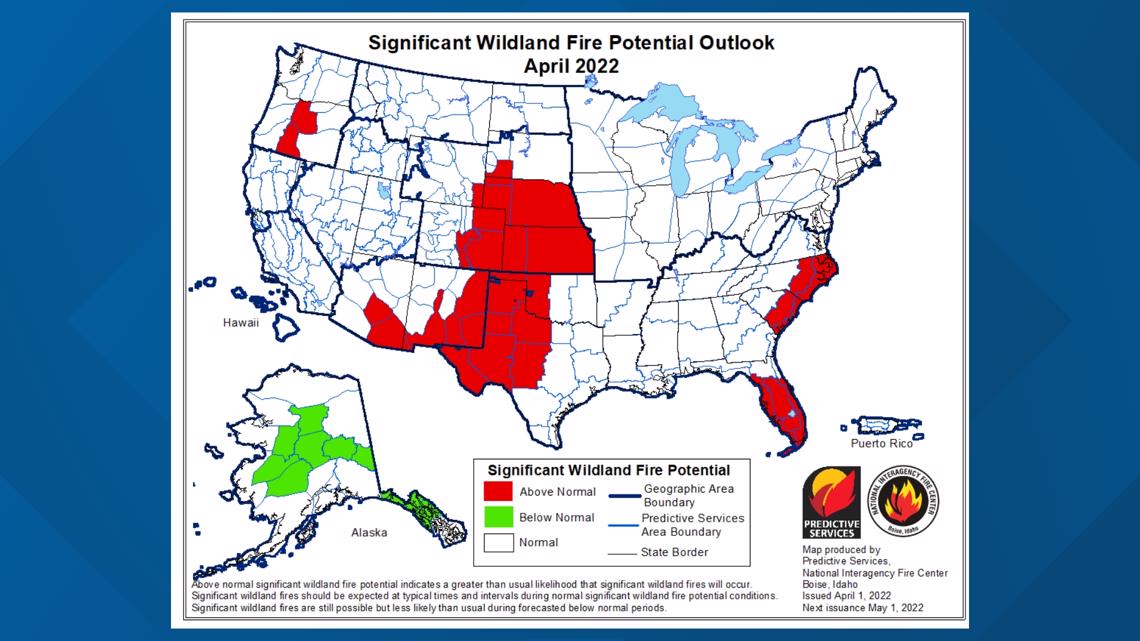 It's windy almost every April, but wildfire potential isn't always this high. Haskell said those seasonal April winds are combining with dry vegetation, especially below 9,000 feet.
"Most Aprils we usually have a little bit of snow on the ground. But this year, it's pretty much gone," she said. "I mean, we would get the snow, and then we would get these 70-degree days and it's gone. You could just see it on the satellite disappear."
Other aspects of the weather forecast are somewhat favorable, at least in the short term. The Climate Prediction Center is calling for a high chance for below-average temperatures and near-average precipitation through April 19.
"I don't know that we can hang our hat on that for a seasonal outlook," Haskell said. "But at least it will help buy us some time before we get into the green-up, when the vegetation is going through its annual growing season."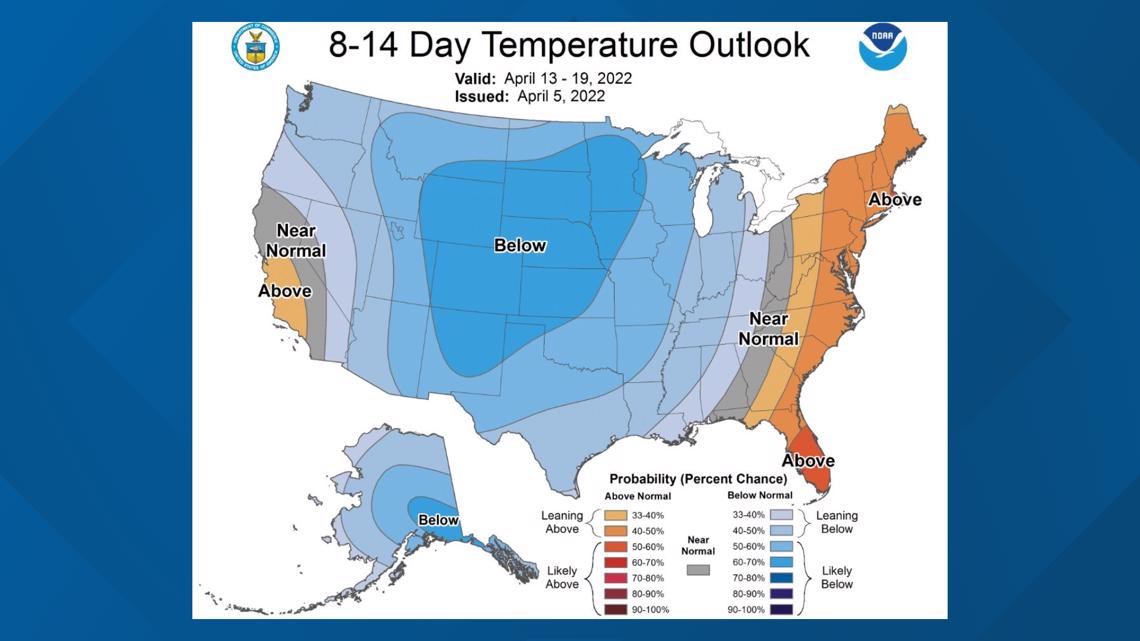 May fire outlook
The seasonal outlook shows that northeast Colorado could see a slight reduction in wildfire potential in the month of May.
Haskell said the high wind events are less frequent, and that's typically when grasses and trees are green and flush with moisture.
"We call it the flush or the green-up. Everything is green and growing in healthy. And we get good moisture recovery from overnight humidity," she said. "That actually does help keep the fire danger a little lower."
Wildfire potential is higher in Southern Colorado in May. Haskell said wildfire activity is likely to start earlier down to the south, partially because of the warmer temperatures, but also because of the standing dead fuel left over from last summer's monsoon.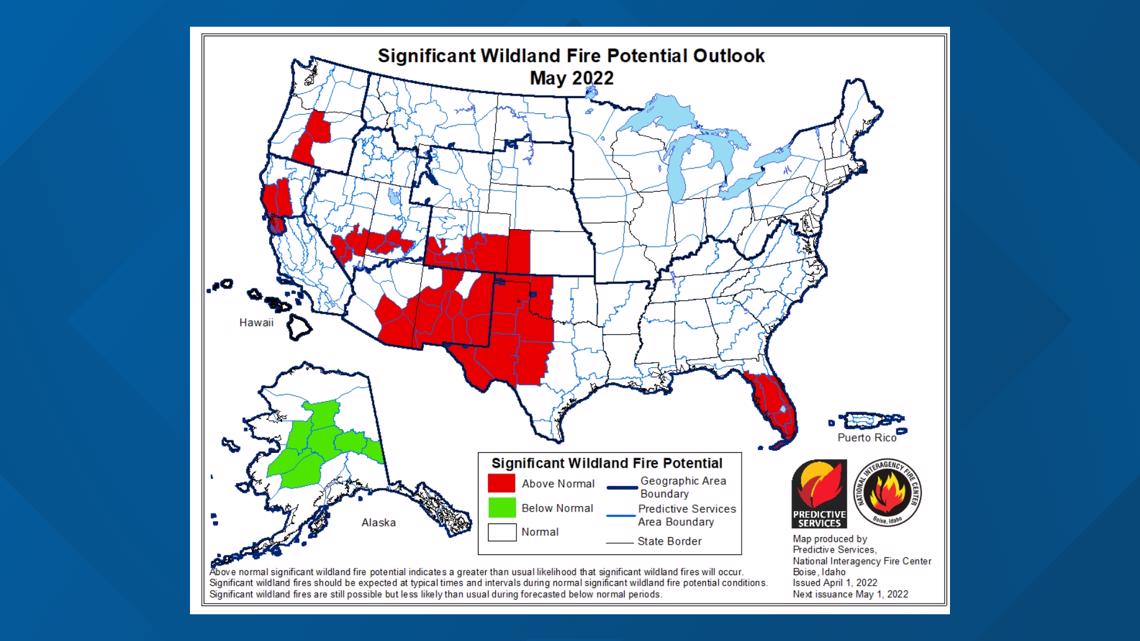 June fire outlook
The June wildfire outlook is an expansion of the higher fire danger in Colorado, everywhere except the northeast portion of the state.
Haskell said the high wind events become less frequent and the winter snowpack in the high country comes into play.
The statewide snow-water equivalent in the mountains is just slightly below average just a few days before the normal peak, which is on April 8.
"We did not get a lot of snow this year to mash down the grasses that grew last summer," she said. "And we expect the snow to melt out just a little earlier than usual."
June is also expected to be a warmer and drier than usual month in Colorado, according to the forecast from the Climate Prediction Center.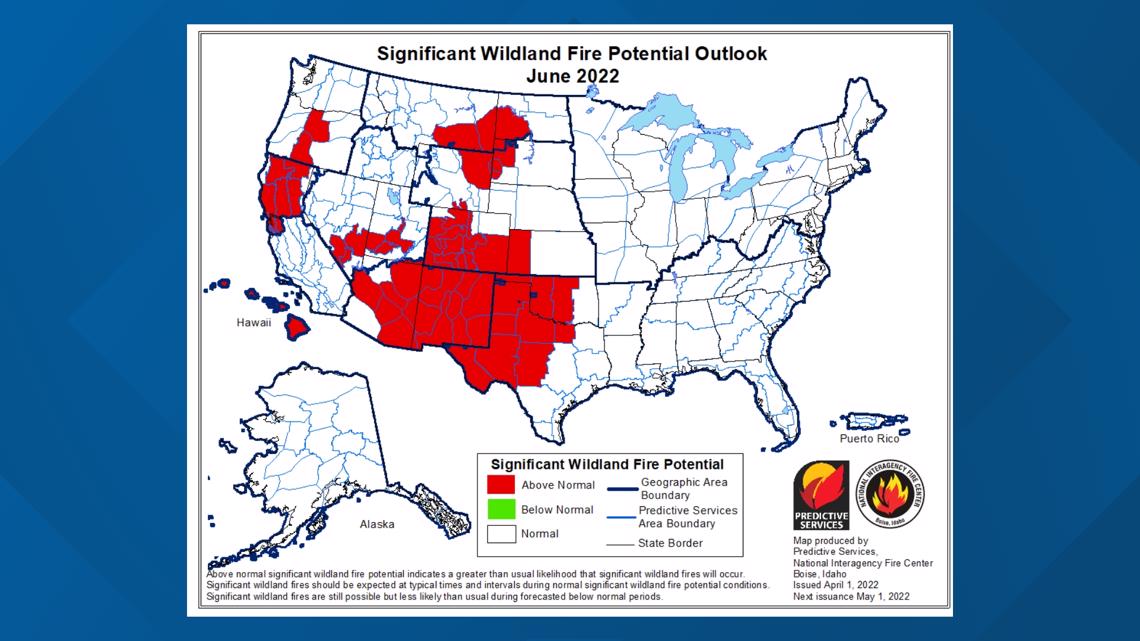 July fire outlook
Haskell said June and July will likely be critical months for wildfire potential in Colorado. The key will be how and when the La Niña weather pattern transitions into neutral conditions.
"Any time we are going through that shift, transitioning from one phase to another, that introduces a lot more uncertainty," she said.
Haskell said that transition to neutral ENSO usually favors high pressure ridging over the southern plains, which could lead to another active southwest monsoon season. But before the monsoon, we may have to get through a stretch of low precipitation thunderstorms in Colorado.
"So until things really juice up in the lower levels of the atmosphere, we could have some dry lightning starts. We could have a lot of initial attack," she said. "But it could be followed by the wetting rain, so we might just have to hold on to our hats for a while."

Haskell said another four-month wildfire outlook will be issued on May 1.