More fire risk is expected this weekend.
Coloradans know Red Flag conditions can spell disaster.
Despite the Red Flag anxiety, Bolinger said summer 2022 brought some good moisture. This fall doesn't have the same conditions as the fall of 2021 or even 2020.
"Based on that fact that we haven't been bone dry like we were last year this time, I'm not quite as nervous when we have a Red Flag warning day," she said.
"What we're seeing now is pretty typical," she said. "But when you have extended days like this where you're not getting any moisture -- your relative humidifies are low, the winds are high, you can expect that number to continue to tick up"
"You could still have those risk of random popup fires, but I also look at the forecast at end of the week, and through the weekend," she said. "We have a cold front coming through, some moisture with it."
But there have been a lot of Red Flag warning days this year.
According to data from the National Weather Service, Boulder had 17 just in April and May. Compare that to the average number of Red Flag days for Boulder each year from 2006 to 2022, which is seven.
Limon already had 28 Red Flag days this year. The average each year since 2006 was 13. And NWS said Logan County had 19 Red Flag warnings so far this year, compared to the average of seven.
Most of the days in 2022 happened in the spring. And while this year didn't break any statewide records, it was also high enough to be in the same company as the high fire years of 2021, 2020 and 2012.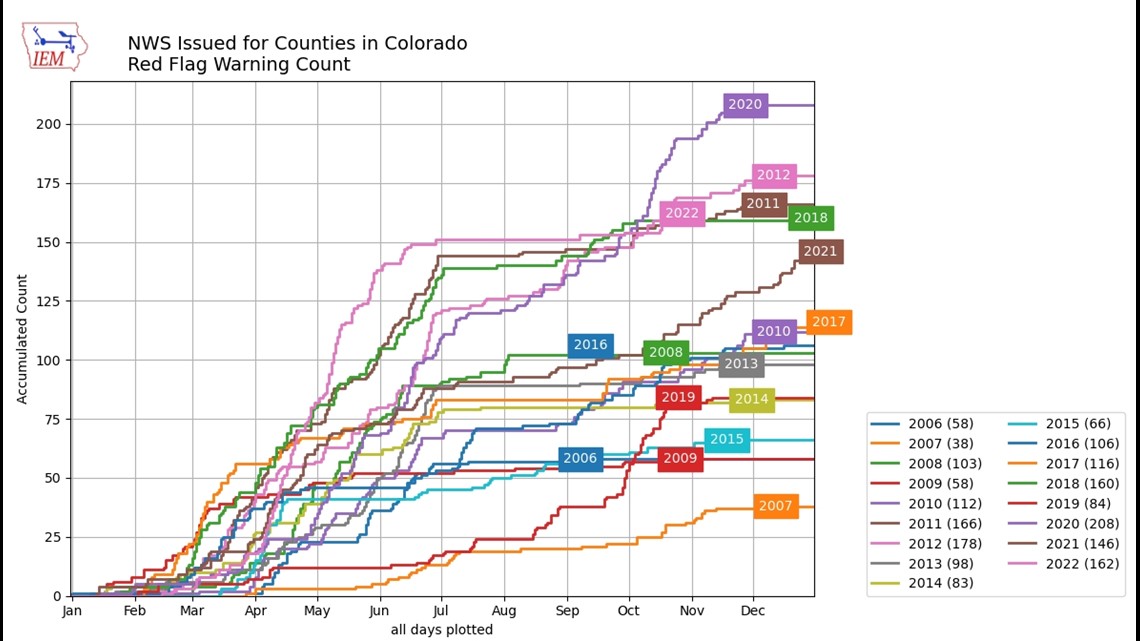 Bolinger said it's normal for things to dry out a bit in October, and current drought conditions aren't as bad as some previous years.
"One thing we're lucky with now is, we paused all of that wind and dryness [from spring], and had a nice, active precipitation season during summer," she said. "Most areas saw a recharge in their soil moisture, and really nice vegetation. Having that in there means, even with a 'memory' of those Red Flag warning days in spring, [a one-day Red Flag] won't really have an impact now."
"These are conditions to watch for," she said. "The more days you have where that relative humidity is extremely low and extremely warm outside and winds are blowing. Those are days to be extra aware of what's going on around you. And the more days we have like that, the more of a risk it can be."