DENVER, Colorado — By Sunday night, I knew that I was going to be spending my Memorial Day chasing storms on the plains of eastern Colorado and western Nebraska. I had the day off because I was scheduled to work on Saturday, but I gave my wife three days advanced notice that I might be chasing storms instead of having a family barbecue. Don't worry, she's fine with that. She married a storm chaser after all.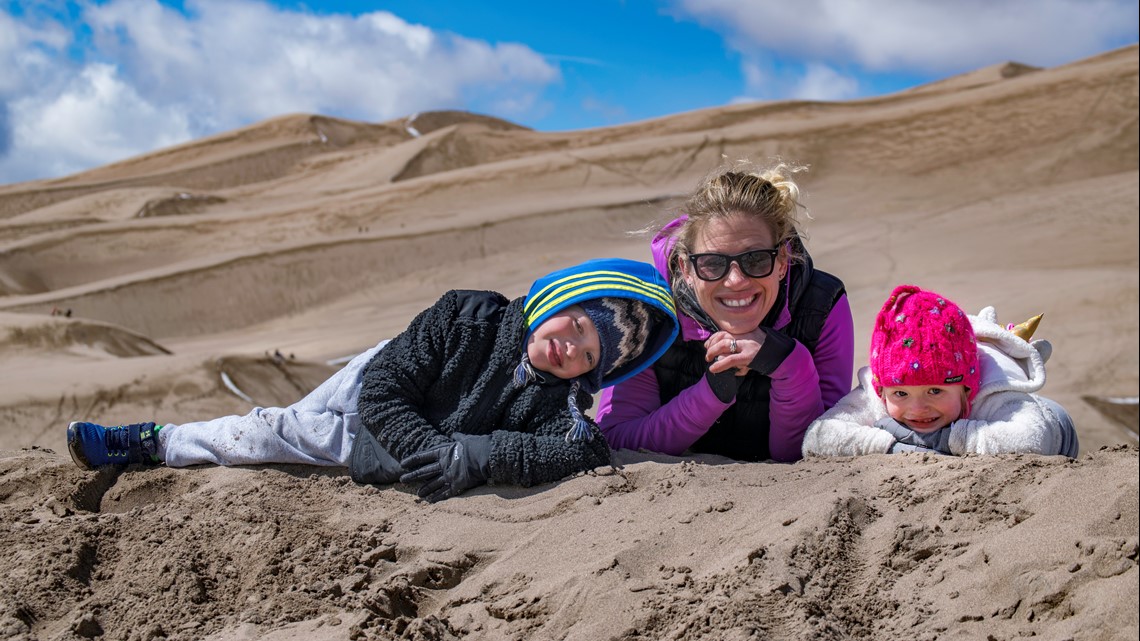 As fate would have it, the severe weather threat moved deeper into Colorado by early Monday morning, meaning I would be on the clock for this one anyway. I was willing to settle for 9NEWS just supplying the gas for the WxTitan, but this worked even better.
There are many meteorologists across this great land that not only love to forecast severe weather, but also want to see that forecast verified first hand, and I'm one of them. We even want to witness the creativity of Mother Nature in person.
I look at the atmosphere as a canvas on which dark and yet beautiful works of art take shape every spring and summer afternoon. Every storm forming in unique and different ways. Every billowing cloud displaying its power and mood with a song and a dance. A display that I'm sure not just storm chasers like to watch.

Supercells were in the forecast. Wind gradually turning counterclockwise with height was going to allow for rotating storms. When thunderstorms are rotating, it allows them to sustain their lifespans for several hours, while putting on a dazzling show of cloud formations.
My plan was to follow the first supercell that developed just outside the Denver metro and follow as long as I could into western Nebraska. The first supercell popped in east Aurora and made its way into open Adams County north of Strasburg. That's where I was waiting in Hoyt.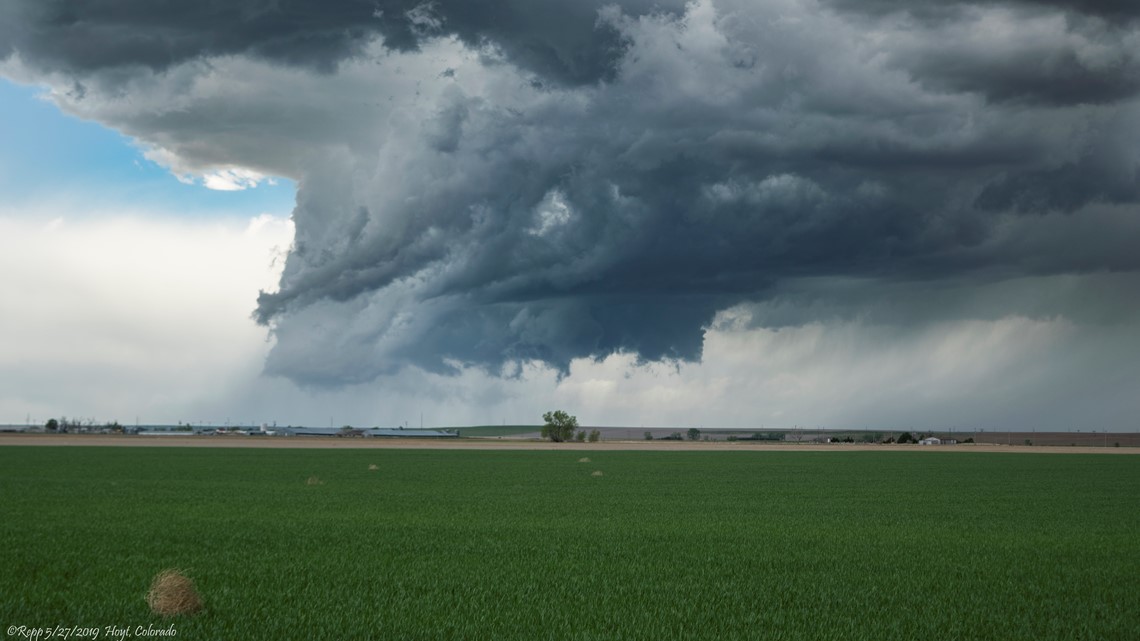 The storm began to rotate immediately, and a wall cloud formed on the southeastern side of the northeast moving cell. It even appeared to spin up a very brief tornado as I shot a time-lapse from a distance. A storm chaser that was closer, witnessed the touchdown and reported it to the National Weather Service. It was the first tornado of the day.
I'm not necessarily looking for tornadoes when I go out to observe storms. I just want to be impressed. I want to feel the emotion of the storm that stirs up a kind of euphoria that goes way beyond adrenaline. That emotion can be transferred to a storm chaser by any display of shape, or sound, or even physical touch.
That supercell actually abandoned it's first mesocyclone as the upper part of the storm was being guided north-northeast, while the bottom of the storm wanted to move more to the east. That tendency furthered along by the rotation of the storm cell.
It quickly regained itself and went through another phase of rapid development. While this was happening, I made my way up I-76 to Brush and found a spot to watch the storm off of Highway 71.
As I was pulling my camera out of the WxTitan, a nearby voice yelled "it's picking up dirt!" It was a local chaser we call Tornado Tim. I clamped the camera down just in time to observe the second tornado of the day. Another quick spin up lasting only a little more than a minute. Two very weak tornadoes produced by that supercell up to that point. Barely even worth calling tornadoes, but tornadoes all the same.
The next move would be further up US 6 toward Sterling as this tornado-warned storm continued to march northeast. A quick pull off to observe some storm motion near Hillrose, and another group of local chasers I know pulled over with me. It's always great to see fellow chasers because you know you share the same outcast and outlandish attraction to storms and that bond is shared.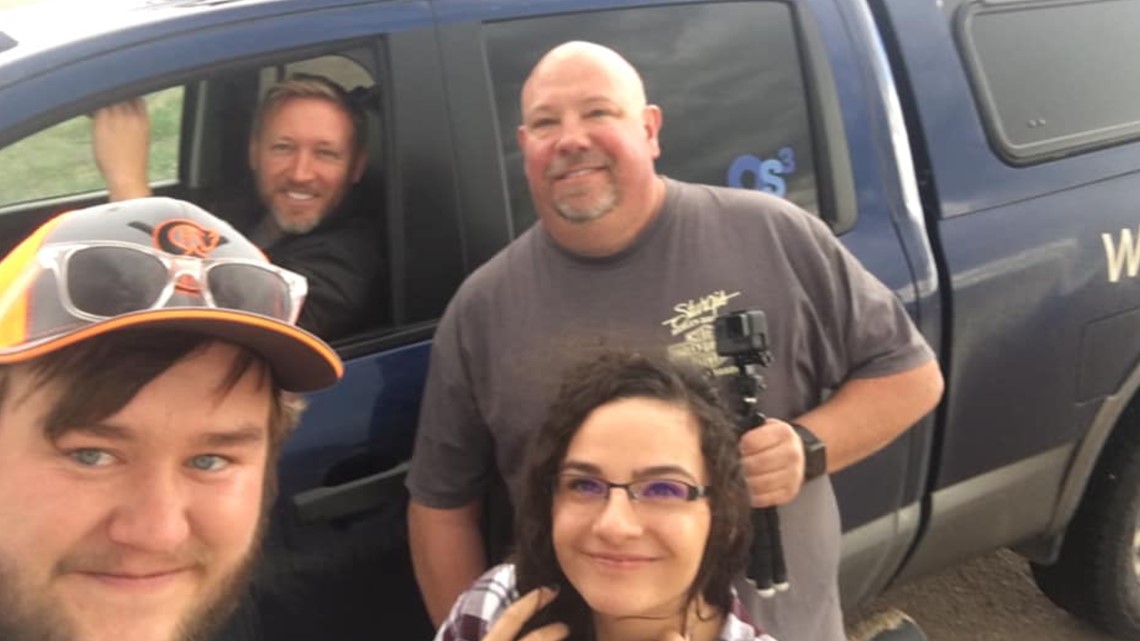 Back on the road, and another tornado report comes in from just north of Merino. I was not able to observe that one from my position, but another storm chaser described it as quick needle in open space.
As the storm was dropping golf-ball-sized hail on the Sterling area, I noticed a new storm developing on radar in Washington County. I knew the Sterling cell would continue to be tornado warned still, but the new cell was in a better environment to the south, and I plotted a course to switch storms and intercept this new development.
I went over Highway 6 to Fleming where the tornado sirens were blaring. The cell I had been following all day was moving over Interstate 76 just to my north. A new tornado report came in. A chaser reported a small and brief tornado just south of the highway. Emergency management reported another tornado nine minutes later near Marks Butte in Sedgwick County, but I was still satisfied with my decision to switch cells and set sail for Holyoke.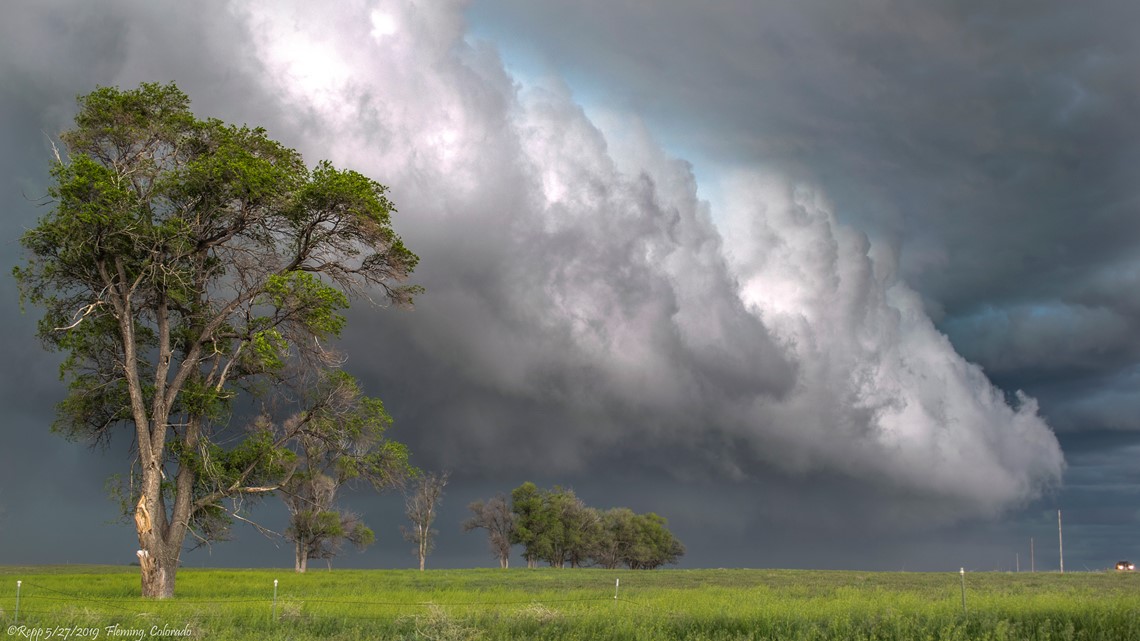 On my way to Holyoke, a tornado warning popped up back toward the Denver metro area, on a storm cell between Brighton and Hudson. Tara Dreiling sent me a picture of a funnel cloud from the Hudson area, and then two reports of brief tornadoes came in. The SPC still has them listed as two separate tornadoes, but post-storm analysis could end up confirming it as one single tornado.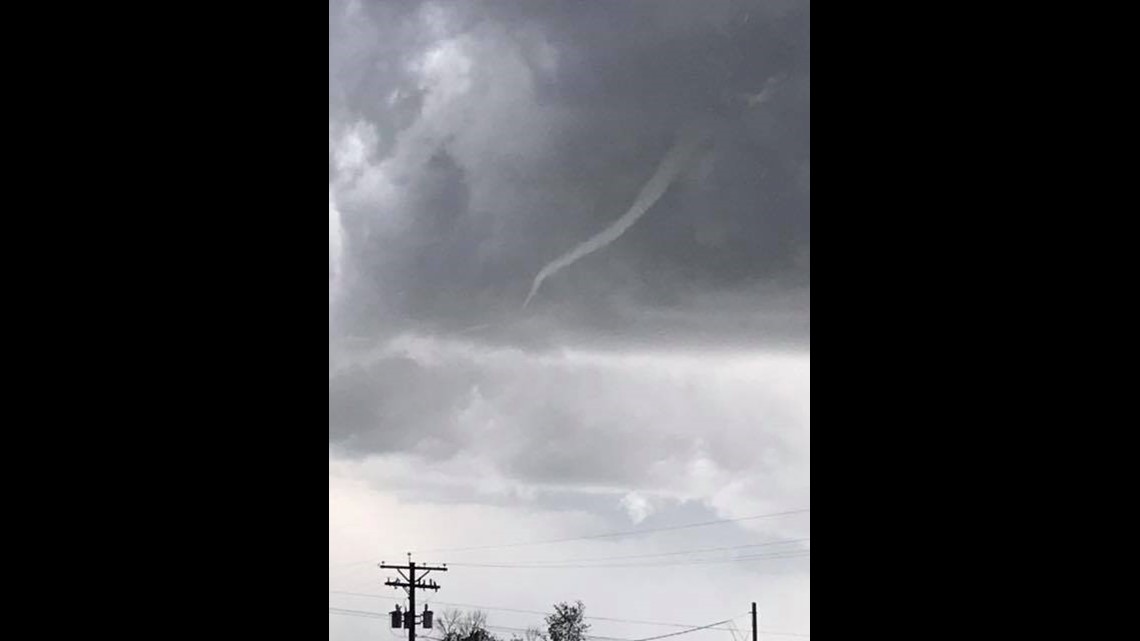 I met up with Kory, another local chaser, and while I grabbed a quick spicy Italian sandwich at Subway, we talked about that new storm that was now passed Otis and headed right for us. We both agreed that it was showing great potential and was in a favorable environment for growth.
Just south of Holyoke along Highway 385, we watched the storm approach. Numerous vortices were spinning up underneath its wall cloud. I didn't see anything really worth reporting as a tornado, but several other chasers did report tornadoes. Likely three quick pinups there in north Yuma County will be recorded as tornadoes. So I'll go ahead and say that was my third tornado of the day.
While watching that storm move toward Holyoke, I made my first mistake of the day. There was no good road option to go east from my location, and it was too late to go back north to Holyoke and take Highway 6 east, so I had to let it roll passed and try to catch back up to it.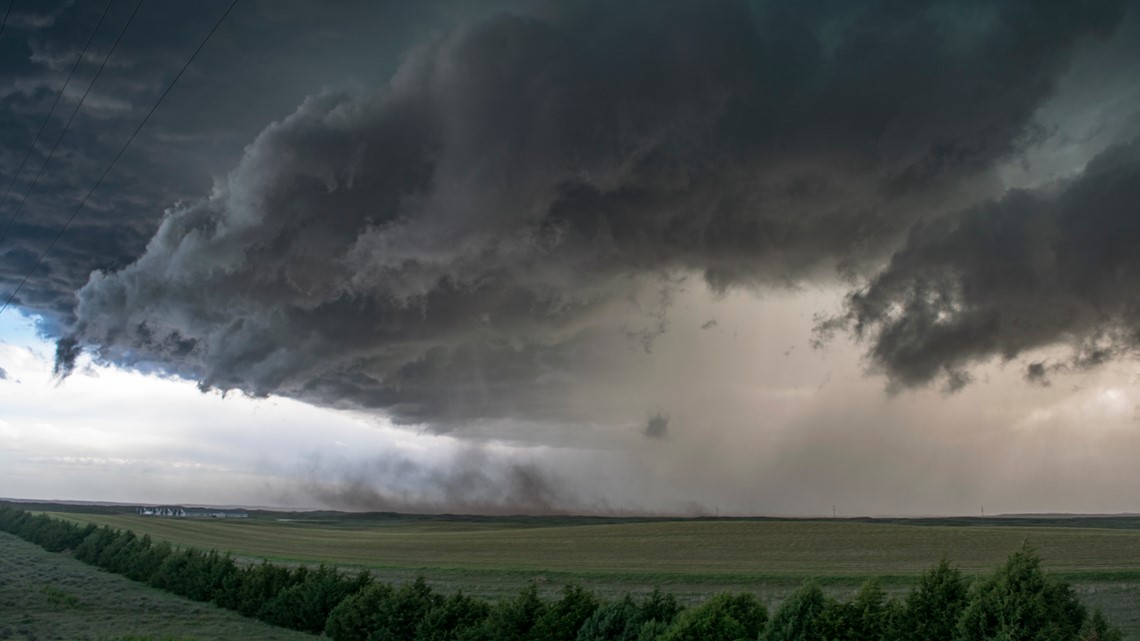 Heavy chaser traffic on Highway 6 toward Lamar slowed my advance, and I got caught in some of the large hail being thrown to the north of the storm before I could get to Lamar in Nebraska. A couple of new dents on the WxTitan from two-inch hail, while another tornado report came in just to the south, on the state line.
It turned out to be well worth the move though, because just a few miles east of Lamar I caught a glimpse of something that charged my body with that emotion I had been looking for. The supercell structure that was developing on that storm was something that only comes in dreams or Hollywood movies.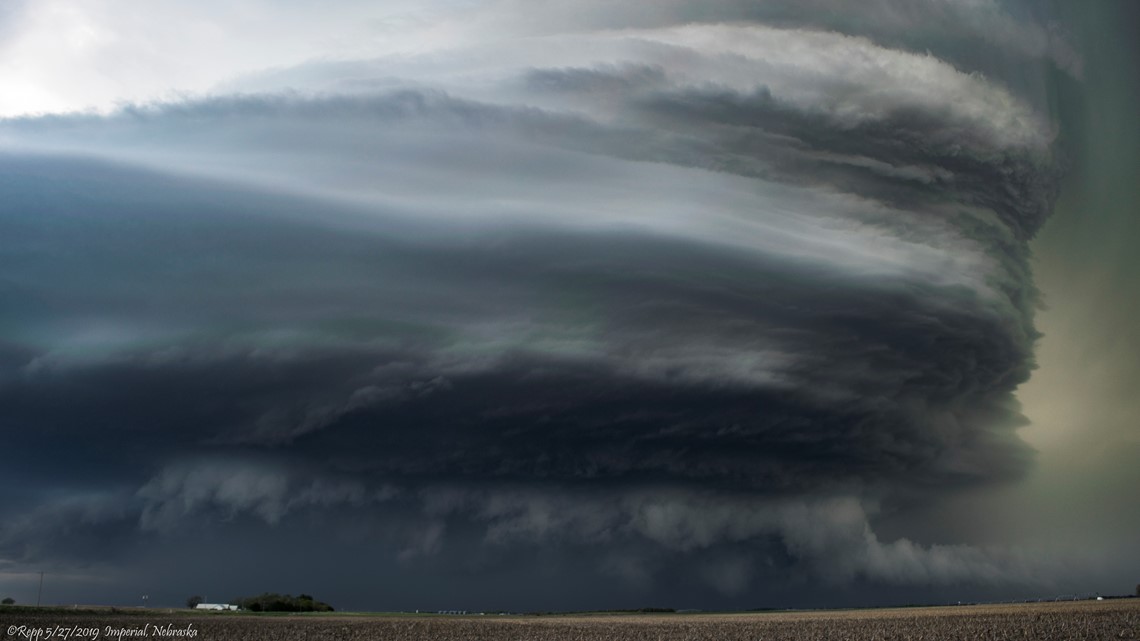 I couldn't stop to get pics yet though, it was too close. I wanted to get way out in front of it so that I could fit the entire updraft into my lens, and also so I could at least roll a brief time-lapse. There may have been 50 other chasers on that road, maybe more, but we all courteously took turns finding places to pull off, and finally just west of Imperial, Nebraska I found a spot to pull of the road in a small parking lot.
I turned my truck around and started rolling video on the wide-angle dash cam, and hopped out with my large TV news camera and my little personal Nikon and started rattling off shots.
In the brief moments that followed, I was dazzled by an amazing display of cloud striations in the massive updraft, caused by air rapidly spinning as it was pulled into the core of the storm.
I knew immediately it was the most impressive supercell I had ever witnessed in person, and as I looked around at the other chasers on the side of that Nebraska roadway, I knew I wasn't alone. Men and women were seen weeping in disbelief, and wonderment. Some with eyes pinned open, and others with jaws bent, unable to contain the drool. All with recognition that we were witnessing a rare and beautiful moment gifted by nature almost as if with intent.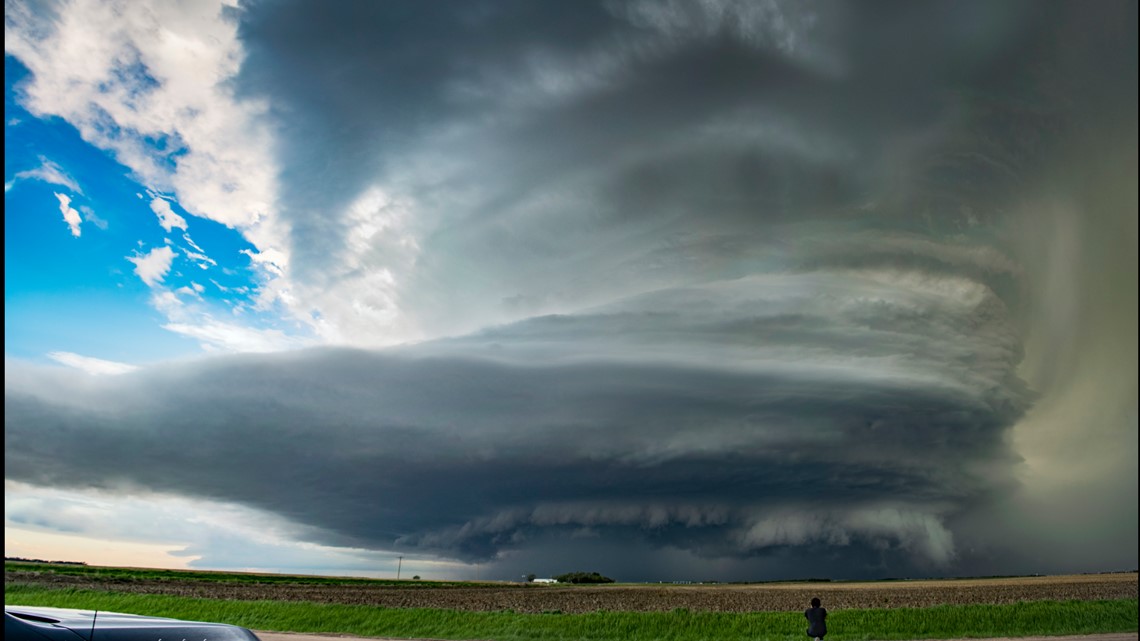 The gratitude was seized by every lens. Trying to capture that perfect creature with wide angles, and stacks, and time lapses. Knowing this moment would be fleeting, time was of the essence.
Having a timelapse, and some still photos in hand, the Imperial Supercell was closing in on my position, so it was time to roll. One small tornado, and tennis-balls-sized hail was reported within the gaping mouth of the storm, but the structure was still intact. That was when I knew I had a chance to capture a better foreground to help convey the sense of the moment.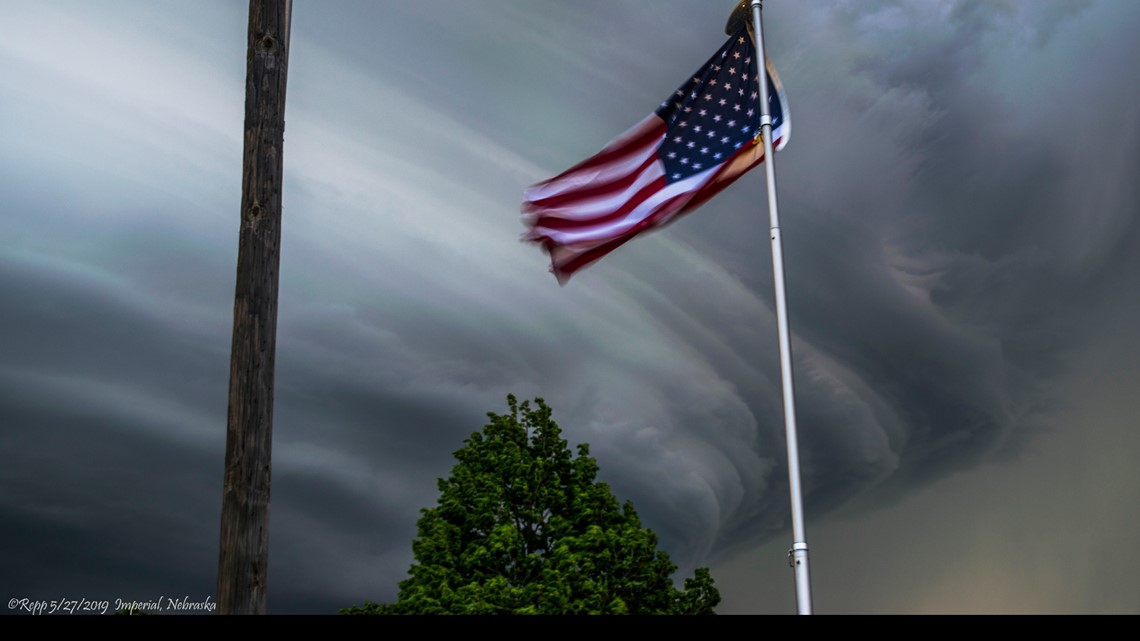 On a dirt road just to the northeast of Imperial, the Star-Spangled Banner stood proud and fearless before the storm. It was Memorial Day after all, and already gleaming with thoughts of just how special life can be, there waves a reminder of those that fought to protect it. The composition was not available for great framing, but the shot was still important.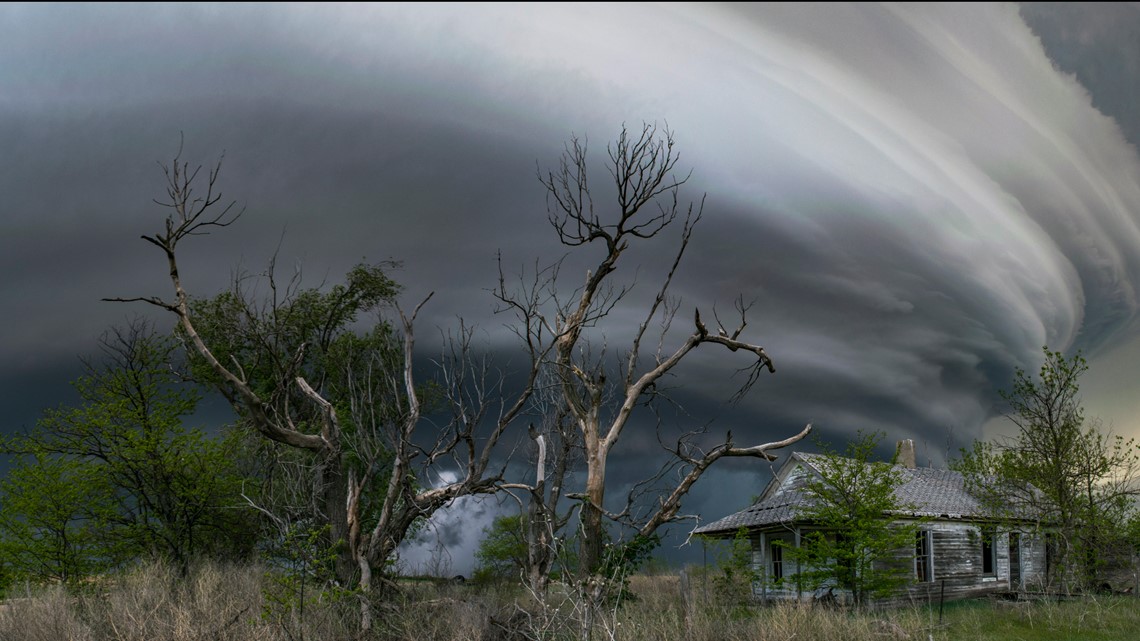 Just down the road a piece, one last visual before the storm structure fades -- the abandoned homestead. A typical foreground for storm photography, but it does tell a story. Time has passed so slowly for that land. One-hundred years ago, someone probably stood on that porch and marveled at the power of the atmosphere.
As my blood was stirred by a special and memorable moment, that old homestead just brushed it off as a flash in time. It has seen the storms come and go, and the people too. Left in ruin, it stands as a reminder of how important it is to live every minute to the fullest, and not to just settle for the good, but seek to be impressed.