DENVER, Colorado — Most people think that storm chasers are only out to find tornadoes and storm damage, but that is far from the case. The ultimate storm picture is, of course, a tornado, but most storm photographers are interested in pictures that reveal the structure of a thunderstorm.
I like to find the unique shots of supercell thunderstorms, which are the large rotating storms often seen on the High Plains during the spring. Sunday night's meteorological setup did not exactly scream, "Come get amazing pics," but it was good enough to try.
The convective energy was kind of mediocre, the daytime temperatures were only in the middle 70s, and the humidity wasn't that high with dew points in the middle 40s, but it was the wind shear that got my attention.
Cory Reppenhagen
RELATED: Everything you need to know about hail in Colorado
There were strong westerly winds aloft, which were definitely felt along the Front Range all day, with a very strong southerly wind coming around a surface low in eastern Colorado. That created a turning wind profile from the surface up into the middle atmosphere, which is responsible for getting thunderstorms to spin into supercells.
The lowest part of that storm rotation, at the base of the thunderstorm, is right at the updraft region. In a powerfully rotating storm you can see a distinct lowering, with striated clouds, an inflow tail and usually a wall cloud as well.
Cory Reppenhagen
The storms in northwest Kansas certainly did put on an amazing show with all these features. It takes some maneuvering to get into position to get these pictures. There is rain and hail coming out of the storm, which will block your view, so the best place to snag these pics is in an area called the notch. That is the area that has a clear slot, free of rain and hail, due to the strong inflow as the storm pulls fuel into its core.
RELATED: Severe weather season is coming to Colorado. Here's how to stay ahead of the storms.
I managed to get into position for two super cells along Highway 83 between Oakley and Scott City, Kansas on Sunday evening. That does make for a bit of a drive back home, but I always feel like my coverage area is about 4-5 hours in any direction from Denver.
Cory Reppenhagen
This was not one of those storms that I was scheduled to work, but I felt it was a good opportunity to get the 9NEWS Weather Titan warmed up for the season. A lot of our viewers like to see what these storms look like, and I don't mind going to get those pics for them that's for sure. Plus, I never miss a storm, so I am always in position to give some advanced warning to 9NEWS viewers when storms get dangerous.
There were two brief tornadoes reported in northwest Kansas, with hail from quarter to golf ball size, but no damage has been reported.
Sunday supercells in northwest Kansas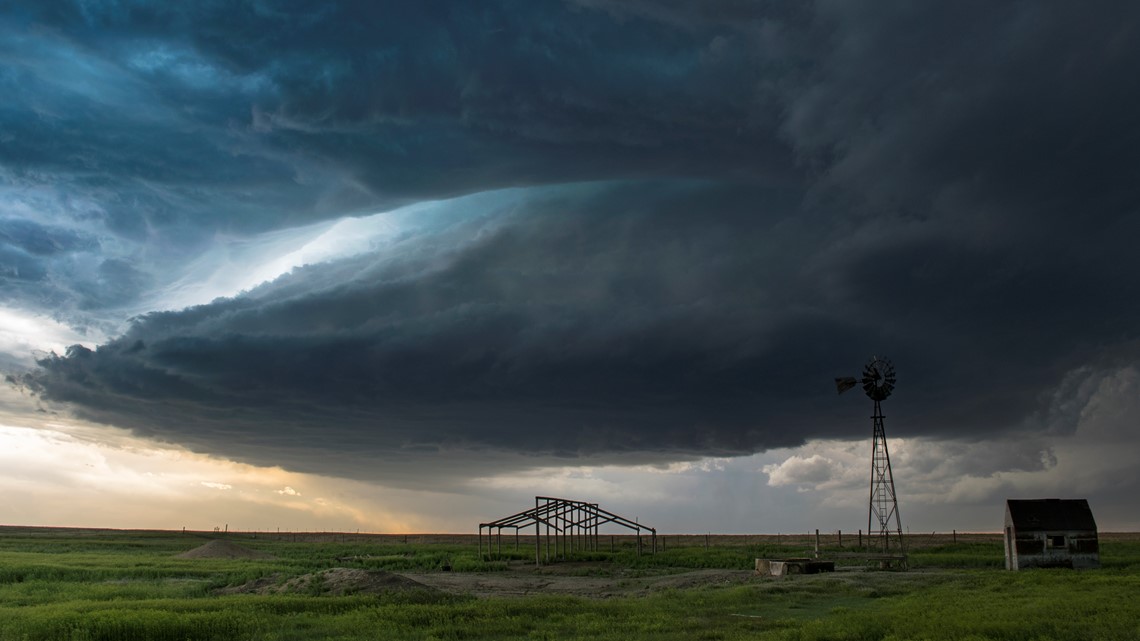 SUGGESTED VIDEOS | Science is cool