COLORADO, USA — FORECAST BY: Ed Greene
TODAY AT A GLANCE: Yesterday's system slowed down overnight and missed most of the morning rush hour, but it did finally get here and brought several inches of snow and colder temperatures.
Some sample snow amounts from the storm:
Arvada 2.8"
Westminster 3.4"
Littleton 4"
Englewood 4.2"
Northglenn 4.6"
Nederland 5"
Genesee 5.6"
Pinecliffe 6.4"
To end our week we'll return to sunny skies with seasonal highs, then above normal temperatures and fair conditions through the weekend and into the first of next week. By Tuesday we again turn much colder with yet another chance for snow.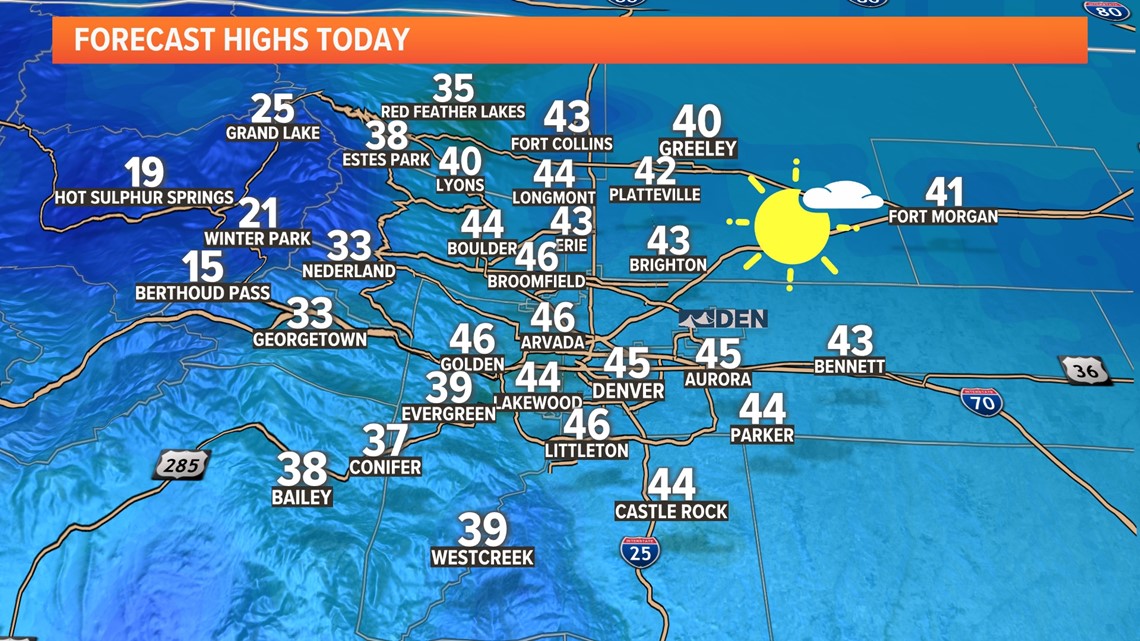 Today: Mostly sunny and seasonal, high 45; clear skies overnight, low 21.
Saturday: Mostly sunny and warmer, high 53; clear skies overnight, low 22.
Sunday: Staying mostly sunny and mild, high 54; mostly clear skies overnight, low 24.
Monday: Partly cloudy, high 52; increasing clouds overnight, low 23.
Tuesday: Mostly cloudy and colder with snow, high 34; light snow or snow showers overnight, low around 10.
Wednesday: Mostly cloudy and cold with early snow showers, high 25; partly cloudy and very cold, low 4.
Thursday: Partly cloudy, still cold, high 29; partly cloudy overnight, low 11.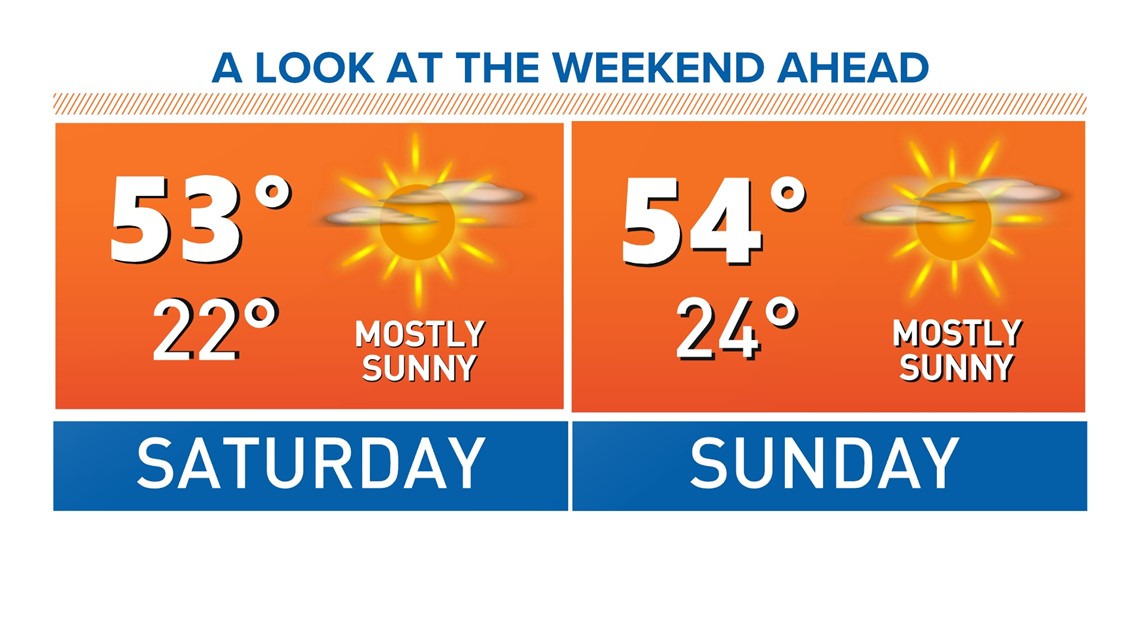 WEATHER LINE 9: Updated weather forecast information at 303-871-1492.
If you have a weather report, photo or video to share, you can contact the 9NEWS Weather Team in these ways:
The 9NEWS Weather team of Kathy Sabine, Danielle Grant, Cory Reppenhagen, Laurann Robinson, Ed Greene and Chris Bianchi update the Denver weather forecast multiple times each day. Bookmark this link to always have the latest forecast from 9NEWS. The team values your local weather reports and often features your photos and videos during weather segments in all newscasts.