COLORADO, USA — FORECAST BY: Meteorologist Danielle Grant
THIS EVENING AT A GLANCE: After another mild December day, the weather pattern is finally switching up a bit across the Colorado.
A cold front will push into the state tonight into Sunday, kicking up the winds and dropping daytime highs a bit. There is a High Wind Warning in place for late Saturday night into Sunday morning with wind gusts close to 80 mph possible in the foothills and mountains.
While it will be 'cooler' Sunday in the upper 50s and lower 60s, it's still above average for this time of the year. Then on Sunday night, another cold front moves in that has the potential to bring some snow flurries to the Front Range. That will likely happen after sunset and last into the late night hours.
Snow accumulation is not likely in the metro area Sunday. Some of the flurries may not even reach the ground.
It'll be seasonal Monday with partly to mostly cloudy skies and highs in the mid 40s. A storm will move into Colorado Monday into Tuesday, bringing widespread snow to the mountains and a few flakes to the metro. Right now, it doesn't look like too many areas in Denver will get snow accumulation, so it may take a bit of luck to get that first snow accumulation of the season on Tuesday.
We'll have a brief break Wednesday and Thursday before another storm rolls into the state Thursday night into Friday. That system has been looking good in the computer models for snow in Denver, but it's too far in advance to place any odds on snow accumulation.
Blustery Sunday; cooler next week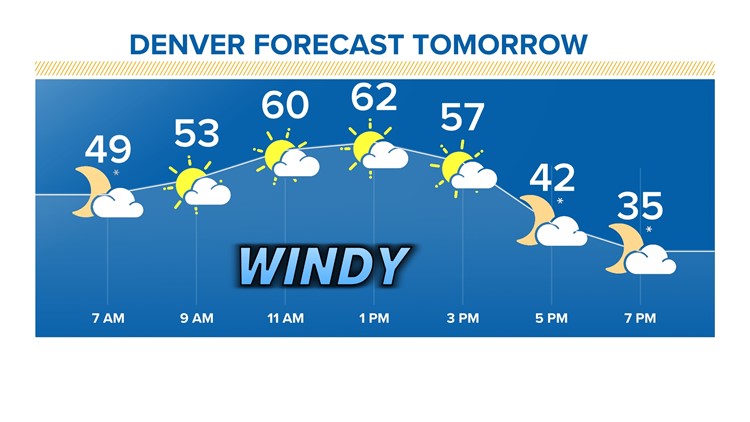 SUNDAY: Partly cloudy, blustery and slightly cooler with a chance for a few flurries on the Front Range after sunset. High 60; partly cloudy and cold overnight, low 17.
MONDAY: Partly cloudy and colder, high 42; mostly cloudy with a chance of snow after midnight, low 24.
TUESDAY: Mostly cloudy and cold with a few isolated morning flurries, high 45; mostly cloudy overnight, low 23.
WEDNESDAY: Mostly sunny and calm, high 55; partly cloudy overnight, low 30.
THURSDAY: Partly cloudy, breezy and dry, high 52; partly cloudy overnight with a chance for snow flurries, low 23.
FRIDAY: Mostly cloudy, windy with possible snow, high 36; mostly cloudy overnight, low 15.
SATURDAY: Mostly sunny and cold, high 34; partly cloudy skies overnight, low 17.
WEATHER LINE 9: Updated weather forecast information at 303-871-1492.
If you have a weather report, photo or video to share, you can contact the 9NEWS Weather Team in these ways:
The 9NEWS Weather team of Kathy Sabine, Danielle Grant, Cory Reppenhagen, Laurann Robinson, Ed Greene and Chris Bianchi update the Denver weather forecast multiple times each day. Bookmark this link to always have the latest forecast from 9NEWS. The team values your local weather reports and often features your photos and videos during weather segments in all newscasts.