FORECAST BY METEOROLOGIST: Becky Ditchfield
TODAY AT A GLANCE: Mild, dry and cloudy weather will be in place Monday for eastern Colorado. Those clouds come with a storm system that is already bringing snow to the mountains. This is the first of a few wintry storms that move into Colorado this week.
Winter Weather Advisories and Winter Storm Warnings are in effect until 11 a.m. Tuesday for parts of our central and southern mountains. The heaviest snow will fall over the southwest San Juans, where 8 to 16 inches of snow is expected. Locations near Vail, Snowmass and Aspen will see 7 to 14 inches of snow, and some locations along the Continental Divide could see 5 to 10 inches of new snow accumulate.
Most locations along and east of I-25 will see partly sunny skies throughout Monday afternoon with highs in the upper 50s and low 60s. The storm system arrives to the Front Range late Monday night into early Tuesday. Heavy bands of snow will set up early Tuesday, and a quick 1 to 2 inches of snow will fall over the metro area. Northern Colorado is not expecting accumulation from this system. Fort Collins and Greeley could see a snow shower to two, but the significant snowfall stays south. Locations along the Palmer Divide and out to the west side of Denver are under Winter Weather Advisories through Tuesday morning. Those areas could see 3 to 6 inches of snow by early Tuesday afternoon.
The storm moves out of Denver and into southeastern Colorado Tuesday afternoon. Skies will clear Tuesday night and mild temperatures take back over for Wednesday.
Another system pushes in Thursday evening into Friday morning. This will bring mountain snow, but it does not look like areas along and east of I-25 will see much accumulation for Thanksgiving.
For now, Thanksgiving Day looks like it'll start dry with partly cloudy skies and seasonal highs in the mid to upper 40s. Isolated snow showers will be possible late in the afternoon and evening.
Chances for snow across Colorado the week of Thanksgiving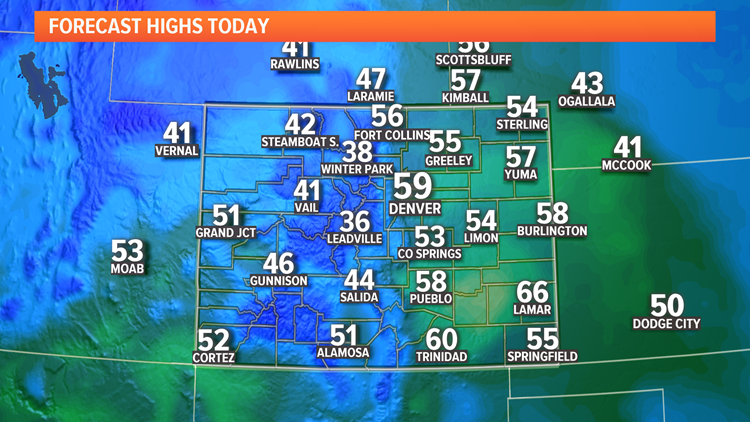 MONDAY: Partly cloudy, breezy and mild. Afternoon highs from 58 to 63.
TUESDAY: Mostly cloudy and colder with snow showers early then some afternoon clearing. One to two inches of snow possible for downtown Denver. Morning lows from 27 to 32, afternoon highs from 35 to 40.
WEDNESDAY: Mostly sunny and mild. Morning lows from 20 to 25, afternoon highs from 50 to 55.
THANKSGIVING DAY: Partly cloudy and cooler. Becoming cloudy with light rain/snow showers late in the evening. Morning lows from 24 to 29, afternoon highs from 40 to 46.
FRIDAY: Mostly sunny and mild. Light winds. Morning lows from 19 to 24, afternoon highs from 39 to 44.
SATURDAY: Mostly sunny and breezy. Morning lows from 21 to 26, afternoon highs from 47 to 52.
SUNDAY: Mostly sunny, gusty and cool. Morning lows from 22 to 27, afternoon highs from 43 to 48.
MONDAY: Mostly sunny and cool. Morning lows from 21 to 26, afternoon highs from 44 to 49.
If you have a weather report, photo or video to share, you can contact the 9NEWS Weather Team in these ways:
The 9NEWS Weather team of Kathy Sabine, Becky Ditchfield, Danielle Grant and Kylie Bearse update the Denver weather forecast multiple times each day. Bookmark this link to always have the latest forecast from 9NEWS. The team values your local weather reports and often features your photos and videos during weather segments in all newscasts.