COLORADO, USA — FORECAST BY: Meteorologist Danielle Grant
THIS EVENING AT A GLANCE: Isolated showers and storms could pop up around the I-25 corridor this evening but most of the action should stay along the Eastern Plains. Otherwise, look for mostly cloudy skies overnight with lows in the upper 30s.
Monday will be a partly to mostly cloudy kind of day with a very slight chance for an afternoon shower. The Denver metro will have a better shot at seeing some storms late Monday night into Tuesday as another system moves into the state. It'll bring another more rain to the metro area and additional snowfall to areas above 9,000 feet. So far, there are not any travel advisories because of the incoming snow.
The spring sunshine eventually returns Wednesday. Highs will be back in the upper 70s and lower 80s Thursday and Friday of this week. We are looking at high temperatures in the mid 80s by Saturday. It'll be a warm, windy start to Memorial Day weekend.
Isolated storms tonight; more rain, snow on the way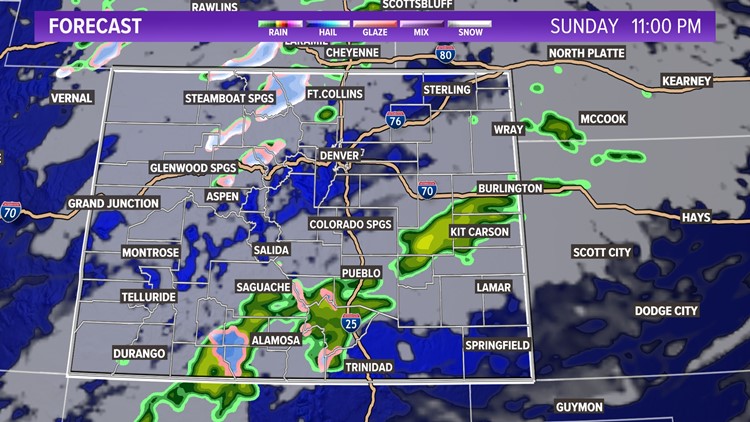 Tonight: Mostly cloudy with isolated showers and t'storms overnight, low 39.
Monday: Mostly cloudy and mainly dry during the day, high 62; mostly cloudy with a chance for showers and thunderstorms overnight, low 40.
Tuesday: Mostly cloudy with scattered afternoon/evening storms, high 56; partly cloudy with a chance for an isolated storm overnight, low 38.
Wednesday: Mostly sunny and seasonal, high 70; mostly clear overnight, low 45.
Thursday: Mostly sunny, breezy and dry, high 82; mostly clear overnight, low 53.
Friday: Mostly sunny, windy and hot, high 88; mostly clear overnight, low 55.
Saturday: Mostly sunny and warm, high 84; partly cloudy overnight, low 52.
Sunday: Partly cloudy and slightly cooler, high 77; partly cloudy overnight, low 48.
WEATHER LINE 9: Updated weather info at 303-871-1492.
WEATHER LINE 9: Updated weather forecast information at 303-871-1492.
If you have a weather report, photo or video to share, you can contact the 9NEWS Weather Team in these ways:
The 9NEWS Weather team of Kathy Sabine, Danielle Grant, Cory Reppenhagen, Keely Chalmers, Ed Greene and Chris Bianchi update the Denver weather forecast multiple times each day. Bookmark this link to always have the latest forecast from 9NEWS. The team values your local weather reports and often features your photos and videos during weather segments in all newscasts.