COLORADO, USA — FORECAST BY: Meteorologist Danielle Grant
THIS EVENING AT A GLANCE: Another storm is on the way to Colorado! It'll move in overnight bringing chilly temperatures and more snow. Look for light snow to start around midnight in Northern Colorado with showers beginning in Denver around 3am.
Can you work from home Tuesday? The heaviest snowfall is expected during the morning commute from 6am to 10am. So far, it looks like about 3 to 6 inches across the Denver metro area with higher amounts west of I-25, lower amounts east of I-25. The far Eastern Plains could see 2 to 5 inches of snow. Look for 4 to 8 inches of snow across the Front Range foothills by Tuesday night.
A Winter Weather Advisory is in effect for the Front Range foothills, metro area and Eastern Plains through Tuesday evening for heavy snow and slick traveling conditions. Take it slow if you're out on the roads!
As this storm moves out, the sunshine briefly moves back in Wednesday! Daytime highs stay in the lower 40s but another cold front moves in Wednesday night. This drops temperatures again Thursday into the lower 30s and also ushers in a few morning flurries.
Look for sunny skies and warmer temperatures Friday and into the weekend!
Snowy Tuesday AM commute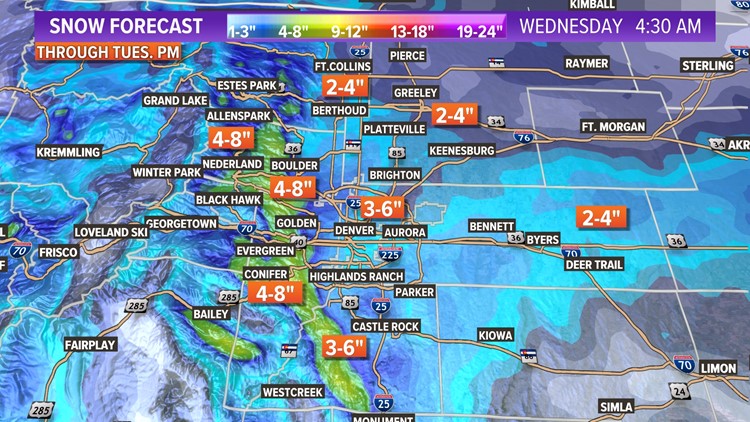 TONIGHT: Increasing clouds, snow developing after 2am, low 23.
TUESDAY: A Winter Weather Advisory is in effect 5am to 5pm. Cloudy and colder with light snow, 3-6", high 31; decreasing clouds and cold overnight, low 13.
WEDNESDAY: Mostly sunny and cool, high 41; partly cloudy overnight, low 19.
THURSDAY: Partly cloudy with a chance for isolated snow showers, high 32; clearing skies overnight, low 15.
FRIDAY: Mostly sunny and warmer, high 48; clear skies overnight, low 22.
SATURDAY: Mostly sunny and mild, high 54; partly cloudy overnight, low 23.
SUNDAY: Mostly sunny and warm, high 56; partly cloudy overnight, low 27.
MONDAY: Mostly sunny and warm, high 57; partly cloudy overnight, low 26.
WEATHER LINE 9: Updated weather forecast information at 303-871-1492.
If you have a weather report, photo or video to share, you can contact the 9NEWS Weather Team in these ways:
The 9NEWS Weather team of Kathy Sabine, Danielle Grant, Cory Reppenhagen, Laurann Robinson, Ed Greene and Chris Bianchi update the Denver weather forecast multiple times each day. Bookmark this link to always have the latest forecast from 9NEWS. The team values your local weather reports and often features your photos and videos during weather segments in all newscasts.