COLORADO, USA — The polar jet stream has been whipping around a storm system on the West Coast, bringing some strong winds to the Colorado high country on Thanksgiving Day.
Winds 30 to 50 mph were recorded in the mountains, foothills and plains Thursday. Those winds are forecast to increase in strength Friday afternoon and Saturday as they push closer to the Denver metro area.
On Wednesday, a National Weather Service weather balloon that launched from Grand Junction measured a 219 mile per hour wind gust at 33,000 feet — a record jet stream wind measurement for November 27.
The winds on the ground will be amplified when a storm system moves into Nebraska on Friday afternoon and begins rapid intensification.
There is a High Wind Watch in effect for the west Denver metro from 5 p.m. Friday to 6 p.m. Saturday. A few gusts of 60-80 miles per hour will be possible.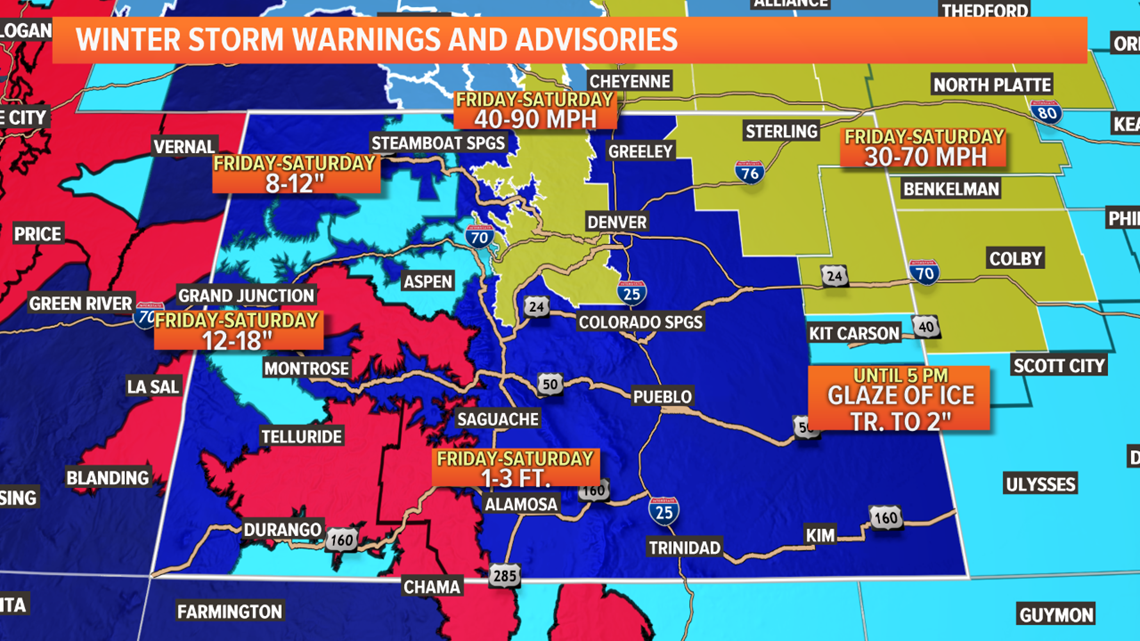 The High Wind Watch could become a warning for most areas included, and even some areas not yet listed as part of the watch.
Ground Blizzards
A ground blizzard happens when high winds pick snow up off the ground and reduce visibility below a quarter mile. This can happen with less than 2 inches of snow on the ground, and under clear skies.
Other than reducing visibility, the snow getting dragged across roadways by high winds can leave a layer of dangerous ice.
Ground blizzards may develop Friday evening and through the day on Saturday in the foothills, metro areas mostly west of I-25 and the eastern plains.
Very little snow has melted in the fields near highways. A crusty layer of glaze may help keep some snow contained, but high winds often penetrate those layers.