DENVER — Snow flurries spread across the Front Range throughout the morning on Wednesday, but as that snow started to fill out in the afternoon, something very strange appeared on the radar.
A mysterious hook-shaped snow band appeared over the southeast Denver metro at 1:39 p.m. The radar beam was picking up on a very narrow and heavy band of snow that lasted about 30 minutes.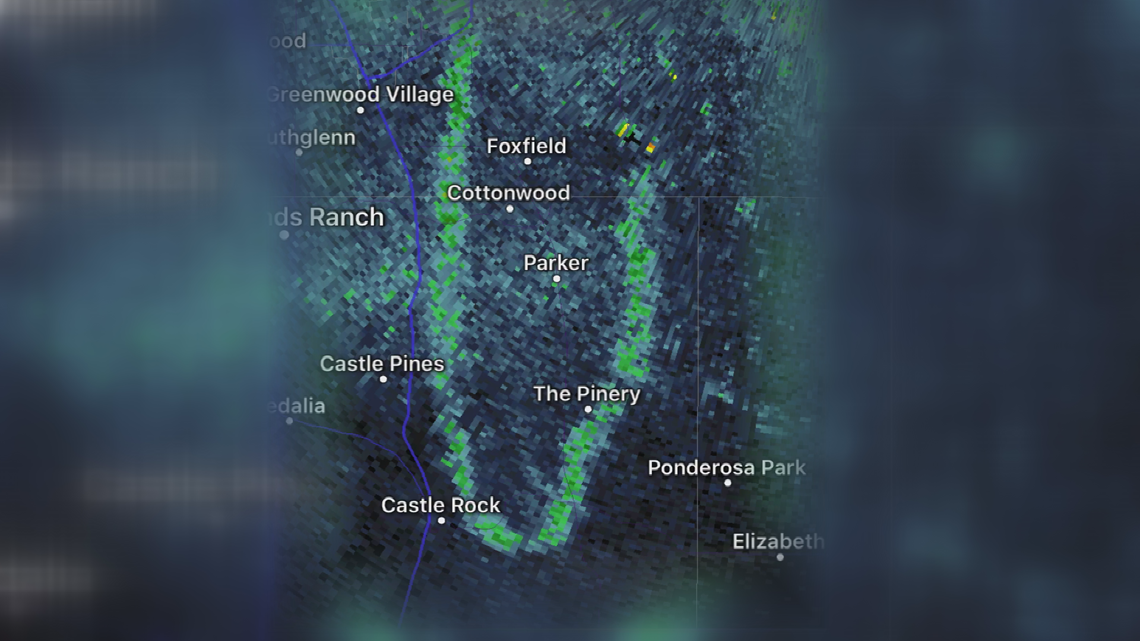 Doppler radar expert Paul Schlatter with the National Weather Service in Boulder started analyzing this mystery as soon as all the local meteorologist noticed the feature showing on radar.
Schlatter said it is a phenomenon known as airplane-induced snow banding.
He said a jet airplane likely came in from the north, banked hard east and landed at Denver International Airport. It was the exhaust from the plane that ultimately caused the snow band.
The air that the plane flew through contained tiny water droplets that were well below freezing but still in liquid form. This is called supercooled water, and it's the phase that water is in before becoming a snowflake.
A snowflake needs a solid object to cling to and form around. Those objects are called condensation nuclei and are usually microscopic pieces of dust, soot, salt, exhaust or metals that are often found in the air.
That process is called Heterogeneous Nucleation.
In this case, particles in the exhaust coming from that plane provided some additional material for snowflakes to form around. And the result was a very brief band of enhanced snow creation.
Schlatter also said that turbulence from aircraft can help super-cooled water droplets freeze into ice crystals.
The result was a rare and fascinating airplane-induced snow band.
"That arc may be one of the coolest things I've seen on radar recently," said Schlatter.
Now you are probably thinking this can't be the first time an airplane has flown through a batch of super-cooled water vapor. That has likely happened many times before, especially in Denver. So there must have been something unique about either the present state of the atmosphere or the type of jet exhaust from the plane.
Schlatter said it was probably a matter of the perfect timing at the perfect altitude.
"The cloud deck was shallow today. Usually, there's deeper snow and the airplanes either don't matter or the effect is lost in the midst of heavier snow. These planes were right at the top of the snow layer, so they helped get the snowmaking process off to a faster start."