FORT COLLINS, Colo. — Denver finally got the first measurable snow of the season on Dec. 10, ending a long snowless streak of 232 days. Officially, that tied a record from 1887.
When a record stands unchallenged for 134 years, it's a true testament to just how unusual the weather has to be to get into the record books, but there appears to be more than just a weather story behind this record.
The other three snowless streaks in the top five longest in Denver history are also in the late 1880's.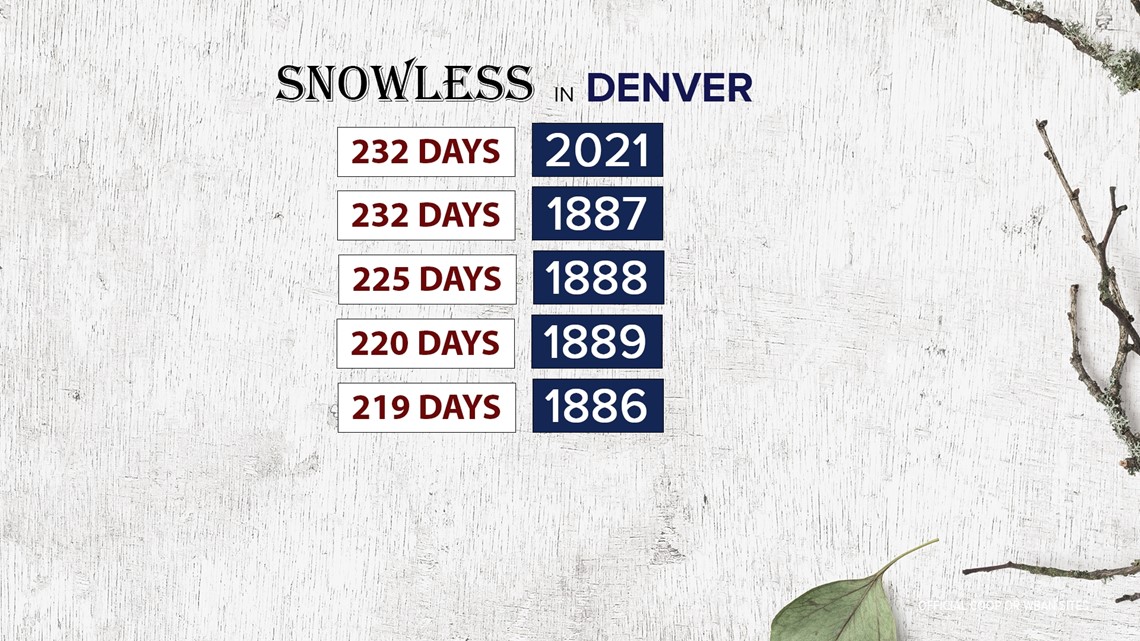 "It's way suspicious," said Nolan Doesken, former State Climatologist. "And I had not even noticed that until now, in all these years looking at the data."
Doesken worked at the Colorado Climate Center for 40 years, including 11 as State Climatologist. He said Denver's snowfall data from the 1880's is questionable, and the reasons for that might be found in the old record books themselves.
Fortunately the old Denver record books are safely intact in the basement archive room of the Colorado Climate Center which is located at the Colorado State University Foothills Campus in Ft. Collins.
Current State Climatologist Russ Schumacher was also intrigued by the strange 1880's snowless streaks and spent several hours last week combing through the hand-written pages.
"You could spend hours down here just flipping through these old records," said Schumacher. "It's not just numbers, the careful cursive writing tells daily narratives and descriptions of the weather."
In the 1887 record book, he found a notation about six hours of heavy snow that fell in Denver on March 26, but no measurement was entered. That was more than two weeks after the final recorded snow that spring on March 4, which would have significantly shorted that record streak.
"Even in those warm spring kind of storms its hard to imagine that if it snowed for six hours that you would have no accumulation at all," said Schumacher.
So maybe that measurement was just missed -- an honest mistake but there's still the strange fact that the 1887 record is followed by three other consecutive years, 1886, 1888, and 1889.
"The 1880's was a period of great transition for meteorology in Colorado," said Doesken.
Doesken said the explanation behind the 1880's snowless streaks may have less to do with a lack of snow, and more to do with a lack of duty from those that should have measured it.
He said from 1871 through 1890, the responsibility of measuring snow was part of the U.S. Signal Service which was a part of the U.S. War Department.
"Measuring a tenth of an inch of snow may not have been top priority for a soldier," said Doesken. "People were constantly being rotated from one base to another, guys were getting promoted, there may have been several different people charged with the responsibility of measuring snow during those four years."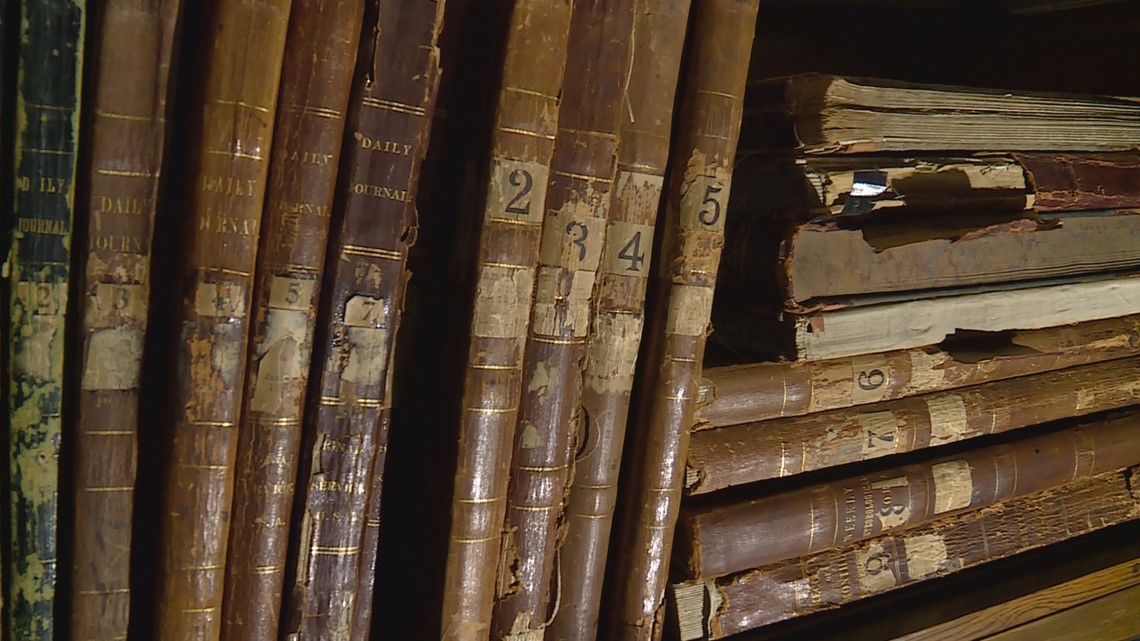 He said you can add that speculation in with the fact that the U.S. Signal Service moved their office in downtown Denver several times during the 1880's.
"They kept moving their station because they needed to be located in the Denver's tallest building and Denver was growing rapidly at that time," said Doesken.
He said Signal Service needed to be in tall buildings because they would fly signal banners to warn citizens about incoming weather systems.
Another factor that could have led to low snow measurements, was the fact that most of the measurements were taken on the rooftops where they would fly their signal flags.
"We would never accept a rooftop snow measurement these days, but back then it was just how they did it," he said. "And it was not just in Denver. That's how they did it across the country."
Doesken said the heat from inside the building could raise the temperature on the roof and cause melting. The wind on top of buildings is also an issue. Updrafts could blow snow away, which would be significant if there was just a couple tenths of an inch.
Doeskin said the responsibility for measuring snow in Colorado was removed from the Signal Service in 1890, but it was not because of the poor record keeping, or snow measurement methods, but a result of poor forecasting.
He said a terrible snowstorm in 1888, known as the Children's Blizzard or the School House Blizzard, hit the Great Plains and caught many off guard due to lack of warning. Hundreds of people were killed in the storm including many children.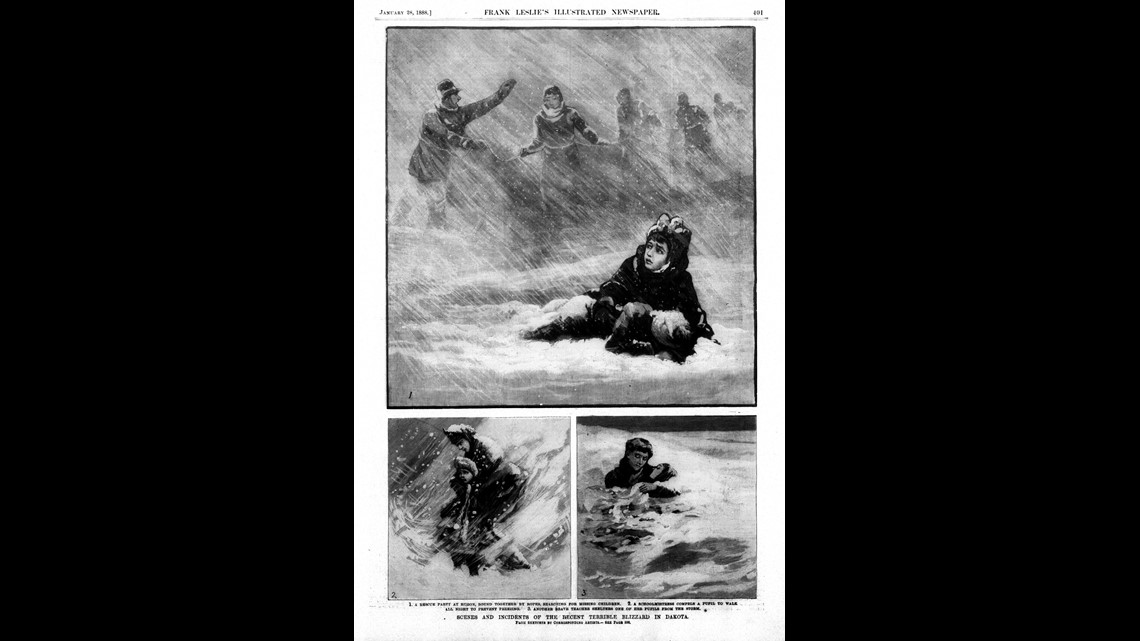 "And that was an event that sort of pointed the finger at the U.S. Signal Service of not doing a very good job," said Doesken.
He said the responsibility of weather forecasting switched to the Agriculture Department in 1890 which in turn strengthened the record keeping.
So, take the snow records of the 1880's with a grain of salt.
"I would like to think if they measured snow back then like we do know, those years wouldn't be on the list of records," said Schumacher. "But what they wrote and how they wrote it is still important. You know that's what they recorded so that's what we have to go with."
Without the streaks from the 1880's, the snowless streak from 2021 looks much more remarkable. It would have beat the next longest streak by 20 days.