COLORADO, USA — It was an active day for severe weather on Saturday as the National Weather Service in Boulder (NWS) confirmed nine tornadoes were spotted over a stretch of more than 150 miles on the Eastern Plains.
The NWS issued a Tornado Watch on Saturday afternoon and evening that covered most of the Front Range and Eastern Plains. Thunderstorms prompted a ground stop for a while at Denver International Airport, resulting in flight delays throughout the evening.
Some of the most severe weather was on the Eastern Plains, where the NWS confirmed nine tornados and one funnel cloud between 1:30 and 4:30 p.m. Saturday.
While that may seem like a lot, it's not all that unusual, according to Jennifer Stark with the National Weather Service.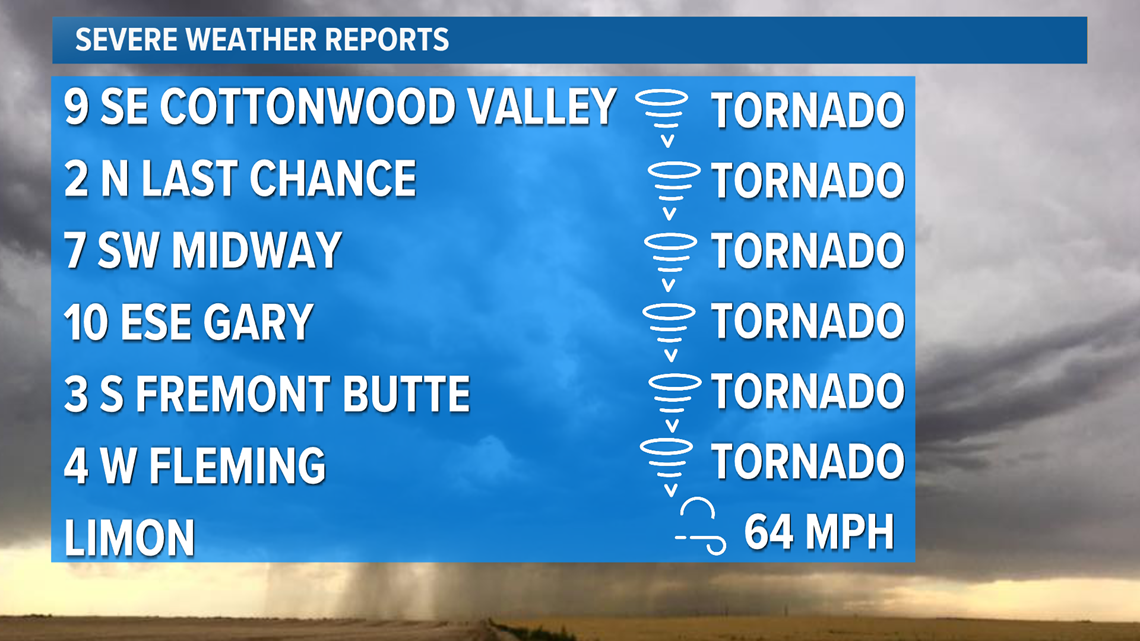 "There were supercell tornadoes, they were stronger, but you know they may have a circulation that goes down, touches the ground goes back up and then later on they produce another tornado," she said. "It's not really that unusual for us to have that many."
Spotters saw two twisters in Morgan County, with another just over the county line in Washington County. Adams and Logan counties each had one tornado, and Lincoln County had four:
1:30 p.m., southeast of Fort Morgan in Morgan County, just north of County Road K between County Road 19 and Colorado 71
1:47 p.m., southeast of Brush in Morgan County, east of Colorado 71 between U.S. 34 and County Road K
2:03 p.m., east of Brush in Washington County, south of U.S. 34
2:08 p.m. south of Bennett in Adams County, south of Interstate 70 and west of N. Kiowa Bennett Road
2:45 p.m., southeast of Sterling in Logan County, very brief touchdown east of Colorado 61 and south of County Road 22
3:56 p.m. in Lincoln County, west of Colorado 71, a few miles north of the Crowley County line
4 p.m. in Lincoln County on Colorado 71 just south of County Road T
4:05 p.m., southwest of Punkin Center in Lincoln County, south of Colorado 94 and west of Colorado 71
4:30 p.m., north of Punkin Center in Lincoln County, on Colorado 71 just east of the Elbert County line
The funnel cloud was spotted at 2:52 p.m. in Crowley County, a few miles north of Ordway near Colorado 71.
Stark said, last year was an odd year with the respect to severe weather season, She said it was so hot and dry that we didn't see the storm activity which is pretty common during late spring in Colorado.