DENVER — Most of the Denver area saw 6-12 inches of heavy, wet snow overnight in a highly uncertain forecast.
The reason being a "boom" scenario played out, where higher-end totals came to fruition thanks to a combination of temperatures that were just cold enough for heavy snow, and most importantly, a near-historic level of water for a storm in the middle of winter.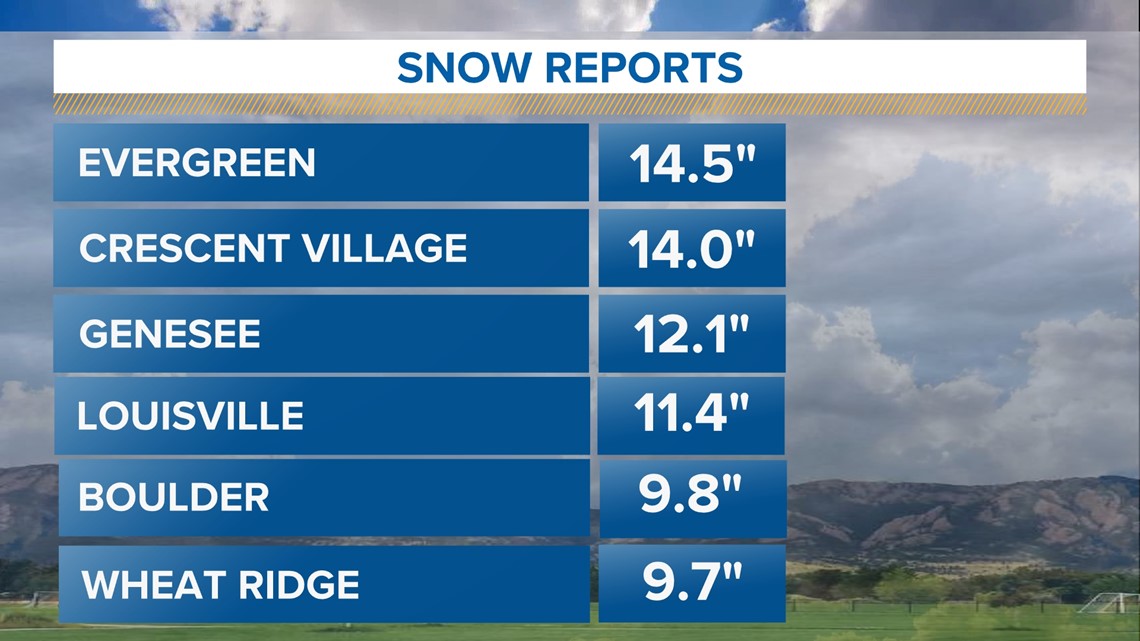 Spring-like storm
While December can produce big snowstorms, March and April are most notorious for big Front Range snowstorms. That's because water content tends to be higher during the spring months, often producing heavy, wet snowstorms like Wednesday night's.
However, last night's storm produced an incredible amount of water. Most of the Denver area saw between .75" and 1.25" of precipitation, which is about three times what the Front Range sees over the full month of December, on average.
A developing area of low pressure, a weak cold front, and a near-perfect angle of upslope flow combined to give the Denver area an ideal recipe for a big snow event. However, the storm didn't last all that long, and initially, it was far too warm for snow.
While the first part of the storm resulted in a cold rain, the sheer volume of water helped "pull down" colder air from above. The gravitational pull of the cold rain helped lower temperatures, known as dynamic cooling.
Once temperatures dropped down to freezing, a surge of heavy precipitation filled in along the Front Range between 8 p.m. and midnight. That led to prolific snowfall rates of up to two or even three inches of snow per hour over a 2-4 hour stretch.
That meant the snow piled up fast.
If temperatures had been 1-2 degrees warmer, though, it would've wiped out the snow and led to perhaps a slushy 1-3 inches of accumulation for most.
But it was just cold enough to turn all that water into snow, and lots of it fell.
High uncertainty
While we warned of the high uncertainty surrounding Wednesday night's storm because of borderline temperatures and unusually high precipitation amounts, the amount of snow probably came as a surprise to many.
If any of those ingredients hadn't come together - temperatures, the exact timing of it, and the unusually high amount of precipitation that came with it all - this would've been a sloppy 1-3 inches of snow.
But all those ingredients came together just in the nick of time to produce the biggest snowstorm for most of the Front Range so far this season.
> Top stories curated daily just for you! Sign up for the 9NEWSLETTER to get can't-miss stories, Next and Broncos content, weather and more delivered right to your inbox.